Axios Generate
May 12, 2021
Hi readers! Today's Smart Brevity count is 1,260 words, 4.7 minutes.
🎶 Stevie Wonder celebrates a birthday tomorrow, so his incomparable talent animates today's intro tune...
1 big thing: Satellites may hold countries to their Paris pledges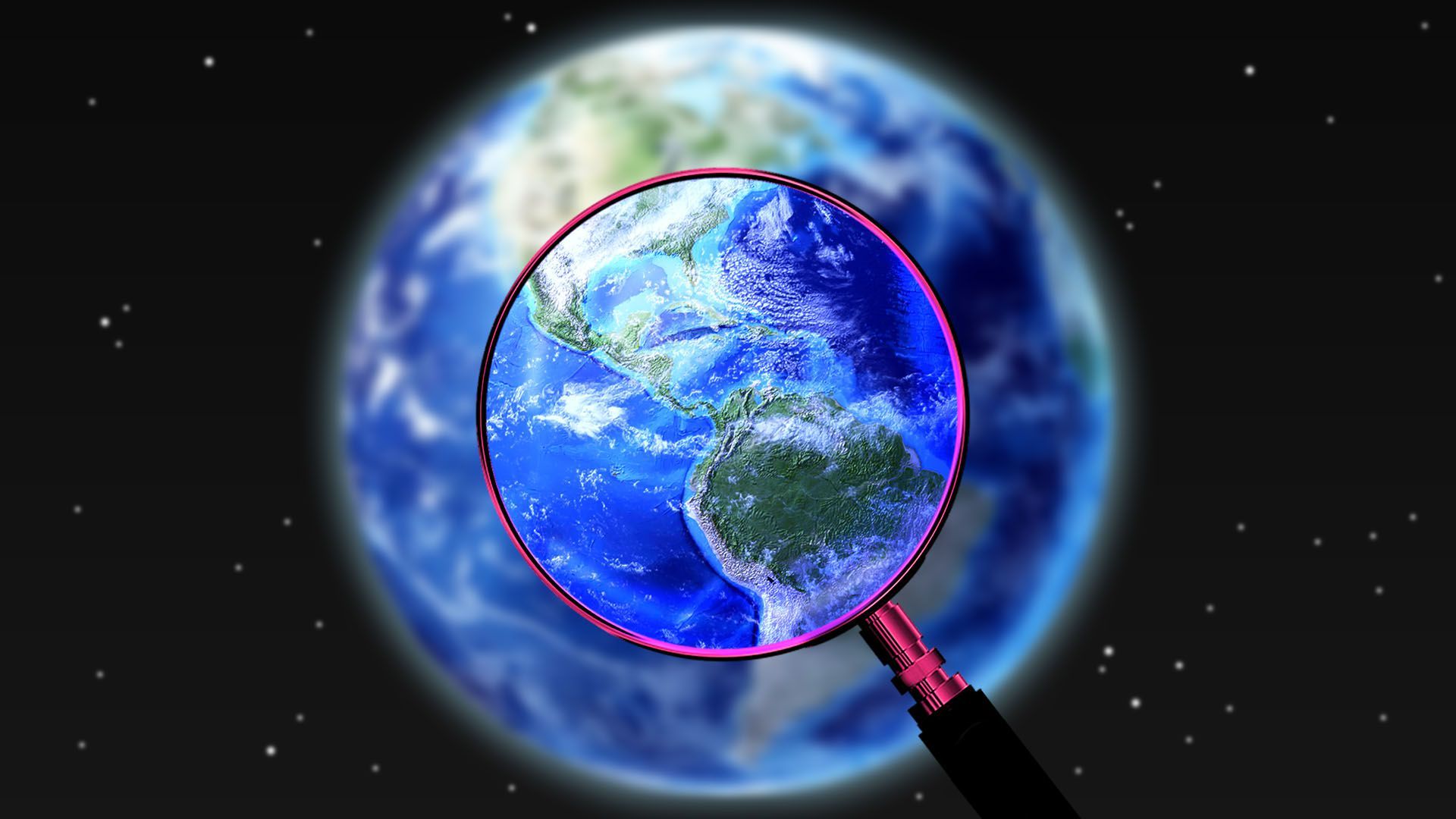 Satellites gazing down at Earth are set to play a growing role in holding countries accountable for living up to emissions pledges under the Paris Agreement, Andrew reports with Axios' Miriam Kramer.
Why it matters: Environmental agreements are hard to enforce without independently verified data.
But the availability of high-quality satellite imagery — combined with advances in artificial intelligence and machine learning — allows for real-time monitoring of carbon emissions, deforestation and other activities.
Driving the news: Earth-monitoring programs are getting a boost from cheaper access to a wealth of satellite data, and governments are taking note — using that information to hold companies and other governments accountable.
For the first time, countries may soon be able to determine whether others are hitting voluntary Paris targets.
Accurate monitoring has never been more critical, with the world nearing warming levels that could trigger potentially catastrophic impacts.
"We are going to have a time of radical climate transparency," said Andrew Zolli, VP of global impact initiatives at the satellite company Planet.
How it works:
Scientists are set to transition from measuring how much carbon dioxide is building up in the air to pinpointing exactly where it's coming from.
A new project called Climate TRACE, which brings together Al Gore, RMI, TransitionZero, WattTime and others, is slated to go live later this year. If successful, it may herald a new era in climate diplomacy.
It aims to use AI and machine learning to analyze satellite imagery to produce more exact national and facility-level estimates of carbon emissions. These figures could then be used when negotiating climate targets.
The project could also enable naming and shaming of bad actors, and provide incentives to change behavior.
Of note: Satellite imagery can help ensure that carbon offsets are in fact limiting emissions, through the conservation of tropical rainforests.
Zoom in: Different types of data can work in concert with one another, giving users a better idea of exactly what's going on.
A new project called Flaring Monitor — exclusively shared with Axios — uses a fully automated process to track flares emitted by companies burning off extra natural gas, which releases carbon dioxide and some methane.
Flaring Monitor uses Planet and NASA data to track how much individual companies are flaring.
What's next: John Kerry, President Biden's international point person on climate change, cited Climate TRACE during the White House climate summit on Earth Day.
Kerry hinted it may be part of an "accountability structure" discussed at U.N. climate talks in Glasgow in November.
"There's no hiding anymore, and there's going to be real-time tracking," Kerry told reporters.
Bonus: The state of global gas flaring
Let's zoom in on why collecting more fine-grain and real-time data on flaring — one of the uses of advanced satellite data analysis cited above — is so important.
The big picture: A World Bank report found that while burning uncollected gas at oil production cites declined last year, "the world still flared enough gas to power sub-Saharan Africa."
The largest flaring countries are listed above.
2. Gas prices rise as pipeline outage crimps supply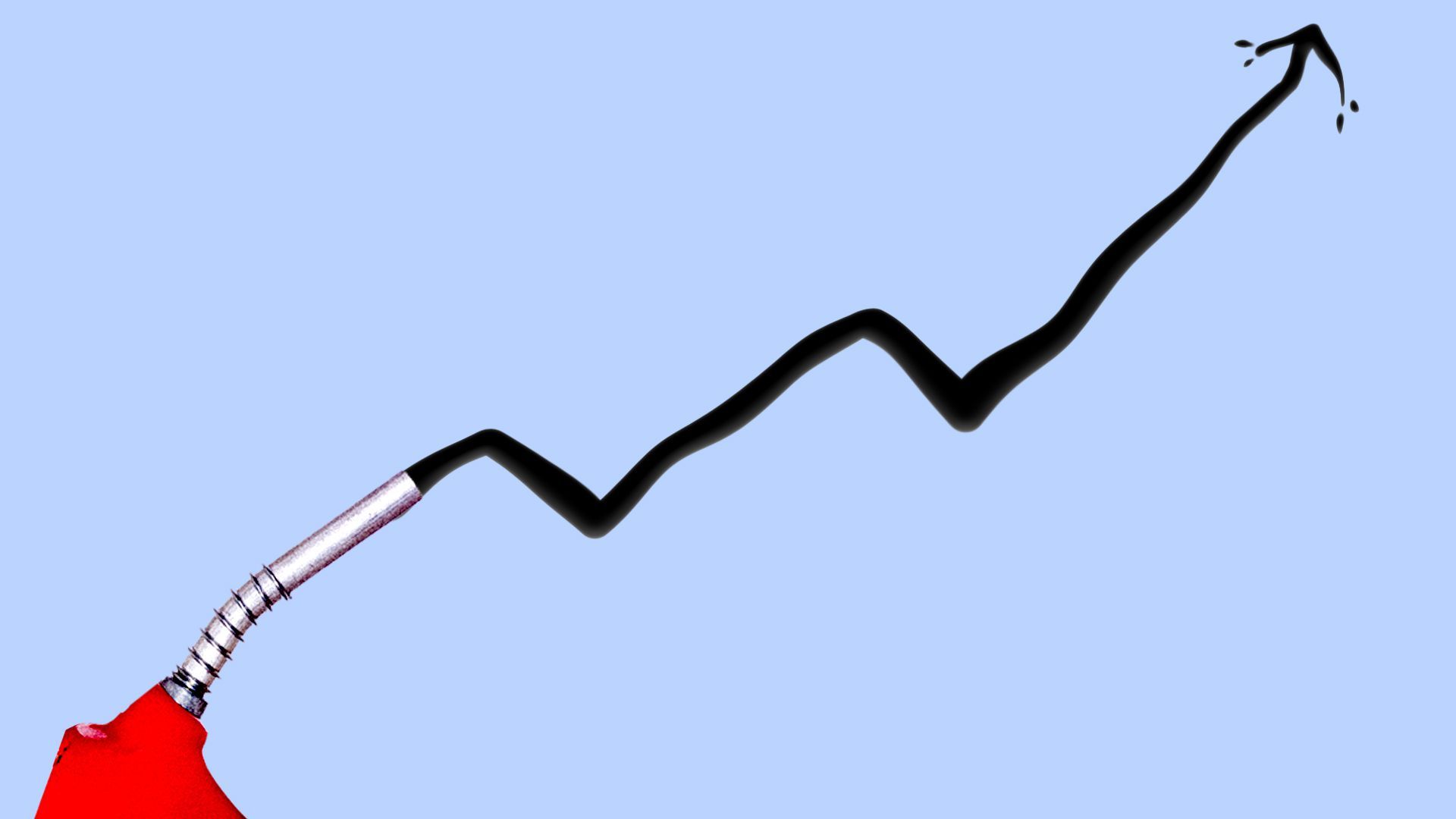 Gas stations in several states are out of fuel and AAA reports the nationwide average price breached $3-per-gallon for the first time in six years amid the cyberattack-induced shutdown of the Colonial Pipeline.
Driving the news: The ransomware attack on Colonial Pipeline, the nation's largest refined fuel pipeline that extends from Texas into the Northeast, is creating a scramble as the outage persists into its sixth day.
Catch up fast: Here are the latest developments...
Per GasBuddy analyst Patrick De Haan this morning, nearly a quarter of gas stations in North Carolina are without supplies, while it's 15% in Georgia, and significant numbers in some other states.
A consumer run on fuel stations is feeding the problem. De Haan reports that demand was up by 32.5% on Monday on the East Coast (or "PADD 1" here).
Biden administration and state officials are taking steps to try to ease the supply problems. They include EPA waivers on seasonal environmental specifications for fuels and easing weight restrictions on fuel supply trucks.
The administration is also considering Jones Act waivers to enable shipments between U.S ports with vessels that are not U.S.-flagged.
What we're watching: The timing of the pipeline's full restart and the logistics of resupplying affected regions.
Energy Secretary Jennifer Granholm, at a White House briefing Tuesday, said Colonial told her they'll be in a position to make a decision on full restart by the end of today.
Yes, but: It will take time for the logistics of fuel supplies to return to normal even once operations have recovered along the 5,500-mile network.
"It will take a few days to be up and running," Granholm said.
This Energy Information Administration primer notes that "pipeline shipments move at approximately five miles per hour."
Go deeper: Colonial Faces Deadline to Decide on Hacked Pipeline Restart (Bloomberg)
3. The newest climate pressure on Big Oil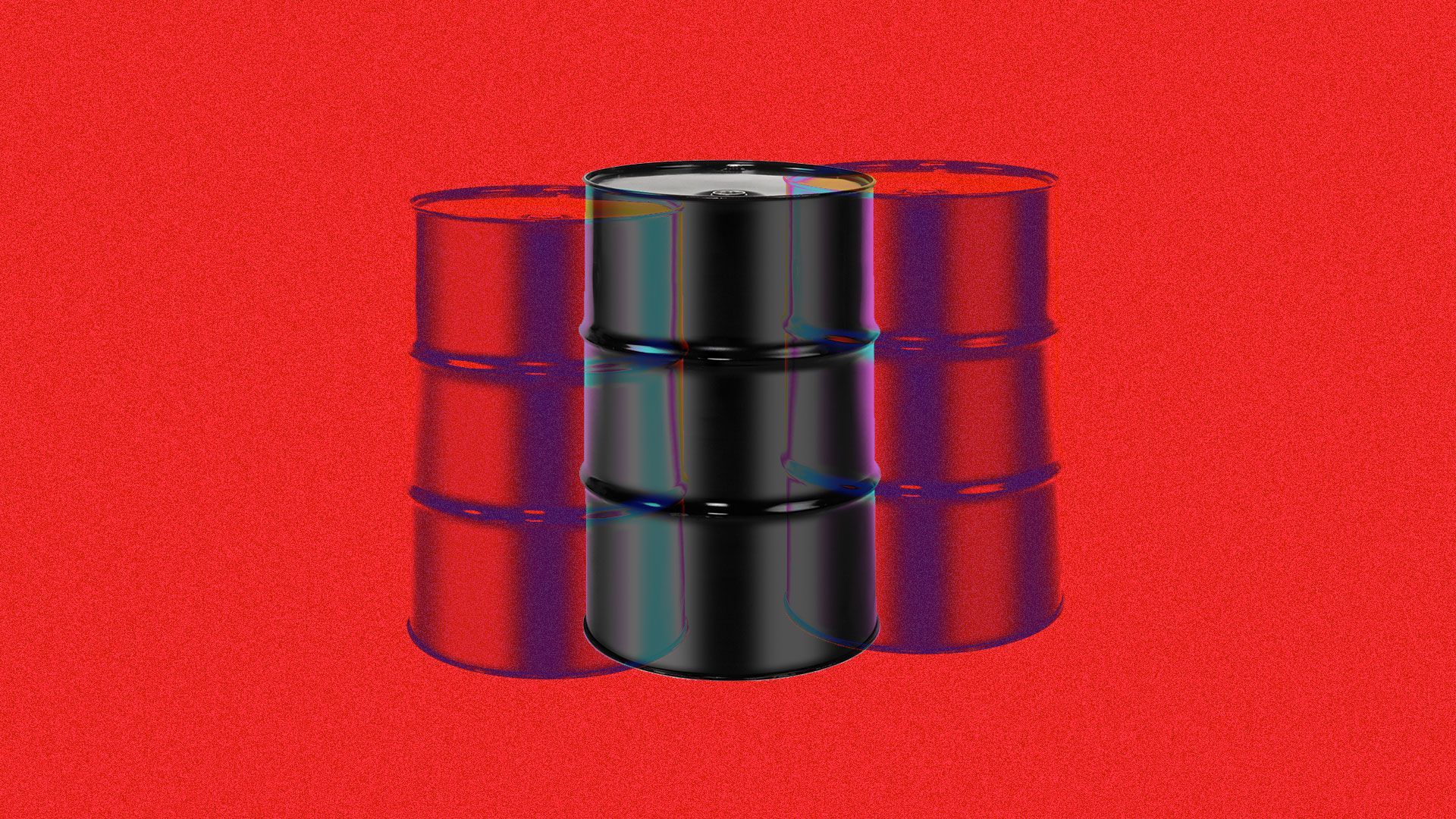 The British asset management firm LGIM has thrown its weight behind activist investors' push to force Exxon into getting more aggressive on climate change.
Driving the news: LGIM, citing "persistent climate and governance concerns," yesterday endorsed the slate of board nominees from the investment group Engine No. 1.
Why it matters: The move puts more weight behind the campaign by Engine. No. 1 ahead of Exxon's May 26 shareholder meeting.
They already have backing from huge public employee pension funds in California and New York.
Reuters, citing Refinitiv data, puts LGIM's stake in Exxon at nearly $1 billion, while Bloomberg puts it at nearly $1.5 billion and calls them Exxon's 17th-largest shareholder.
The other side: Exxon has been taking new steps on climate, such as setting new emissions targets and proposing a major public-private partnership on carbon storage.
The intrigue: While Exxon's financial performance has been rocky in recent years and the pandemic compounded the problems, its stock value has nearly doubled over the last half-year.
"While short-term performance, driven in large part by surging oil prices, may appease some investors, others believe serious questions remain over Exxon's stated commitment to the United Nations' Paris climate accord," Bloomberg notes.
* * *
Speaking of climate and the oil industry, Reuters reports: "A majority of shareholders at U.S. oil and gas producer ConocoPhillips on Tuesday voted in favor of setting emissions reduction targets that include the use of the company's fuels."
4. The asterisk with Biden's offshore wind approval
ICYMI on our site Tuesday, the Biden administration gave the green light to what's slated to be the first large offshore wind farm constructed in U.S. waters.
Why it matters: Vineyard Wind's approval marks a key step in White House plans to help spur the development of a suite of coastal projects off New York, New Jersey and other states.
We've got more on the project off the Massachusetts coast and White House offshore wind goals here and here.
But, but, but: Now to the asterisk. The research firm ClearView Energy Partners called the Interior Department approval a "significant regulatory achievement," but the note adds:
"[W]e expect project opponents (e.g., coastal landowners and commercial fishermen) to file legal challenges."
However, ClearView said Interior Department supplemental analysis of the cumulative effect of several proposed offshore projects "could buttress Vineyard Wind's approval if judicially appealed."
Go deeper: Interior Department approves first large-scale offshore wind farm in the U.S. (Washington Post)
5. Catch up fast on EVs: Charging, batteries, Subaru
Deals: U.S.-based Blink Charging is acquiring European charging provider Blue Corner in a roughly $24 million cash and stock transaction.
Blue Corner has nearly 7,100 charging points across Belgium, Luxembourg, the Netherlands, and France, the companies said. InsideEVs has more.
Collaborations: Ultium Cells, which is GM's battery venture with LG Energy Solution, yesterday announced a recycling agreement with the firm Li-Cycle.
It's aimed at preserving cobalt, lithium, nickel and other materials.
"Ninety-five percent of these materials can be used in the production of new batteries or for adjacent industries," the companies said.
TechCrunch has the details.
Models: "Subaru will soon be joining the EV crossover craze with a new model that we now know will be called Solterra," Car and Driver reports in a piece that includes teaser images of the vehicle slated for U.S. arrival in 2022.
6. Quote of the day
"And, you know, if you drive an electric car, this would not be affecting you, clearly."
Who said it: Energy Secretary Jennifer Granholm, speaking at the White House Tuesday about gasoline shortages caused by the Colonial Pipeline ransomware hack.