Good morning and welcome back to Generate! Today I'll turn things over to a colleague to explain what's ailing coal, and then we'll get back to what's new in the business and politics of energy. Without further ado ...
Trump on coal: promises, promises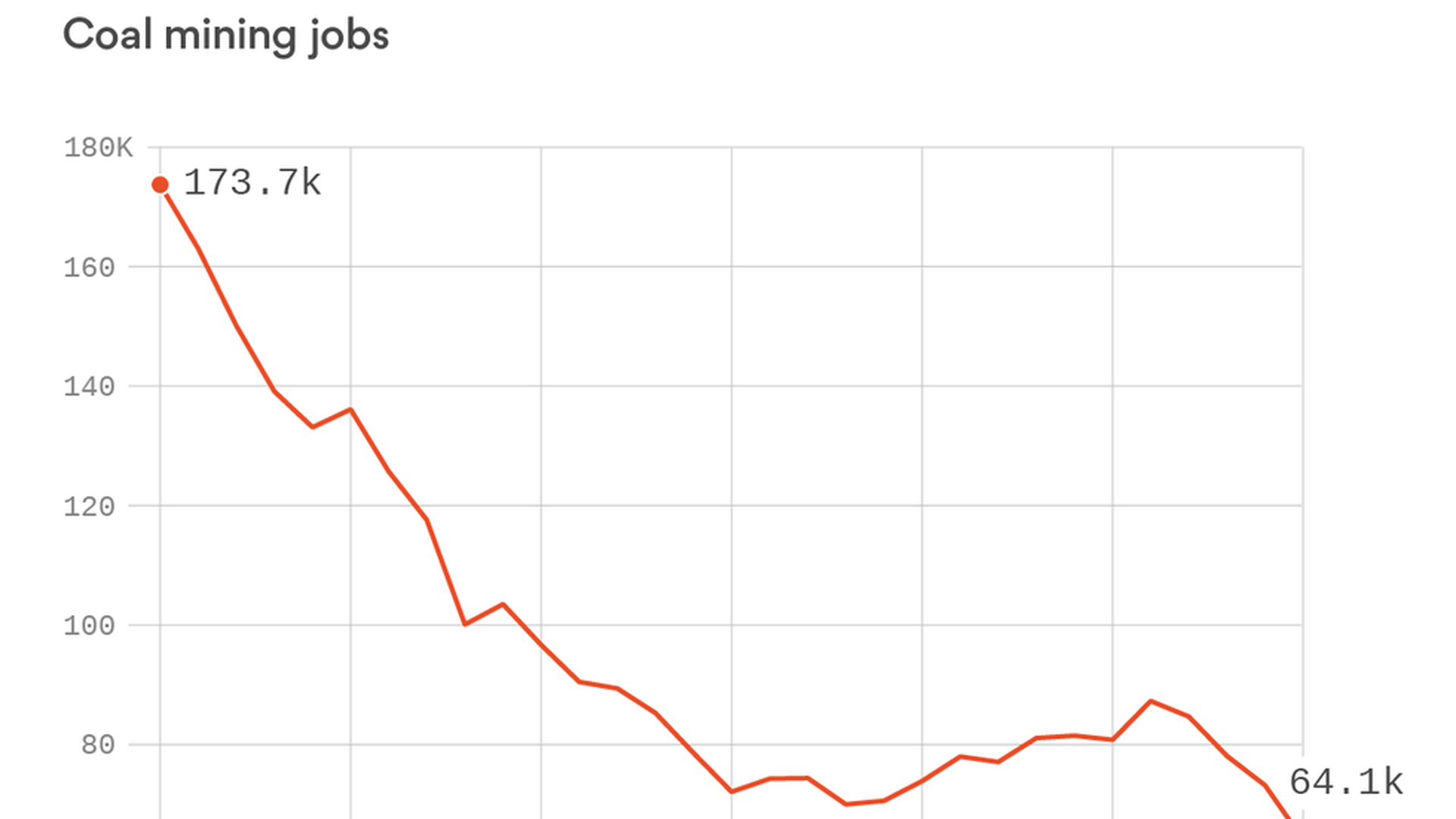 Last night President Trump said this in Louisville, Kentucky:
"As we speak we are preparing new executive actions to save our coal industry and to save our wonderful coal miners from continuing to be put out of work."
That's probably a reference to a long-awaited executive order to begin unwinding carbon emissions rules for power plants and upend other Obama-era climate policies.
But just in time, Axios wunderkind Shane Savitzky has a good piece up about why Trump's pledge probably won't become reality. Check it out here. His bottom line: "The energy market has moved past coal, and those jobs simply aren't coming back."
Speed read
The Interchange, one of Greentech Media's podcasts, has an in-depth look at what's next for offshore wind in the U.S., which looks poised for growth after a very, very slow start.
A big takeaway if you don't have 37 minutes to spare: Look for the action to remain centered on the northeast. Why? Lots of population, strong winds, shallow waters that reduce costs, rather high power prices.
The Associated Press has the latest on Democratic state AG's probe of Exxon's climate work.
A deep dive in the Wall Street Journal explores how Royal Dutch Shell is changing its operations to make behemoth deepwater projects profitable amid modest oil prices.
The short version: They're shaking up corporate culture; cutting costs like the number of support ships; using horizontal drilling and water flooding techniques pioneered in the onshore fracking boom.
The bullish case for oil sands
Don't count out the oil sands! Yes several oil giants, most recently Shell, have announced that they're shedding assets there.
But the latest Wood Mackenzie podcast explains that the consolidation of mining into fewer and mostly Canadian corporate hands will enable development to proceed, and the remaining players like Suncor will be able to bring down extraction costs with economies of scale and pressure on suppliers.
And that brings us to this new Wall Street Journal piece, which like the podcast gets into how existing oil sands projects (not new ones with huge upfront costs) can present good returns even at modest prices.
"For investors truly bullish on crude in the long run, the best place to invest may be the unpopular fields north of the border," WSJ notes.
Senate panel pushes nuclear bill forward
On Wednesday the Environment and Public Works Committee will vote on legislation that's designed to make the Nuclear Regulatory Commission licensing process friendlier to getting the next generation of nuclear reactor technologies approved and built.
Why it matters:
Despite once-high industry hopes, there has been fairly little new reactor construction in the U.S. There's bipartisan backing for the measure—it unites pro-nuclear but climate denying Sen. James Inhofe and climate hawk Democrat Sheldon Whitehouse, who sees nuclear power as a tool against global warming.
Eyes peeled
Here's a couple of interesting items on the Capitol Hill schedule today …
Senate Judiciary Committee members will start grilling Supreme Court nominee Neil Gorsuch in earnest.
Democrats are wary of Gorsuch's disdain for Chevron deference, or the idea that agencies should have ample running room to craft policies when underlying laws are ambiguous.
Sen. Dianne Feinstein offered a preview during Monday's opening statement, emphasizing that Congress relies on agency experts to carry out statutes. "These are what ensure the Clean Air Act and the Clean Water Act protect our environment from pollution," she said.
A House Oversight and Government Reform Committee panel will explore "deficiencies" in the Interior Department's oversight of offshore drilling, almost seven years after the BP Deepwater Horizon disaster.
The Government Accountability Office is slated to issue more findings and a top analyst is testifying.
One cool thing
Via the Smithsonian National Museum of Natural History, this gallery of award-winning nature and wildlife photography is something to behold.
That's all for now, but as always, look for more in the Axios stream and your feedback is welcome at ben@axios.com