Axios Generate
July 28, 2022
🚀 Away we go! Today's newsletter, edited by Mickey Meece, has a Smart Brevity count of 1,306 words, 5 minutes. 
📬 Did a friend send you this newsletter? Welcome, please sign up.
🎶 This week in 1980 Hall & Oates released the album "Voices," which includes a slice of pop brilliance that's today's intro tune...
1 big thing: New life for climate legislation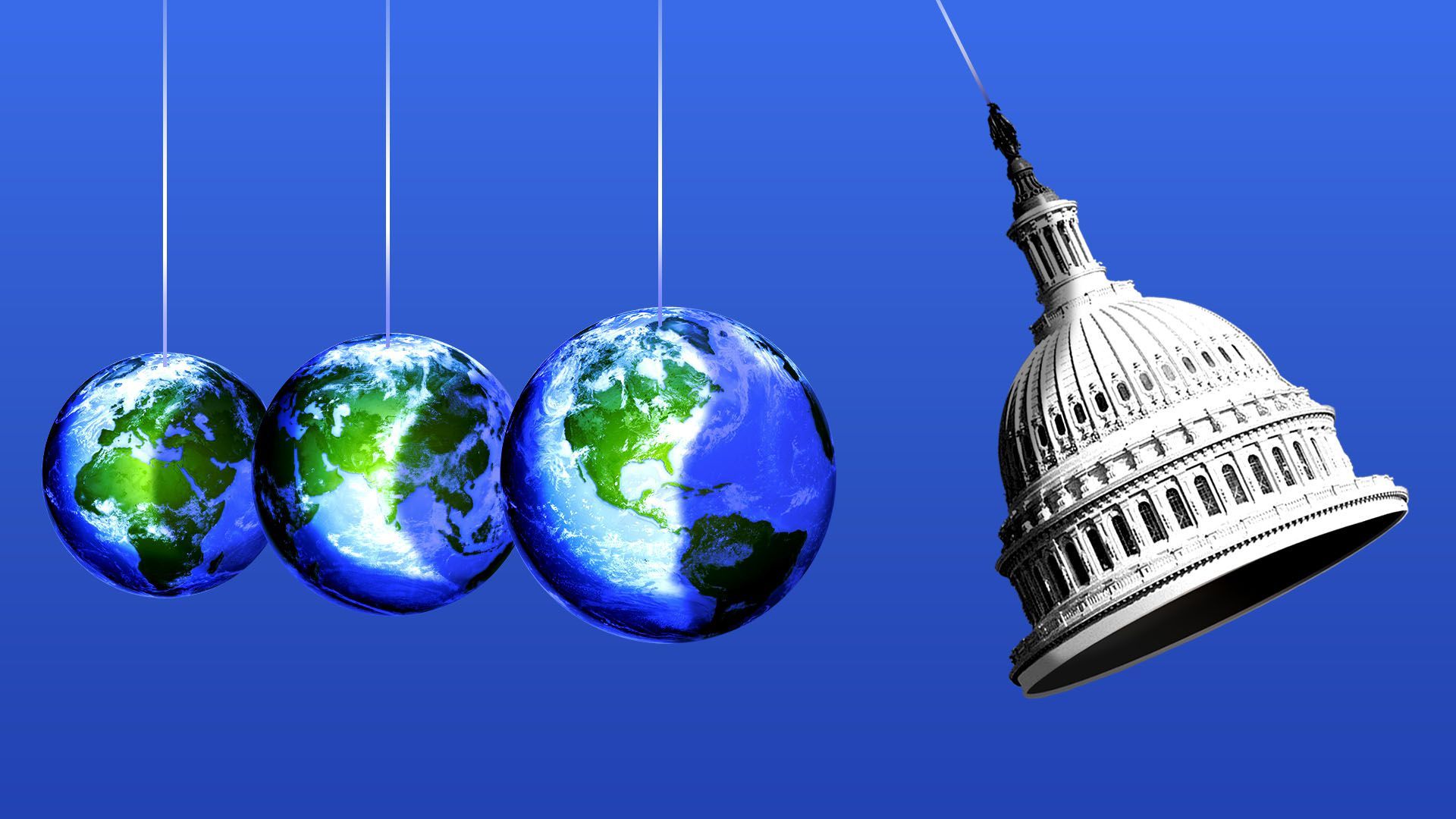 An emerging Capitol Hill deal could give White House carbon-cutting goals a huge lift that looked all but impossible weeks ago, Ben and Andrew write.
Why it matters: President Biden's target under the Paris Agreement of cutting U.S. emissions 50% by 2030 could be within reach if Congress approves the new clean energy investments, analysts say — but it's not clear that it would have the votes to pass.
Catch up fast: Senate Majority Leader Chuck Schumer and Sen. Joe Manchin (D-W.Va.) have unveiled the details of a revenue-and-spending deal with $369 billion in "energy security and climate change" measures.
If approved, it would be the biggest federal investment in clean energy yet made in the United States.
Manchin's vote is needed to move the bill on a party-line vote. But Sen. Kyrsten Sinema (D-Ariz.) would have to vote for it, too.
"We do not have a comment, as she will need to review the text," a Sinema spokesperson told Axios' Alayna Treene and Hans Nichols Wednesday night.
The big picture: The bill would provide tax credits and other incentives to spur the development and deployment of clean energy and carbon abatement technologies.
These include wind and solar power, so-called clean hydrogen, as well as direct air capture. It also expands incentives to help people buy electric cars, subject to certain income requirements.
The bill includes a fee on methane emissions to push energy companies to stop leaks of the potent greenhouse gas.
It would incentivize the increased domestic production of critical minerals used in batteries for electric vehicles.
In a concession to Manchin, the bill would also force the Interior Department to reinstate Gulf of Mexico oil drilling leases from a 2021 auction that was vacated by a federal judge, and conduct new Gulf leasing as well.
Zoom in: A few takeaways on the bill's unexpected revival Wednesday evening...
1. It is consequential. Schumer and Manchin jointly said it would cut U.S. emissions by 40% by 2030. Schumer's office confirms that's from 2005 levels, the same baseline as Biden's pledge.
Ben King of the Rhodium Group, a research firm, tells Axios if the deal is consistent with the package they've previously modeled, it could "plausibly" put the U.S. on track for a 40% reduction.
"Additional action by the Biden administration and states can help close the rest of the gap to the target of a 50-52% cut by 2030," he said via email.
2. It has global implications. Stronger U.S. climate efforts could prompt other big polluters to do more.
3. The path forward looks very real. Several of the most outspoken lawmakers on climate — like Sens. Brian Schatz (D-Hawaii) and Sheldon Whitehouse (D-R.I.) — applauded the deal.
House Speaker Nancy Pelosi cheered and the House Progressive Caucus said it was a "promising" step.
💬 What they're saying about the tentative deal
While we're all waiting around for what Sen. Kyrsten Sinema (D-Ariz.) — a crucial vote for Democrats — says about the plan, here are a few other noteworthy reactions, Ben and Andrew write.
UC-Santa Barbara climate policy expert Leah Stokes said the bill would be "transformative" in terms of boosting clean energy jobs and manufacturing — and would be timely after the extreme weather events of recent weeks.
"I think that the last two weeks have shown us what the price of failure is. That it is an unlivable planet," she told Axios.
Aliya Haq, VP of U.S. policy and advocacy at Breakthrough Energy, told Axios via email: "Our country making that massive investment is the most enormous step toward taking on the climate crisis. It's monumental."
Sen. John Barrasso, the top Republican on the chamber's energy panel, tweeted: "With inflation at a 41-year high and a looming recession, Democrats want higher taxes, more government spending, and to attack American energy."
However, backers of the measure argue it will lower consumers' energy bills.
Sen. Joe Manchin (D-W.Va.) said he secured a side deal with Democratic leaders to move separate permitting reforms this fall.
It would ensure infrastructure including transmission, pipelines and export facilities can move forward, he said in a statement.
"That could ease the way for a project in which Mr. Manchin has taken a personal interest, the Mountain Valley Pipeline, which would transport Appalachian shale gas from West Virginia to Virginia," the NYT reports.
2. Big Oil's profits surge with more to come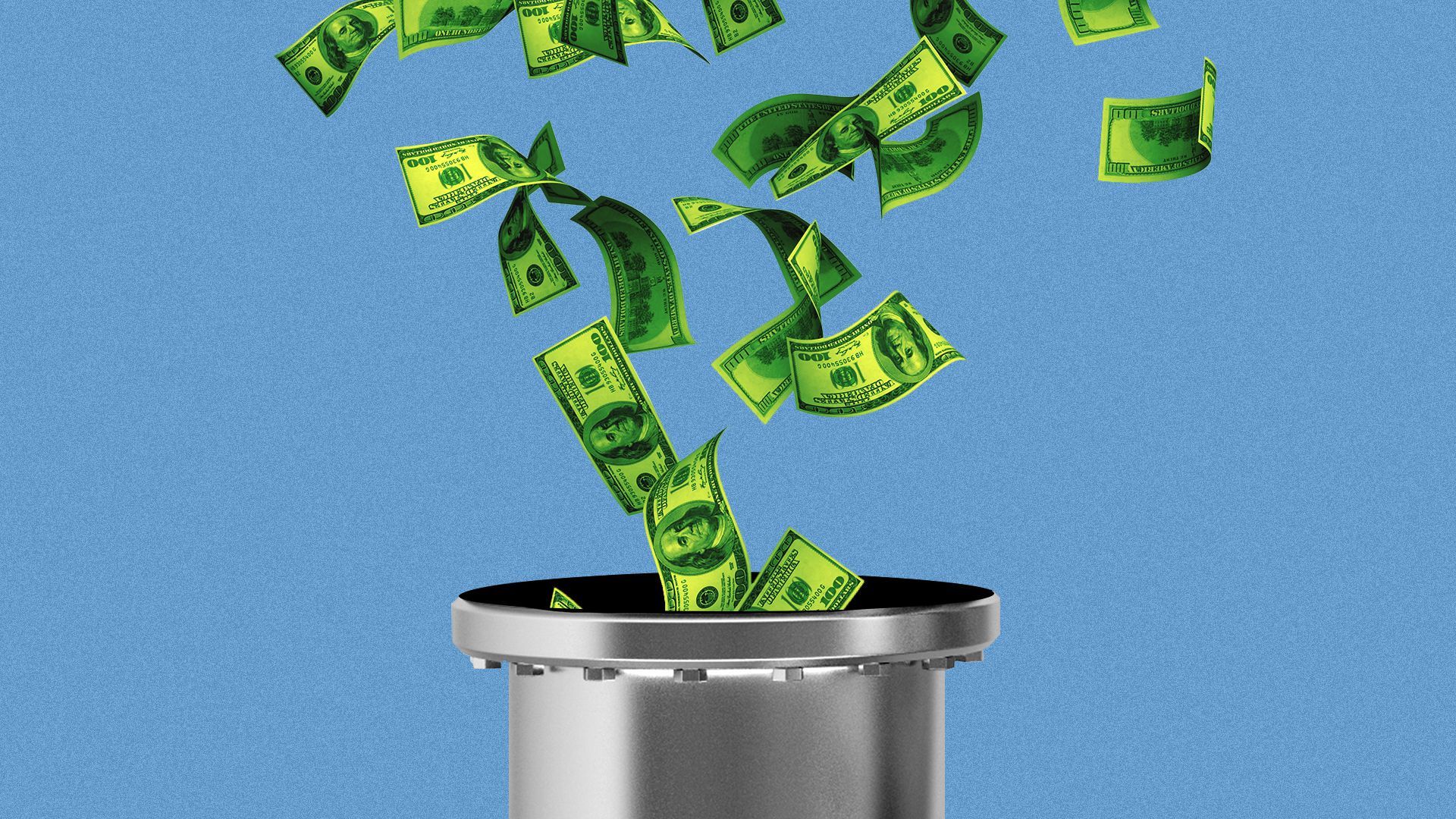 Shell and TotalEnergies posted record quarterly earnings this morning on the strength of high oil and gas and fuel prices, with both giants announcing more shareholder payouts, Ben writes.
Driving the news: Shell reported net earnings of $11.5 billion which the company called a reflection of "strong performance in a turbulent economic environment."
The company vowed $6 billion in fresh share buybacks this quarter after completing an $8.5 billion buyback program in the first half of 2022.
TotalEnergies, meanwhile, posted a record $9.8 billion in adjusted earnings and said its share repurchases will continue to the tune of $2 billion in Q3.
Reuters has an in-depth look at the reports.
Why it matters: The record results put an exclamation point on the energy price surge that has accompanied the return in global demand and the commodity shock from Russia's invasion of Ukraine.
U.S.-based multinational giants report their Q2 profits tomorrow and could easily set new records.
Yes, but: The huge hauls last quarter and now are also putting the industry into the political crosshairs.
The group Climate Power this week launched a $3 million ad campaign hitting the industry over gasoline prices.
The ads are another indication that President Biden's allies know gas prices will be a key factor in the midterm elections, Axios' Hans Nichols reported.
The other side: Oil industry officials say attacks over prices are based on fundamental misunderstandings of how energy markets work and prices are set.
3. Coal demand is back to all-time highs — IEA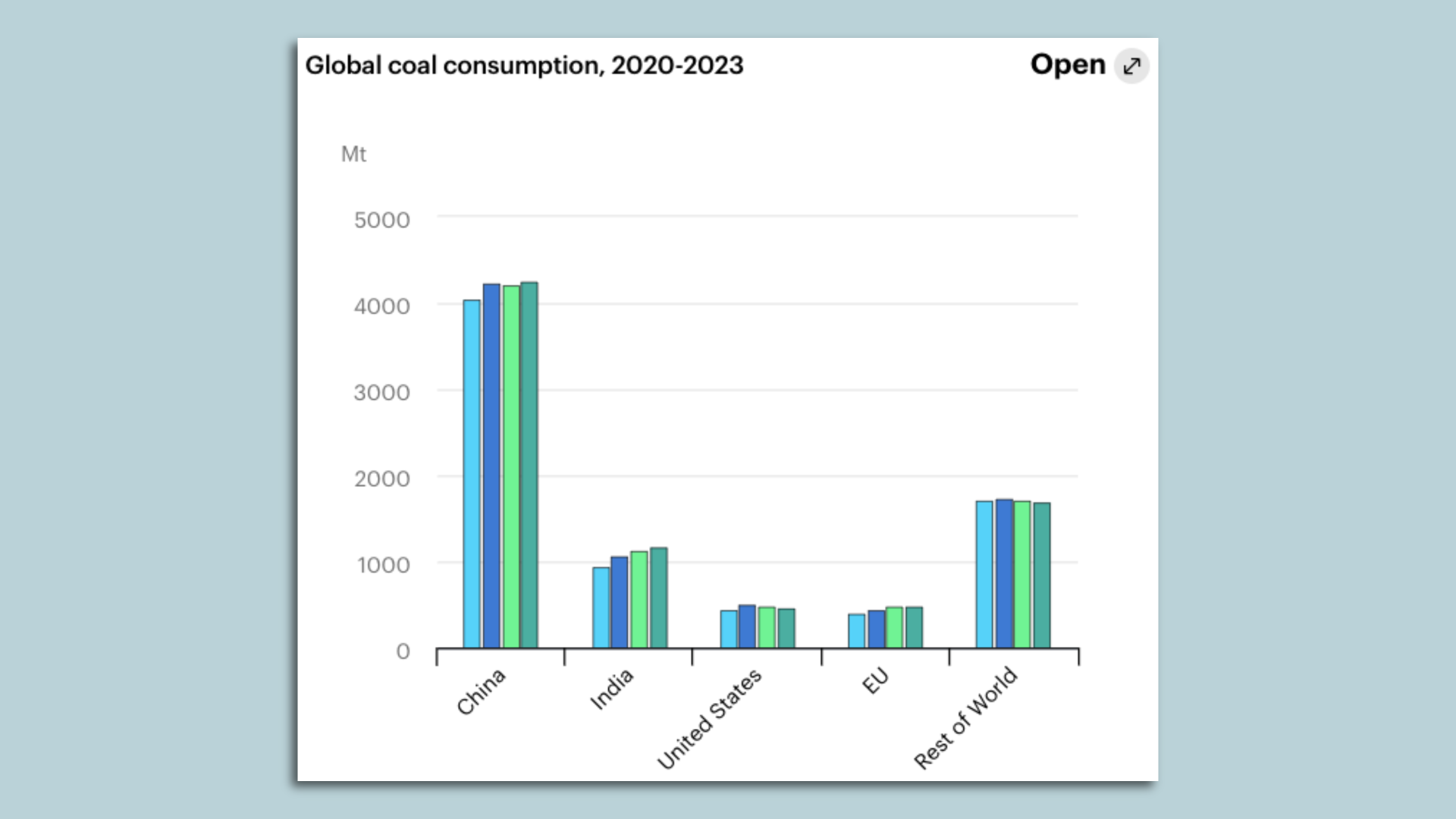 Global coal consumption is slated to rise slightly this year, matching the prior peak set in 2013, the International Energy Agency said in a new forecast, Ben writes.
Why it matters: Coal is the most carbon-intensive fuel and steep reductions are needed to keep global climate goals remotely in reach.
The big picture: "Global coal demand is being propped up this year by rising natural gas prices, which have intensified gas-to-coal switching in many countries, as well as economic growth in India," IEA said in a release about the report.
What's next: IEA sees another likely increase in 2023, though demand this year and next is cloaked in uncertainties.
4. Biden officials support battery projects...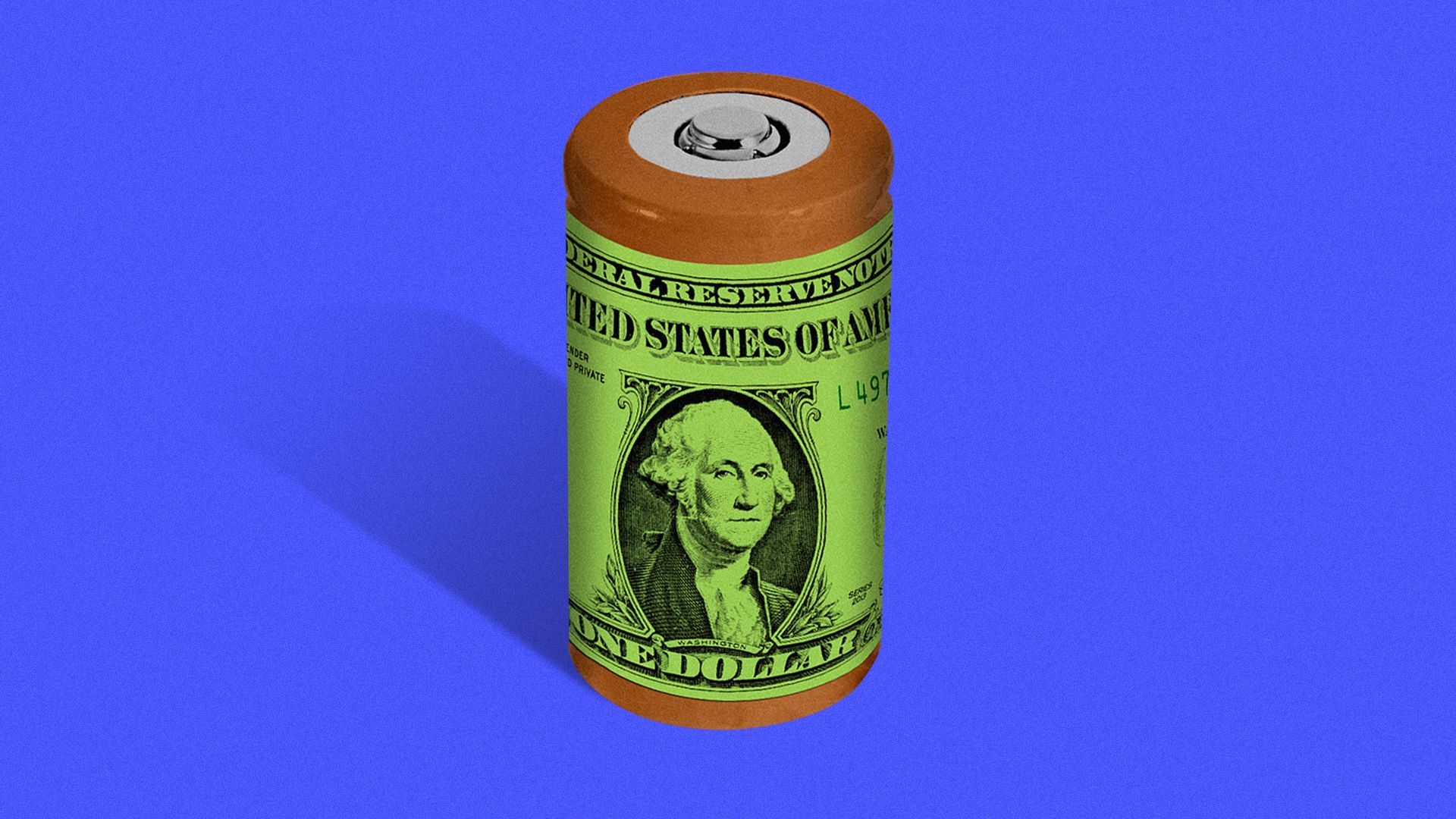 The Energy Department has finalized a $102 million loan guarantee for the firm Syrah Technologies to expand a Louisiana plant that produces graphite-based components used in electric car batteries, Ben writes.
Why it matters: The announcement is part of Biden officials' wider efforts to boost the domestic battery chain for expanding EV production and sales.
Huge amounts of new supplies will be needed to support what officials hope will be a rapid transformation from gas-powered cars to models with plugs.
Zoom in: The plant is expected to produce enough battery anode materials for roughly 2.5 million EVs by 2040, DOE said.
Graphite for the plant will come from a Syrah mining and processing operation in Mozambique.
Catch up fast: The completed deal comes two days after DOE's loan office announced plans to provide $2.5 billion to Ultium Cells — a joint venture between GM and LG Energy — to help build battery factories in three states.
5. ...but the U.S. is playing catch-up
The U.S. is currently home to just a small slice of the global electric vehicle battery supply chain, as you can see from this chart adapted from an International Energy Agency report in May, Ben writes.
What we're watching: How that same chart will look 5, 10 and 15 years from now.
Overall, a number of automakers and battery companies are planning new U.S. plants for batteries and their components.
There are also proposals for new U.S. projects for extracting lithium and other key inputs.
🙏Thanks for reading and see you back here tomorrow.