Good Monday morning! Did you have a nice Earth Day? I ran the George Washington 10-miler, where by, coincidence or not, the medals and shirts were green.
You're invited: If you're in D.C., please join Axios at 8am tomorrow for a conversation on climate change and other topics with former Vice President Al Gore. Outside cameras and correspondents welcome. RSVP here.
Let's get to the news. My latest column reality checks President Trump's efforts to back coal and nuclear power. I'll offer a glimpse of that, and then Ben will take over to get you covered on the rest. 
https://www.axios.com/newsletters/axios-generate-5c9ad85d-4a19-4771-bb72-0a277a57ee7f.html?chunk=0#story0
1 big thing: Trump's misplaced power solution
Illustration: Rebecca Zisser/Axios
Trump is directing his administration to prop up financially struggling coal and nuclear power plants to ensure the electricity grid is resilient and reliable, but government data and most objective experts say there's no such problem.
Why it matters: America's electricity fuel mix is undergoing significant change, which does present challenges. But Trump's laser focus on coal and nuclear power — and companies seizing on that — distracts the debate from more substantive issues.
"There's a lot going on in this space right now, and I think it's unfortunate that it's being drilled down into a political back and forth about propping up certain plants for certain companies. There are really complicated issues that have been under the surface for a while that are now getting serious attention."
— Neil Chatterjee, Republican commissioner, Federal Energy Regulatory Commission
Driving the news: Trump repeatedly asks his advisers about how to revive the economically struggling coal and nuclear industries, according to officials following the deliberations.
Data and independent experts say there's little to no evidence of any resilience problem, particularly as it relates to coal and nuclear power plants. The Energy Department's own data shows that power outages are due mostly to storms and downed power lines, not resource shortages, according to a report by research firm Rhodium Group.
What's next: FERC is studying the issue of grid resilience and may issue proposals in the coming the months. "Maybe we'll end up issuing something that's very applicable, but not tied specifically to coal and nuclear," Chatterjee said.
Go deeper: Read the rest on the Axios stream.
https://www.axios.com/newsletters/axios-generate-5c9ad85d-4a19-4771-bb72-0a277a57ee7f.html?chunk=1#story1
2. Big this week: Pruitt on the Hill and oil earnings
In the spotlight: Embattled EPA Administrator Scott Pruitt will face Congress for the first time since the revelation of a suite of ethics controversies.
He'll appear Thursday morning before a House Energy and Commerce panel and the same afternoon before a House appropriations subcommittee.
Quick take: The hearing will offer Democrats, who have spent weeks attacking Pruitt with letters and on the airwaves, a chance to confront him directly.
Yes, but: Pruitt has weathered the storm for now — White House legislative affairs director Marc Short reiterated on NBC's Meet the Press yesterday that Trump is happy with him.
But few things are truly certain or permanent in Trump-world, and a bad performance or more revelations that coincide with the hearings could put Pruitt back on thin ice.
One crucial thing: My Axios colleague Jonathan Swan emails with one reason Pruitt is safe, which is that the White House can't afford to torpedo another cabinet secretary.
"McConnell has no floor time. And Pompeo proved how hard it is in this environment to confirm even a qualified scandal free candidate," he notes.
* * *
Business: A number of powerful oil companies will report their first quarter earnings this week.
Shell and ConocoPhillips report Thursday, and Chevron and ExxonMobil earnings arrive on Friday.
https://www.axios.com/newsletters/axios-generate-5c9ad85d-4a19-4771-bb72-0a277a57ee7f.html?chunk=2#story2
3. Possible meanings of Trump's OPEC tweet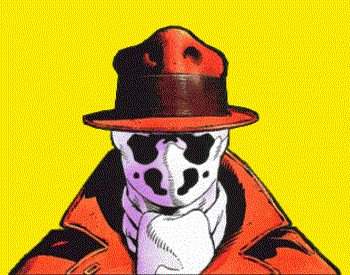 Trump's decision Friday to burst like Kool-Aid Man into oil market debates has generated an influx of analyses about what motivated his comments.
ICYMI: Trump bashed OPEC in a tweet Friday over "artificially Very High" prices.
What they're saying...
Gasoline prices: One through-line in the analysts' reactions is that Trump could be seeking to preemptively steer and deflect consumer ire at rising gasoline prices heading into summer and election season.
A related thing is how when it comes to what's good for U.S. oil producers (higher oil prices) and what consumers want (low gasoline prices), Trump will choose the latter.

"[P]olitical mathematics tends to be of a first-order nature: high oil prices only directly benefit a small number of voters, but low gasoline prices directly benefit all voters," ClearView Energy Partners said in a note.
Iran: The tweet could be a further sign that Trump is preparing to end waivers of Iranian energy sanctions in May, which would remove some barrels from global market (there's debate about how much), thereby putting more upward pressure on prices.
"I think the market should take it as another indication that [reimposition of sanctions] is going to happen," Hedgeye Risk Management's Joe McMonigle said in video commentary on their site.
What's next: "The implications of it are going to be, I think, pressure on by Trump on OPEC, and Gulf producers in particular who are aligned with him on this Iran policy to increase production because of the disruption," he said.
Go deeper: Click here for more in the Axios stream.
https://www.axios.com/newsletters/axios-generate-5c9ad85d-4a19-4771-bb72-0a277a57ee7f.html?chunk=3#story3
4. Parsing new carbon capture tax credits
Real-world effect: Via Forbes, University of Texas electricity expert Joshua Rhodes looked at how many power plants are poised to benefit from expanded carbon capture tax credits.
Bottom line: In his report, he finds 27 coal-fired and natural gas combined cycle power plants within 10 miles of existing CO2 pipelines, which is important for cost purposes.
"Of the 27 power plants we examined, it appears the economics might work for at least 22," he writes.
"In fact, all nine coal plants now operating likely could make a profit by sequestering the CO2, or selling it off for [enhanced oil recovery]," he writes, adding that some plants could make as much as $3.7 billion over the 12-year life of the credit.
Of the 21 gas plants on the list, he sees profits from using the credit for 12 of them, though only 5 of them would see profits via direct sequestration.
Why it matters: The credits in the February federal spending deal represented a rare bipartisan effort on climate policy, but whether they're attractive enough for use in the power sector (as opposed to other industrial facilities) remains a question.
https://www.axios.com/newsletters/axios-generate-5c9ad85d-4a19-4771-bb72-0a277a57ee7f.html?chunk=4#story4
5. Latest in energy lobbying
They're here: Lots of first-quarter reports are in, so I've provided a few of note in the oil-and-gas sector.
API: The American Petroleum Institute, the sector's biggest lobbying group, reported $1.8 million in Q1 lobbying, a slight increase from the prior quarter.
Chevron: Their Q1 lobbying jumped to $3.1 million, up from $2.1 million in Q4 2017.
ExxonMobil: The largest U.S.-based multinational reported slightly over $3.1 million in Q1 lobbying, up from nearly $2.7 the prior 3-month period.
Shell: They reported $2 million, similar to the $1.9 million from the prior quarter.
BP: The company reported nearly $1.6 million in Q1 lobbying spending, up from $1.4 million the prior quarter.
https://www.axios.com/newsletters/axios-generate-5c9ad85d-4a19-4771-bb72-0a277a57ee7f.html?chunk=5#story5
6. How health care affects the climate
Axios' David Nather asks and answers a good question...
The question: Wait, you say ... What does the health care industry have to do with climate change?
The answer: It turns out the U.S. health care system is the 7th largest producer of carbon dioxide in the world, according to the Commonwealth Fund — which is why the health care foundation says the system should do more to reduce its greenhouse gas emissions.
The group points out that Kaiser Permanente has already cut its greenhouse gas emissions by 29% over the last 10 years, largely through the use of solar power and other environmental initiatives.
Outside the U.S., Britain's National Health Service is another model — it's working on cutting its emissions, too.
The catch: The health care industry is diverse and is rarely on the same page on anything, let alone an issue that's not directly related to health care. But the industry should consider climate change a health care issue, according to Commonwealth — because events like extreme heat and cold, as well as the weather disasters we're seeing, "take a major toll on health."
https://www.axios.com/newsletters/axios-generate-5c9ad85d-4a19-4771-bb72-0a277a57ee7f.html?chunk=6#story6
7. 1 fun thing: Kanye and Tesla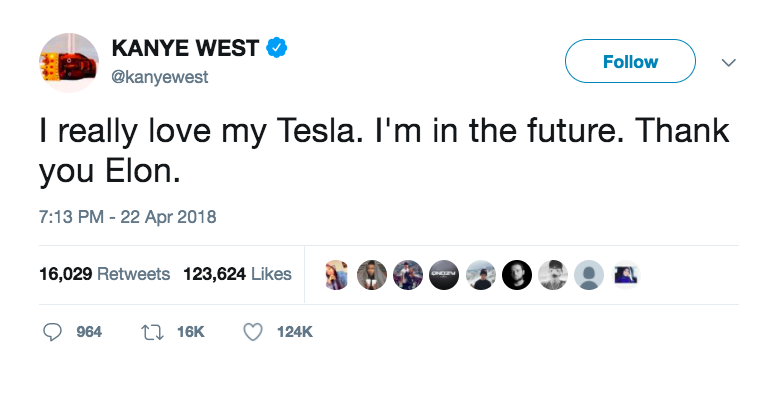 Late last night: Rapper and businessman Kanye West told his 14.6 million Twitter followers how much he adores his Tesla (which, according to press reports, is a customized P100D Model S).
Why it matters: Tesla has been going through a rough patch, so rave reviews from a cultural icon probably can't hurt. Tesla CEO Elon Musk, who has called West an inspiration, retweeted a couple of West's new comments.
The bottom line: Per Bloomberg, "Kanye West and Elon Musk's bromance is hitting an all-time high."