Axios Generate
January 29, 2020
Good morning. Today's Smart Brevity count: 1,224 words, 4.5 minutes.
And at this moment in 1997, En Vogue was atop Billboard's R&B charts (and #2 on the Hot 100) with today's intro classic...
1 big thing: A greener Google can't escape climate pressure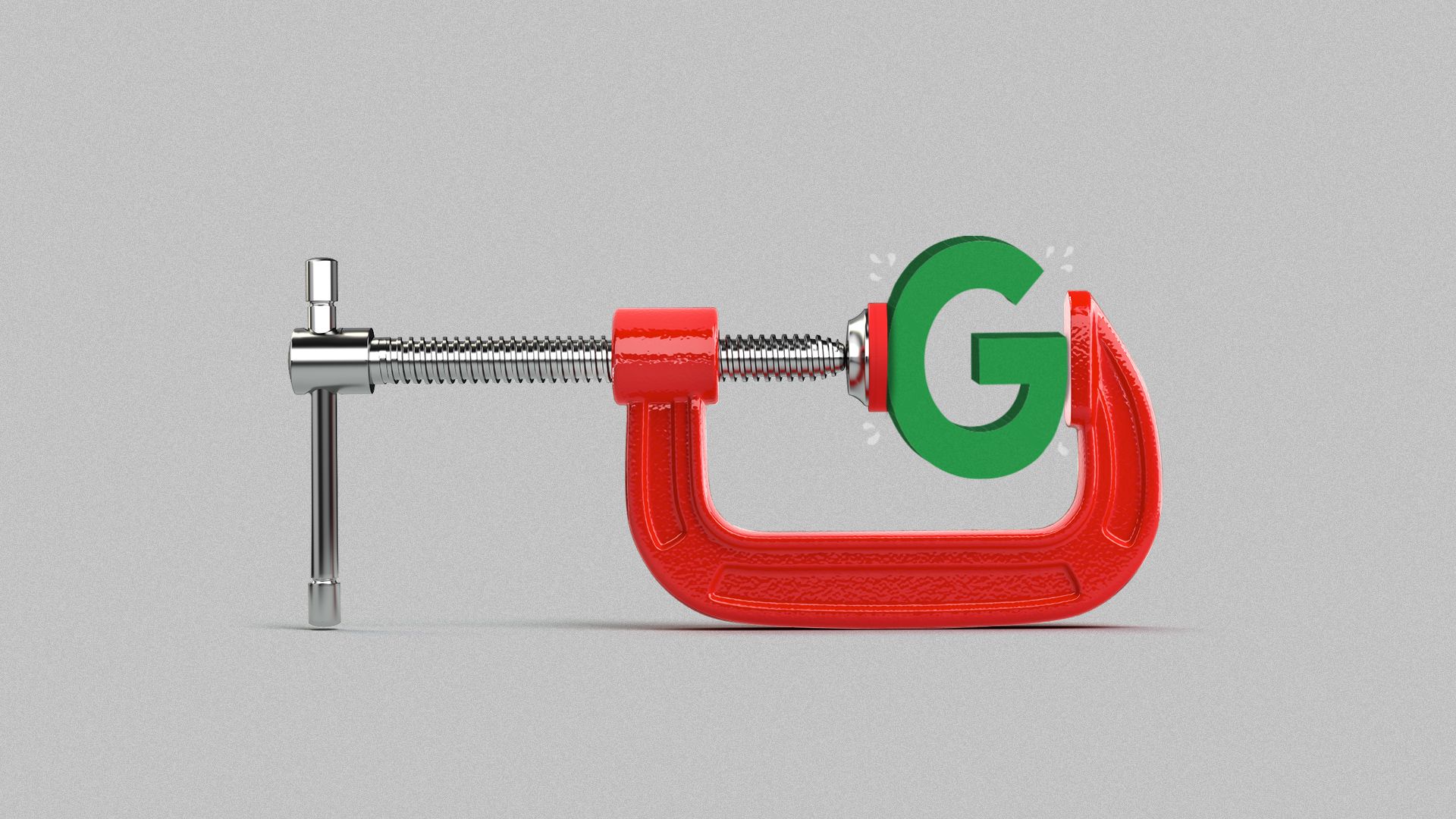 The last few days have made something pretty clear: Big Tech is getting greener — but that's not keeping it out of climate advocates' crosshairs.
Driving the news: New data shows that Google was the global leader in corporate renewable energy procurement last year, signing contracts for 2.7 gigawatts of capacity.
The next three biggest buyers were Facebook, Amazon and Microsoft, per a BloombergNEF report Tuesday that underscores Big Tech's years-long push into renewables.
It's merely the latest evidence that tech giants are looking to act aggressively on climate and clean energy.
This month Microsoft also rolled out a suite of new policies — including a pledge to be carbon-negative by 2030 that encompasses its suppliers too.
Amazon toughened its climate plans and targets last September.
But, but, but: Even as major tech companies announce new green ambitions — and evince existing ones — they're facing heightened pressure to walk the walk when it comes to their products and clients.
What's happening: Democratic Rep. Kathy Castor, who heads the Select Committee on the Climate Crisis, this week urged Google to curb false climate information on its hugely popular YouTube subsidiary. She called for steps including...
Removing climate "denial" and "disinformation" from YouTube's recommendation algorithm.
No longer allowing users to monetize videos that "promote harmful misinformation and falsehoods" about climate.
Also this week, hundreds of Amazon employees, defying their communications rules, put their names on statements criticizing Amazon policies on climate (among other topics).
Context: Amazon, Google and Microsoft all face attacks from both their own employees and outside critics — including Sen. Bernie Sanders — for offering sophisticated computing services tailored to help oil companies assess and extract resources.
The bottom line: Tech companies have some of the corporate world's most aggressive climate targets and programs. But this is hardly inoculating them against criticism.
Bonus: The climate fuss over YouTube
The letter to Google mentioned above cites a report this month by the activist group Avaaz, which alleges YouTube is "driving millions of people to watch climate misinformation" daily.
One finding is that when users search for "global warming," 16% of the top 100 "related videos" in the "up next" feature had climate disinformation.
Another is that major brands are often unaware that their ads run on these videos.
Why it matters: YouTube's reach is immense.
The other side: A YouTube spokesperson said the company has "significantly invested in reducing recommendations of borderline content and harmful misinformation, and raising up authoritative voices."
Their policies give advertisers the "tools to opt out of content that doesn't align with their brand," the spokesperson added.
Go deeper: YouTube advertisers blindsided by climate change denial videos (The Verge)
2. A stronger Tesla returns to the spotlight
Tesla will report Q4 earnings after markets close today and CEO Elon Musk will hold a conference call, providing analysts the latest details on the world's top seller of electric cars.
The big picture: The latest snapshot comes as the volatile Silicon Valley automaker's stock is near all-time highs with a recent run of positive news.
That includes record 2019 deliveries that met the company's target, and the recent launch of its Chinese factory.
Why it matters: Tesla is arguably the most important corporate actor in the movement of EVs toward the mainstream, even as new manufacturers emerge and legacy automakers roll out new models.
What's next: "Tesla is expected to post an adjusted profit of $1.65 a share in the quarter, according to analysts surveyed by FactSet, compared with an adjusted profit of $1.93 a share a year earlier," the Wall Street Journal writes.
What we're watching: I'll outsource this to Morgan Stanley analysts, who said in a note that big topics on their radar include...
Tesla's target for full-year 2020 deliveries, which they expect to be set at 500,000 to 550,000 vehicles but could be higher.
Details on this year's planned production and launch of the Model Y, a small SUV.
Plans to ramp up production in Shanghai and the status of the planned factory in Germany.
Go deeper: Elon's encore: Predicting the surprises Tesla has in store next (Bloomberg)
3. House Democrats show more climate cards...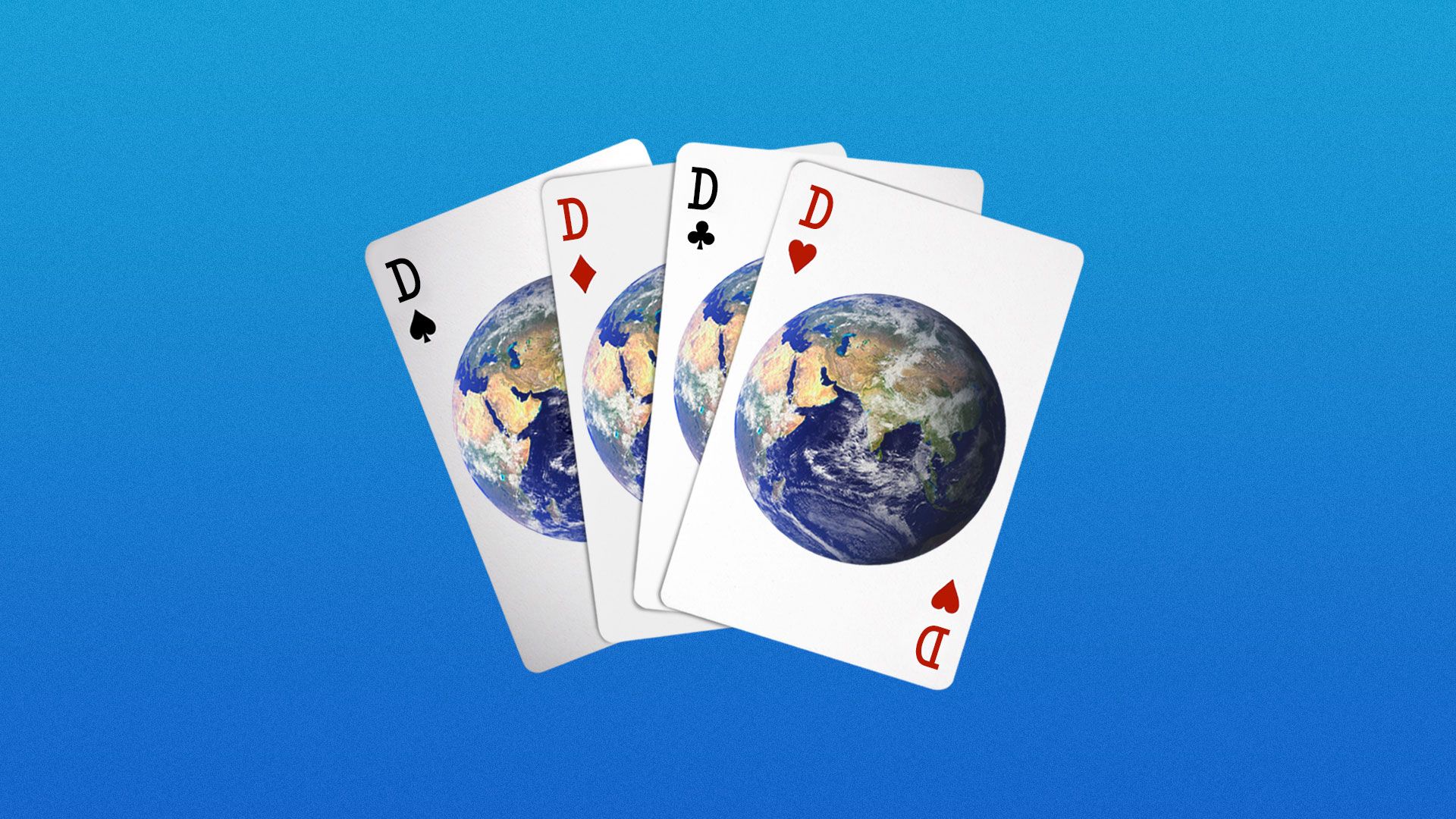 Senior House Democrats are on the cusp of unveiling a 5-year, $760 billion infrastructure package that "places a major emphasis on climate change," Politico reported last night.
What's next: Democrats are slated to discuss the plan in their caucus meeting later this morning, per Politico and Roll Call.
Context: It comes the day after Energy and Commerce Committee Democrats unveiled draft legislation aimed at reaching net-zero U.S. emissions by 2050.
The draft circulated yesterday adds details to a skeleton of the plan released earlier this month.
Why it matters: The two moves provide more clarity to some of the party's positioning.
Per Politico: "House Transportation Chairman Peter DeFazio (D-Ore.) says the plan will be a radical departure from highway-focused transportation bills and will put clean energy and climate 'resilience' at the center."
The plan would replace the current 5-year, $305 billion transportation package that expires Sept. 30.
4. ... as top Republican pushes climate science funding
The top Republican on the House Science and Technology Committee wants to double federal funding for basic science research as a way to address climate change, Axios' Amy Harder reports.
The big picture: Rep. Frank Lucas' plan is part of House Republicans' broader climate efforts, which are nonetheless far narrower than sweeping draft plans Democrats unveiled Tuesday that aims to reach net-zero U.S. emissions by 2050.
Driving the news: Lucas' legislation, introduced Tuesday, would increase basic science research funding from roughly $16 billion to $32 billion over 10 years.
It's unclear how much of that funding would go toward reducing emissions.
The focus of Lucas' bill is as much on ensuring America's leadership in science and technology as climate change itself.
Why it matters: It's the latest concrete policy we can expect Republicans to push as they face pressure from voters on climate.
5. The case for electric trucking
The latest edition of the Energy Department's handy "transportation fact of the week" series is relevant, IMHO, to the future of EVs. As the chart above shows, much of the freight moved by truck isn't traveling that far.
Why it matters: As medium and heavy-duty EV trucks enter the market, which is slowly starting to happen, there are many use cases that don't require massive range or far-flung charging networks.
What they're saying: "Electric trucks can meet the need of a lot of freight applications today and will be ready to meet the needs of even more applications as range grows in the coming years," Jason Mathers, the Environmental Defense Fund's director for vehicles and freight strategy, tells me.
6. Catch up fast: climate, microgrids, EVs
Climate: The European Commission plans to weave climate into trade policy, and "[o]ptions to impose the so-called carbon border-adjustment mechanism include a tax, a requirement for importers to buy permits in the European Union's Emissions Trading System, or a new excise duty." (Bloomberg)
Money: "State Street's $3.1tn investment arm is planning to start voting against the boards of big companies that lag behind on environmental, social and governance standards, a threat that is likely to reverberate in many corporate boardrooms." (FT)
Grid tech: "Startup Scale Microgrid Solutions won a $300 million commitment from investment firm Warburg Pincus this week, an unusually robust vote of confidence in the tricky microgrid market." (Greentech Media)
EVs, part 1: BorgWarner, a leading supplier of vehicle power train components, agreed Tuesday to buy electronics manufacturer Delphi Technologies in a stock deal worth $3.3 billion.
Why it matters: It's both a sign of the industry shift toward EVs and the uncertainty of the pace. The deal gives BorgWarner the flexibility to offer a variety of gasoline, hybrid and electric powertrain systems for both passenger and commercial vehicles as it prepares for the future. (Axios)
EVs, part 2: "Electric pickup truck start-up Lordstown Motors is pursuing a $200 million loan from a U.S. Energy Department program to retool a former General Motors (GM.N) factory in northeast Ohio, Chief Executive Steve Burns told Reuters."
The company also plans to "unveil a drivable version of its electric truck at the Detroit auto show in June." (Reuters)