Welcome back!
I'm feeling kind of sluggish today, so if you are too, here's a remedy: tomorrow marks the start of LL Cool J's one-week run atop the Billboard rap charts in 1991 with this song.
https://www.axios.com/newsletters/axios-generate-5c0caca2-86b1-4a5e-be75-53cb5491c4a2.html?chunk=0#story0
One big thing: Trump's energy "dominance" paradox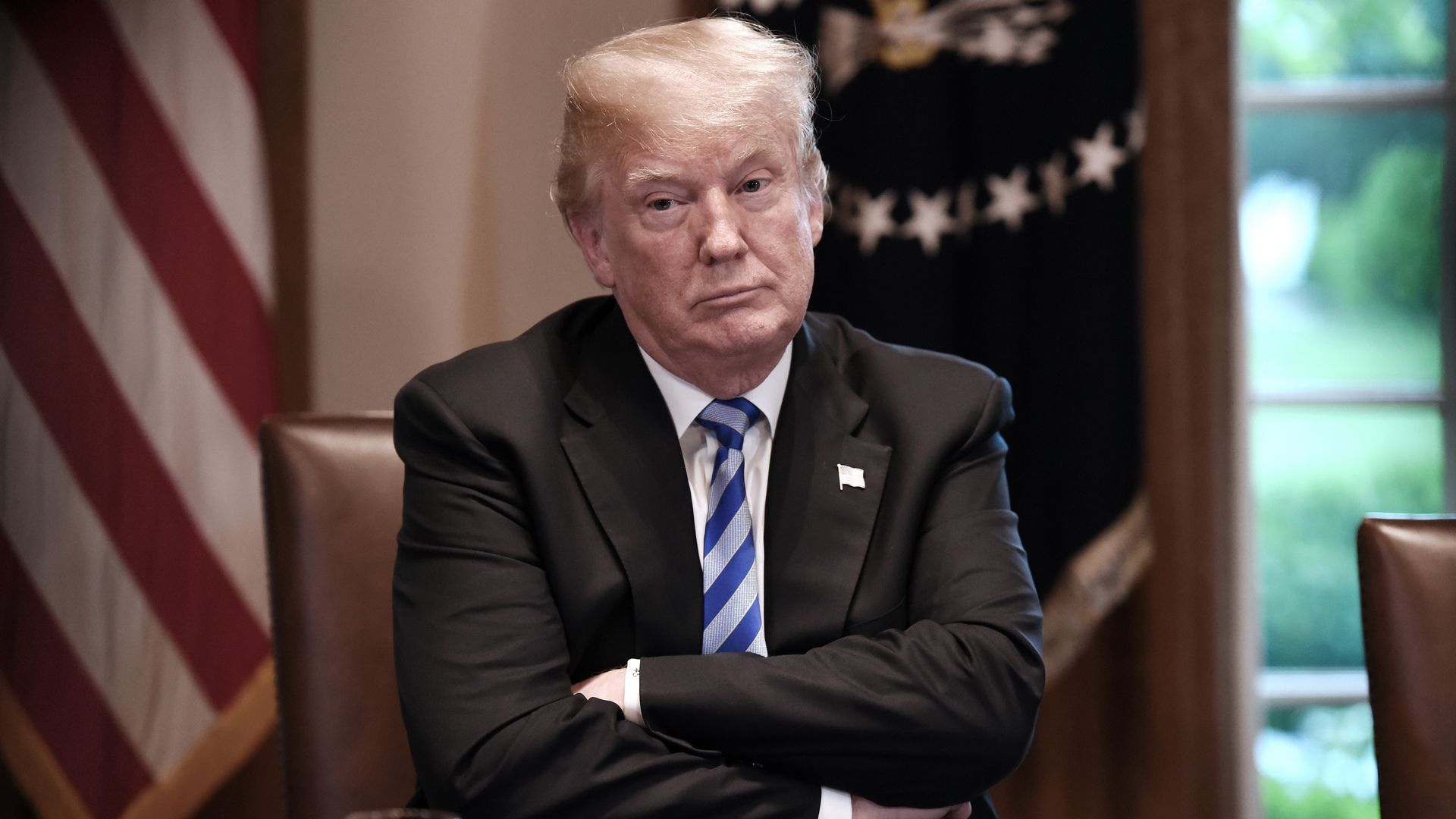 New data and analyses underscore both the promise and limits of President Trump's repeated claim that the U.S. should be an "energy dominant" country.
One factor: The Energy Information Administration said yesterday that U.S. crude oil exports hit a fresh record of 2.57 million barrels per day (mbd) last week — the highest level since the 2015 lifting of the crude export ban. U.S. overall crude production is also at record highs.
Of the 6 times that exports have exceeded 2 mbd on a weekly basis, 5 have occurred this year.
Look for these levels and more to be increasingly common as production and export infrastructure expands.
Foreign buyers are also taking advantage of price differentials between U.S. crude and more expensive grades.
But, but, but: Attention to the shale oil boom should not eclipse the reality that despite the dominance rhetoric, the U.S. will remain tethered to wider global market swings, remains a big net crude importer, and Trump has limited effect on the country's output.
In its latest monthly oil market report yesterday, the International Energy Agency said that despite the U.S. output growth, it will be a "major challenge" for producing countries to prevent sharp price increases as Iran sanctions and Venezuela's collapse hinder supply.
The U.S. crude surge is only loosely tethered to Trump's oil-and-gas policy agenda, which largely addresses federal lands, while the production gains have been mostly on state and private lands in Texas and elsewhere.
Why this matters: Despite the market-driven U.S. production surge, rising prices could create political problems for Republicans as gasoline prices head toward $3 per gallon.
Be smart: Over in our Expert Voices section, Eurasia Group CEO Robert Johnston looks at a paradox in Trump's approach to energy and his inability to back up his widely circulated claim that what he called "artificially high" prices "will not be accepted." Johnston writes:
"[T]he administration has done little on clean energy, where policy could make a meaningful impact."
"While the Trump administration searches for policy direction with OPEC and oil market disruptions, it has retreated from an active role on renewable and alternative energy, where the market alone is not likely to drive U.S. leadership."
https://www.axios.com/newsletters/axios-generate-5c0caca2-86b1-4a5e-be75-53cb5491c4a2.html?chunk=1#story1
2. One fun thing: the climate tech fantasy draft
Fun but serious too: The latest episode of Greentech Media's podcast The Interchange is a fantasy sports-style draft of the technologies best equipped to achieve the deep decarbonization of the global economy by 2050.
Why it matters: It's a useful way to discuss the options for trying to wring enough greenhouse gas emissions from power, transportation, and industry to keep global temperatures from rising more than 2 degrees celsius above pre-industrial levels.
The picks: Co-hosts Shayle Kann and Stephen Lacey each got nine picks to assemble their teams. You can see the full breakdown here, but the first six technologies chosen overall were...
Centralized solar photovoltaic (PV) plants
Rooftop solar PV
Offshore wind
Advanced power electronics
Lithium-ion batteries
Small modular nuclear reactors
Some outside-the-box choices surfaced late in the draft, including augmented reality and fake meat.
https://www.axios.com/newsletters/axios-generate-5c0caca2-86b1-4a5e-be75-53cb5491c4a2.html?chunk=2#story2
3. Petro-notes: $80 oil, Total, shale, Repsol
State of the market: Brent crude oil prices reached a fresh three-and-a-half year high of $80 per barrel in trading Wednesday.
Why it matters: The $80 threshold is a nice round number that underscores how the market has shifted greatly since the collapse a few years ago, thanks the OPEC-Russia supply deal, geopolitical tensions, and more.
Forces pushing up prices include the prospect of Iranian barrels coming off the market due to revived U.S. sanctions, as well as declining global stockpiles.
Iran sanctions squeeze: Total announced yesterday it would pull out of its $2 billion project to develop Iran's giant South Pars gas field unless it was granted a waiver to protect it from U.S. sanctions penalties, CNN Money reports.
Meanwhile, Iranian Oil Minister Bijan Zanganeh told the ministry's Shana news service that Chinese firm CNPC is ready to replace Total, if it decides to leave the project, per Iran Front Page.
Tough out there: The Wall Street Journal reports this morning that shale oil producers, for a bunch of reasons, are having a hard time making money.
"Of the top 20 U.S. oil companies that focus mostly on fracking, only five managed to generate more cash than they spent in the first quarter, according to a Wall Street Journal analysis of FactSet data," they report.
Transitions: Per Bloomberg, the Spanish oil major Repsol "will no longer seek growth for its oil and gas business in preparation for the global transition to cleaner energy."
Quick take: While no other members of the big oil club are going nearly that far, Bloomberg notes that the company's move shows how industry decisions are being influenced by renewables, carbon policies and electric vehicles, which will all help check long-term oil demand.
https://www.axios.com/newsletters/axios-generate-5c0caca2-86b1-4a5e-be75-53cb5491c4a2.html?chunk=3#story3
4. Energy jobs grow despite solar dip in 2017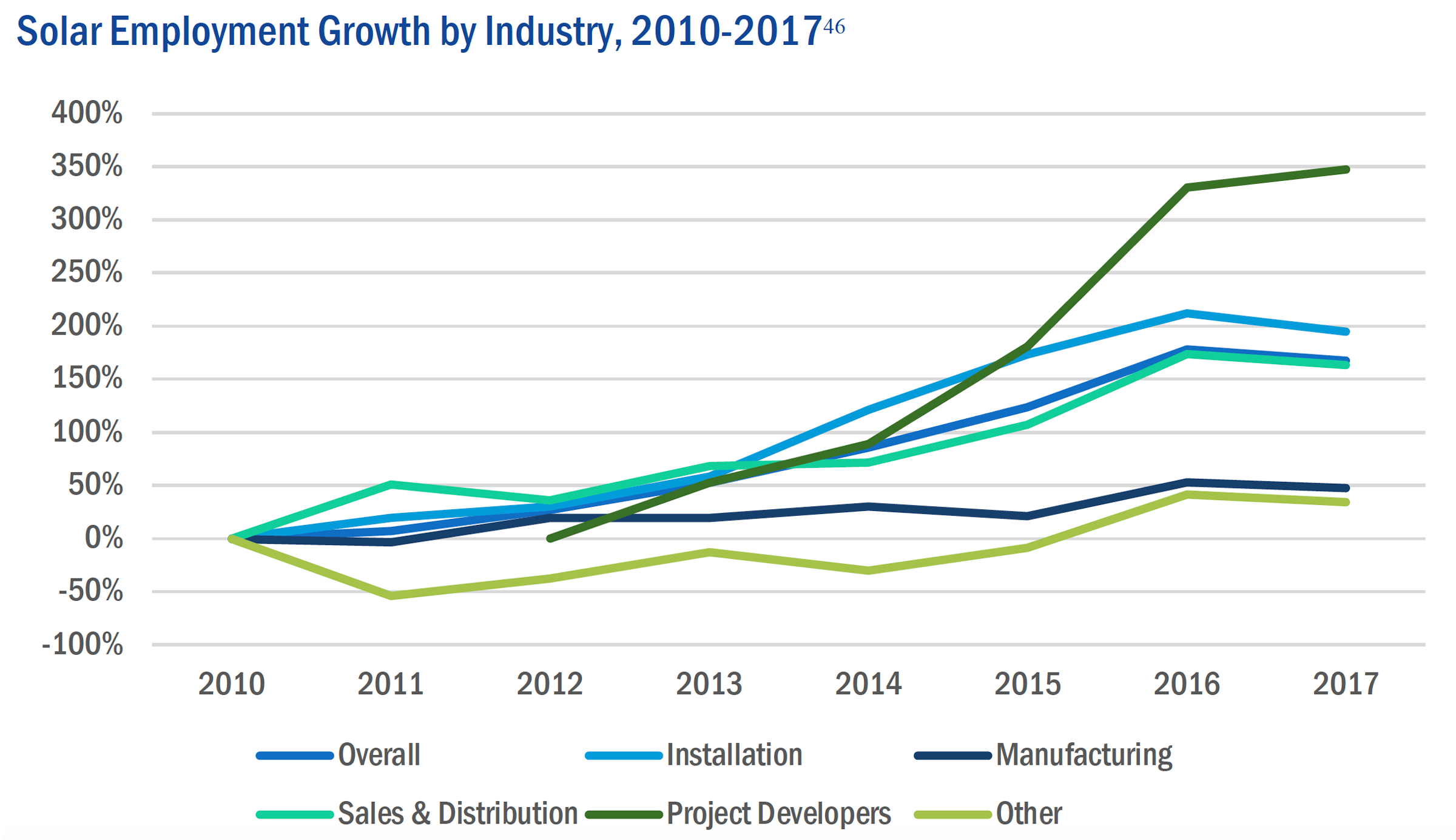 Screenshot of chart on U.S. solar employment levels, taken from the U.S. Energy and Employment report
State of the industry: A detailed new report shows that employment in U.S. energy industries grew by 133,000 jobs in 2017 despite the first dip in solar-related employment in several years.
The big winner: The energy efficiency sector alone represented half the growth, adding a net 67,000 new jobs, according to the report.
It was released by the National Association of State Energy Officials and the Energy Futures Initiative, a nonprofit led by former Energy Secretary Ernest Moniz.
Solar dip: Solar energy companies employed roughly 350,000 on a full- or part-time basis last year, a loss of 24,000 that represents the sector's first employment dip since this dataset was collected in 2010.
"The reasons for this decline are still unclear, but could include an increase in labor productivity, market saturation for residential solar, and/or concern over solar panel tariffs," the report states.
Here are a few other snapshots...
Employment related to coal-fired power generation held steady at 92,000, while jobs in natural gas-fired power grew by 19,000 — a trend consistent with electricity sector market share that gas and renewables have taken from coal.
Wind industry employment grew by around 6% to 107,000.
"Jobs in oil and natural gas extraction and coal mining each increased slightly with oil growing by 1.5 percent," the report states.
Go deeper: The Washington Examiner breaks down the report here, while Bloomberg has a helpful chart comparing sectors here.
https://www.axios.com/newsletters/axios-generate-5c0caca2-86b1-4a5e-be75-53cb5491c4a2.html?chunk=4#story4
5. The energy risk of self-driving cars
Over in our Expert Voices section, University of Michigan urban planning expert Jonathan Levine writes that the rise of connected and automated vehicles (CAVs) could reduce the energy consumed by the U.S. light-duty fleet by 60% — or increase it sharply.
Why there's risk: Over 80% of the variable costs of driving are in the value of the driver's time. CAV travelers will reclaim part of that value by web surfing, working or sleeping. This reduced price will likely increase travel.
Ultra-long commutes will become reasonable when drivers can simply hit the road at 4am and return to sleep for the ride to work.
And when CAVs operate while empty, the traveler's time is eliminated, enabling such uses as sending the car home to avoid parking costs downtown.
How to manage the problem: Counteracting these travel-inducing effects demands policies to support shared deployment in the form of on-demand transit, which could mix public and private elements, rather than a CAV in every garage.
Vehicle sharing favors close-in areas, with their lower demand for driving, because their trip density allows vehicles immediate return to service with other travelers.
But even a self-driving Lyft or Uber system can swamp congested streets while leaving transportation gaps elsewhere.
The big picture: A transit system that integrates trains, buses and on-demand CAVs is the best scenario for energy consumption. But such a system requires proactive planning, rather than a default to the car-oriented policies inherited from an earlier era.
https://www.axios.com/newsletters/axios-generate-5c0caca2-86b1-4a5e-be75-53cb5491c4a2.html?chunk=5#story5
6. So hot right now: 2018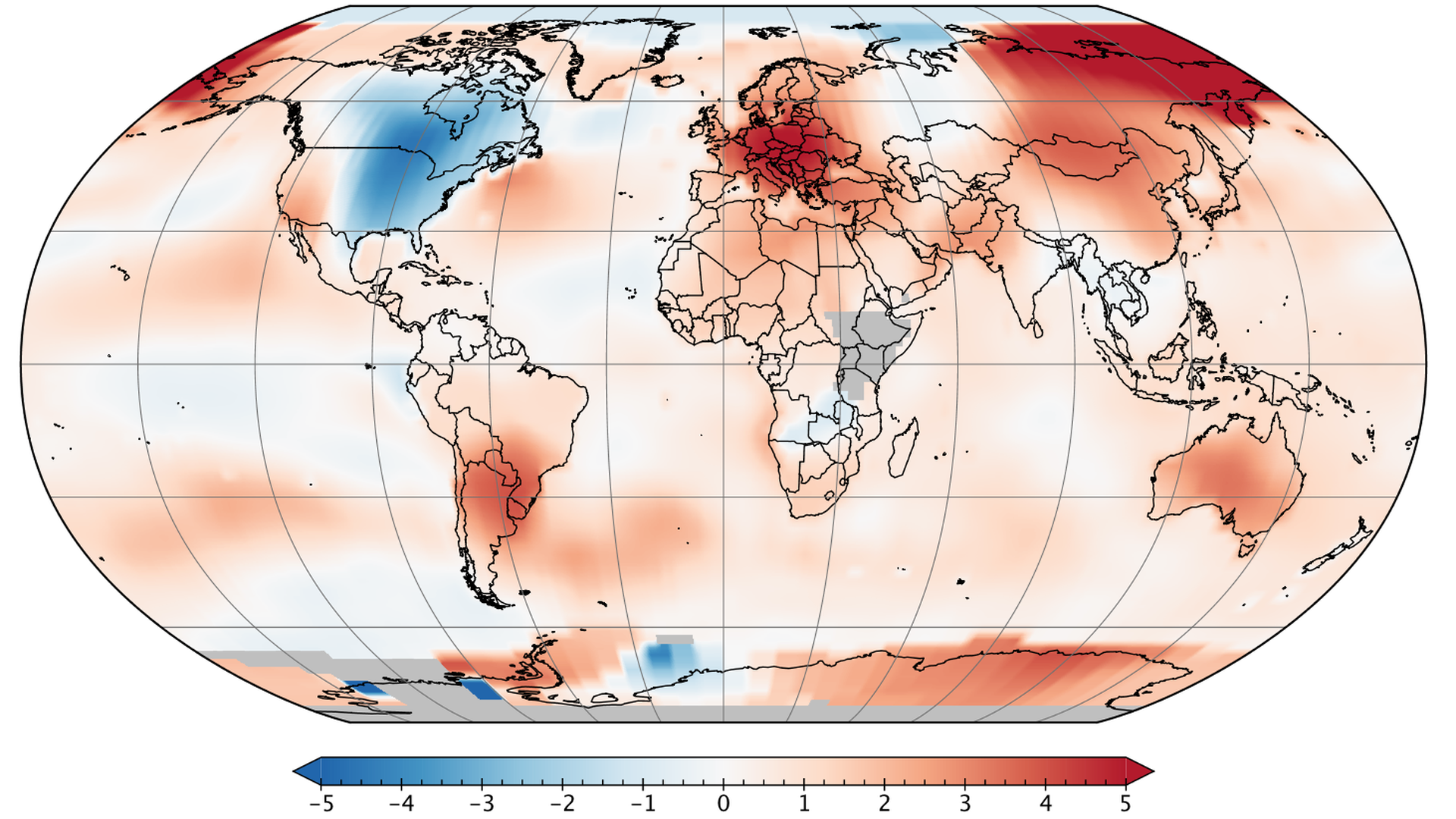 Global average surface temperature anomalies for April 2018 in degrees Celsius. Credit: NASA.
My Axios colleague Andrew Freedman reports that even though millions shivered through an unusually cold and snowy start to spring in the U.S. and Canada, the world still had the third-warmest April in 138 years of record-keeping.
The big picture: Other than central and eastern North America, nearly every other land area in the world was warmer-than-average in April. Europe, South America and the Arctic were particular hot spots, with the Arctic experiencing the second-lowest sea ice extent on record for the month. Only April 2016 and 2017 were warmer than last month.
The details: The National Oceanic and Atmospheric Administration announced the end of a La Niña event in the tropical Pacific Ocean on May 11.
Such events tend to lead to slightly cooler years, relative to average, so its disappearance may mean that 2018 will end up warmer than initially expected by some climate scientists.
At the least, some say it will be a top 5 warmest year on record for the planet.
Be smart: While individual monthly rankings are noteworthy, the long-term trend is what climate scientists are interested in, and that trend is unequivocally upward, largely due to human emissions of greenhouse gases.