Good morning and welcome back! And happy birthday to the late Bob Marley, who provides today's intro tune . . .
https://www.axios.com/newsletters/axios-generate-5b8e923b-5c01-4c90-8b0a-b5406ad9bab8.html?chunk=0#story0
Behind ExxonMobil's move on methane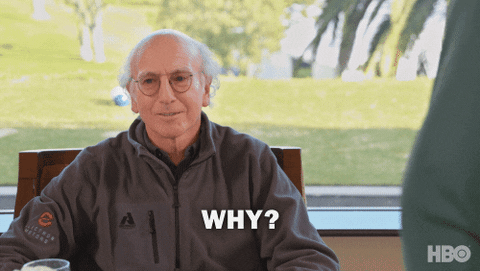 My Axios colleague Amy Harder reports...
America's biggest oil company is supporting a federal regulation on emissions of methane, a potent greenhouse gas that's also the primary component of natural gas.
Why it matters: The move puts the oil and gas giant at odds with many of its smaller peers that are urging President Trump to wholly repeal an environmental regulation issued by the Obama administration.
It's the latest and among the most significant signs that some of the biggest fossil fuel companies want regulatory certainty over outright deregulation.
Yes, but: Company officials fell short of saying they are explicitly calling on the Trump administration to actually issue regulations. It's a subtle but important distinction that's similar to its public support of a carbon tax, despite not actively lobbying Congress to pass one.
One level deeper:
Sara Ortwein, president of XTO Energy, a wholly owned subsidiary of Exxon, said in a blog post published on Exxon's website Monday that the producer had recently joined European oil and gas companies in committing to a set of voluntary methane reductions.
She goes on to say the methane emissions of those companies "constitute a very small fraction of the overall natural gas picture. The correct mix of policies and regulations help raise the bar."
An Exxon spokesman told Axios in an email that "we're sharing our view with regulators."
https://www.axios.com/newsletters/axios-generate-5b8e923b-5c01-4c90-8b0a-b5406ad9bab8.html?chunk=1#story1
Latest in renewables: offshore wind and the Saudi solar push
Growth abroad: Offshore wind power capacity in Europe grew by a record 3.15 gigawatts last year to reach 15.8 GW, representing over 4,100 turbines across 11 countries, the industry group WindEurope said in a report Tuesday.
The U.S. picture: Offshore wind has been far slower to get moving in the U.S., with just one project currently producing power, but that's starting to change. E&E News looks at plans for new East Coast projects and at how the industry will need to navigate Trump administration plans to open up the Atlantic to oil-and-gas drilling.
"Last week, New Jersey Gov. Phil Murphy (D) announced that his state will aim for 3,500 megawatts of installed offshore wind by 2030, enough to power 1 million homes. Massachusetts has a goal to build 1,600 MW of offshore wind power by 2027, and New York has committed to 2,400 MW by 2030," the story notes.
Solar: The New York Times has a detailed look at Saudi Arabia's plans to boost renewable energy investment as part of a broader effort to diversify its economy. This year the country plans to invest as much as $7 billion to develop seven new solar plants and a major wind farm.
The latest, per NYT: "Riyadh on Monday tapped ACWA Power, a Saudi energy company, to build a solar farm that would generate enough electricity to power up to 200,000 homes."
Solar and storage: Greentech Media looks closely at the deal announced this week between Tesla and the state of South Australia that will combine solar panels and battery storage in around 50,000 homes.
"Most large-scale lithium-ion battery deployments today come in the form of giant, centralized battery plants. Tesla's virtual power plant will be comprised of thousands of Powerwall home batteries, but will operate just like a one big Powerpack system — charging up when demand and electricity rates are low and discharging when demand and prices are high," they report.
https://www.axios.com/newsletters/axios-generate-5b8e923b-5c01-4c90-8b0a-b5406ad9bab8.html?chunk=2#story2
BP profits surge on higher prices and production
BP reported a sharp jump in earnings Tuesday as fourth quarter profits rose to $2.1 billion, compared to $400 million during the same period in 2016.
For all of 2017, the U.K.-based multinational giant reported $6.2 billion in profits, more than twice the prior year. Total oil-and-gas production was rose 12% to its highest level since 2010.
The company brought seven major oil-and-gas projects online last year.
What's next: From Reuters' look at the results:
"The company will be able to generate profits in 2018 at an oil price of $50 a barrel, Chief Financial Officer Brian Gilvary told Reuters, as years of spending cuts kicked in and as it slowly shakes off a $65 billion bill for penalties and clean up costs of the deadly 2010 Deepwater Horizon spill."
On the record: CEO Bob Dudley chatted with CNBC this morning about the results, calling it the best earnings in "recent history," as well as the company's position and the stock market's dive this week.
"This market turmoil—we're only back to where it was on the first of January. So is this a giant correction, I don't know, it's a little bit of psychology. But we're very long-term, our projects are very long-term," he said.
Go deeper: Bloomberg has a detailed piece on the earnings report here.
https://www.axios.com/newsletters/axios-generate-5b8e923b-5c01-4c90-8b0a-b5406ad9bab8.html?chunk=3#story3
Policy news: EPA, lobbying, nuclear power
Harsh: CNN reports that EPA administrator Scott Pruitt strongly criticized then-candidate Donald Trump during a February 2016 interview with the radio show Exploring Energy.
"I think he's an empty vessel when it comes to things like the Constitution and rule of law," said Pruitt, who was Oklahoma's attorney general at the time.
Why it matters: Pruitt already made headlines last week for saying in a separate 2016 radio hit that he thought then-candidate Trump would be "more abusive to the Constitution than Barack Obama, and that's saying a lot."
One big question: Whether the repeated criticisms could erode Pruitt's standing with Trump.
Lobbying: A pair of firms with natural resource clients announced a merger this morning. BlueWater Strategies, whose clients include ConocoPhillips and Pioneer Natural Resources Co., has acquired the Furman Group, which represents water authorities in Los Angeles and elsewhere.
BlueWater's McKie Campbell, a former Energy and Natural Resources Committee aide to Sen. Lisa Murkowski, will be CEO. Hal Furman will be of counsel.
Nuclear: The witness testimony is posted for today's House Energy subcommittee hearing on nuclear power, including an update on the design certification process for NuScale Power's small modular reactor.
The estimated 42-month process that began last month is "progressing on the established schedule," per prepared testimony by a Nuclear Regulatory Commission official.
https://www.axios.com/newsletters/axios-generate-5b8e923b-5c01-4c90-8b0a-b5406ad9bab8.html?chunk=4#story4
China takes over U.S. as top crude oil importer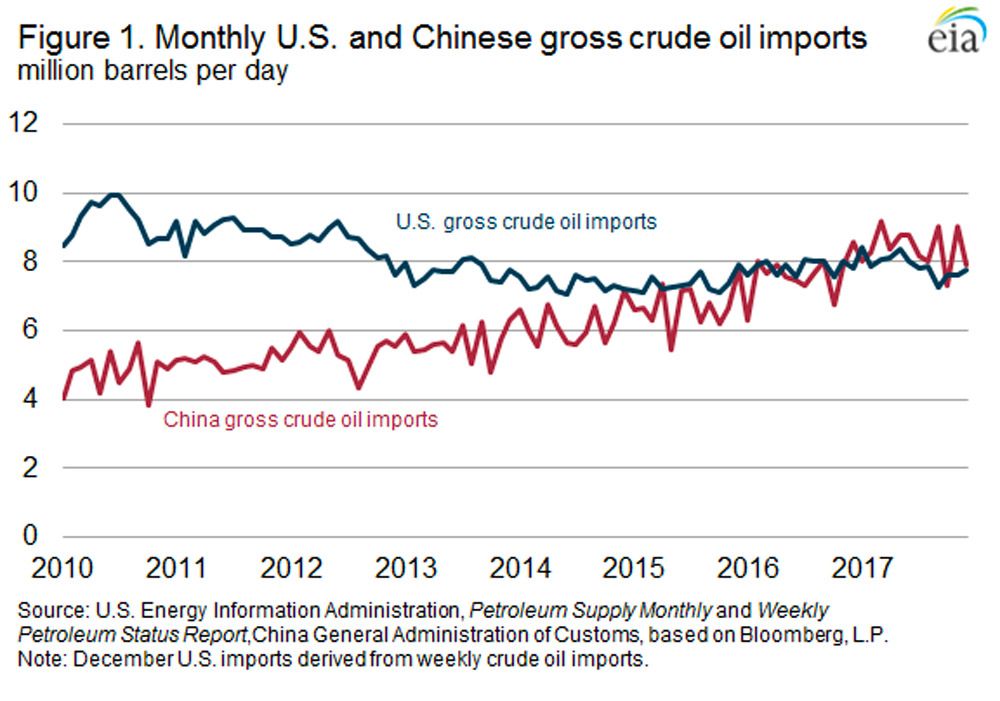 EIA's "This Week in Petroleum" January 31, 2018.
The new era: The Energy Information Administration recently released data showing that in 2017, China overtook the U.S. as the world's top crude oil importer (see chart above).
China imported an average of 8.4 million barrels per day last year, compared with 7.9 million for the U.S.
Why it matters: The crossing lines are a sign of the overall decline in U.S. imports over the last decade as domestic production has risen, combined with China's rising energy demand and lack of much domestic production.
China already became the world's largest net importer of total petroleum and liquid fuel products in 2013,
EIA broke down the data in a short report yesterday:
"New refinery capacity and strategic inventory stockpiling combined with declining domestic oil production were the major factors contributing to the recent increase in China's crude oil imports."
https://www.axios.com/newsletters/axios-generate-5b8e923b-5c01-4c90-8b0a-b5406ad9bab8.html?chunk=5#story5
One good read: ethanol and refineries (in four parts)
Ripped from the headlines: Christina Simeone of UPenn's Kleinman Center for Energy Policy is out with several blog posts on what pushed the big Pennsylvania refiner Philadelphia Energy Solutions (PES) into bankruptcy last month — and what's next.
Why it matters: The bankruptcy has become part of the simmering political fight over the federal ethanol mandate. The company pointed to the high cost of compliance credits as a key reason for its struggles, and it has become a rallying cry for proponents of softening the Renewable Fuel Standard.
Reality check: Her detailed analysis makes the case that blaming RFS costs for the company's struggles is too simplistic, although the costs have indeed been significant. Instead, she notes how a series of investor decisions and oil market dynamics played major roles, too.
For instance, one of the posts notes how Energy Transfer Partners (ETP), a part-owner of PES, invested in pipeline projects that moved cheaper crude oil to other markets.
"The combination of ETP's ETCO and DAPL projects, collectively the 'Bakken Pipeline,' enabled Bakken crude to move to the Gulf Coast, largely shutting out the East Coast refineries from cheaper WTI-priced crude," she writes.
"In other words, ETP owns a part of PES, yet invested billions of dollars in more profitable infrastructure that rendered PES uncompetitive."