Axios Generate
May 09, 2023
🚨 Don't miss this: Axios BFD, our annual dealmakers event, happens tomorrow in San Francisco! Hear from big names in Silicon Valley and beyond. Register to join us virtually.
☕ And good morning! Today's newsletter has a Smart Brevity count of 1,272 words, 5 minutes.
🎸 Exactly 30 years ago, Aerosmith were #1 on the Billboard album charts with "Get a Grip," which provides today's intro tune...
1 big thing: COVID's limited oil legacy
With the formal end of World Health Organization and U.S. COVID emergency designations, let's revisit how the tragedy changed — and didn't change — global energy, Ben writes.
The big picture: Back in 2020, some analysts predicted global oil demand might never fully come back from COVID destruction, or would peak earlier than once believed.
But see above — the world's consumption has proven resilient (though U.S. gasoline use may never come all the way back).
What they're saying: "COVID didn't produce the permanent shift in oil demand that some anticipated," said Ben Cahill, an oil expert with the Center for Strategic and International Studies.
"The demand impact of more telecommuting is limited, and travel has returned with a vengeance," he said via email.
"We also tend to over-emphasize demand destruction in rich states relative to demand growth elsewhere."
The intrigue: The last few years have seen powerful forces acting on oil use, such as the Russian invasion of Ukraine, price spikes, and the rocky global economic outlook.
So crystal balls are even cloudier than usual.
What we're watching: Rapidan Energy Group President Bob McNally expects global economic growth will remain very petro-intensive this decade, despite EV adoption that's displacing rising amounts of oil.
"Peak demand isn't likely anytime soon and the COVID demand crunch was bound to prove a false dawn for those rooting for the end of oil," he tells Axios via email.
"The only thing holding back oil demand from growing even faster are proven but temporary demand killers: price spikes and economic weakness."
Yes, but: The pandemic's energy impact goes beyond oil. A number of nations — to varying degrees — stitched low-carbon energy into COVID recovery packages.
The bottom line: Counterfactuals are hard, so there's no way to know oil's future if COVID never happened. But the pandemic was no inflection point.
2. Inside Biden's mineral trade mess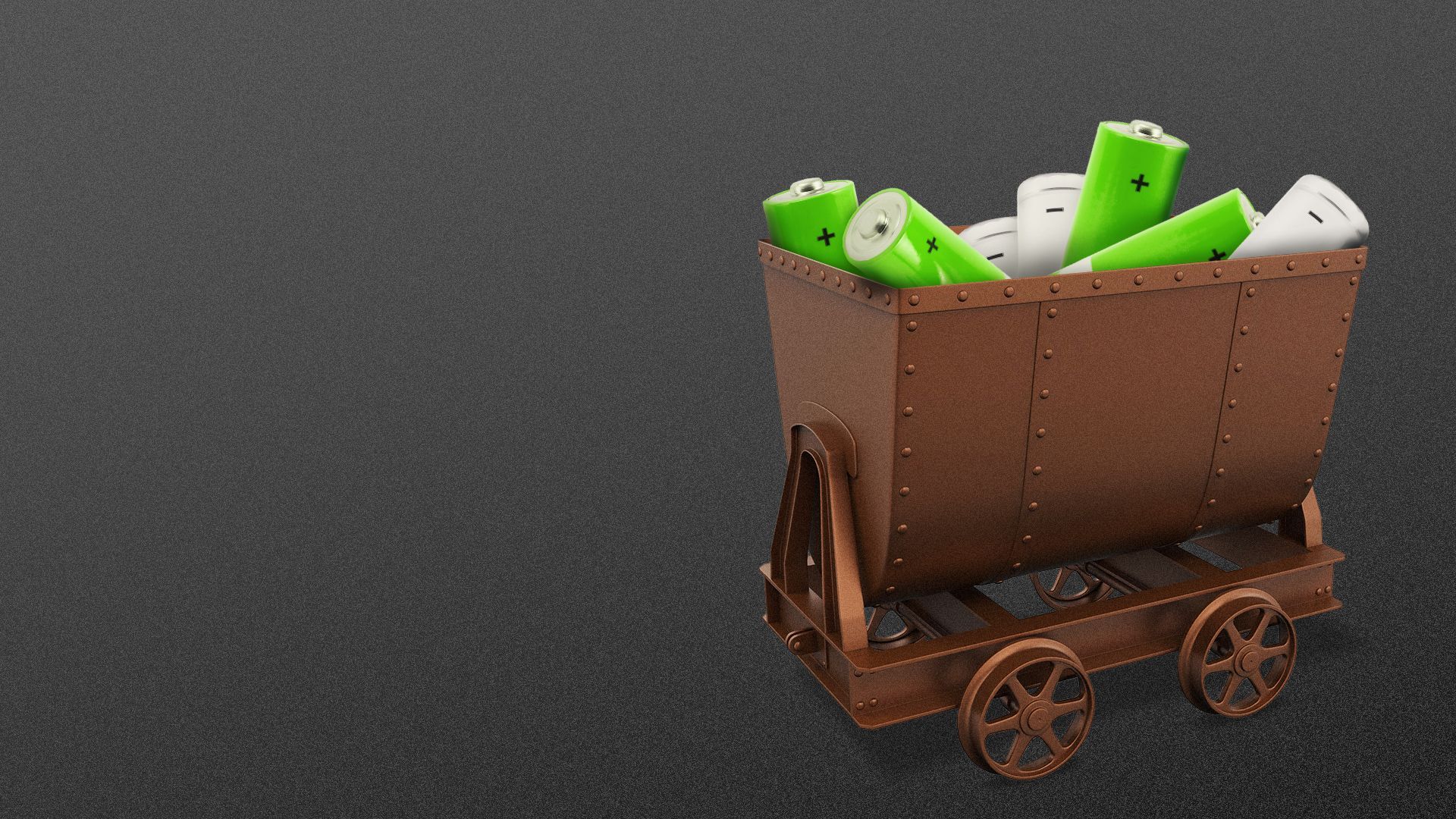 Bipartisan blowback is hampering the Biden administration's strategy to use trade deals to enable more electric vehicles to qualify for tax credits, Axios Pro Energy Policy's Jael Holzman reports.
Why it matters: Trade hawks in Congress loathe how President Biden's gone about striking these deals, and are voicing concerns as he explores future pacts.
Catch up fast: The new climate law expanded purchase subsidies for people buying EVs.
But few vehicles can claim the full credit because of strict mineral sourcing rules.
Driving the news: Biden is making minerals-centric trade deals so more cars can qualify.
Yes, but: Lawmakers have questions about these deals, including transparency concerns and worries that they won't improve industry practices.
The pressure from the Hill has only intensified after reports surfaced that Indonesia wants its own minerals agreement.
The other side: A senior U.S. trade representative official told Jael there's currently "no administration decision or position related to" a deal with Indonesia.
The official also defended the deal with Japan: "It's about ... ensuring the IRA is a success, that we have sufficient minerals for sufficient vehicles to qualify and have that benefit flow down to U.S.-made vehicles."
Subscribe to Axios Pro Energy Policy for the full story — and lots of scoops and vital analysis every week.
3. A distress signal from northwest Greenland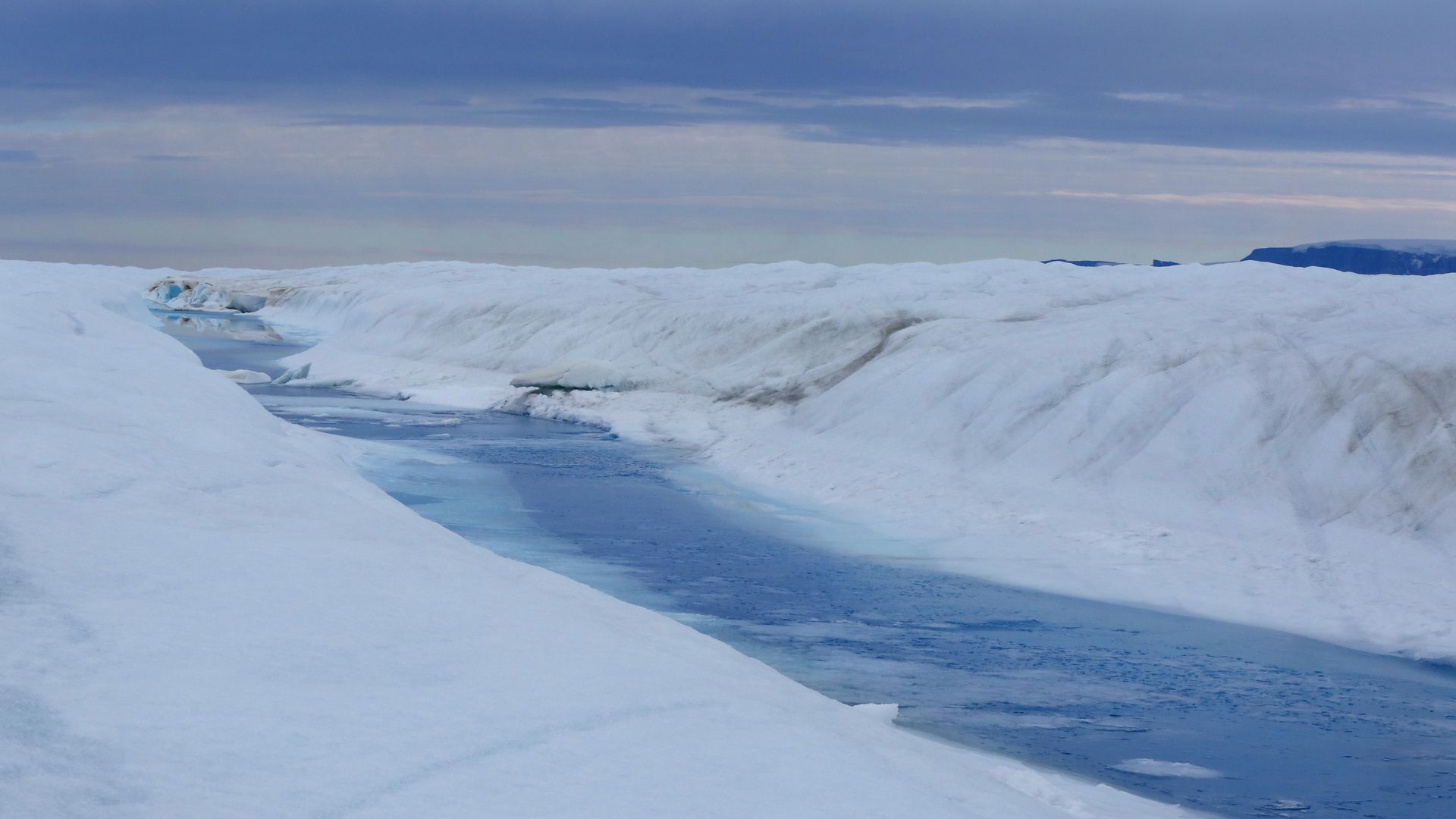 Scientists may be significantly underestimating the amount of melting yet to come from glaciers that end in the sea, according to a new study, Andrew writes.
Why it matters: The study reveals that seawater is intruding deep into northwest Greenland's Petermann Glacier, thinning the ice from below.
Petermann acts like a doorstop, holding back vast quantities of land-based ice. As the glacier thins, inland ice moves faster into the ocean, raising global sea levels.
Zoom in: The researchers used satellite radar data of the glacier's height and vertical motion.
They found that seawater, which is slightly above freezing there, is moving inland along the grounding line, which is where the glacier transitions from resting on bedrock to a floating ice shelf.
Most computer models used to project ice melt from marine-terminating glaciers like Petermann assume that little to no melting occurs at the grounding line, study coauthor Eric Rignot of NASA's Jet Propulsion Laboratory told Axios via email.
Threat level: The glacier is rising and falling with the tides, as water flushes underneath it and penetrates more than a mile inland, the study found.
Seawater has even carved a 670-foot-tall cavity underneath the ice, further weakening the glacier's ability to hold in place.
What they're saying: The study has big implications for what may happen at marine-terminating glaciers in Antarctica, too, Rignot said.
"We have reasons to believe that the current [sea level rise] projections are too low, not too high. They could be as much two times too low."
4. 👀 Big in business: Batteries, hydrogen, oil
🔋 Trading and mining giant Glencore and Li-Cycle this morning said they're exploring plans for what they say will be the largest battery recycling plant in Europe, Ben writes.
Driving the news: They're looking at revamping a Glencore hydrometallurgical plant in Italy. The concept: a "hub" that would produce nickel, cobalt and lithium from recycled battery content.
Why it matters: It's a long-term bet on EVs and the companies' ability to compete in the supply chain. The FT notes Glencore is aiming to "grow its natural resources business on the back of the switch to electric cars."
What's next: If a planned feasibility study looks good, they see the recycling plant coming into operation in late 2026 or early 2027.
💰 The Wall Street Journal reports that U.S. utility powerhouse NextEra Energy "sees the potential to invest more than $20 billion in so-called green hydrogen," which benefits from big climate law tax incentives.
🛢️ "Saudi Aramco on Tuesday reported $31.9 billion in net income for the first quarter, a drop of about 19 percent compared with the same period a year ago, mainly because of lower oil prices," the New York Times reports.
5. Lucid's struggles highlight EV startups' challenge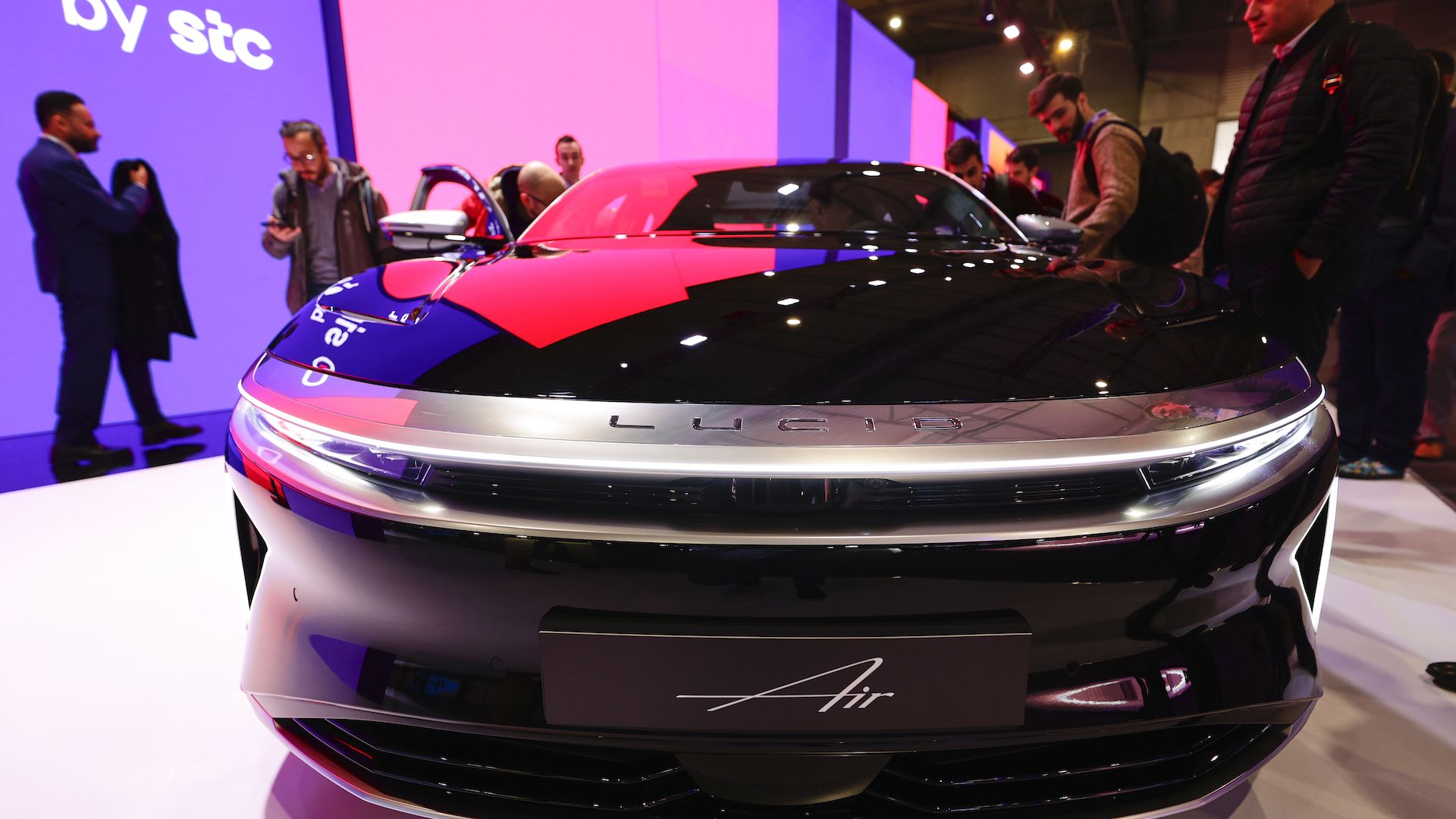 📉 Lucid Group's stock is down 9% in pre-market trading after the EV maker's Q1 earnings missed estimates and it projected its 2023 output on the low end of prior guidance, Ben writes.
Why it matters: The luxury EV startup's challenges, despite having a well-received product, illustrate the difficulty of going from buzzy newcomer to commercial-scale automaker.
Zoom in: Lucid yesterday reported $149 million in revenue and a $779 million net loss for the January-March period, losing 43 cents per share.
It produced 2,314 cars at its Arizona plant and projects its full-year production at over 10,000 vehicles — on the low end of its 10,000 to 14,000 guidance.
The big picture: The Q1 report is a "particularly rough outcome for a company that's been battling supply chain issues and has had to slash production targets in the past," TechCrunch reports.
Yes, but: Executives said the future is nonetheless promising as Lucid prepares to unveil its Gravity SUV later this year ahead of a 2024 launch.
Lucid currently has $4.1 billion in liquidity, enough to fund the company for at least another year, it said.
What's next: We're watching Rivian, another key EV newcomer that has also struggled. Its Q1 report lands after markets close today.
6. 🛢️ Number of the day: Over 14,000
That's the number of unplugged, non-producing oil and gas wells in the Gulf of Mexico and nearby inland waters and wetlands, per a new paper in the journal Nature Energy, Ben writes.
Why it matters: These wells present environmental hazards, including oil spills and the release of the potent greenhouse gas methane.
The big picture: The analysis estimates that "plugging and abandoning" costs would total $30 billion, and financially stable oil giants carry lots of the liability. Bloomberg has more.
🙏 Thanks to Nick Aspinwall and Chuck McCutcheon for edits to today's edition.