Axios Generate
November 08, 2019
Happy Friday! Today's Smart Brevity count: 1,230 words, ~ 4.6 minutes.
We'll be off for Veterans Day (and thanks to those who served), so Generate will return on Tuesday.
Coming up on "Axios on HBO": The life-changing costs of being a whistleblower according to five who risked it all (sneak preview); Uber CEO Dara Khosrowshahi discusses the company's goals for profitability; and an exclusive poll on America's surging political anger. 
Plus, "Axios on HBO" heads to the border for an on-the-ground look at the U.S.' "Remain in Mexico" policy, followed by exclusive interviews with U.S. immigration officials Ken Cuccinelli and Mark Morgan. Tune in Sunday at 6pm ET/PT. 
And yesterday marked the 1988 release date of R.E.M.'s "Green," which provides today's intro tune...
1 big thing: K Street's growing climate divide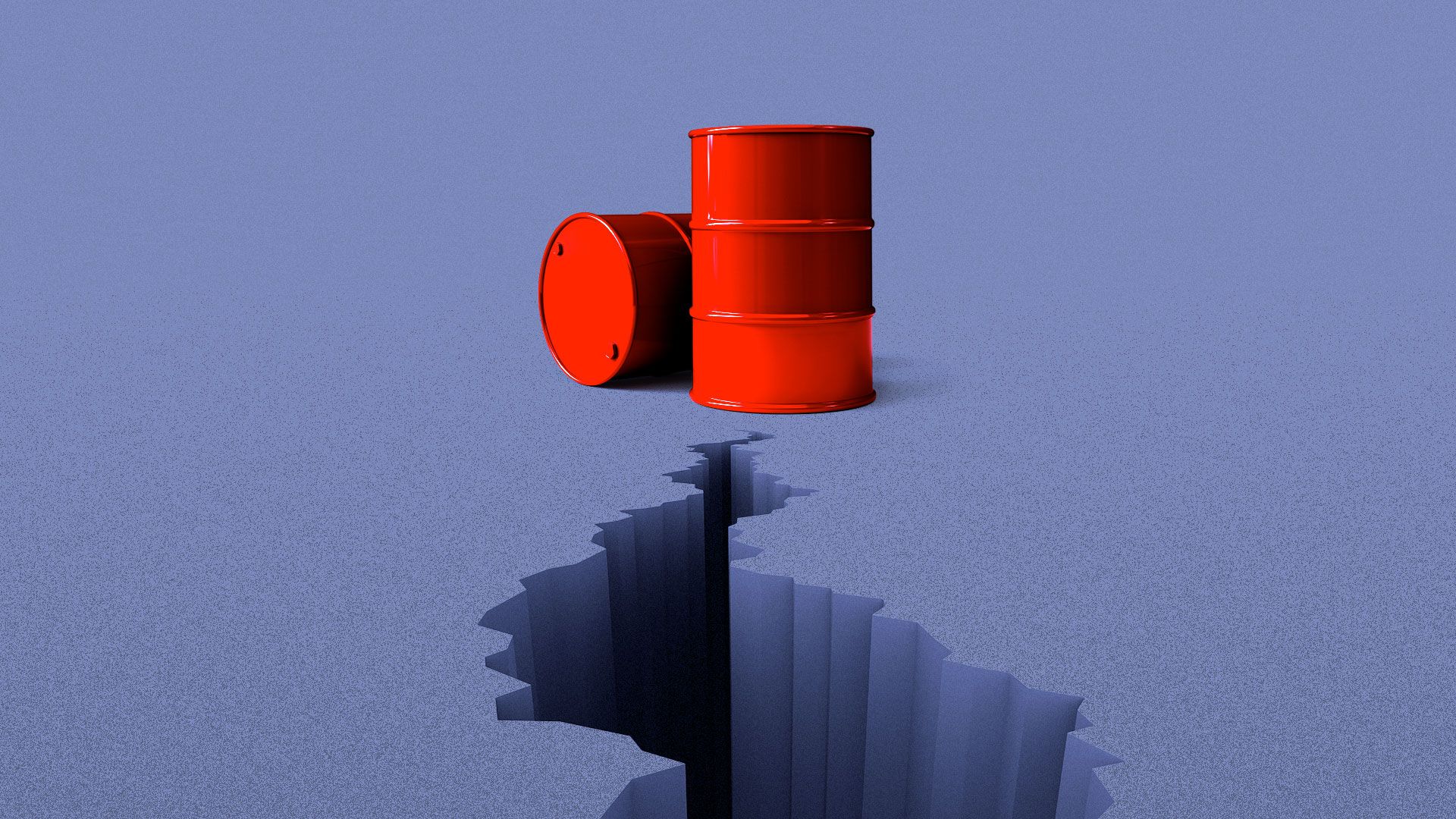 Lobbying divisions are deepening across Washington as climate change worries grow and President Trump repeals policies addressing the issue, Axios' Amy Harder reports.
Driving the news: Oil and gas company Total is leaving the American Fuel & Petrochemical Manufacturers due to differences over climate change policy, the giant French producer said Friday, following Royal Dutch Shell's move earlier this year.
One level deeper: After reviewing memberships in 30 trade associations, Total decided to leave just AFPM due to differences over the Paris Climate Agreement, carbon pricing and developing renewable energies, all of which Total supports.
An AFPM spokesman has said the group doesn't have a position on the Paris deal.
The big picture: The oil sector's growing division — pitting European producers that are more aggressive on climate change against their American counterparts that are less so — is one of a few pressure points.
Automakers are fighting over what positions to take in the ongoing battle between the Trump administration and California over fuel-efficiency standards.
The U.S. Chamber of Commerce is engaging more on climate change due to member pressure.
The Portland Cement Association recently articulated its support for a "market-based" solution due at least partly to pressure from member LafargeHolcim, one of the world's largest cement producers, a top company official said this week.
Why it matters: Because money matters! One of the biggest reasons Washington has never passed big climate-change policy is the opposition of deep-pocketed lobbying associations.
To the degree these divisions result in smaller, less influential trade groups fighting climate legislation and/or in shifted positions of big groups, like the Chamber, the odds increase that Washington would pursue big climate policy.
Between the lines: AFPM, which represents oil and gas refining interests, is a narrower group compared to the far larger American Petroleum Institute.
In a report announcing its results of an association review, Total said it was staying in API, but noted: "API's recent support for the rollback of U.S. regulations on methane emissions raises questions for Total."
Yes, but: Any shift in lobbying strategies will come subtly and probably unevenly. Don't expect API or the Chamber to come out cheerleading for a carbon tax any time soon, but those conversations are happening privately, according to executives involved in the groups.
What's next: Oil majors BP and Equinor are reviewing their lobbying memberships and could finish the assessments as soon as early 2020.
2. A fracking ban could be dicey politics for Dems
New polling of four battleground states shows the Green New Deal concept is highly popular, while calls to ban hydraulic fracturing could create political headwinds.
Why it matters: Elizabeth Warren and Bernie Sanders have embraced both ideas. Joe Biden has not called for a fracking ban.
What they did: The Kaiser Family Foundation and Cook Political Report surveyed voters in the "Blue Wall."
That's Pennsylvania, Michigan and Wisconsin — once Democratic strongholds that Trump narrowly won — and Minnesota, where he narrowly lost.
What they found: Lots of backing for the Green New Deal. 67% of swing voters and 92% of self-reported Democratic voters in the four-state region like it.
But, but, but: The fracking proposal is not popular with swing voters at 40% combined in the region, while among Democratic voters, it's got modest support at 54%. Check out the chart above for the state-by-state breakdown.
One level deeper: Phrasing matters, so here's how they did it...
Pollsters asked about "a Green New Deal that would address climate change through new regulations and increases in government spending on green jobs and energy-efficient infrastructure."
"A ban on hydraulic fracturing, or fracking, a drilling method that uses high-pressure water and chemicals to extract natural gas and oil."
Of note: The combined margin of error for the Democrats is plus-or-minus 4% on those energy questions, and 3% for swing voters.
But error margins for the specific states are higher, at 6%-7%, so keep that in mind when assessing those results.
3. The U.S. Chamber's quiet evolution on Paris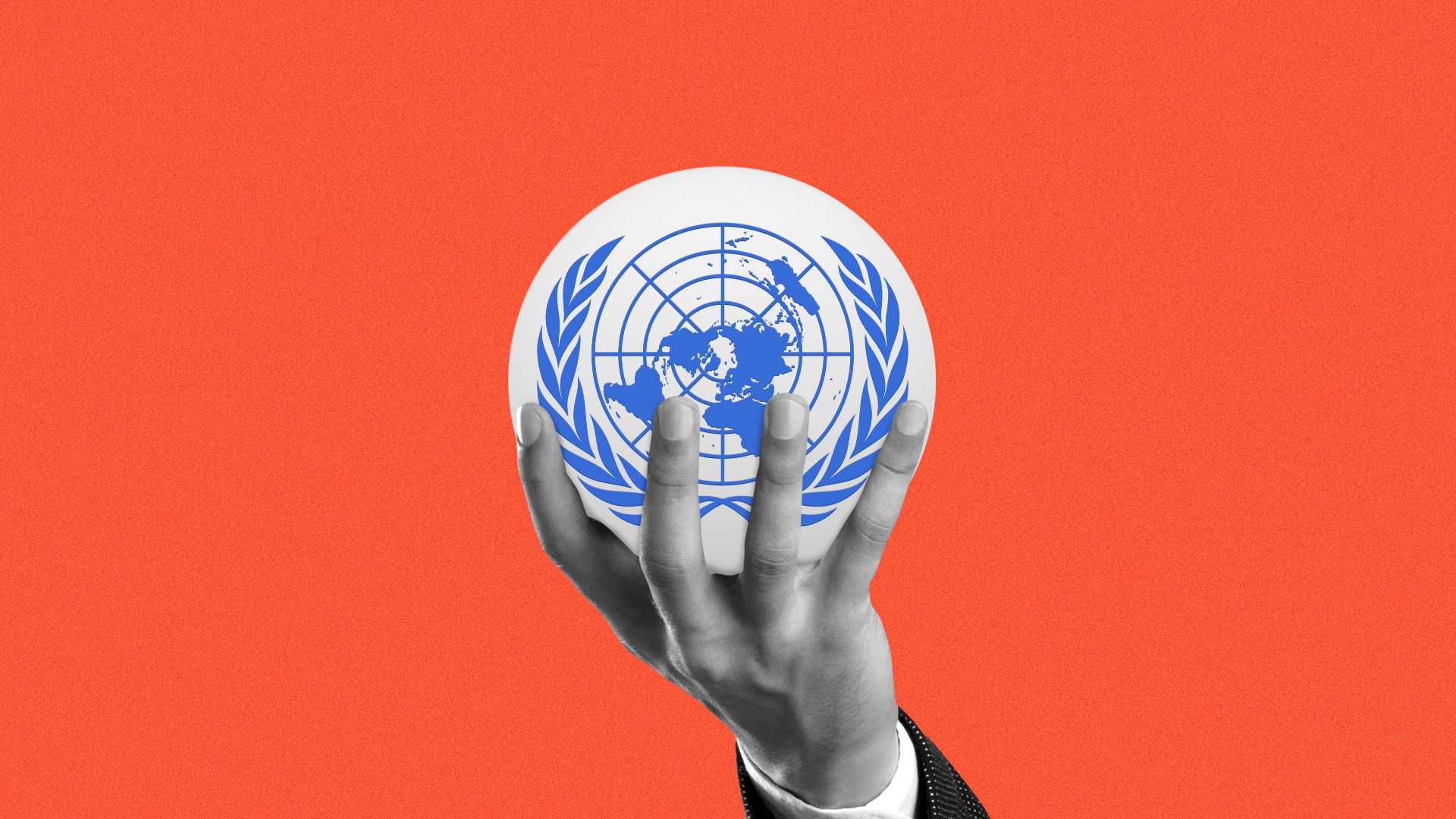 More from Amy Harder...Ahead of President Trump's move this week to complete America's withdrawal from the Paris Climate Agreement, the U.S. Chamber of Commerce quietly updated its position to support it.
Why it matters: This is the starkest reversal from the Chamber, America's most powerful business lobbying group, since it began pursuing a broader shift months ago to more readily acknowledge and engage on climate change.
The intrigue: The Chamber helped commission a controversial study in March 2017 concluding the Obama administration's commitment to the Paris deal would cost the U.S. economy $3 trillion and 6.5 million jobs.
Trump cited that study, inaccurately in some ways, a few months later when he announced his intent to withdraw from the deal.
Where it stands: The Chamber's climate-change statement now includes the following clause, emphasis added, finishing this sentence: "Greater collaboration between governments and businesses is essential to build the best models to tackle climate challenges, which is why the Chamber supports U.S. participation in the Paris Agreement."
Flashback: Chamber officials have hinted at this Paris reversal before, including in a congressional hearing in April and a Politico article from August. But this is the first time they're making it an official part of their mission statement.
For the record: Chamber spokesman Matt Letourneau said they made the change to be clearer ahead of Nov. 4, which began the one-year clock for the U.S. to officially leave the 2015 accord.
He also said the Chamber has expressed concerns about the Obama administration's emissions pledge under the Paris deal, but not the deal itself.
The bottom line: That distinction, however, is one the group has only emphasized since the Chamber's broader shift on climate started this year.
4. How Democrats want to remake the auto sector
Axios' Joann Muller and Alayna Treene report ... While President Trump is moving to ease Obama-era tailpipe emissions rules, Democrats running to unseat him want to accelerate the shift to electric cars, trucks and buses and take gasoline-powered vehicles off the market entirely.
Why it matters: The 2020 presidential race could produce two vastly different outcomes for the auto industry, and that regulatory whiplash is hampering carmakers' long-term investment decisions.
Here's a rundown of some of the policies Democratic candidates would use to push the country toward cleaner cars:
Emissions: Most of the candidates say they'll push for a "zero emissions economy" by 2050 or earlier, and a few have deadlines for electric vehicle adoption.
Elizabeth Warren and Andrew Yang both say their goal is 100% zero-emissions for all new vehicles by 2030. Pete Buttigieg's targets are 2035 for ZEVs, and 2040 for heavy-duty trucks.
Consumer incentives: Many say they would extend tax breaks and offer trade-in discount programs to encourage people to replace their gasoline-powered cars with a zero-emission vehicle.
Charging infrastructure: Most candidates agree more charging stations are needed to support the shift to electric vehicles. For instance, Joe Biden says he would add 500,000 new public charging outlets by the end of 2030.
Manufacturing incentives: The Democrats link vehicle electrification to U.S. manufacturing and jobs.
But, but, but: Several major pieces of the Democrats' plans, such as expanded EV tax credits and major new spending on charging infrastructure, would require congressional action.
Even if their most aggressive plans don't come to pass, the Democrats would likely reverse Trump's efforts to weaken efficiency and emissions rules.
* * *
Speaking of cars, the Wall Street Journal reports: "The Justice Department has issued civil subpoenas to four auto makers that reached a tailpipe emissions deal this summer with the state of California...the latest development in a federal antitrust investigation that has generated political controversy."
Editor's note: Story #4 was corrected to fix the spelling of Andrew Yang's last name and add Alayna Treene's byline.