Axios Generate
March 21, 2023
🚀Off we go! Today's newsletter has a Smart Brevity count of 1,233 words, 4.5 minutes.
🎧 Andrew joined the Axios Today podcast to chat about the latest U.N. climate report. Have a listen
🎶 Today marks 35 years since Pixies released the indie classic "Surfer Rosa," which provides today's intro tune ...
1 big thing: GE makes its move on carbon removal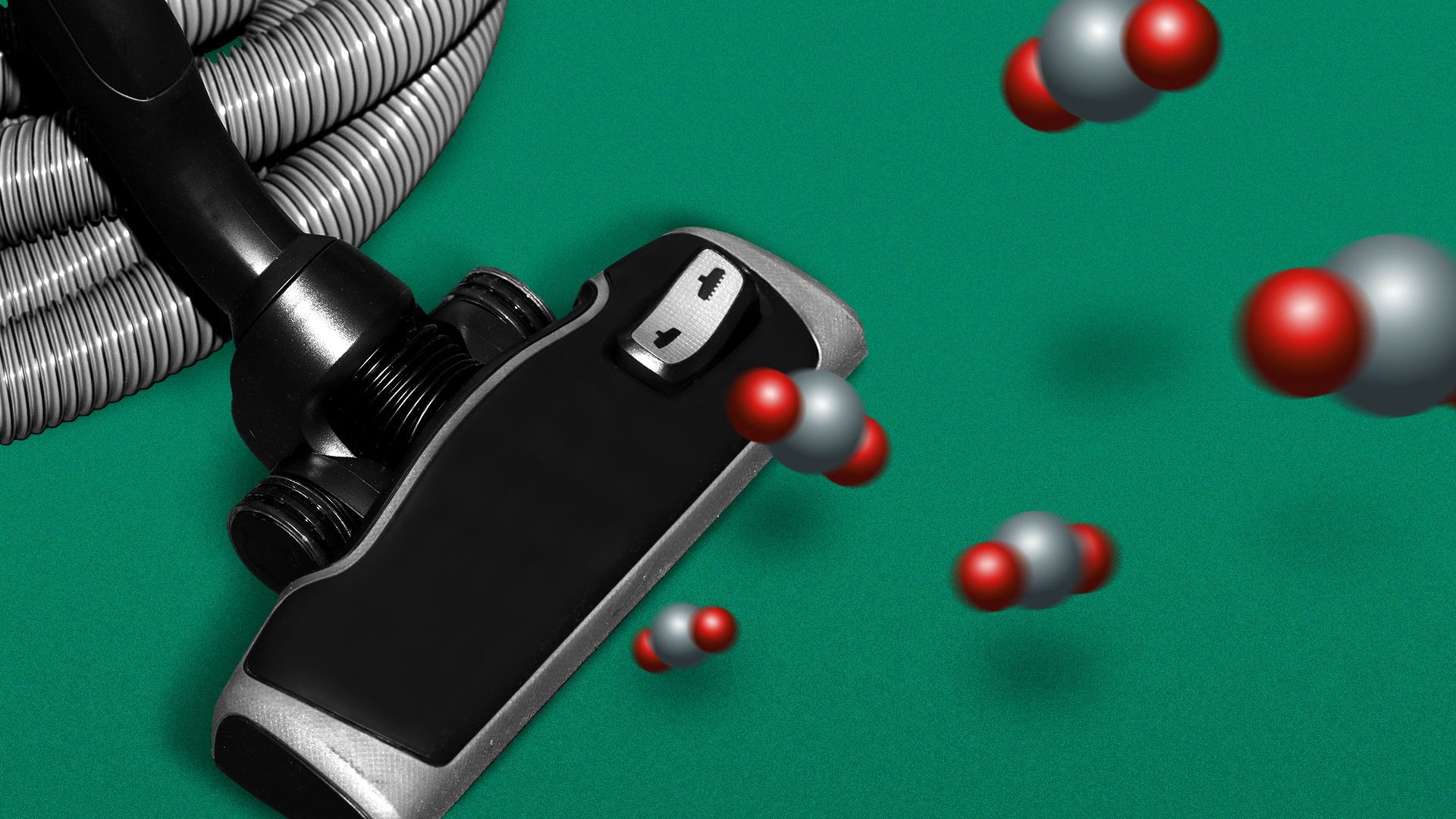 👀First look: General Electric will announce today it has successfully tested its direct air capture prototype and plans larger scale demonstrations next year of its system for pulling carbon from the atmosphere, Ben writes.
Why it matters: The industrial and power giant's work on direct air capture (DAC) could help drive deployment of the nascent technology.
"One thing ... that we bring to bear is this ability to scale and to scale rapidly," David Moore, a top GE carbon management official, tells Axios.
What's next: The company — which began its DAC research around two and half years ago — is eyeing potential development of commercially scale-able systems by the end of this decade.
GE is also among the parties that has applied to be part of the Energy Department's regional DAC "hubs," funded with $3.5 billion in the bipartisan infrastructure law, the company revealed to Axios.
The big picture: GE is a fairly recent arrival in an emerging DAC space packed with startups and incumbent energy companies all getting involved.
But Moore said their longtime business lines in jet engines, gas turbines and more bring relevant kn0w-how.
Zoom in: "GE is arguably the best company in the world, at least one of the best companies in the world, when it comes to moving large quantities of air," Moore said, citing high efficiency.
DAC is very energy thirsty tech. Moore said GE has an edge there too, noting its expertise in heat management.
GE's longtime work on carbon capture from industrial sources is applicable to its younger DAC efforts too, the company said.
It has "material systems expertise to develop innovative sorbent materials," today's planned announcement states.
Catch up fast: DAC is among the CO2 removal technologies — such as speeding CO2 uptake in rock formations and farmlands — increasingly drawing investor and policymaker interest.
Climate experts view removal, if it can scale, as a key compliment to renewables, electric vehicles, industrial CO2 capture and other tech that slows emissions.
GE is working with academic partners and Energy Department branches, including receiving funding from its Advanced Research Projects Agency-Energy.
The bottom line: Nobody knows if DAC will ever reach the scale needed to be a real tool against climate change. But the entry of more industrial heavyweights into the space could boost the odds.
2. The new IPCC report is about choices, not doomsday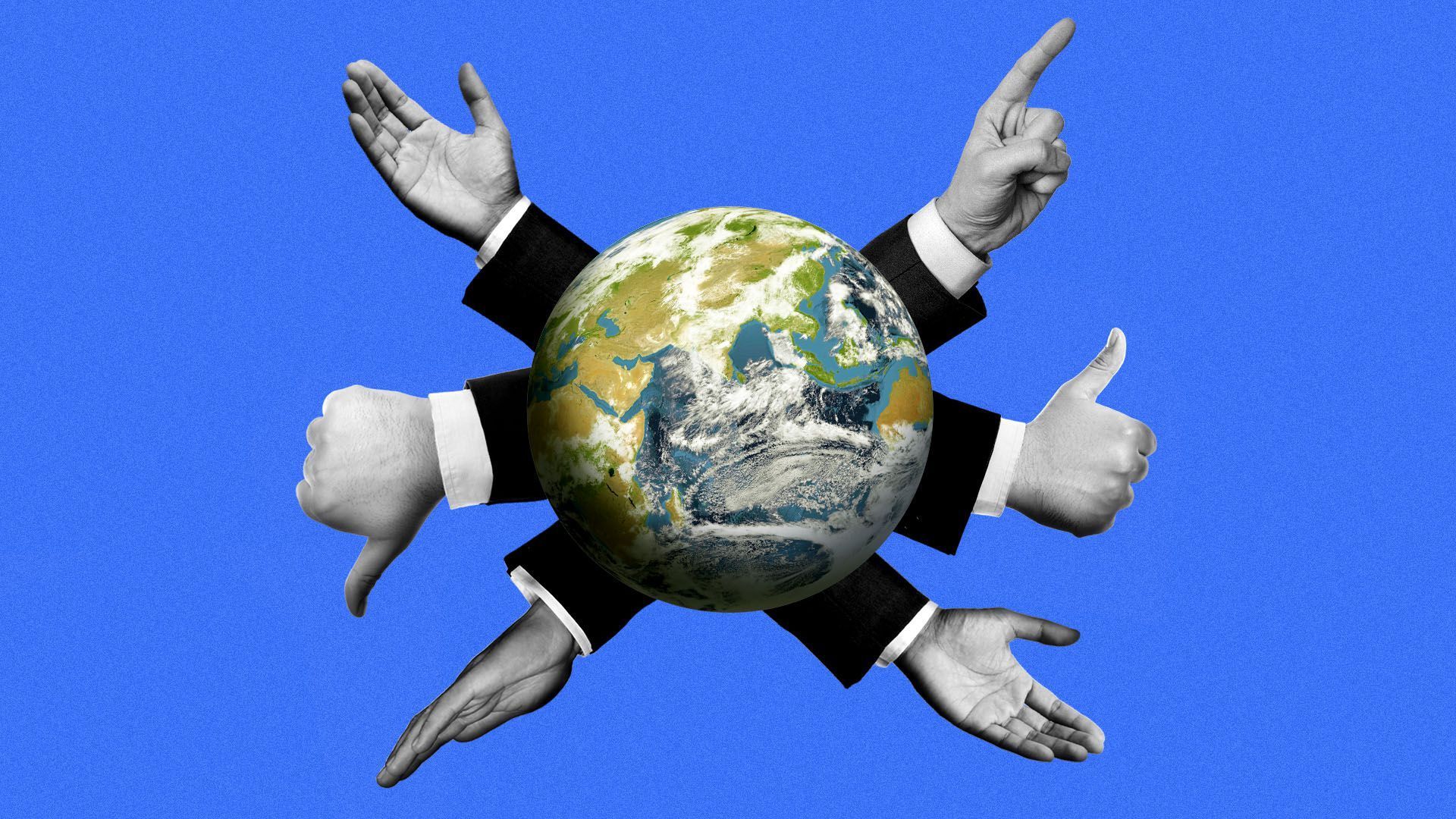 The impact of the latest sobering UN climate report will depend on whether policymakers and citizens read it as a dismal prophecy or a call to arms — and scientists are hoping for the latter, Andrew writes.
The big picture: While the IPCC warns the world is way off course for limiting global warming to the Paris Agreement's temperature guard rails, it goes further.
The authors repeatedly emphasize that we already have the tools to dramatically slash emissions, and the keys to speed the energy transition are political will and money.
Between the lines: The Paris targets are on a continuum of increasing climate risks, according to Robert Max Holmes, head of the Woodwell Climate Research Center in Massachusetts.
"There aren't these clear thresholds where it's game over," Holmes said in an interview. "The bad things will ramp up the warmer we get."
Zoom in: Holmes thinks one productive framing may be to consider the need to bend — and eventually reverse — the rising curves of CO2 levels and corresponding temperature increases.
With carbon dioxide removal technologies, a growing focus of research, getting to net zero, then net negative emissions may be possible.
Such an outcome is necessary because we didn't get an earlier start on cutting emissions.
Bending the curve "Can be a very motivating goal," Holmes said.
The bottom line: The IPCC's authors hope to inform policymakers and the public, not cause paralysis.
"We are walking when we should be sprinting," said IPCC chair Hoesung Lee in a press conference Monday.
3. Chinese EV player Nio deepens U.S. ties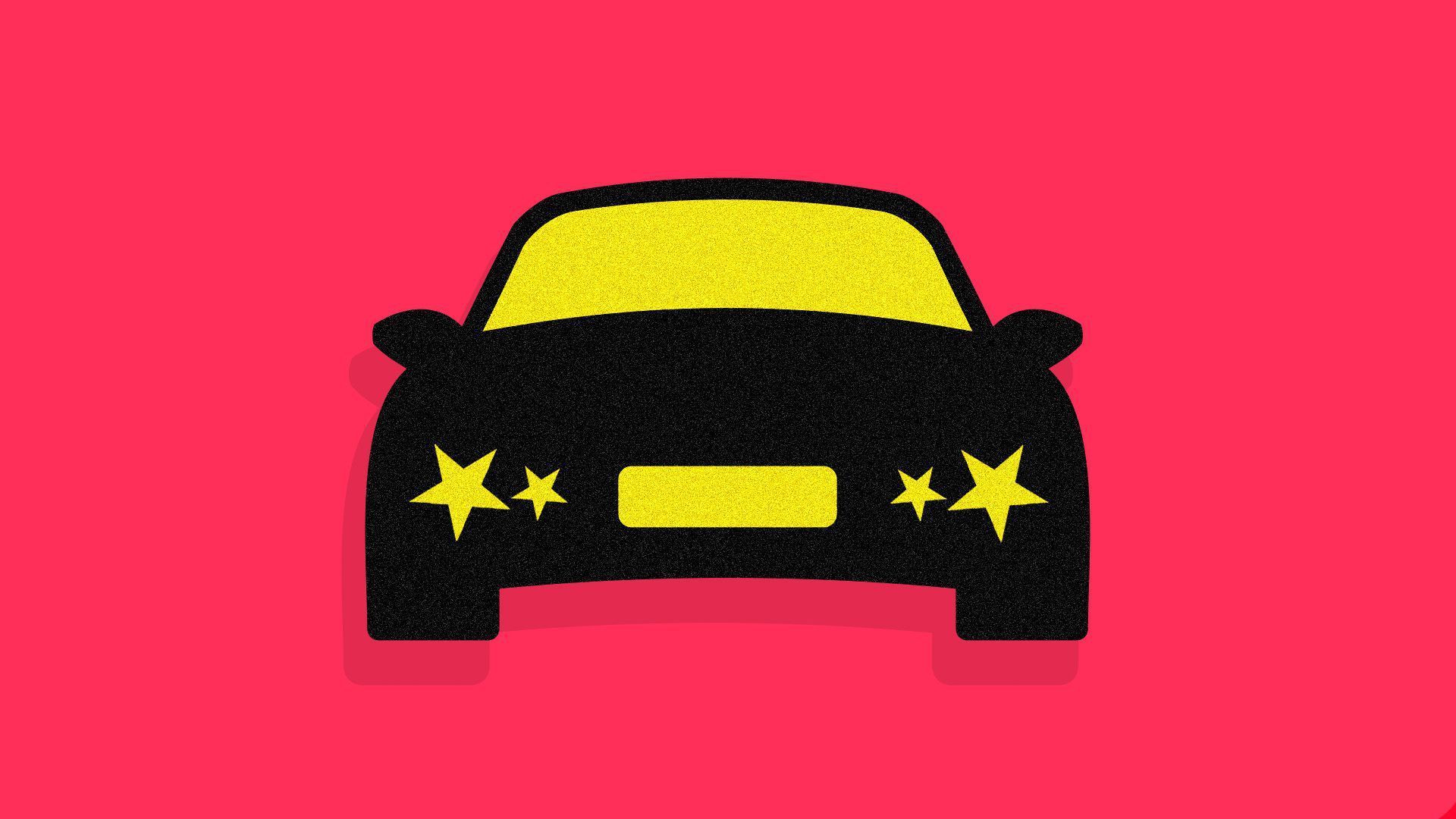 Nio, the Chinese EV startup, has registered to lobby in the U.S. in a further sign that the company plans to enter the market here, Ben writes.
Driving the news: A filing shows Nio U.S.A. expects to lobby on "issues that will promote and encourage the sale and development" of its EVs.
The topics include tax incentives, tariffs and trade restrictions that could affect their U.S. business, as well as safety and data privacy.
Catch up fast: Nio has already entered some European markets. The nine-year-old company has said it plans to sell vehicles in the U.S. beginning in 2025, per multiple reports.
It's hiring for a number of positions at its San Jose, California, offices, according to the company website.
Quick take: There's growing competition in the U.S. market from domestic and foreign players alike, but tensions with China could also create hurdles for its companies planning operations here.
4. Catch up fast on energy and climate finance
⏩ Sempra has greenlit its LNG export project in Port Arthur, Texas, yesterday announcing a finalized joint venture with ConocoPhillips and sale of a minority stake to private equity heavyweight KKR, Ben writes.
Driving the news: It's the second final investment decision on a major U.S. LNG export project in as many weeks. Venture Global on March 13 announced $7.8 billion in financing for the second phase of the Plaquemines, Louisiana, LNG project.
The bottom line: The one-two punch of major investment decisions shows investors see a large and enduring market for the fuel.
⚛️ "Last Energy Inc., a startup developing advanced, smaller nuclear power plants, completed four deals worth $18.9 billion to build 34 reactors in Europe," Bloomberg reports.
🌳 Mercuria, a big commodities trader, and its founding partners are investing $500 million in "natural climate solutions" via a new unit called Silvania.
Driving the news: The investment will bring "high-quality carbon credits and co-benefits from reducing or sequestering emissions or increasing biodiversity," the company said.
The intrigue: It's "part of a trend of trading houses becoming more involved in carbon markets — including the market for voluntary offsets," the Financial Times reports.
5. Strong atmospheric river hits California (again)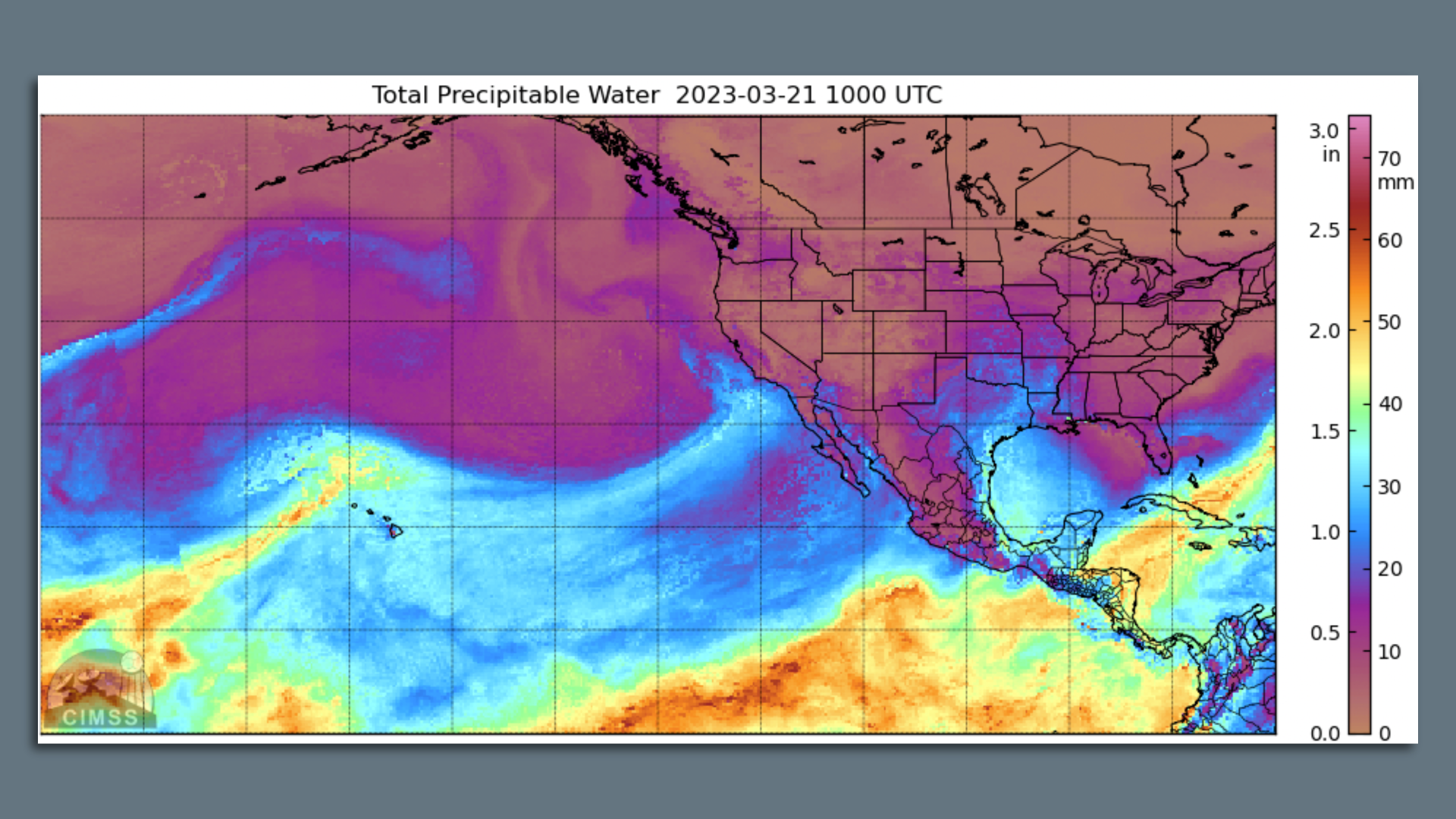 An intensifying storm associated with a strong atmospheric river will hit central to southern California today with heavy rains, damaging winds and heavy mountain snowfall, Andrew writes.
Context: With increasing ocean and air temperatures, climate change is adding even more moisture to atmospheric rivers, enabling them to dump higher rain and snow totals.
Threat level: The storm has the potential to produce high winds and power outages across heavily populated areas.
High wind warnings and wind advisories are in effect throughout the state from San Francisco south to San Diego, with gusts to 75 mph or greater possible in higher terrain.
Flood watches are also up for central and southern California, where "Numerous flash floods are likely," the Weather Prediction Center said in a forecast discussion Tuesday morning.
Snowfall is expected to total up to 4 feet in the southern and central Sierra Nevada Mountains, putting strain on already buried infrastructure, given the record-breaking snowpack so far this year.
6. 💬Quoted
"Your plan manager should be able to protect your hard-earned savings — whether Rep. Marjorie Taylor Greene likes it or not."
—
President Biden via Twitter
That's Biden after issuing a veto — his first — of legislation to kill a Labor Department rule that enables retirement plan managers to weigh ESG factors including climate, Ben writes.
The other side: ESG critics allege asset managers are prioritizing ideology over clients.
"Biden just sided with woke Wall Street over workers. Tells you exactly where his priorities lie," House Speaker Kevin McCarthy tweeted.
📬 Did a friend send you this newsletter? Welcome, please sign up.
🙏 Thanks to Lisa Hornung and Javier David for edits to today's edition.