Axios Generate
December 14, 2020
Good morning, my latest Harder Line column looks at a trend on topics we cover a lot here in Generate and in my column: nuclear power and carbon capture. 
I'll share a glimpse of that and then Ben Geman will get you up to speed on the rest of the news. 
Today's Smart Brevity count: 1,141 words, 4 minutes.
1 big thing: Climate change boosts support for divisive tech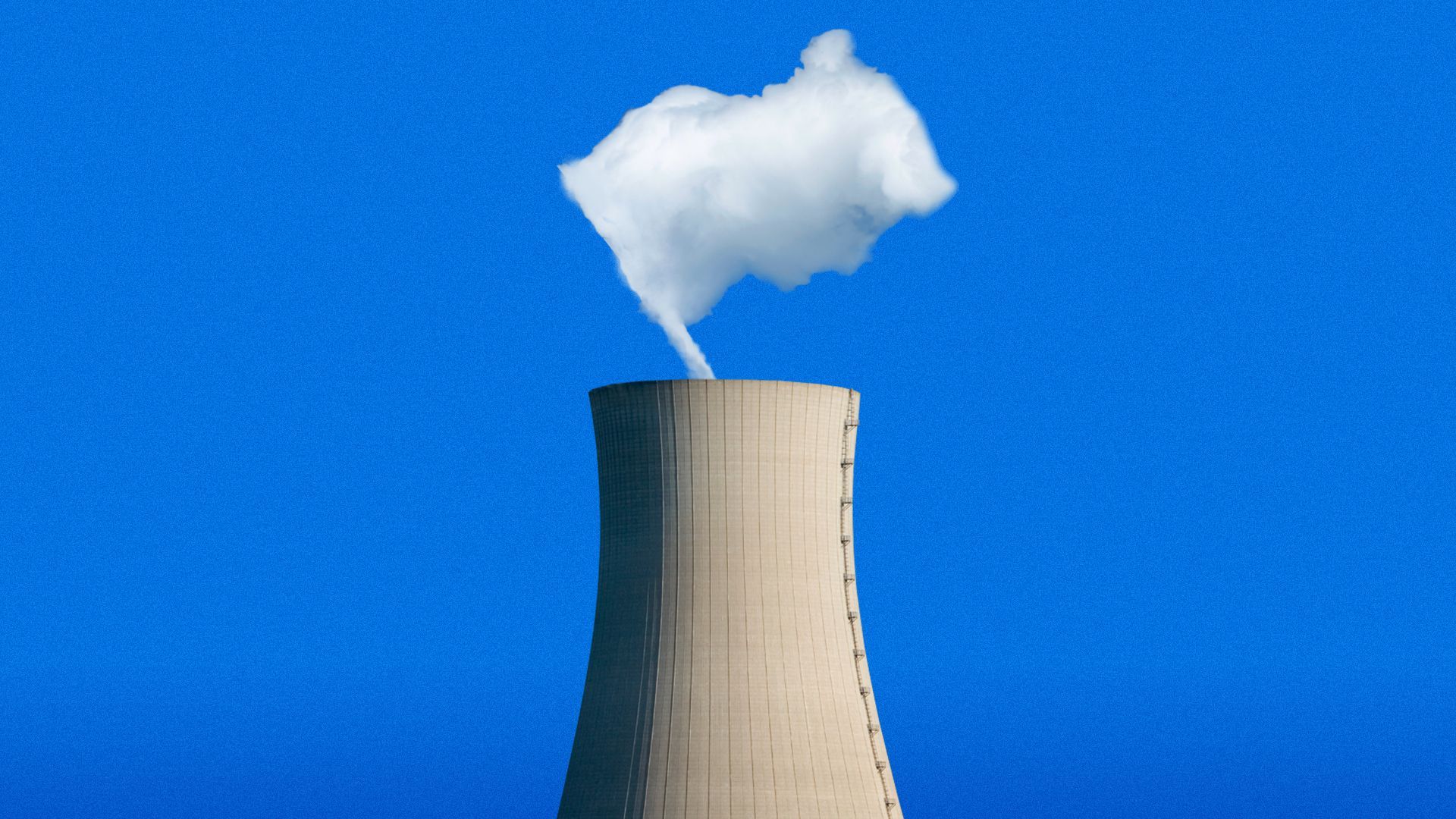 Julian Brave NoiseCat, an expert at a progressive think tank, doesn't like nuclear power, but he's willing to support it because of climate change.
Why it matters: NoiseCat personifies a shift in mindset among individuals, corporations and governments that's set to accelerate under President-elect Joe Biden: The urgency of climate change is compelling support for controversial technologies.
What he's saying: NoiseCat says his mindset has shifted in two areas: Nuclear power, which emits zero carbon, and technology that captures carbon dioxide from facilities' emissions.
"There's a common but often unacknowledged contradiction wherein activists like me insist that climate change is an existential crisis at the same time as we argue that specific political, legislative and technological pathways are off-limits," said NoiseCat, vice president of policy and strategy at Data for Progress.
"If we accept the former point, the latter point is untenable. You don't tell the firefighters they can't use ladders and fire retardant when your building is ablaze," he said.
The big picture: The United Nations, the International Energy Agency, and most scientific and technical experts say nuclear power and carbon capture technology are essential to reach global goals to neutralize heat-trapping emissions by midcentury.
This is in addition to — not in replacement of — drastic increases in renewable energy. Citing those experts, Biden's climate plan supports the tech too.
Driving the news: These technologies have gained bipartisan support in Congress and states.
On Capitol Hill, several pieces of recent legislation are candidates for consideration next year (and some may even pass before year's end). The incoming administration will likely be looking for bipartisan policies that can pass a closely divided Senate.
Eight states have passed 2050 zero-carbon electricity targets, starting with California in September 2018 and including Arizona last month, according to the Clean Air Task Force, an environmental group.
But, but, but: Significant opposition persists, especially among progressive and indigenous interests.
The intrigue: NoiseCat said he's talked with other progressive experts whose views are similarly evolving like his, but he chose his words carefully with me because "some of these policy and tech questions have become so taboo," NoiseCat said.
Concerns are legitimate and can be personal, NoiseCat says. For him, a member of the Canim Lake Band Tsq'escen in British Columbia, Canada, it's what he calls the nuclear industry's "horrific history of polluting indigenous communities here in the U.S."
The bottom line: "But at the same time," NoiseCat says, "it makes no sense to take existing nuclear off the table at the precise moment in geological history that we need to be rapidly reducing emissions from our energy system."
Go deeper: My full column.
2. A big EV sales rebound may be coming
From the crystal ball files: Morgan Stanley analysts see electric vehicle sales surging next year, and they're not alone.
What they're saying: Global EV sales are projected to grow by 50% or more next year, compared to 2%-5% for internal combustion vehicles, they said in a note Friday.
"We forecast global EV penetration to surpass 4% in 2021, rising to 31% by 2030," it states. MarketWatch has more.
By the numbers: The research firm BloombergNEF sees fully electric and plug-in hybrid sales reaching about 2.64 million next year. That's up from around 1.73 million this year.
Overall, the pandemic has hit sales of internal combustion vehicles harder than EVs, though EVs remain a tiny slice of the market.
3. European trucking players to speed up climate plans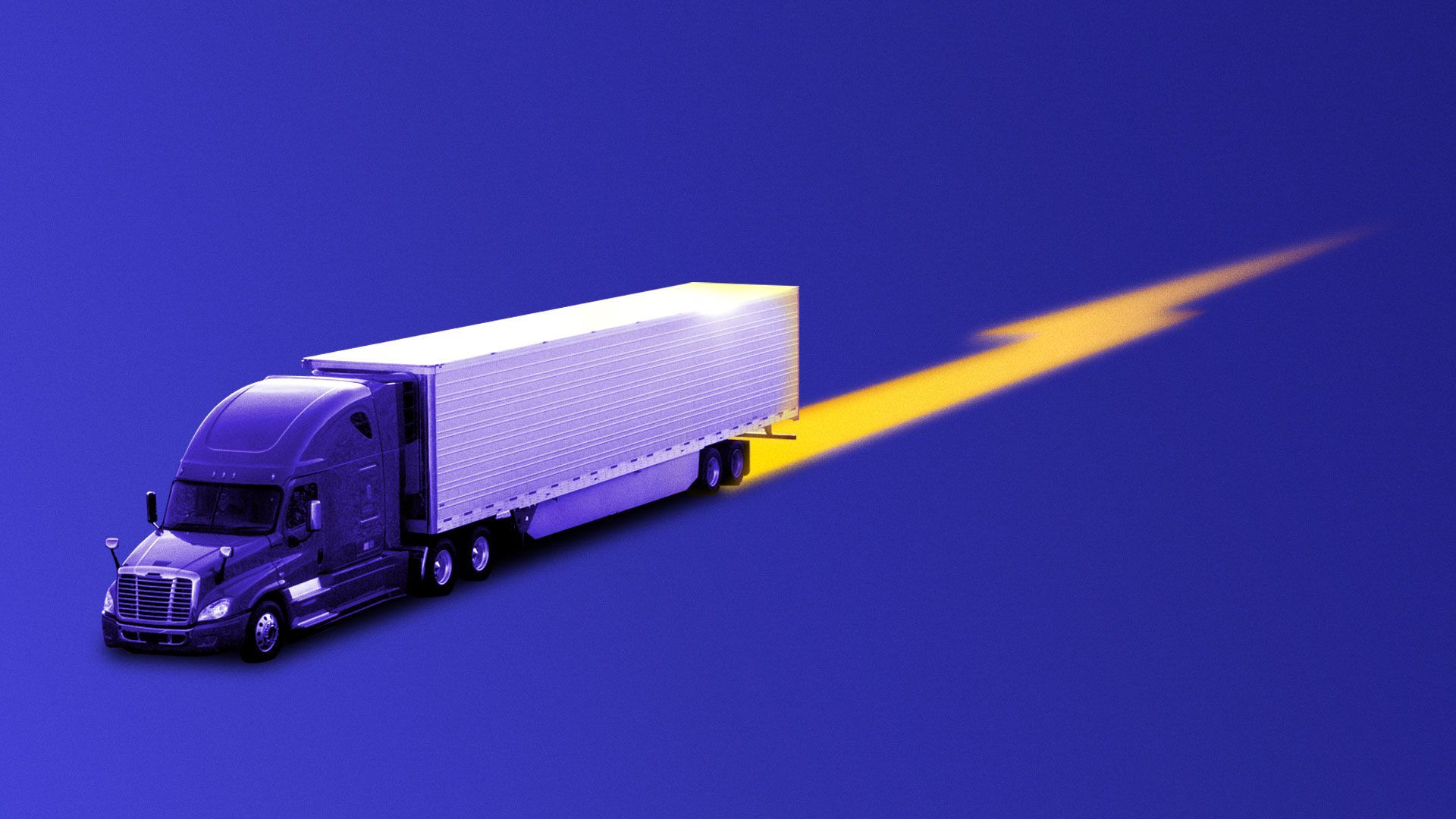 The Financial Times reports that a group of Europe's largest commercial truck manufacturers are about to announce plans to end sales of fossil-fuel-powered models by 2040.
Driving the news: "An alliance of Daimler, Scania, Man, Volvo, Daf, Iveco and Ford have signed a pledge to phase out traditional combustion engines and focus on hydrogen, battery technology and clean fuels," it reports.
Scania's chief executive, Henrik Henriksson, tells the FT that the industry may pour well over $100 billion into the effort.
The big picture: The looming announcement comes as a number of manufacturers are developing and rolling out new battery-electric and hydrogen fuel-cell models.
European emissions standards are one thing driving the efforts. But falling tech costs, corporate sustainability pledges and policies elsewhere — such as planned rules in California — are also part of the picture.
4. China's latest pledge on CO2 emissions
ICYMI: Chinese President Xi Jinping on Saturday pledged to cut carbon emissions per unit of economic output by over 65% by 2030 and boost the share of nonfossil fuels in energy consumption to roughly 25% by then.
Why it matters: China is by far the world's largest greenhouse gas emitter, and the announcement offers new specifics about the country's existing climate targets.
Yes, but: The pledge just slightly strengthened China's emissions intensity target, and environmentalists' response to the overall package was lukewarm.
The big picture: The pledge follows Xi's surprise announcement in September that China would aim to be carbon-neutral by 2060 and have its emissions peak before 2030.
On Saturday, Xi also offered expanded targets on renewable power and forest growth.
What they're saying: "This is an incremental step towards the right direction, but more needs to be done to align near term action and China's carbon-free vision," said Li Shuo, a China analyst with Greenpeace.
He said China should aim to have its absolute emissions peak before 2025, compared to its pledge last year of a peak sometime before 2030.
Driving the news: China's announcement came at a virtual summit marking the fifth anniversary of the Paris climate deal.
It's among the pledges that big emitters are rolling out in recent weeks and days.
EU officials last week reached a deal to cut emissions 55% by 2030 compared to 1990 levels, though many specifics about implementing the plan remain to be worked out.
And U.K. Prime Minister Boris Johnson said the U.K. would end support for fossil fuel projects overseas.
Go deeper:
5. Where it stands: Biden's potential climate picks
Let's catch up on some of the names in the mix for top energy and climate roles in the incoming Biden administration.
Driving the news: Last night both Reuters and Bloomberg reported that Biden's team is considering Gina McCarthy, who led EPA under Obama, for the role of White House climate policy coordinator.
She's one of several names reportedly in the mix for the role.
What's new: Both outlets also report that Biden is considering Michael Regan, who heads North Carolina's Department of Environmental Quality, to run EPA.
Mary Nichols, the outgoing chair of the California Air Resources Board, has been seen as a top contender for the job.
6. Quote of the day
"I don't worry about the oil majors at all...If I have 100 things I worry about at night, it's not even on the top 100."
Who said it: James Robo, CEO of the power company NextEra Energy, a huge player in renewable power.
He's quoted in this Wall Street Journal feature about how oil giants like BP are diversifying into renewables. It explores the market rise of the "green energy majors," focusing on Iberdrola, Enel and NextEra.
Yes, but: The piece delves into how the oil giants' diversification brings the "threat of increased competition."