Good morning and welcome back! We'll get to the energy news in a moment, but last night brought a burst of important political news, so I'd recommend heading over to the Axios stream to stay up to speed on election night and its aftermath.
Ok, here we go . . .
https://www.axios.com/newsletters/axios-generate-508452df-19a9-4b23-a534-aaa9559bb233.html?chunk=0#story0
Latest in climate: car standards, Syria fallout, view from K Street
Breaking Wednesday: The European Commission just unveiled plans to set new climate standards for cars and vans, requiring that new vehicles in 2030 have emissions that are 30% lower than 2021 levels, with an interim 15% cut in 2025.
Go deeper: The commission released a description of the proposal here, and the Wall Street Journal wrote a detailed preview of the plan here.
Syria's move: The Assad regime announced at the UN climate talks that it would sign the Paris agreement. Tuesday's action reverberated in the U.S. and abroad, with activists and several lawmakers pouncing on it to criticize the Trump administration for having the U.S. be the lone country to reject the plan.
Dick Durbin, the Senate's minority whip, tweeted a New York Times story with the comment, "The President should change his slogan to 'America Last.'"
Quick take: While Syria's action gave the left a chance to emphasize Trump's isolation on Paris, it's by no means certain that highlighting the Assad regime's decision to endorse the pact will prove to be an effective climate messaging campaign or bolster the credibility of the deal.
Oh, and this tweet from my colleague Jonathan Swan makes a good point too.
Business is watching: A U.S. Chamber of Commerce blog post by Stephen Eule yesterday lays out the group's priorities from the UN climate talks as nations work on details of implementing the 2015 Paris deal:
Transparency language around nations' progress on emissions pledges should be both flexible to account for countries' different circumstances and "robust" enough to reliably track.
The UN should include business views in the periodic assessments, or "stocktakes," of the deal's progress.
There's a need to ensure strong intellectual property rights protections, because this give companies incentives to invest in low-carbon technology innovation.
My thought bubble: The post, which doesn't mention President Trump's pledge to abandon Paris, underscores how the nation's most powerful business group believes it must remain engaged. The train has left the station, especially for a business lobby whose members have interests worldwide, despite the current administration's hostility to the deal.
https://www.axios.com/newsletters/axios-generate-508452df-19a9-4b23-a534-aaa9559bb233.html?chunk=1#story1
Perry inks IEA push for carbon capture tech
Yesterday a summit of energy ministers — co-chaired by U.S. Energy secretary Rick Perry — and corporate execs convened by the International Energy Agency signed a pledge to bolster development and deployment of carbon capture, utilization and storage (CCUS) technologies.
Why it matters: IEA executive director Fatih Birol has been vocal about lagging global commitment to the topic.
An IEA summary of the meeting notes the relatively small scope of investments: "New analysis from the IEA finds that large-scale CCUS projects have received around USD 10 billion in capital investment around the world. Low-carbon energy investments received USD 850 billion last year alone with just 0.1% going to CCUS."
https://www.axios.com/newsletters/axios-generate-508452df-19a9-4b23-a534-aaa9559bb233.html?chunk=2#story2
Taking the transatlantic pulse on global warming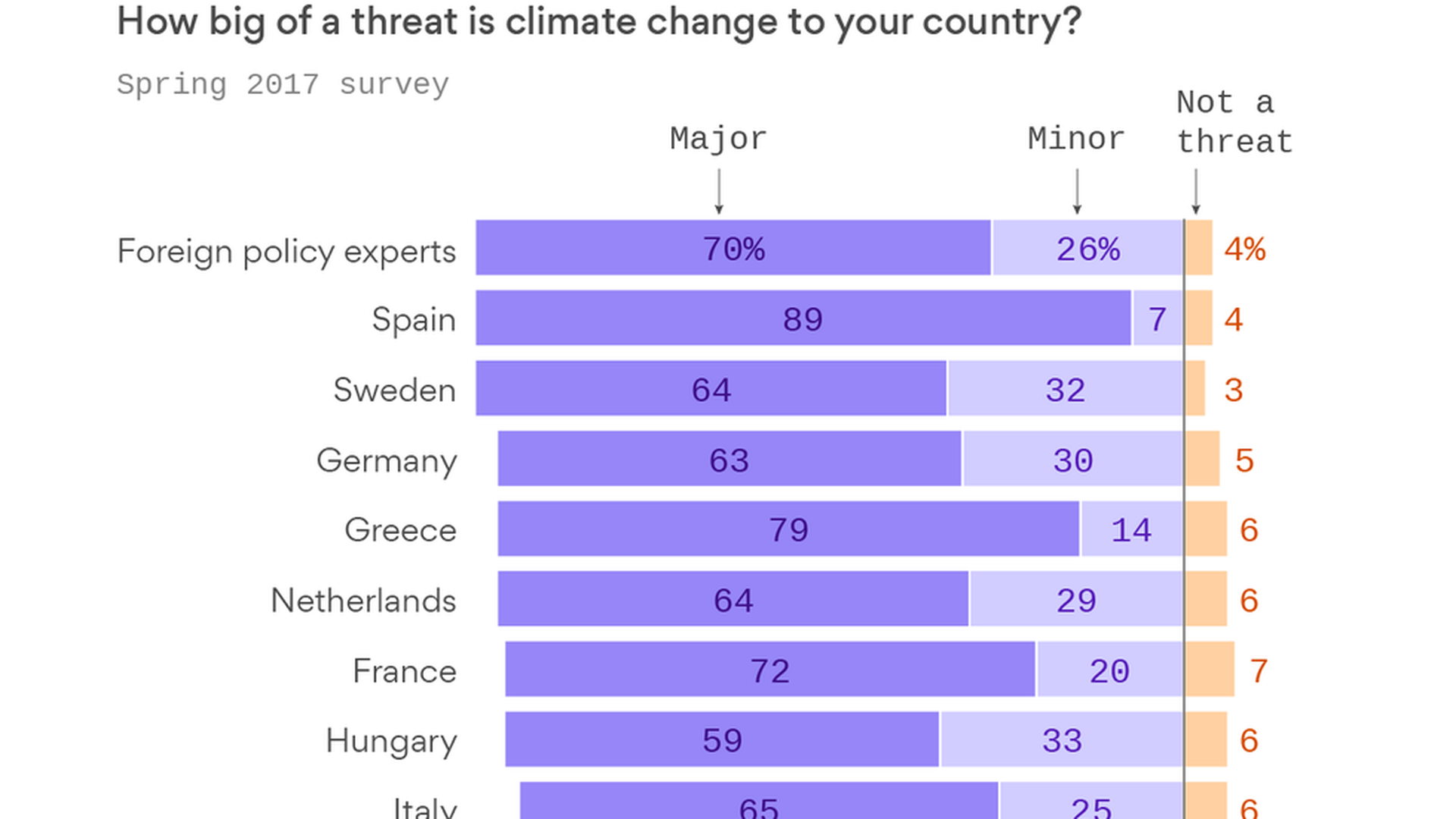 The Pew Research Center came out with a report yesterday that compares public opinion in various countries against the views of a group of foreign policy experts. The chart above created by my colleague Andrew Witherspoon represents the data from their polling on the threat of climate change.
Why it matters: The polling shows a substantial degree of agreement between public and expert opinion. The question about the threat of climate change is part of a wider international poll that Pew conducted this spring.
Climate was the top concern among the 547 policy experts surveyed about various "threats," with 70% calling it a "major" threat to their country. Other "threats" they were asked about included ISIS, cyberattacks from other countries and Russia's power.
https://www.axios.com/newsletters/axios-generate-508452df-19a9-4b23-a534-aaa9559bb233.html?chunk=3#story3
Latest in oil: Saudi Arabia, EVs, peak demand (or not)
A couple of new analyses of Saudi Arabia's posture caught my eye...
Sizing up the Saudis, part 1: Over at the Council on Foreign Relations, veteran analyst Amy Myers Jaffe looks at the longstanding tension between prices and market share and recent changes in the kingdom's calculus, noting, "A significant oil price drop now would be inconvenient to Saudi Arabia's ambitious economic reforms."
Here's one portion that ties together some strands: "Analysts calculate that the kingdom needs an oil price of roughly $60 a barrel for the Aramco IPO to meet acceptable revenues from the share sale. Events inside Saudi Arabia, including the recent arrest of at least eleven senior princes, former and current ministers, and dozens of top businessmen, sent oil prices higher Monday, raising the possibility that OPEC could even set its sights on $70 a barrel."
Sizing up the Saudis, part 2: Robin Mills, CEO of the consultancy Qamar Energy, looks at the agenda and motivations of Crown Prince Mohammed bin Salman (MBS) and explains why "Saudi Arabia historically a force for oil market moderation, has become a price hawk."
A little more from his Mills' Bloomberg View column: "MBS is a man in a hurry. The war in Yemen, his plan to build a huge city of the future in the desert, the development of a nuclear power program, and investments in Uber, Softbank and other tech companies all require cash."
***
Big oil (and gas) bets on itself: Reuters has a new analysis of how the world's most powerful oil companies are positioning themselves for the future that says the behemoths don't buy the argument that their businesses face any imminent threat, despite some forecasts that demand could peak within a generation.
"A Reuters analysis of clean energy investments and forecasts by oil majors, along with exclusive interviews with top oil executives, reveal mostly token investments in alternative energy. Today, renewable power projects get about 3 percent of $100 billion in combined annual spending by the five biggest oil firms, according to energy consultancy Wood Mackenzie," the story states.
One possible future: Bloomberg dives into one of the alternative scenarios laid out in the big OPEC annual outlook we wrote about yesterday. Their main forecast, as we noted, shows oil demand climbing through at least 2040, but Bloomberg notes...
"A larger-than-expected boom in electric vehicle sales could cause global oil demand to peak and flatten out in the late 2030s, OPEC said."
While Bloomberg notes that the report calls it "highly unlikely" that EV deployment will increase fast enough for this to happen, the story that the inclusion of this alternative forecast on EVs and peak demand shows that the cartel is starting to take the topic more seriously.
https://www.axios.com/newsletters/axios-generate-508452df-19a9-4b23-a534-aaa9559bb233.html?chunk=4#story4
Washington energy veterans launch new firm
My colleague Amy Harder has the scoop on a new energy and environmental consulting venture being launched today by four Washington veterans...
Why it matters: The firm, called COEFFICIENT Group, brings together a rare mix of expertise that cuts across fossil fuels, climate change and, yes, the political aisle too. The group's formation is hyper relevant with the energy and environmental worlds scrambling to respond to President Trump as he unwinds most of what his predecessor did in this area.
The people behind the firm:
Tom Lawler, a former top adviser to Democratic Sen. Tom Carper of Delaware
Cameron Prell, a lawyer whose expertise includes clean energy and climate issues
Frank Fannon, most recently a top executive in the Washington office of BHP Billiton, one of the world's biggest mining and petroleum companies
Tom Hassenboehler, former top Republican energy adviser for the House Energy and Commerce Committee
One level deeper: The firm isn't shying away from work that includes both traditional energy and climate change. It has big goals to address issues as wide ranging as climate finance to digitization of the energy industry. It will also do more traditional government relations work.
https://www.axios.com/newsletters/axios-generate-508452df-19a9-4b23-a534-aaa9559bb233.html?chunk=5#story5
Today in Congress: enviro nominees, geoengineering, drilling
Trump picks in the hotseat: The Senate Environment and Public Works Committee will hear this morning from Trump's nominees to lead the White House Council on Environmental Quality (CEQ) and to serve as EPA's deputy administrator.
What to expect: I'll re-up our prediction from Monday's edition. Look for CEQ pick Kathleen Hartnett White and EPA nominee Andrew Wheeler to face questions from Democrats about the multi-agency federal scientific report released Friday. The report finds overwhelming evidence that humans are the dominant cause of warming since the mid-20th century — a finding at odds with climate skepticism of the president and multiple Cabinet officials.
Geoengineering in focus: A pair of House Science, Space and Technology subcommittees will hold a hearing on the topic this morning.
Ahead of the event, a suite of prominent geoengineering experts are warning Republicans that the technologies simply can't be a substitute for policies that sharply cut greenhouse gas emissions, and that treating it as a "silver bullet" worsens "already severe climate change risks."
Here's a line from a newly released open letter: "While further research could help address questions about the proposed technologies' efficacy, risks, and cost-effectiveness, we already know that geoengineering, including solar radiation management and carbon dioxide removal approaches, can at best be a supplement to reducing sources of greenhouse gas emissions and increasing our ability to cope with the effects of climate change."
Drilling: The full House Natural Resources Committee is marking up legislation that's designed to bolster oil-and-gas development on federal lands and waters.
***
About that wind tax provision: Via Bloomberg, there's strong evidence that a House GOP plan to pare back the wind energy production tax credit isn't going anywhere in the Senate amid opposition from key GOP lawmakers.
https://www.axios.com/newsletters/axios-generate-508452df-19a9-4b23-a534-aaa9559bb233.html?chunk=6#story6
Quoteable
"What would the world look like? I have this sinking suspicion it wouldn't look that different than 10 years ago. A bunch of hybrid cars. A bunch of noise about hydrogen vehicles. You know, I don't think the world would look anything like today — where entire nations are saying, 'We're going to stop making gas cars."
Tesla board member Steve Jurvetson, a venture capitalist, said this to the New York Times when asked what would have happened if Tesla never existed.
Thought bubble: Jurvetson's bold comment is partially right. Elon Musk and Tesla have done far more than any other company to make EVs cool, and advance the technology needed to lay the groundwork for commercial deployment that's expected to grow sharply in coming years.
Yes, but: An array of forces bigger than Tesla have added lots of momentum, such as state and federal environmental policies, battery cost declines that stem from R&D by multiple companies and researchers, and the work of the legacy automakers who began getting into the EV game early on.
Simply put, Musk is a pioneer, but hasn't and won't transform mobility on his own.