Axios Generate
December 01, 2021
🐪 Wednesday is here! Today's Smart Brevity count is 1,357 words, 5.5 minutes.
🚨 Heads up: Join Axios' Courtenay Brown and Hope King today at 12:30pm ET for a virtual event on the future of manufacturing. Guests include Sen. Debbie Stabenow (D-Mich.) and Siemens USA CEO Barbara Humpton. Register here.
🎸 And happy birthday (it was yesterday) to genre-busting rock great Shuggie Otis, who has today's intro tune...
1 big thing: Flood of money pours into climate tech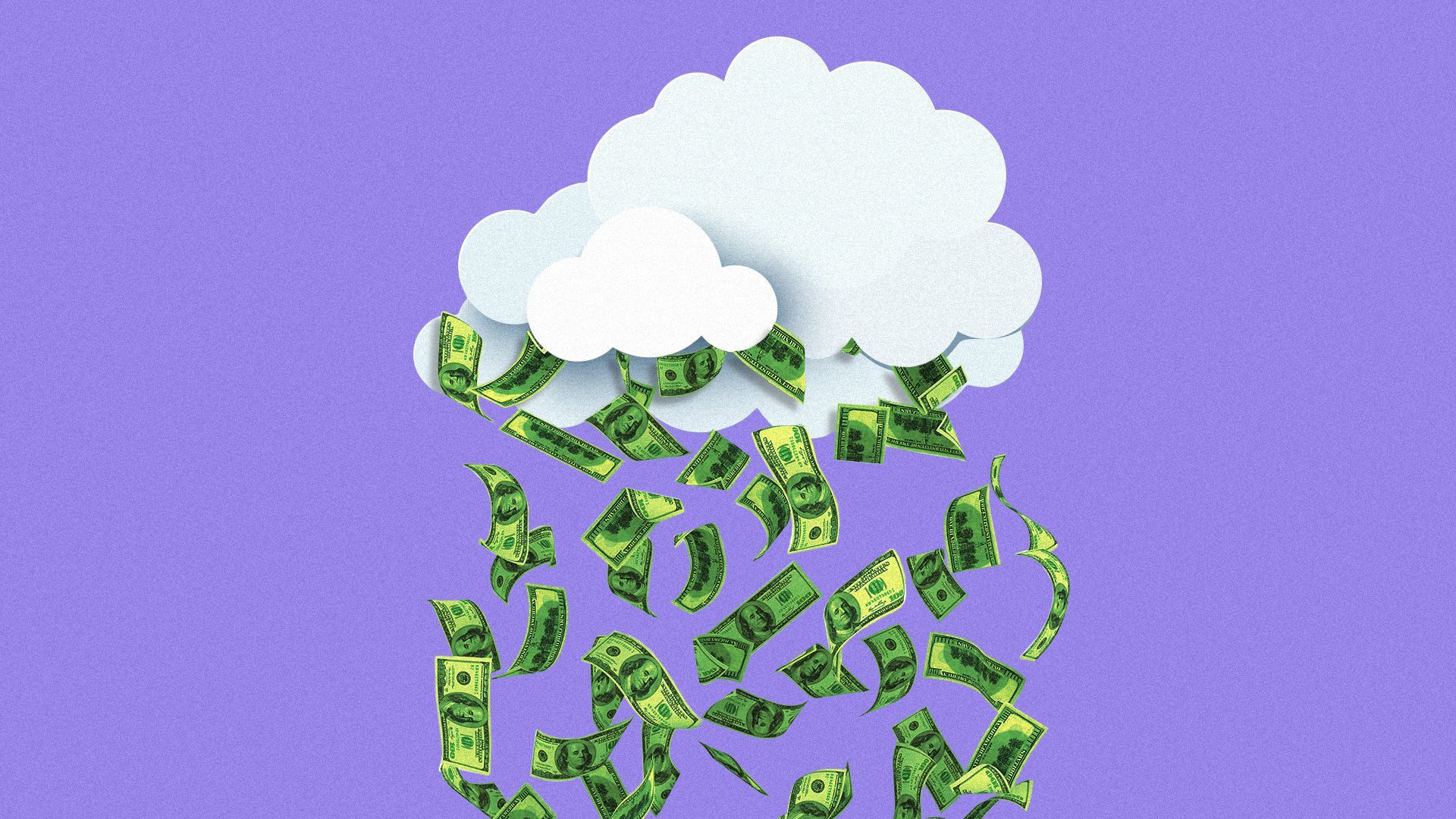 Funds are making moves to achieve climate solutions breakthroughs, as well as investing in companies that seek to help communities better manage the climate risks they already face today, Andrew and Dan Primack write.
Driving the news: This morning, StormSensor, a company that monitors watersheds in real time, including providing flood data, announced it has closed a $10 million funding round. The funding is co-led by Orbia Ventures and Buoyant Ventures, with participation from other funds and individuals.
Details: The company's work is not the sexiest role in the climate tech space, but it's increasingly vital as extreme precipitation events increase in intensity and frequency as global warming continues.
StormSensor places modular devices in pipes and other locations to monitor stormwater, sewer and coastal infrastructure in cities across the U.S., including Seattle, Norfolk, Virginia, and Boston.
The company's cloud-based software can alert city officials when water depth gets too high or flow declines, potentially signaling impending flooding. StormSensor offers a whole-scale replacement of traditional ways of monitoring that rely on spot checks of tiny components of a city's total underground infrastructure.
What they're saying: Erin Rothman, founder and CEO of StormSensor, told Axios that her vision for the company is for it to provide city agencies the equivalent of Google traffic maps of sewers and stormwater systems, and eventually coastal systems, too.
"We're monitoring and tracking how water is moving through these systems, or in many cases, how water is not moving through the systems," she said. "And it's important to be able to do it both during good weather conditions and of course, disasters."
State of play: In a separate development illustrating the push on carbon mitigation and cutting emissions, Lowercarbon Capital, the climate-focused VC firm led by Chris Sacca, yesterday told limited partners that it wants to raise two new funds, Axios has learned. One will be focused on carbon removal and the other on fusion.
What we're watching: Ryan Orbuch will lead the carbon removal fund. He joins Lowercarbon from Stripe, where he was widely credited with helping make the payments company a carbon removal pioneer.
Per the letter to LPs: "Removal means removal. It means cleanup on Aisle 2 of the 170 years of milk already spilled."
On fusion, Lowercarbon already has backed three companies; including Commonwealth Fusion Systems, which just raised more than $1.8 billion in new funding. Per the letter to LPs: "The biggest tipping point will come when fusion reaction generates more energy than it takes in... Q>1 is the Kitty Hawk moment for energy. It's Lindbergh crossing the Atlantic and Aldrin bouncing on the moon..."
Neither fund has a refined target, but both include a 15% GP commit and a 25% carried interest, per documents obtained by Axios.
Bonus: Funding infusions for batteries and fusion
Fusion energy: Commonwealth Fusion Systems raised more than $1.8 billion, including from Bill Gates and George Soros, to pursue generating carbon-free energy using the elusive process of nuclear fusion, WSJ reports.
Separately, billionaire Jeff Bezos is among the investors pouring $130 million into General Fusion Inc. to help it develop a commercial reactor, Bloomberg reports.
EV Battery technology: Solid-state battery firm Factorial Energy announced joint collaboration agreements with Mercedes-Benz and Stellantis, both of which are becoming strategic investors.
Mercedes-Benz is taking an equity stake and investing a "high double-digit million dollar amount" in the Massachusetts-based battery firm, which aims to boost the range of electric vehicles.
Energy Dome, an Italian energy storage technology company, announced it raised $11 million in a Series A round, which it plans to use to complete the construction of its battery demonstration project.
The round was led by 360 Capital and included Barclays' Sustainable Impact Capital program and Third Derivative, a climate tech startup accelerator founded by RMI and New Energy Nexus.
2. A stronger renewables forecast still falls short
New data shows renewable power is surging globally but remains off the pace with what's needed to meet the ambitious goals of the Paris climate agreement, Ben writes.
Driving the news: The International Energy Agency is out with its latest snapshot and near(ish) term forecasts.
Power capacity additions are setting another annual record this year at around 290 gigawatts, led by solar.
IEA has significantly increased its forecast for renewable power growth (see above) over last year's report.
It now sees capacity growing by 60% from 2020-2026 to reach around 4,800 gigawatts.
Yes, but: "[E]ven this faster deployment would still fall well short of what would be needed in a global pathway to net zero emissions by mid-century," IEA notes in a summary.
"That would require renewable power capacity additions over the period 2021-26 to average almost double the rate of the report's main case."
It also notes that rising commodity and shipping costs could delay some projects.
Read the report and CNBC has more too
3. Exxon sets new emissions goals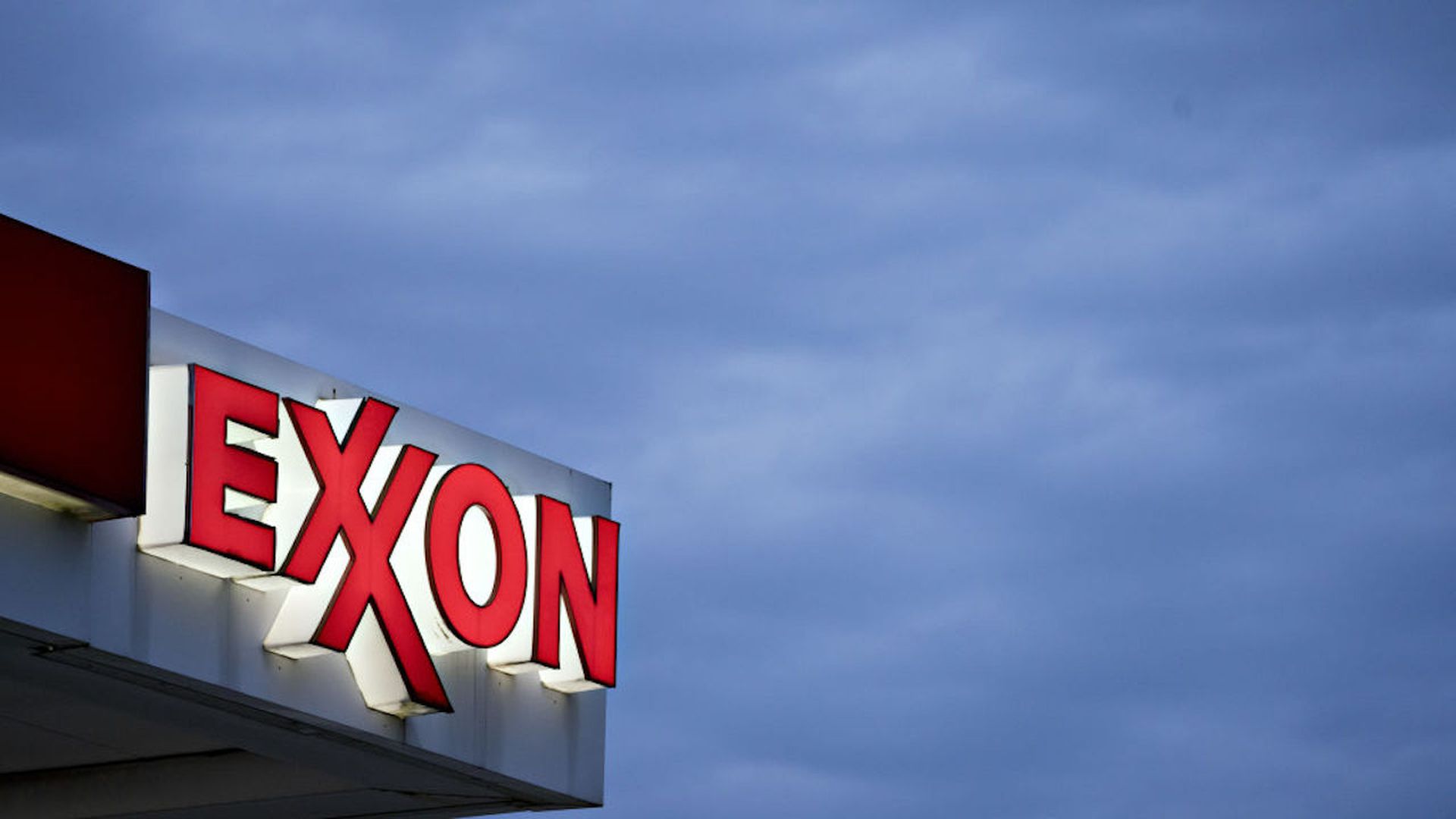 Exxon this morning unveiled 2030 greenhouse gas targets as it faces investor and activist pressure to do more on climate, Ben writes.
Driving the news: They include a 20%-30% cut in corporate emissions intensity — that is, emissions per unit of output — and a 40%-50% intensity cut in oil-and-gas exploration and production.
It is targeting a 70%-80% intensity cut for the highly potent greenhouse gas methane and efforts to curtail flaring.
Exxon says it's on pace to meet its 2025 targets by the end of this year.
The intrigue: Intensity doesn't measure total greenhouse gas emissions, but Exxon expects the combined targets to reduce absolute emissions by roughly 20%.
Catch up fast: Exxon recently pledged to spend $15 billion over six years on low-carbon initiatives.
That includes its emissions-cutting efforts and plans to commercialize carbon capture, hydrogen and biofuels technologies.
The big picture: Shareholders overrode management last spring to elect three board members nominated by the activist hedge fund Engine No. 1.
The fund said Exxon needs a stronger climate approach and more disciplined oil-and-gas spending after years of rocky financial returns.
By the numbers: The oil giant is planning $20-$25 billion annually in overall capital spending through 2027, which is significantly lower than what Exxon envisioned a couple of years ago.
Exxon projects that over 90% of its oil-and-gas production investments can generate returns greater than 10% even at prices of $35-per-barrel equivalent.
4. Congress grapples with Putin's gas pipeline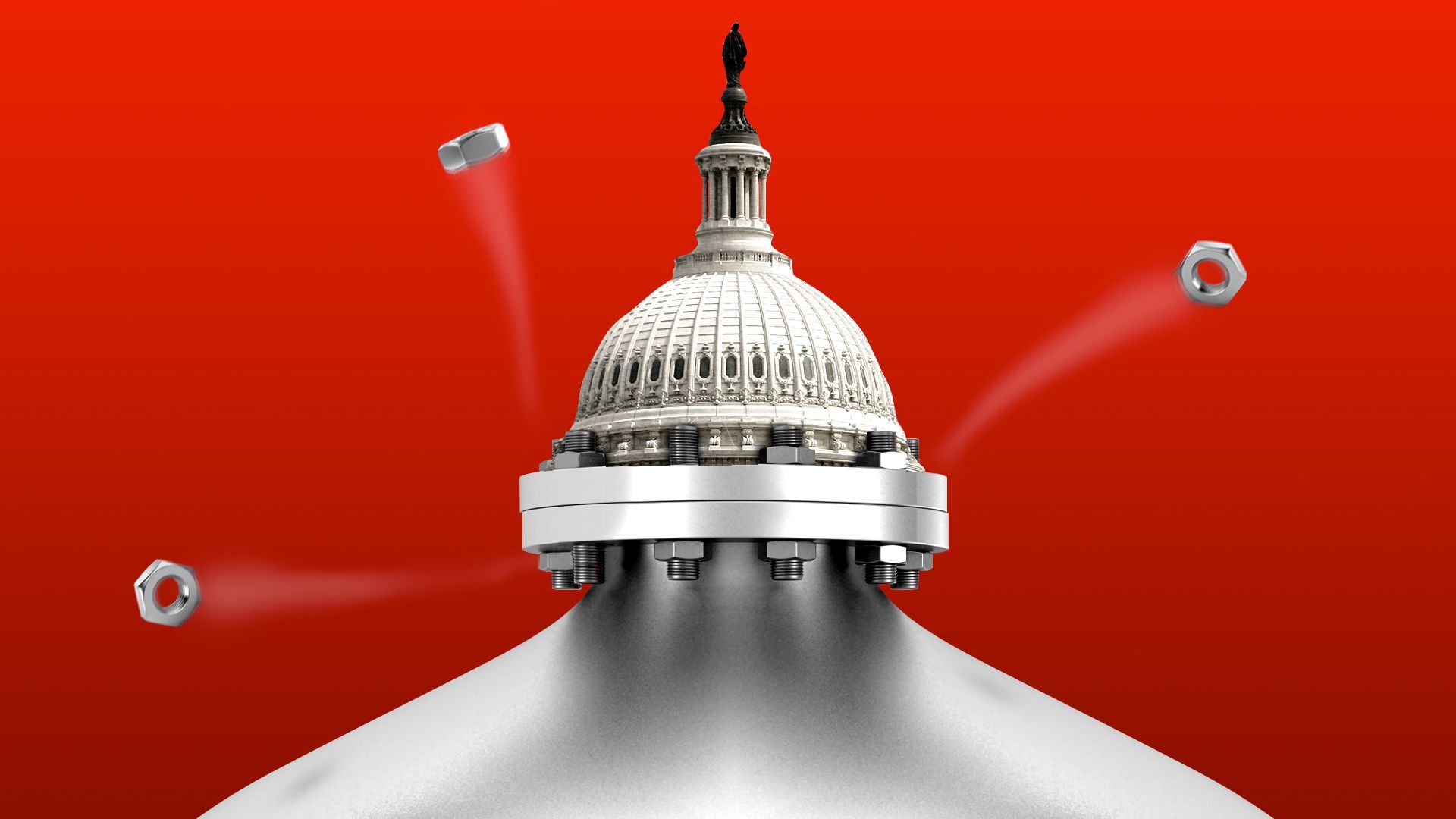 The Biden administration, Capitol Hill Democrats and the German government are trying to stop Congress from imposing mandatory sanctions on a Kremlin-backed natural gas pipeline, Axios' Zachary Basu and Alayna Treene report.
Why it matters: President Biden's decision to let Nord Stream 2, a major Russia-to-Germany gas line, proceed has put his allies in an uncomfortable bind.
Republicans have already blocked dozens of Biden's foreign-policy nominees, and the dispute has tied up the annual defense policy bill.
What we're watching: The Senate may be on the cusp of considering a GOP-backed mandatory sanctions amendment to the National Defense Authorization Act.
Democrats have a competing amendment that imposes a cascade of sanctions — including on Nord Stream 2 — if Russia invades Ukraine, per a Senate aide.
But their plan leaves the sanctions decision in the hands of Biden, who previously waived sanctions against the pipeline operator to help repair U.S. relations with Germany.
5. Industry poll: Biden EV goal is within reach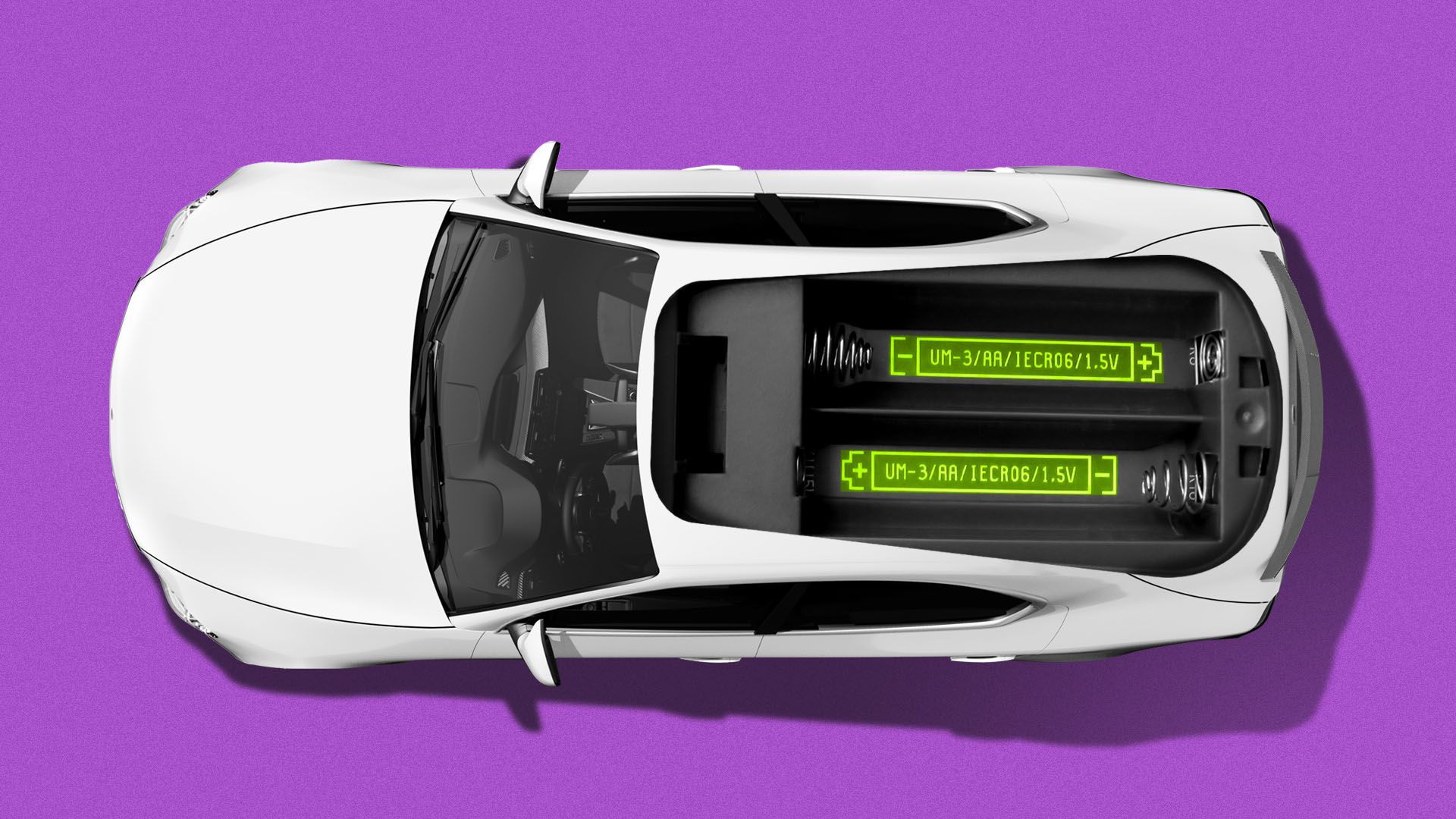 Auto executives see electric cars reaching half of U.S. sales by 2030 — in line with President Biden's target — but they're also worried about access to battery materials, a KPMG survey shows, Ben writes.
Why it matters: Countries and companies are awash in nonbinding targets, but the survey provides an anonymous look at what industry officials think may actually unfold.
By the numbers: The survey of over 1,100 executives worldwide asked what share of new sales will be battery powered (excluding hybrids) in 2030.
The average for the U.S., China and Japan was 52%, with western Europe slightly lower, although there was a huge range of estimates.
Flashback: In August the White House set a nonbinding goal of 50% of new cars sold in 2030 being zero-emissions models.
Threat level: 55% are very or extremely concerned about "supply continuity" for lithium and other battery materials.
The intrigue: Executives see big tech coming into their turf. 62% see Google offering its own branded car, 60% see Apple doing the same, and it's at 58% for Amazon.