Axios Generate
March 28, 2023
💥 Let's burst like Kool-Aid into Tuesday! Today's edition has a Smart Brevity count of 1,221 words, a 4.5-minute read.
🚨 Tune in tomorrow to Axios' 2nd annual What's Next Summit starting at 8:10am ET! Check out our day-of agenda on the people and trends shaping our future and register to livestream.
🎸 Ben was lucky enough to see Bruce Springsteen & the E Street Band last night, so naturally their incredible set had today's intro tune ...
1 big thing: When the snow melts in California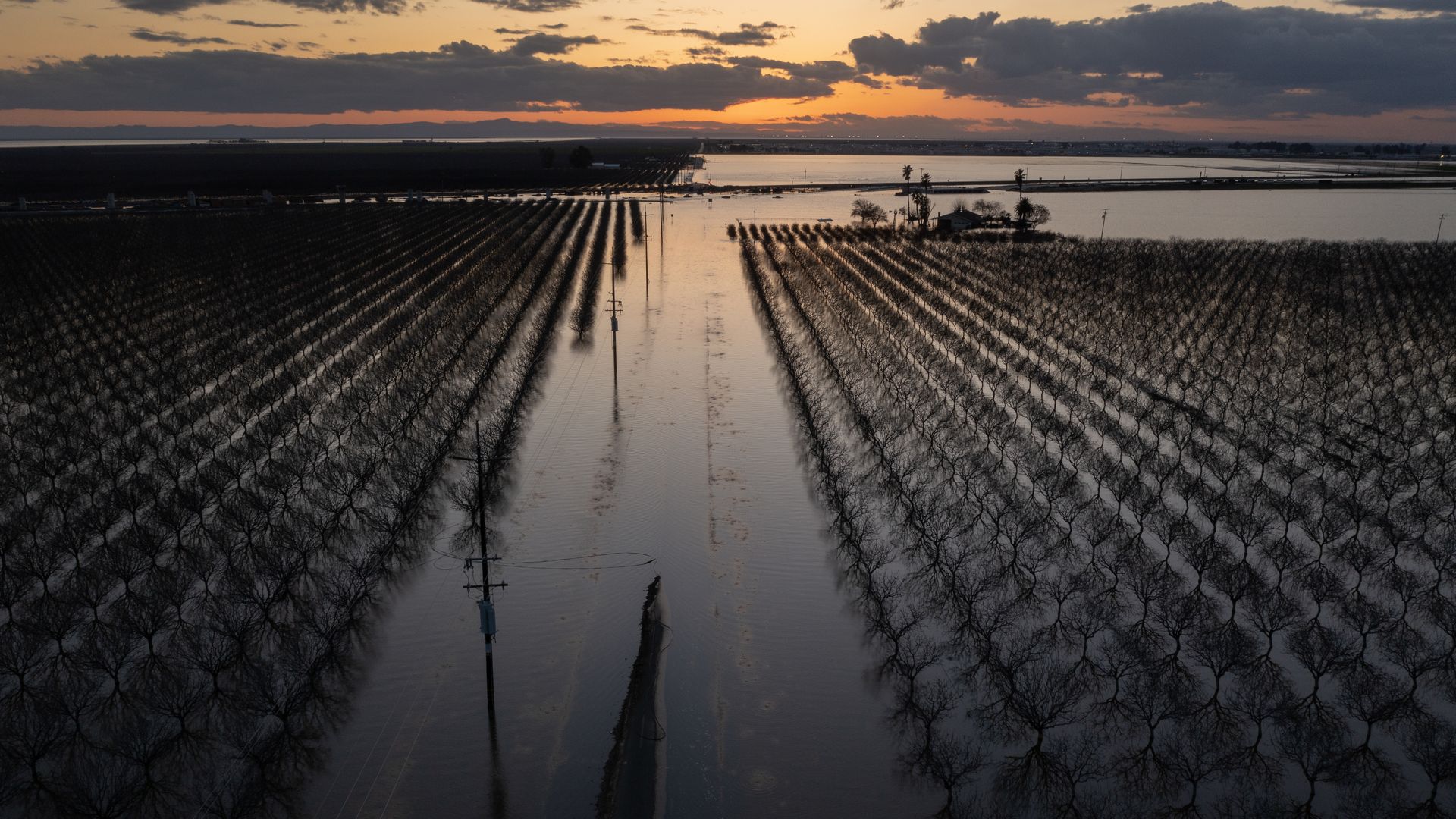 California's blockbuster wet season, with a powerful bomb cyclone currently swirling off the coast, has built up a near-record-large Sierra Nevada mountain snowpack, Andrew writes.
Why it matters: While this snow has many benefits, including replenishing depleted reservoirs, it is creating damaging floods that are sure to worsen during the melt season.
An area of significant concern is associated with the southern Sierra snowpack, which drains into the San Joaquin Valley.
It is there that county officials and landowners are already having to make agonizing decisions about which lands to flood and which to keep dry — and disputes are breaking out between landowners.
The big picture: When the state's snow survey takes place on April 1, typically the peak for the season, California is likely to set an all-time record for the largest snowpack. This is measured by how much water it contains, known as snow water equivalent.
As of Monday, the state's snowpack had an average snow water equivalent of 58.2 inches, official data shows. This was 227% of the April 1 average.
The departure from average is highest throughout the Southern Sierra, which had an average snow water equivalent of 60.5 inches. That was 283% of the April 1 average.
This is a red flag: Farmers, ranchers and residents living downstream are at serious risk of flooding once snowmelt begins in earnest.
Zoom in: Already, Mother Nature has moved to reclaim what once was hers: Tulare Lake. At one time, this was the largest body of freshwater west of the Mississippi River.
Human intervention in the form of levees and dams diverted its source waters, including the Kings, St. John's and Tule Rivers.
The last time the lake re-established itself was in 1982-83, which is also the previous snowpack record-holder.
The lake covered 82,000 acres that year, per the LA Times.
Threat level: Already this year, thousands of acres have flooded — inundating farmlands producing tomatoes, cotton, alfalfa, pistachios and more — and threatening livelihoods.
Depending how extensive the floods are, they could affect food prices, given California's role as the country's top agricultural-producing state.
How rapidly the snow melts will be a key determinant of how severe the flooding gets.
Towns including Tulare, Alpaugh, Allensworth and Corcoran are among those most at risk.
What they're saying: Daniel Swain, a UCLA climate scientist, said in a YouTube storm briefing Monday that the nature of land ownership in the Joaquin River Basin makes the area more vulnerable.
"There is more and more water pouring into the Tulare Lake Basin and that water is not going to be leaving the basin for the foreseeable future."
Context: Studies, including work that Swain has been involved in, show that climate change raises the odds of California weather whiplash events, from drought to flooding and back again.
Bonus: Charting the southern Sierra Nevada snowpack
California overall has a record-large snowpack, but the most unusual and threatening conditions are in the southern Sierra Nevada mountains, Andrew writes.
Threat level: The snow there will melt beginning in April and lasting into June, with meltwater flowing into the San Joaquin Valley, among other areas.
This chart shows the challenge ahead for downstream communities, particularly since this region has a less robust water management infrastructure that may not withstand significant stress.
The big questions now are how high, far and fast the waters will spread, rather than whether or flooding will occur.
2. The new U.S.-Japan battery materials pact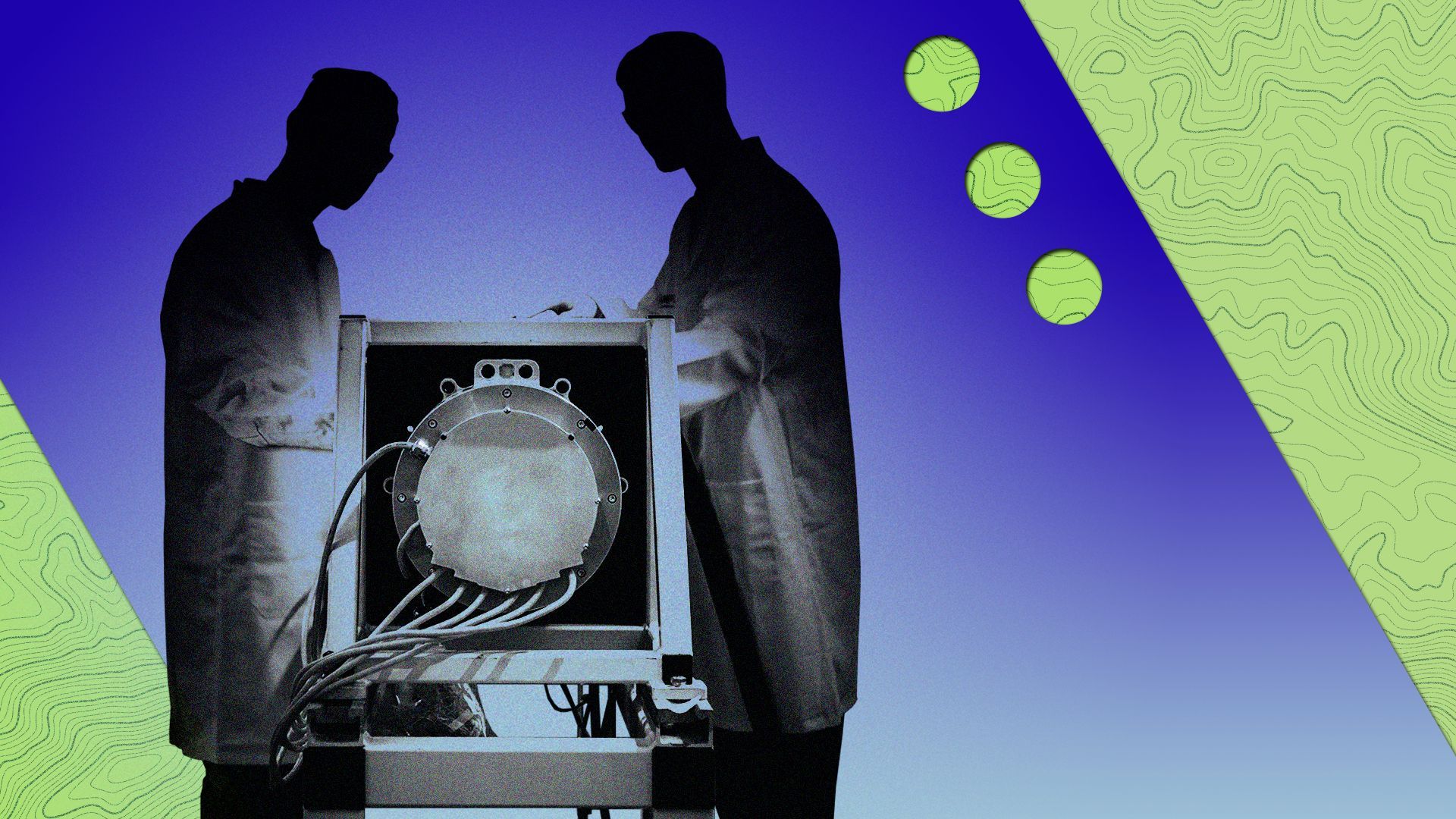 The U.S. and Japan have struck a deal on critical battery minerals that could enable Japanese companies to capture some benefits of EV subsidies in the U.S. climate law, Ben writes.
Why it matters: It's an effort to navigate the delicate diplomatic and legal restrictions in the sweeping statute.
How it works: Per U.S. trade officials, the nations would "refrain from imposing export duties on critical minerals exported to the other country."
They will also confer on "domestic measures to address non-market policies and practices."
The intrigue: The law tethers EV subsidies to sourcing requirements meant to curb reliance on China and boost the domestic supply chain and materials from allies.
Part of the incentives require critical battery materials to be sourced, processed or recycled domestically or from free-trade partners.
That has rankled allies that don't have formal free-trade pacts with the U.S., prompting efforts to craft new battery-focused agreements. Deals with European nations could be next.
What they're saying: Via the FT, Japanese trade minister Yasutoshi Nishimura said the deal will likely enable EVs made with metals processed in Japan to be eligible for climate law tax incentives.
Katherine Tai, the U.S. trade representative, said in a statement it's part of U.S. work with partners to "strengthen supply chains for critical minerals, including through the Inflation Reduction Act."
Yes, but: The U.S. statement does not directly address tax credit access. All eyes are on the Treasury Department, which will release a closely watched interpretation of the climate law's EV incentives this week.
3. Oil bounces back as traders weigh banking risks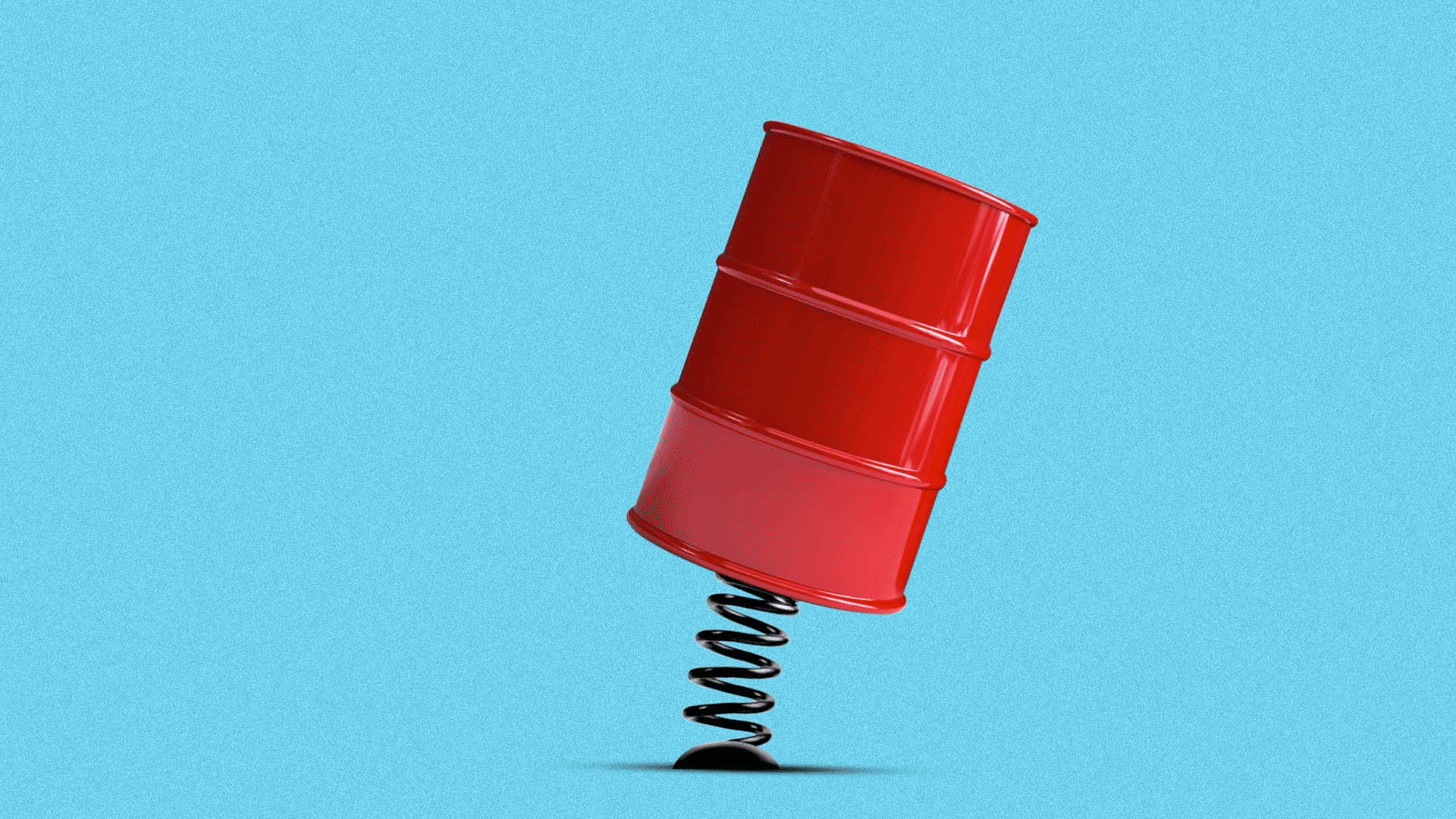 Oil prices jumped by over $3 per barrel yesterday and are up slightly again this morning as traders react to signs of an easing banking crisis and supply disruptions in Iraq's Kurdish region, Ben writes.
Why it matters: Lots of things move oil markets, but lately analysts see the swings tethered to how traders think about financial sector stability. The upward direction suggests this hive mind doesn't see recent banking struggles having a domino effect.
Zoom in: Eurasia Group analysts note there's also upward pressure because 450,000 barrels worth of flows from Iraq to Turkey via a key pipeline have been abruptly halted by a legal dispute between the Kurdish region and Baghdad.
"Full and unimpeded restoration of these volumes will require a political deal between Baghdad and Erbil that could take days if not weeks to achieve," they write.
What they're saying: "There's been a broad improvement in risk appetite at the start of the week thanks to a weekend without drama in the banks," Oanda analyst Craig Erlam said in a note.
"The Iraq dispute has given support to prices, but it's ultimately helped push a ball that was already rolling. Sentiment in the market has been improving as the banking crisis fades," Saxo Bank analyst Ole Sloth Hansen said via Bloomberg.
4. ⚛️ One tech thing: New fusion energy cash
The nuclear fusion startup Type One Energy raised $29 million in its inaugural funding round led by Breakthrough Energy Ventures, TDK Ventures and Doral Energy Tech Ventures, Ben writes.
Why it matters: If — and it's a big if — fusion can ever be commercialized after many decades of research, it heralds a promise of almost limitless power without the dangerous waste associated with traditional fission reactors.
How it works: The company said its tech doesn't require "massive circulating electric currents to assist in creating the magnetic fields used to confine their fusion plasma."
This makes it "less physically complex and easier to translate into a practical fusion power plant."
Go deeper: Axios' Alan Neuhauser has much more on Type One Energy and its tech in our sister publication Axios Pro Climate Deals. Subscribe and you won't regret it.
5. 🧮 One policy number: $1.2 trillion
That's Goldman Sachs' estimate, via Bloomberg, of how much the climate law will cost the U.S. government, up from the Congressional Budget Office estimate of $370 billion.
Why it matters: The higher estimate signals that Goldman's analysts see far wider use of tax credits for climate-friendly energy manufacturing and deployment.
📬 Did a friend send you this newsletter? Welcome, please sign up.
🙏 Thanks to Lisa Hornung and Javier David for edits to today's edition.