Happy Friday and welcome back to Generate! I hope your excitement for the weekend matches my son's excitement about his new pterodactyl toy, but that's a lot to ask. You know what else is exciting? The energy and climate beat. There's a lot going on, so let's dive in . . . .
Unpacking the new White House Paris decision deadline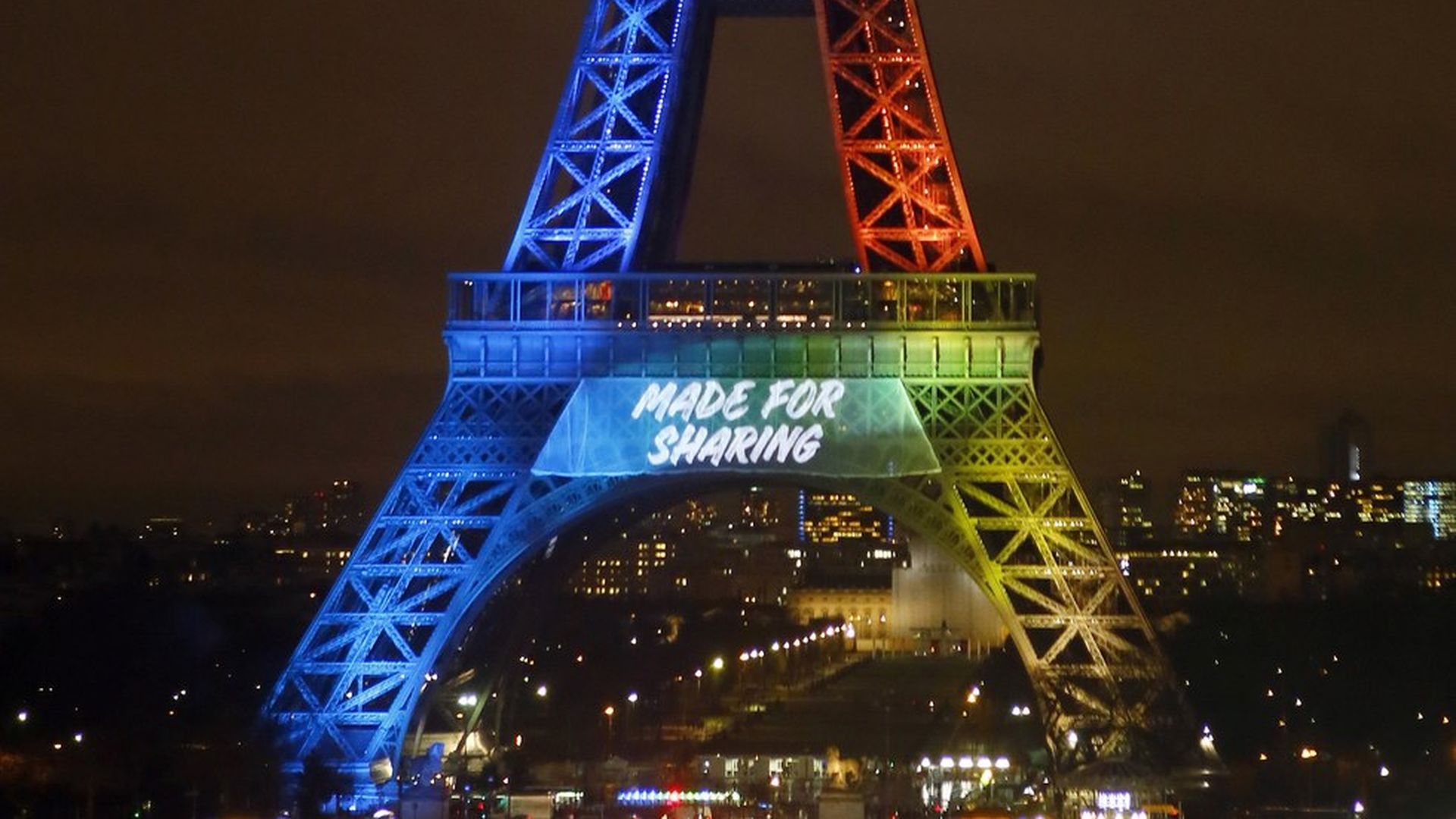 The drama and intrigue around Trump's approach to the Paris climate deal won't last forever. White House press secretary Sean Spicer said Thursday that the White House plans to have a decision about whether to pull out of the emissions pact by the time of the G-7 summit in late May, if not sooner.
Why it matters: While Trump's domestic climate policy crystallized with his new deregulatory executive order and other recent moves, the stance toward international climate diplomacy has been cloudy and the stuff of internal White House tensions.
Between the lines: Spicer's timeline has a certain logic to it. "The obvious international decision moment was the G-7 where we would be confronted by our allies who were most concerned about the issue and the [Paris] agreement," one international climate expert said.
Another veteran of global climate diplomacy speculates that the signals suggest remaining in Paris. "If they were bailing they'd just say it. Other signs lean that way too," this source said.
One of those "other signs" is a letter that GOP Rep. Kevin Cramer is circulating for colleagues' signatures that supports staying in the deal but making changes to the U.S. commitment. It's an idea that's gaining in cachet — stay involved but water down the U.S. emissions-cutting pledge, which is essentially becoming the reality already.
UN climate chief weighs in on Trump's moves
Breaking Friday morning: Patricia Espinosa, the United Nations climate chief, is out with a new statement on the policy upheavals in the U.S. and the future of the Paris climate change accord.
One big message: The train has left the station — the Paris accord is in force and moving forward even amid uncertainty about U.S. policies and plans. She uses the word "momentum" repeatedly to describe the spread of low-carbon policies worldwide.
"This governmental momentum continues to be underpinned by companies, investors, cities, regions and territories including now many oil majors whose CEOs have in recent weeks publicly spoken out in support of the Paris Agreement and the need to act at various conferences I have attended," Espinosa writes.
Deep breaths: Espinosa notes that she's watching U.S. developments "with interest," but reminds everyone that nothing has been finalized.
"Budget proposals in the United States often involve long and complex negotiations before they are finally approved in part or in full by Congress," she writes, and adds, "The review of the Clean Power Plan may also take some time before an outcome emerges."
"The new U.S. administration is and remains a Party to the landmark Paris Climate Change Agreement and we look forward to welcoming and working with its delegations to the sessions planned for 2017."
Our thought bubble:
It's an effort to steady the ship. The UN is seeking to provide reassurances about the stability of the big 2015 international climate accord as Trump's White House weighs its options, and is signalling that while the U.S. (the world's second-largest greenhouse gas emitter) is of course a key player, Paris is bigger.
Corporate maneuvering on Trump's climate decisions
Where coal is at: Politico has a report on divided views within the coal industry about whether Trump should start pulling the U.S. out of Paris.
The top three U.S. companies have signaled to the White House in recent meetings that they won't object to staying in Paris, "particularly if the administration can secure more financial support for technology to reduce pollution from the use of coal," the article states.
Why it matters: It's the industry that Trump has most overtly called the intended winner in his assault on Obama-era climate policies.
Beyond fossil fuels: The New York Times reports that environmentalists are hopeful that some corporate titans that have Trump's ear via his outside advisory councils can nudge him on climate policy.
Executives flagged in the NYT piece include BlackRock CEO Laurence Fink; Tesla's Elon Musk; Walmart's Doug McMillon; and GE's Jeff Immelt. (Generate looked at Immelt's response to Trump's rollbacks yesterday.)
Other players: Exxon and ConocoPhillips want Trump to stay in Paris, which we wrote about here and here.
Lightning round
Big IPO business: Saudi Aramco, the Saudi state oil giant planning a public offering next year, has tapped JPMorgan Chase & Co., Morgan Stanley and HSBC for "key roles" in what could be the largest IPO in history, Bloomberg reports.
Keystone XL: Environmentalists sued the Trump administration Thursday over its approval of the pipeline project.
Their case: "The Sierra Club, Natural Resources Defense Council and other groups say the initial environmental review completed in 2014 is inadequate and outdated, and that it underestimated how much the pipeline would encourage tar sands oil production in Canada," AP reports.
States: The lower chamber of Ohio's legislature passed a bill to weaken the state's green electricity mandate, but its fate is murky from there, the Columbus Dispatch reports.
Why it matters: States have long been important players in renewable power deployment, and their relevance will likely grow now that the Trump administration is pulling back on federal low-carbon policies.
Electric cars: Hyundai is making a major push into the electric vehicle market, developing its first "dedicated architecture" to build EVs. Reuters reports: "Analysts said Hyundai had no choice but to join the likes of Tesla, General Motors Co and Daimler AG unit Mercedes-Benz in building separate electric-vehicle platforms to be relevant in the segment."
Things are happening at EPA
News out of the agency is coming fast and furious and, in one case, pretty funny. Some developments over the last day…
EPA's bridge to Congress: E&E News reports that Troy Lyons, a top lobbyist for the oil company Hess Corp., will be EPA's next associate administrator for congressional and intergovernmental relation. Sources confirmed the move to Axios.
Saying bye-bye: The Washington Post reported late Thursday night that David Kreutzer, a conservative economist and climate skeptic on Trump's EPA team, is heading back to the Heritage Foundation. It appears to mark a change of heart — the Post story notes that Kreutzer had taken a "permanent job at the EPA focused on economic policy."
No homework: EPA Administrator Scott Pruitt has sent a letter to governors (example here) telling them that their state doesn't need to work on plans to comply with the Clean Power Plan. That's the big Obama-era rule to cut emissions from coal fired power plants. It has already been stayed by the Supreme Court, and this week the Trump administration began the long process of rescinding it.
Way, way off-message: Yesterday EPA tried to show the scope of support for Trump's order to begin rolling back EPA climate change regulations with a press release that compiled a bunch of rah-rah statements. It didn't quite go as planned. The quote beneath GOP Sen. Shelley Moore Capito's name actually came from Democratic Sen. Tom Carper, who began, "With this Executive Order, President Trump has chosen to recklessly bury his head in the sand," and didn't get any gentler from there. A burst of press coverage followed. EPA later corrected the release.
One cool thing
This National Geographic photo gallery of wild animals at night really fits the bill.
Thanks for reading! Have a great weekend, and your tips and feedback are always welcome at ben@axios.com.