Axios Generate
August 24, 2021
☀️ Good morning! Today's Smart Brevity count is 1,323 words, 5 minutes.
📊 Data point of the day: 866 feet, the height of the Chinese firm MingYang Smart Energy's new offshore wind turbine. Go deeper
🛢 State of the market: Oil prices jumped Monday and this morning, reversing last week's drop "amid glimmers of optimism...that the delta coronavirus variant's hit to demand may be passing," Bloomberg reports.
🥁 And happy birthday to Radiohead drummer Philip James Selway, whose steady beat moderates today's haunting intro tune...
1 big thing: FAA's new grants would electrify airports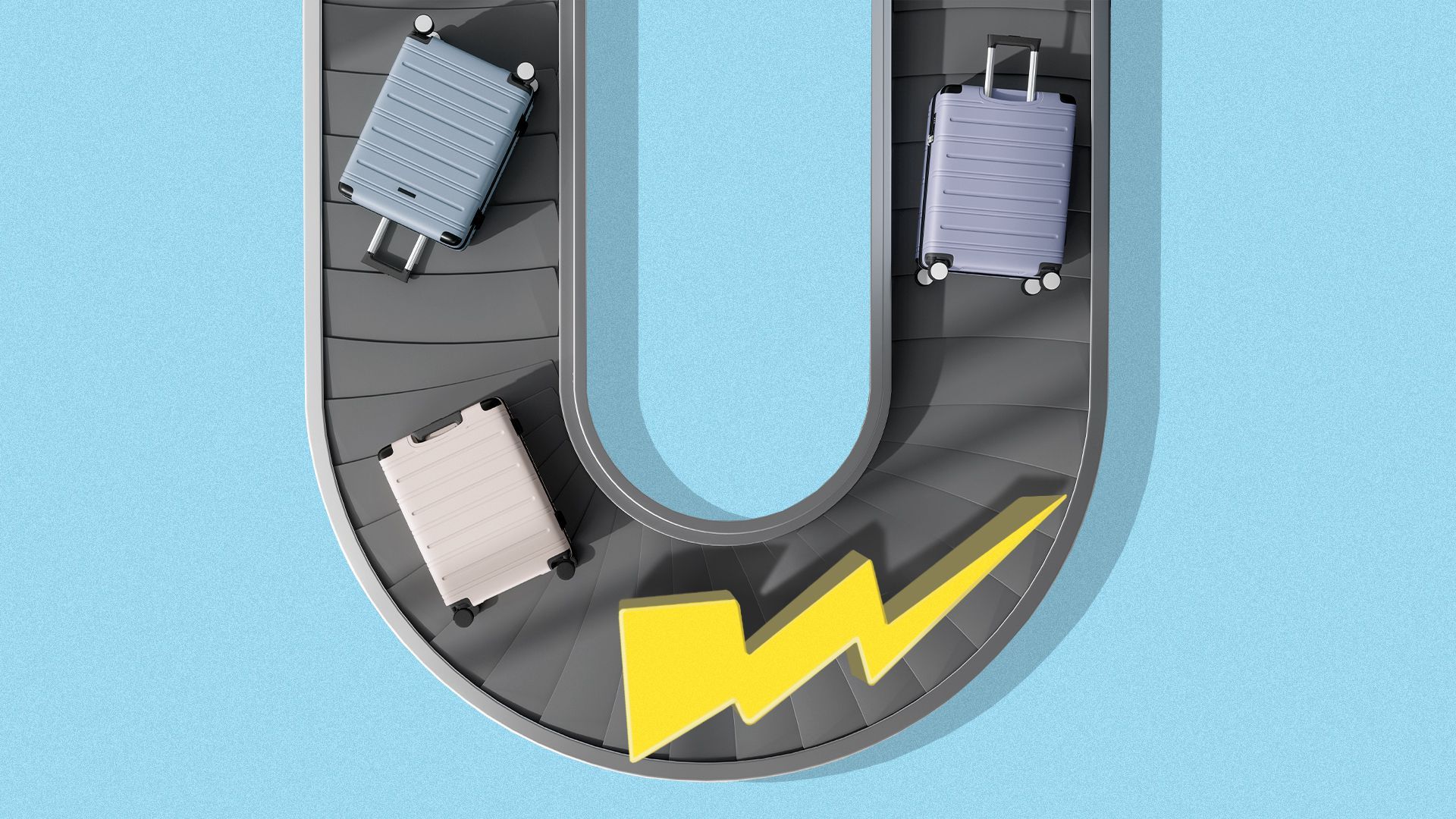 First look: The FAA is announcing $20.4 million in grants to airports for using zero-emissions vehicles and electrifying equipment that currently relies on fossil fuels, Andrew writes.
Why it matters: While next-wave, future aviation/aircraft tech gets lots of attention, nuts and bolts equipment at airports is decidedly low-tech (think diesel generators and dirty shuttle buses) and ripe for the deployment of existing and mature low-emissions systems.
Driving the news: The funding announcement Tuesday, provided first to Axios, is part of $300 million being spent on zero-emissions and electrification projects out of the FAA's $3.5 billion airport grant program for 2021, an FAA spokesperson told Axios via email.
The big picture: Modern airports, at least in the U.S., still use antiquated technology to service aircraft and move people and luggage around.
Airports are sizable sources of smog-forming emissions and greenhouse gases, and also have environmental justice implications.
Details: Per FAA, this year the administration has awarded grants to 56 airports to purchase zero-emission vehicles and for electrification projects, using money from the American Rescue Plan and preexisting grant programs.
By the numbers: Within the round announced today is $5.9 million for zero-emission vehicle purchases, which includes:
$3.9 million for the purchase of a fleet of five 35-foot electric shuttle buses at Charlotte Douglas International Airport.
$1 million for a 35-foot electric shuttle bus and charging station at John Wayne Airport, Orange County in California.
Today's grants also include $14.5 million to reduce airport and ramp equipment emissions, such as:
$4.6 million to purchase and install 18 pre-conditioned air units at Pittsburgh International Airport. These are used to provide temperature-controlled air inside a plane when the plane's own power systems are off.
$3.9 million will go to San Diego International Airport to buy and install 39 charging stations to charge up electric ground support equipment that service aircraft in between their flights.
Funds will also help airports purchase electric mobile ground power units that help run a plane's electrical equipment.
Money for these will go to Fort Wayne International Airport in Indiana, Charles M. Schulz-Sonoma Airport in Santa Rosa, Calif., and St. Louis Lambert International Airport, among others.
Yes, but: Focusing grant programs on zero-emissions technologies and rewiring airport infrastructure could pay off by reducing greenhouse gas emissions and smog-forming pollutants, but it will take a lot more money on a faster timeline to make a difference when viewed across the growing aviation sector.
2. Energy giants stake infrastructure risk-cutting startup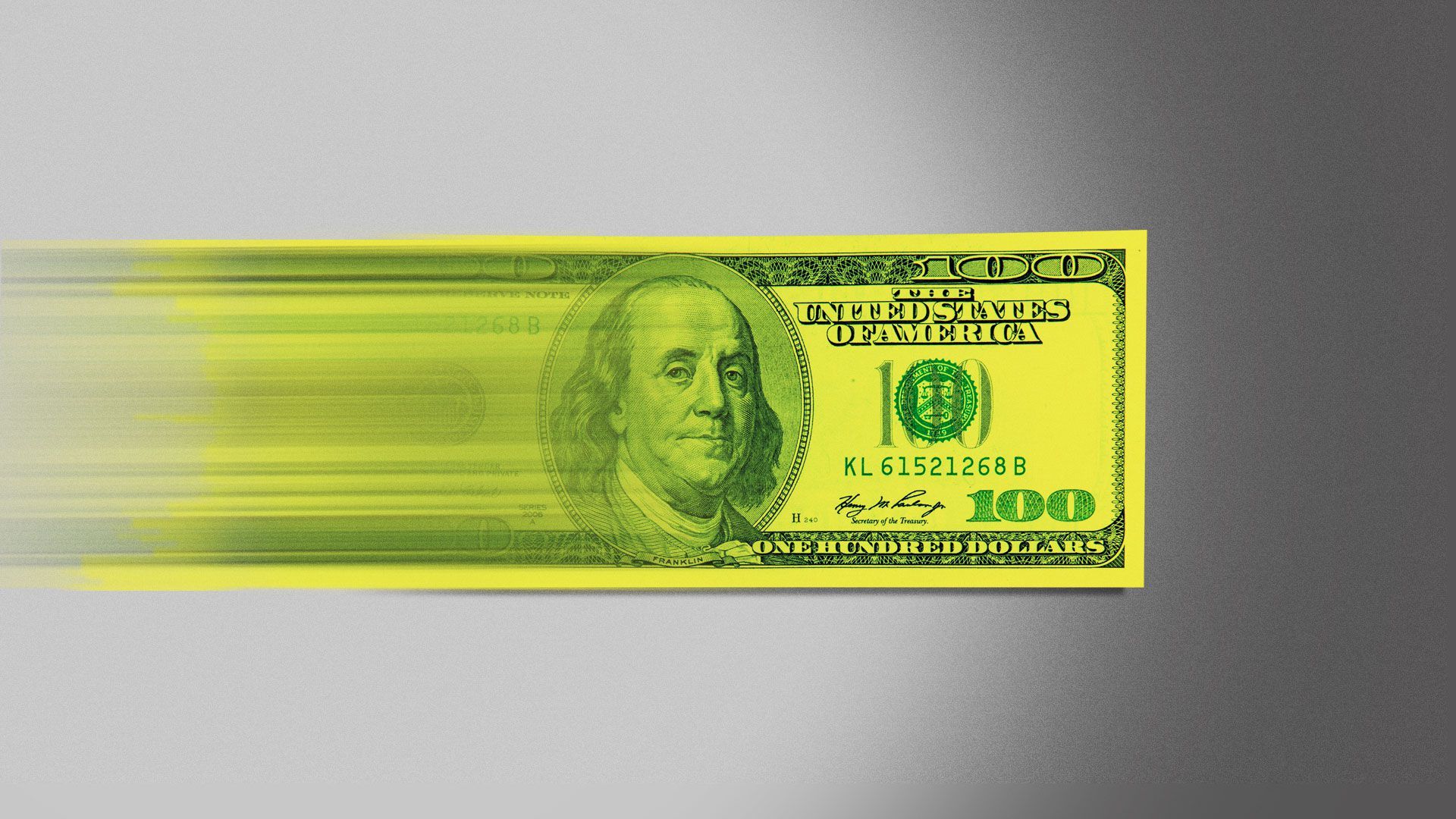 Major power and oil companies are funding a tech startup that helps detect risks to critical infrastructure — including energy networks, Ben writes.
Driving the news: Urbint just announced $60 million in Series C funding to scale its platform that uses AI to "stop failures, damages, and worker injuries before they happen."
New investors include American Electric Power and OGCI Climate Investments, the VC arm of a coalition of oil majors called the Oil and Gas Climate Initiative.
The round is led by the VC firm Energize Ventures, which is another new investor, as well as existing backers like Energy Impact Partners and National Grid Partners.
The big picture: New York-based Urbint — whose customers include Southern Co. and National Grid — says infrastructure legislation moving through Congress will expand the need for threat deterrence.
How it works: Urbint's tech has applications for power and gas utilities, telecom, oil-and-gas projects and pipelines, and more. It aims to ID risks including fires, outages, explosions and worker accidents.
It's designed for uses like predicting power line failures that can cause wildfires, and gas pipeline leaks.
The company says the transmission build-out envisioned in the infrastructure legislation and related proposals to accelerate renewables deployment will also require new risk deterrence.
3. Scientists find climate's role in European floods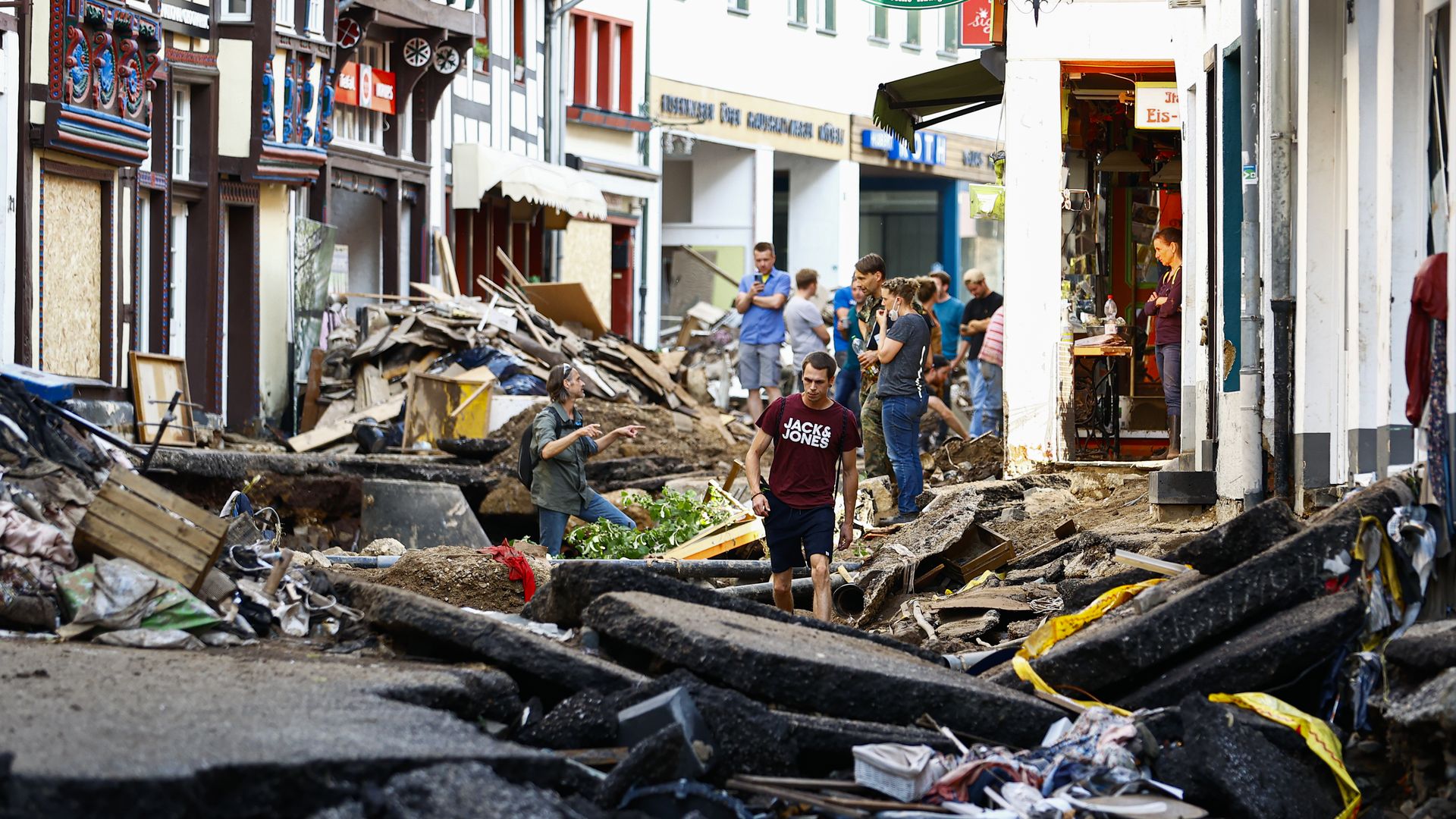 Human-caused climate change increased the likelihood and intensity of the heavy rainfall that helped cause devastating floods in Europe in July, an international team of 39 climate scientists stated Monday, Andrew writes.
Why it matters: The study demonstrates how global warming is already influencing extreme weather events to ramp up disaster risks.
The big picture: A slow-moving low-pressure system that tapped into a plume of water vapor-laden air over the Mediterranean helped dump record amounts of rain in Germany, Belgium, the Netherlands and Luxembourg from July 12 to 15 of this year.
The resulting flash floods and river flooding tore apart communities and killed at least 220 people in Belgium and Germany.
What they found: The study found that climate change made the heavy rainfall amounts, which triggered the floods, between 1.2 and 9 times more likely than they would have been about a century ago, before human emissions of greenhouse gases warmed the planet.
Even the low end of that range would still be an increase of 20% that's attributable to global warming, according to Sarah Kew, a study co-author and climate scientist with the Royal Netherlands Meteorological Institute.
The study also found that climate change boosted the amount of single-day rainfall in this event by between 3% and 19%.
What's next: For a climate that is 2°C (3.6°F) warmer than the preindustrial era, which is likely barring significant emissions cuts, the study projects that the intensity of a similar one-day extreme rainfall event would jump by another 0.6% to 6%.
4. U.S. clean power sees record growth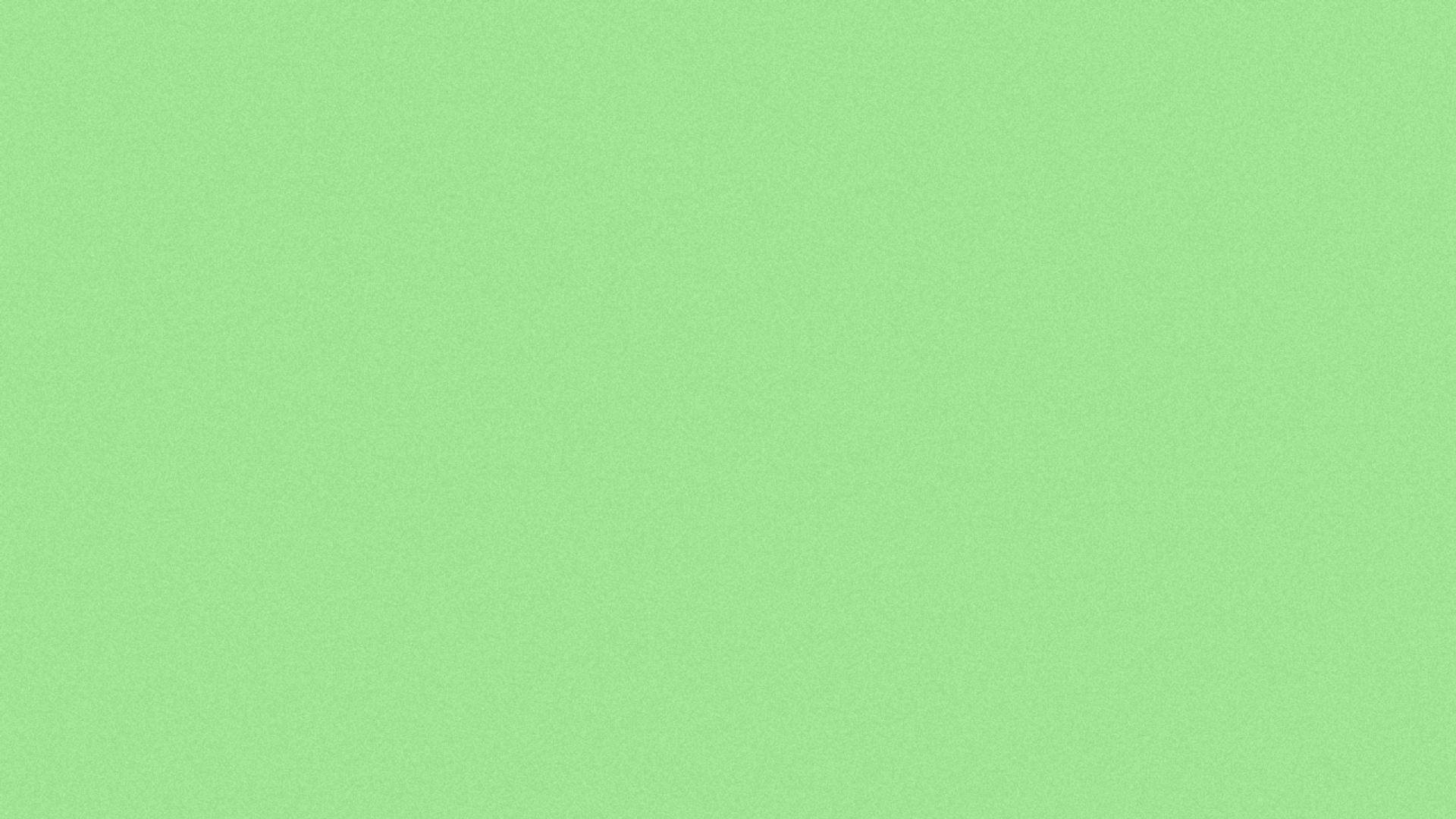 Just-published industry data shows that installation of renewable power and battery storage capacity is on a record pace this year, Ben writes.
By the numbers: The American Clean Power Association said 9,915 megawatts of capacity came online in the first half of this year — a 17% increase over the first half of 2020.
On a quarterly basis, new solar installations in April-June were 2,226 megawatts of capacity, a 73% jump over the first quarter.
Q2 wind capacity installations were 2,824 megawatts, similar to Q1 and above the same period last year.
New battery storage capacity is growing even faster, albeit from a much smaller base, with Q2 installations of 570 megawatts compared to roughly 100 in Q1.
The storage amount added this year already comes close to matching 2020's full-year additions.
The intrigue: While renewables are surging, the industry and the White House say new policies are needed to reach President Biden's target of 100% carbon-free power by 2035.
The trade group is pushing for an extension of renewable power tax credits, the creation of federal storage and transmission credits and other steps.
"This growth and expansion are expected to continue but we need policymakers in Washington to make long term decisions to ensure we can continue to develop these critical projects," CEO Heather Zichal said in a statement.
Bonus: Storage plans on the books
U.S. battery storage is expected to see a lot more growth in the years ahead, Ben writes.
The big picture: The chart above is from a new Energy Information Administration report on the storage market.
It looks at large-scale systems — that is, grid-connected projects with a capacity of more than 1 megawatt.
Most of the large-scale systems coming online in the next few years will be co-located with solar installations.
Of note: The EIA report is based on surveys of the industry and does not try to model potential policy changes or new incentives.
5. The climate benefits of the ozone-saving treaty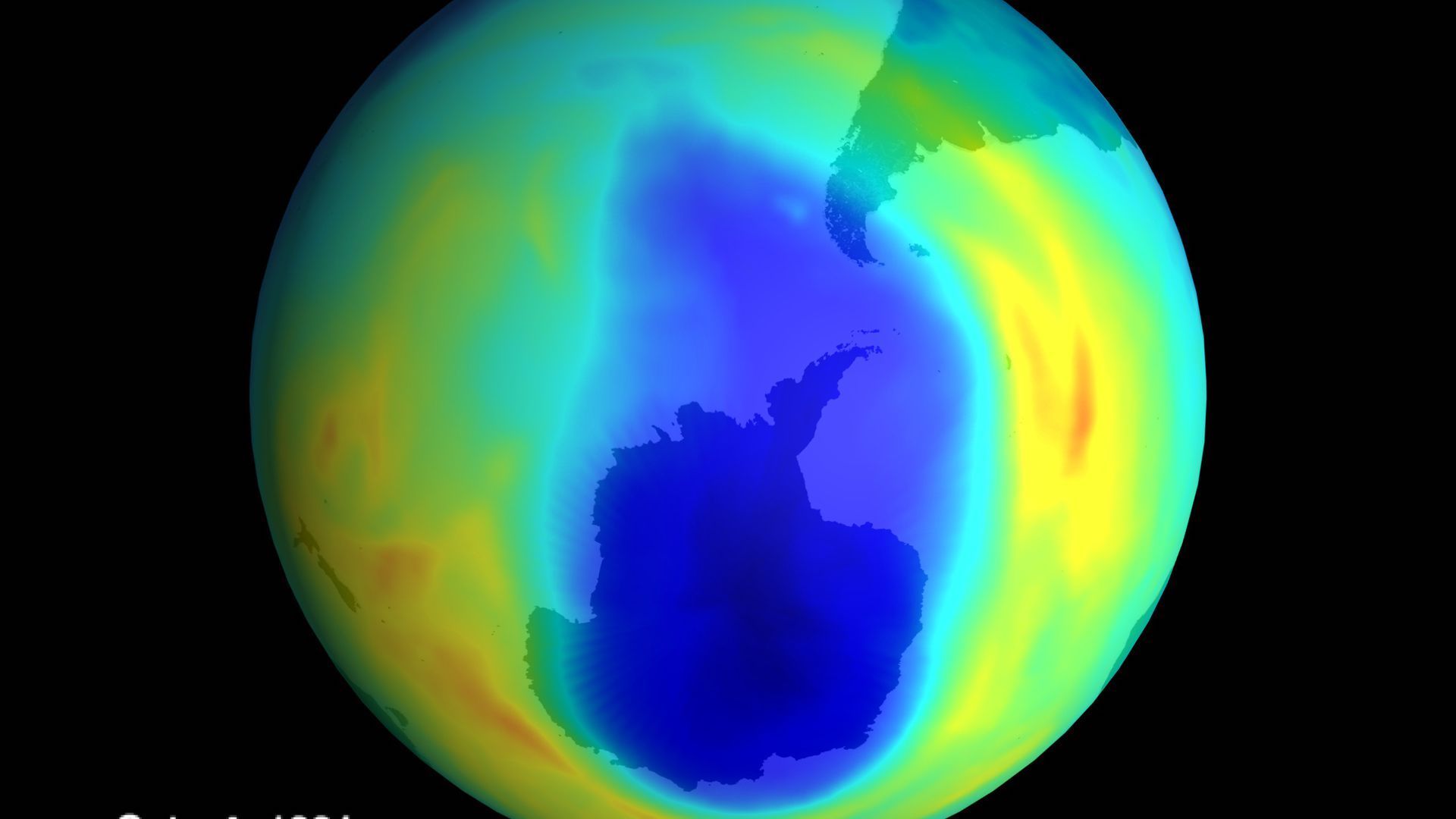 A new study finds the 1987 Montreal Protocol, which was negotiated to stop ozone-depleting emissions, also prevented significant climate change, Axios' Bryan Walsh reports.
Why it matters: Former United Nations Secretary-General Kofi Annan called the Montreal Protocol "perhaps the single most effective international agreement," and its success in both reversing ozone depletion and slowing warming shows why.
What's happening: In a study published in Nature, researchers simulated what would have happened to the world if the Montreal Protocol had never gone into effect.
The treaty phased out ozone-depleting chemicals like chlorofluorocarbons (CFCs) and hydrochlorofluorocarbons (HCFCs).
Previous research has shown the Antarctic ozone hole would have been 40% bigger in the treaty's absence.
The new study, though, shows continued use of ozone-depleting chemicals in the absence of Montreal could have led to an additional 2.5 °C of warming by the end of the century.