Axios Generate
December 14, 2018
Happy Friday! And congrats to Stevie Nicks on her selection to the Rock & Roll Hall of Fame. She'll sing us into the weekend...
1 big thing: U.S. offshore wind makes the leap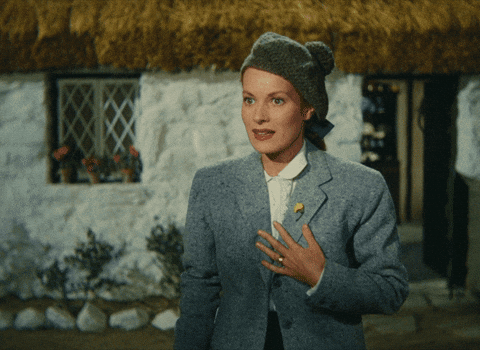 Wind energy companies bid record-shattering amounts Thursday for the rights to develop federal waters off the Massachusetts coast, offering the Interior Department a combined $285 million thus far for 3 tracts. And the auction isn't even over yet! It resumes today.
Why it matters: The robust bidding signals that offshore wind in the U.S., which has been way slower to the develop here than in the big European market, is poised for significant expansion.
What they're saying: Liz Burdock, executive director of the Business Network for Offshore Wind, tells me it's a clear sign of plans to move forward with major projects.
"These developers are obviously not going to put this amount of money into lease areas that they are just going to sit on."
— Liz Burdock
By the numbers: The totals obliterate the previous high from last year.
Last December a single area offered off New York's coast drew a $42 million winning bid from Norwegian oil-and-gas giant Equinor, which is increasingly moving into renewables.
Now, the high bids thus far for the 3 Massachusetts areas are $93 million, $91 million and $101 million.
The current amount of U.S. power from offshore wind is close to zero — there's only a single small project operating off Rhode Island.
But a number of projects are in the development pipeline off Atlantic states like New York, New Jersey, and Massachusetts, where Vineyard Wind is planning a major project 14 miles off the coast.
Several forces are driving the trend, including falling tech costs, state-based renewables policies (including a procurement mandate in Massachusetts), Interior Department backing, and interest from European energy giants with experience.
Danish energy giant Orsted in October announced the $510 million purchase of the U.S. company Deepwater Wind.
Several key bidders authorized to participate in the Massachusetts auction are the American arms of huge European players, such as Equinor and EDF.
Vineyard Wind is co-owned by Copenhagen Infrastructure Partners and Avangrid Renewables, part of the Spain-based energy giant Iberdrola Group.
The big picture: Burdock notes that the U.S. industry has evolved from the early days when small developers were trying to get projects going. She adds...
"Now the developers are well-capitalized utilities and-or oil and gas companies that have the balance sheets and the expertise with which to deliver these projects."
What's next: The International Energy Agency sees the U.S. adding 1.3–2.1 gigawatts of capacity by 2023 (and the agency is often knocked for being too conservative).
The consultancy Bloomberg New Energy Finance sees U.S. offshore wind growing to 10 GW by 2030, according to this Bloomberg news piece on the Massachusetts auction.
2. The climate battle: fuels vs. emissions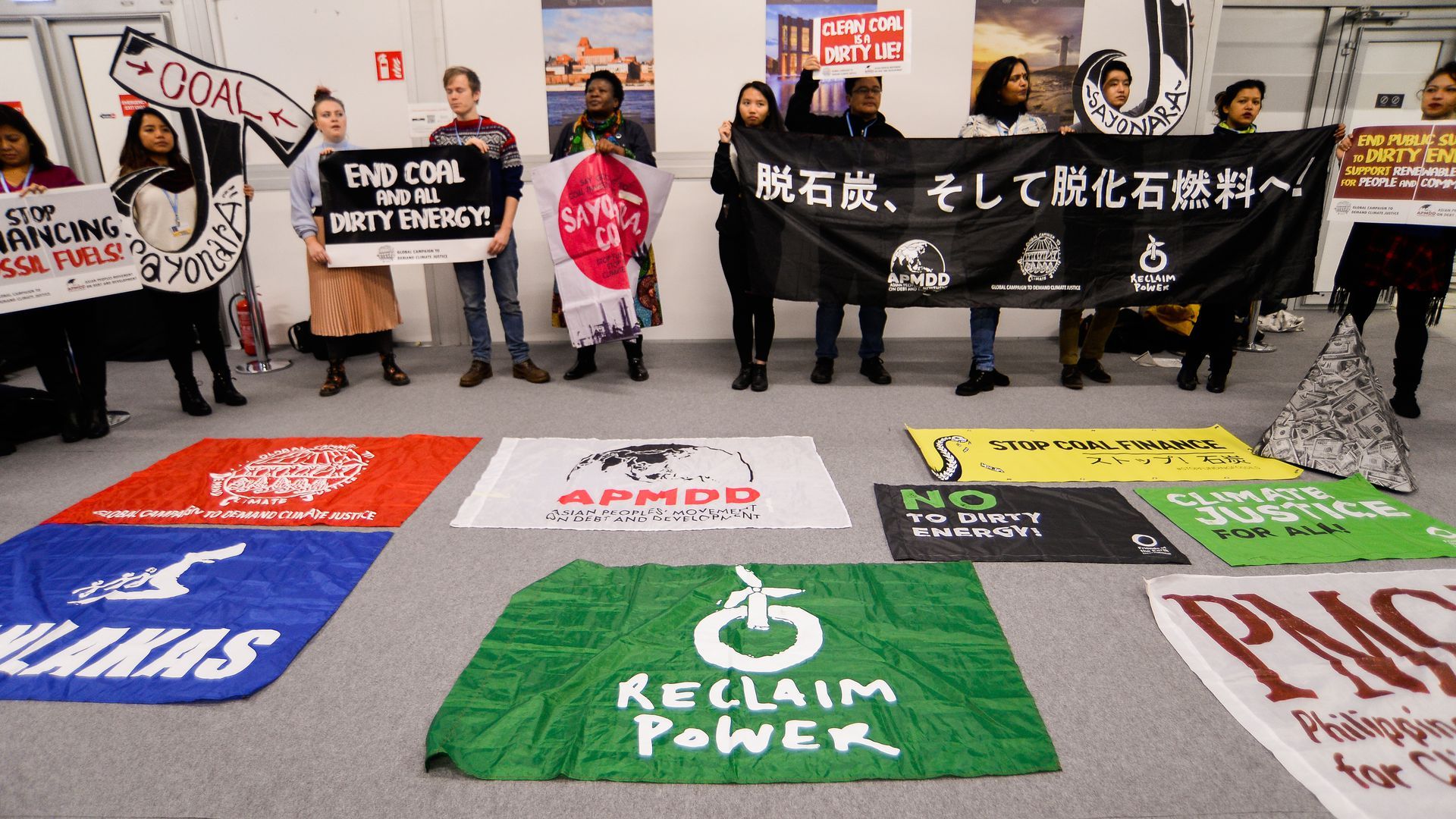 KATOWICE, Poland — Getting off fossil fuels or reducing greenhouse gas emissions is a central sticking point emerging here at a conference to hash out details of the 2015 Paris agreement to combat climate change, Axios' Amy Harder reports.
Why it matters: Nations rich with fossil-fuel resources say the focus should be on reducing emissions whatever way possible, including feasible but expensive technology enabling those fuels to burn without emissions.
Driving the news: Khalid al-Falih, Saudi Arabia's minister of energy, industry and mineral resources, issued a defiant statement Thursday saying the Paris deal focused on "reducing emissions rather than banning or restricting energy sources, such as fossil fuels" but then changed.
"What we have witnessed since then is, unfortunately, a sharp deviation from the provisions agreed in Paris. Indeed, we are seeing an undue emphasis on energy and particularly oil, with efforts to impose excessive and unrealistic taxes on hydrocarbon fuels."
— Khalid al-Falih
Saudi Arabia's sentiment is joined by other fossil-fuel producing nations, including Australia, who participated in a controversial event the Trump administration hosted here earlier this week touting, in part, fossil fuels that can be burned with technology to capture their carbon dioxide emissions.
These countries have a clear self-interest in preserving fossil fuels.
But they're not alone in this position, that in order to maximize the chances of significantly reducing global emissions as scientists have said is necessary to limit the most severe impacts of a warmer world, all technologies should be commercialized. That includes the kind that can capture CO2.
"Everybody has his or her own favorite technology. ... We have to make a decision whether or not our aim is to increase our own ego or to decrease the CO2 emissions. If it is the second, then we need all the key technologies."
— Fatih Birol, IEA executive director, tells Axios
The other side: The overwhelming sentiment at this annual UN conference, which draws more than 20,000 attendees, is hostile toward fossil fuels. For example, environmentalists honor "Fossil of the Day" awards to countries deemed to be supporting fossil fuels.
Al Gore, the former vice president and long-time climate activist, didn't mince his words when he told me here Wednesday that it wasn't possible to reduce greenhouse gas emissions without reducing the use of fossil fuels. To try to separate those goals is "to believe in the tooth fairy," Gore said.
Lou Leonard, World Wildlife Fund's SVP for climate change and energy, said environmental groups like his wanted the Paris agreement to call for getting off fossil fuels, but instead it focused just on emissions. "A lot of us thought that was the wrong thing to do," Leonard told Amy.
Go deeper: Trump's missed opportunity on coal and climate change
3. High-stakes climate talks head for overtime
The UN climate conference is Poland is running into overtime as negotiators haggle over implementation plans for the 2015 Paris agreement. They're likely to extend into Saturday at least.
The latest: "Preparing for more lengthy debate, organizers extended the close of the meeting by two days, until Sunday. Some of the key issues at the talks remain unresolved, but European diplomats and campaigners expressed hope that an agreement was in sight," AP reports.
The intrigue: Sources tell AFP delegates were still "far apart on several issues — from adopting the latest environmental science to how future climate action is funded," they report.
And, the BBC reports: "One of the biggest challenges facing the talks is the sheer number of decisions that have been passed up to around 100 ministers from all over the world who have travelled here to Katowice."
AP's story says one tricky question facing negotiators is how to create an international market for carbon credits, while another is financing to help developing countries.
"Poor countries insist that they should get support not just to lower emissions and adapt to climate change, but also to make up for the damage already caused by global warming," AP notes.
Measures on tracking and verifying nations' progress on their emissions pledges are also a key part of the talks.
Pro tip: Carbon Brief's Simon Evans is tracking the details carefully on Twitter.
4. The companies expanding power access
Power for All director William Brent writes for Axios Expert Voices ... Shell, Engie, Schneider Electric and other multinational companies have recently announced goals to extend electricity access to about 200 million people, 20% of the unelectrified population globally, within a decade.
Why it matters: The seventh UN backed Sustainable Development Goal (SDG 7) is delivering affordable, reliable, sustainable and modern electricity to the 1 billion people around the world living in the dark.
It's a major challenge, but presents both humanitarian and economic opportunities to companies with deep pockets and large geographical footprints.
Details:
Where it stands: These five energy giants have already invested in or acquired more than 10 of the leading household solar and renewable energy mini-grid companies in South Asia and sub-Saharan Africa. In addition:
Engie's internal mini-grid company, PowerCorner, plans to power 40,000 homes in Tanzania by 2020.
Schneider has pledged to train 1 million solar technicians in energy-poor countries by 2025 and has achieved almost 20% of that target.
5. Tom Steyer vs. Carlos Curbelo
KATOWICE, Poland — Republican Rep. Carlos Curbelo, who lost his southern Florida seat in the midterm elections, was a "pretend environmentalist" despite introducing carbon tax legislation, billionaire and liberal activist Tom Steyer tells Amy at the UN conference.
Here's more from Amy...
Why it matters: Curbelo's work on climate change within a party that mostly ignores the issue is notable and considered a cautiously positive sign for otherwise long-shot prospects for bipartisan policy. But Steyer, who's eyeing a potential White House run, says Curbelo's efforts were insubstantial.
"I thought that guy was ridiculous. That guy is a pretend environmentalist."
— Tom Steyer
The other side: "The cause of a healthy planet needs thoughtful, sober leaders who are willing to build consensus around good, viable ideas," Curbelo said in response to Steyer's comments. His Florida district experiences regular flooding from sea-level rise.
"Power hungry, attention-seeking demagogues like Mr. Steyer serve their overheated egos while making solutions less likely."
— Rep. Carlos Curbelo
But, but, but: Steyer argues that attempting bipartisan negotiations with Republicans on climate won't work. His political operation backed Debbie Mucarsel-Powell, who beat Curbelo.
"I think we need to kick their ass," Steyer said. "I think when they realize they're going away, they'll change their tune. And Carlos Curbelo is a perfect example. He pretended to care about climate change because of Miami."
6. The mounting risk of coal investments
Sunrise Project director of global climate strategy Justin Guay writes for Axios ... According to 2 recent analyses, the U.S. investment firm BlackRock owns more coal reserves than anyone else in the world, thanks to investments in publicly listed companies, shares and bonds in coal plant developers.
The big picture: The U.S. holds over 35% of institutional investment for the coal industry, the largest share in the world.
And in recent years, U.S. investors have started to lag behind leading European institutions when it comes to climate-friendly investing. AXA, UBS and Allianz all have policies in place to restrict investments in thermal coal and offer far less coal-intense index funds.
By the numbers: With a collective $40 trillion in assets under management (AUM), the world's 15 largest asset managers have all increased their holdings in thermal coal by 20% since the Paris agreement was signed. 
BlackRock alone holds shares and bonds totaling $11 billion in 56 coal plant developers around the world, with Vanguard in second at $6.2 billion.
InfluenceMap has also analyzed the thermal coal intensity (TCI) — measured in tons of thermal coal per million dollars in AUM — of the 60,000 largest listed funds. 
BlackRock was 50% more "coal heavy" than the average.
Allianz's funds, on the other hand, including those of its U.S. arms, show TCI values of roughly 80% less than the global fund benchmark, likely indicating a strategic underweighting of companies with thermal coal businesses since the Paris agreement.
What's next: Reducing exposure to thermal coal looks increasingly like the right business move for investors. Of existing coal plans around the world, 42% are losing money, and 1 in 4 tons of coal in the U.S. is sold to plants that have already committed to retiring.