Axios Generate
April 16, 2021
Happy Friday! Today's Smart Brevity count is 1,237 words, 4½ minutes.
🚨 Breaking: China's Vice Minister of Foreign Affairs Le Yucheng told AP on Friday that China is unlikely to pursue climate proposals beyond its current arsenal, calling it "not very realistic" for a country of 1.4 billion people. Go deeper
🎸 Saturday marks 40 years since punk pioneers Stiff Little Fingers released the album "Go for It," which provides today's intro tune...
1 big thing: Climate spotlight moves to Wall Street and its overseers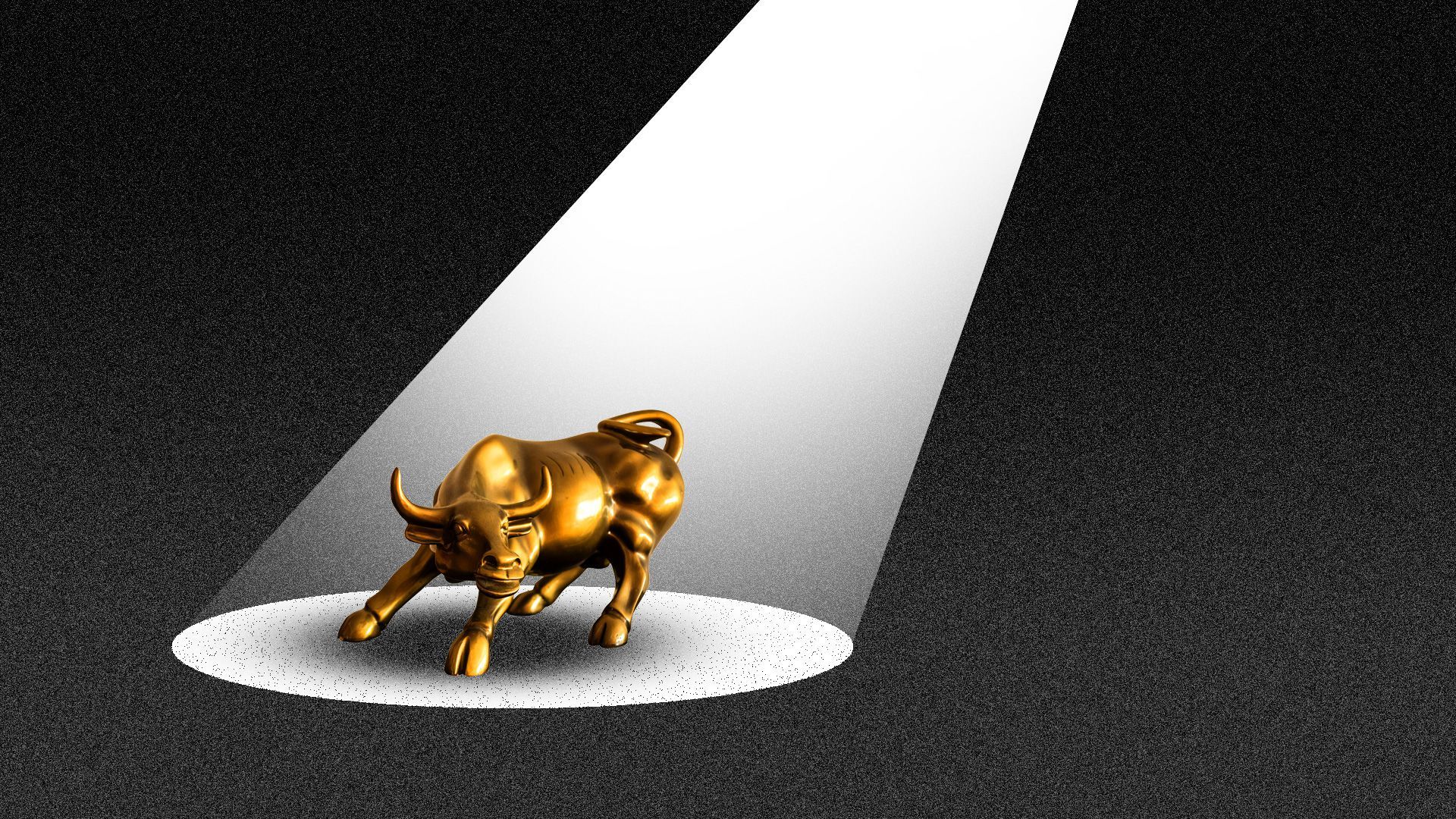 Wall Street titans and the regulators overseeing them are increasingly important actors in the fight against global warming, and this week underscored that trend.
Driving the news: Two banking giants — JPMorgan Chase and Citigroup — yesterday vowed to steer trillions of dollars into sustainability efforts that include a focus on clean energy and climate.
JPMorgan, the largest U.S. bank, said that over 10 years it would "finance and facilitate" more than $2.5 trillion for areas like renewables, sustainable agriculture, development finance and more.
Citi, meanwhile, said it would provide $1 trillion in "sustainable finance" by 2030, a tally that folds in but expands existing commitments under that broad umbrella.
Citi said half the financing will be for various "climate solutions," while the other half is for areas like health care, affordable housing, racial equity and more.
Of note: The full scope of the efforts is hazy. Both banks said the "facilitate" side of the ledger means areas like advisory services, risk management, helping companies go public and more.
Bloomberg has more.
The big picture: The commitments, which arrive ahead of the White House climate summit next week, show how the banking sector is expanding its climate focus as pressure rises and clean energy markets grow.
But, but, but: Finance giants remain under pressure from climate activists.
They say banks should not only expand clean energy finance, but pull back from fossil fuels beyond existing policies that prevent financing for certain types of projects like coal plants and Arctic oil.
"The single most important thing JPMorgan Chase can do to address climate change and advance sustainable development is to phase out its fossil and deforestation financing, starting immediately," the Rainforest Action Network's Jason Opeña Disterhoft said in a statement.
What we're watching: The next steps in Wall Street's climate efforts.
JPMorgan, for instance, is planning to set 2030 emissions targets for its financing portfolio, with sector-based targets planned for oil-and-gas, manufacturing and more.
Driving the news, part 2: Politico obtained a draft of the planned White House executive order on tackling climate-related financial risks.
It sets a timeline for Treasury Secretary Janet Yellen to assess climate risks to the financial system.
Other provisions, per Politico, include having the Federal Retirement Thrift Investment Board weigh the risk of continued investment in fossil fuel securities.
The reportedly planned executive order (the White House declined to comment to Axios) comes as independent financial regulators are also increasing their activity.
The Securities and Exchange Commission is moving toward mandatory climate risk disclosure rules, while the Federal Reserve is deepening its exploration of financial system risks.
But, but, but: The draft order as reported by Politico is notable for going far beyond financial regulators.
For instance, "The departments of Housing and Agriculture will be asked to consider integrating climate-related financial risk into their underwriting standards and loan conditions," they report.
2. Google's powerful new lens into climate change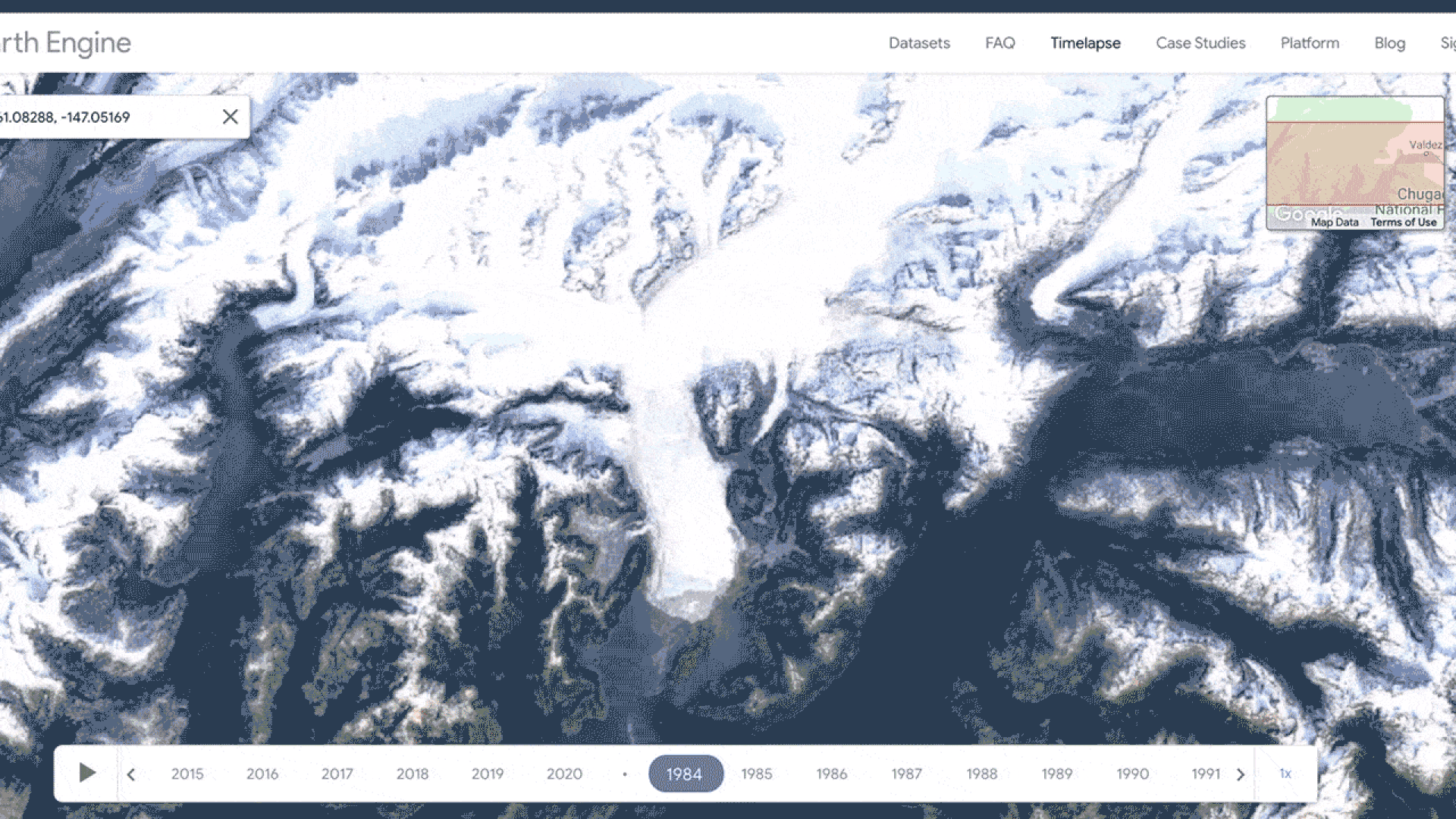 Axios' Andrew Freedman reports that Google Earth has unveiled features for its Timelapse tool that allows users to zoom in on locations to view more than three decades of imagery.
Why it matters: The result is a sobering look at the overwhelming human footprint on the planet, from melting glaciers in Alaska and Greenland to deforestation in South America and the rapid expansion of cities.
By making intangible, long-term trends visible, the tool provides scientists, journalists and activists a new way to tell stories — and may also galvanize support for environmental protection.
How it works: Using Google Earth Engine the company combined more than 24 million satellite images, or "roughly 10 quadrillion pixels," to create the global cloud-free images that comprise Timelapse.
The data sources include the U.S. Geological Survey/NASA Landsat satellites, as well as the European Union's Copernicus Program and its Sentinel series of satellites.
3. Mercedes unveils luxury EV for U.S. market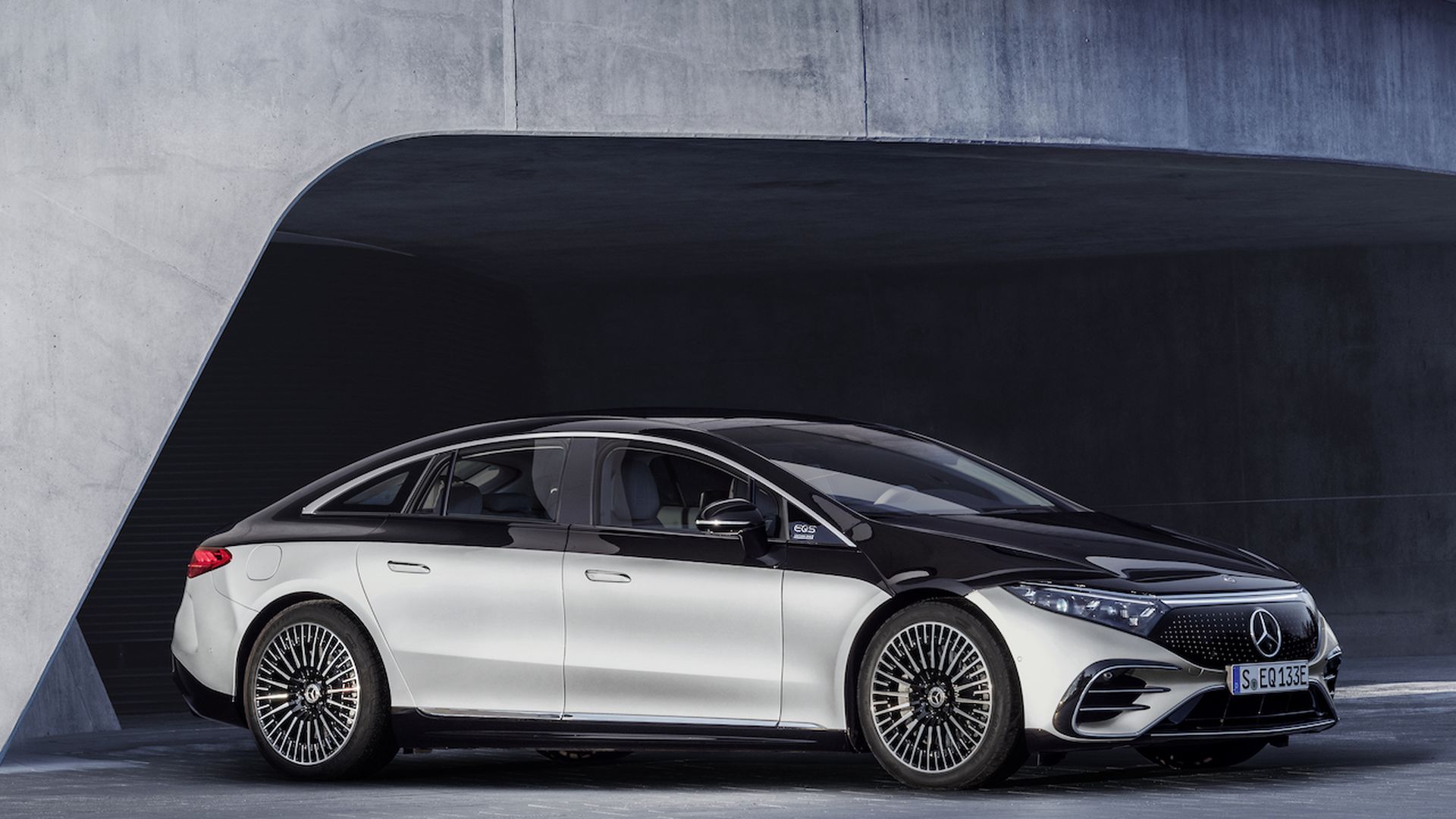 Mercedes has unveiled its first luxury all-electric sedan, and the EQS is headed for U.S. markets late this year.
Why it matters: It's the first of a bunch of upcoming EVs from the German automaker as competition in the market intensifies.
What we don't know: The price. I guess we know it won't be cheap. Here's the Associated Press...
"The EQS is the sibling to the company's S-Class large internal-combustion sedan, the luxury brands flagship model that sells for $110,000 and up."
"The two cars aim at the same upper end of the market, though the EQS is set apart by being [built] on the company's electric-vehicle architecture, or EVA."
How it works: "Sporting what the automaker claims is the world's lowest drag coefficient (0.20) and the world's largest in-car screen (56 inches), and making as much as 516 horsepower, the EQS ... aims to put the Mercedes stamp on the electric-vehicle segment by starting at the top," Car and Driver reports.
What we're watching: The EPA-estimated range of the models sold in the U.S.
That's still unknown, but The Verge's detailed and photo-rich coverage points out that European testing shows 478 miles, though that will "most likely drop" in EPA tests.
4. The home appliance electrification divide
U.S. renters are more likely than homeowners to have electric heat and key appliances, new research from a UC-Berkeley expert shows.
Why it matters: Expanding electrification, paired with an increasingly low-carbon power grid, can be a tool against global warming.
Understanding this gap "has important implications for an emerging set of policies aimed at reducing carbon dioxide emissions through electrification," Lucas Davis writes for Berkeley's Energy Institute at Haas.
The intrigue: His post notes that this gap flips the script on other carbon-relevant renter-owner divides.
The business professor notes homeowners tend to have more efficient appliances, better insulation and more efficient lighting.
That's because landlords have less incentive to invest in efficiency upgrades when it's tenants who pay the power bills.
The big question: Why is electrification different? Davis' post on the research argues it's the other side of the same coin for landlords.
"Electric resistance heating is cheaper to install than a natural gas furnace. Similarly, electric stoves and electric dryers tend to be cheaper to buy and easier to install than natural gas."
5. Biden's trade chief signals climate focus
President Biden's top trade negotiator is pledging to employ trade policy levers to fight climate change and ecological degradation, warning of a "closing window to prevent a catastrophic environmental chain reaction."
Why it matters: U.S. Trade Representative Katherine Tai on Thursday made climate change the focus of her first speech in the role.
The decision underscores how the White House hopes to marshal a wide-ranging, government-wide approach to the topic.
The big picture: "For too long, the traditional trade community has resisted the view that trade policy is a legitimate tool in helping to solve the climate crisis," she said at an event hosted by the liberal Center for American Progress.
What's next: Tai pledged robust enforcement of environmental provisions — including anti-deforestation measures — in the existing U.S.-Mexico-Canada Agreement (USMCA) and other trade pacts too.
More broadly, she said that "developing innovative environmental technologies, goods, and services and cultivating strategic international supply chains for trade will be key."
Yes, but: She acknowledged key barriers. Tai called the USMCA's lack of explicit climate provisions a "glaring omission."
And she said WTO rules create headwinds, arguing "the multilateral trading system has no rules to address the corporate incentive to participate in the race to the bottom."
Go deeper: The New York Times has more.
6. Two new reports peer into the energy future
Earther reports on a new study led by University of California-Berkeley researchers...
"If all cars and trucks sold in the United States are electric by 2035, it could save consumers in the United States some $2.7 trillion over the course of the next 30 years, working out to roughly $1,000 in savings per household per year, a new analysis finds."
And CNBC unpacks a wide-ranging new analysis of potential energy transitions from the consultancy Wood Mackenzie...
"The price of oil could plunge to as little as $10 a barrel by 2050 if the world succeeds in electrifying the energy market and meeting Paris Agreement goals," their summary notes.