Axios Generate
May 21, 2020
Good morning. Today's Smart Brevity count: 1,209 words, 4.6 minutes.
Situational awareness: "Oil rose on Thursday to its highest since March, supported by lower U.S. crude inventories, OPEC-led supply cuts and recovering demand as governments ease restrictions on people's movements imposed due to the coronavirus crisis." (Reuters)
🎶 And on this date in 1971, the late Marvin Gaye released the brilliant album "What's Going On," which provides today's intro tune...
1 big thing: A fork in the road for urban mobility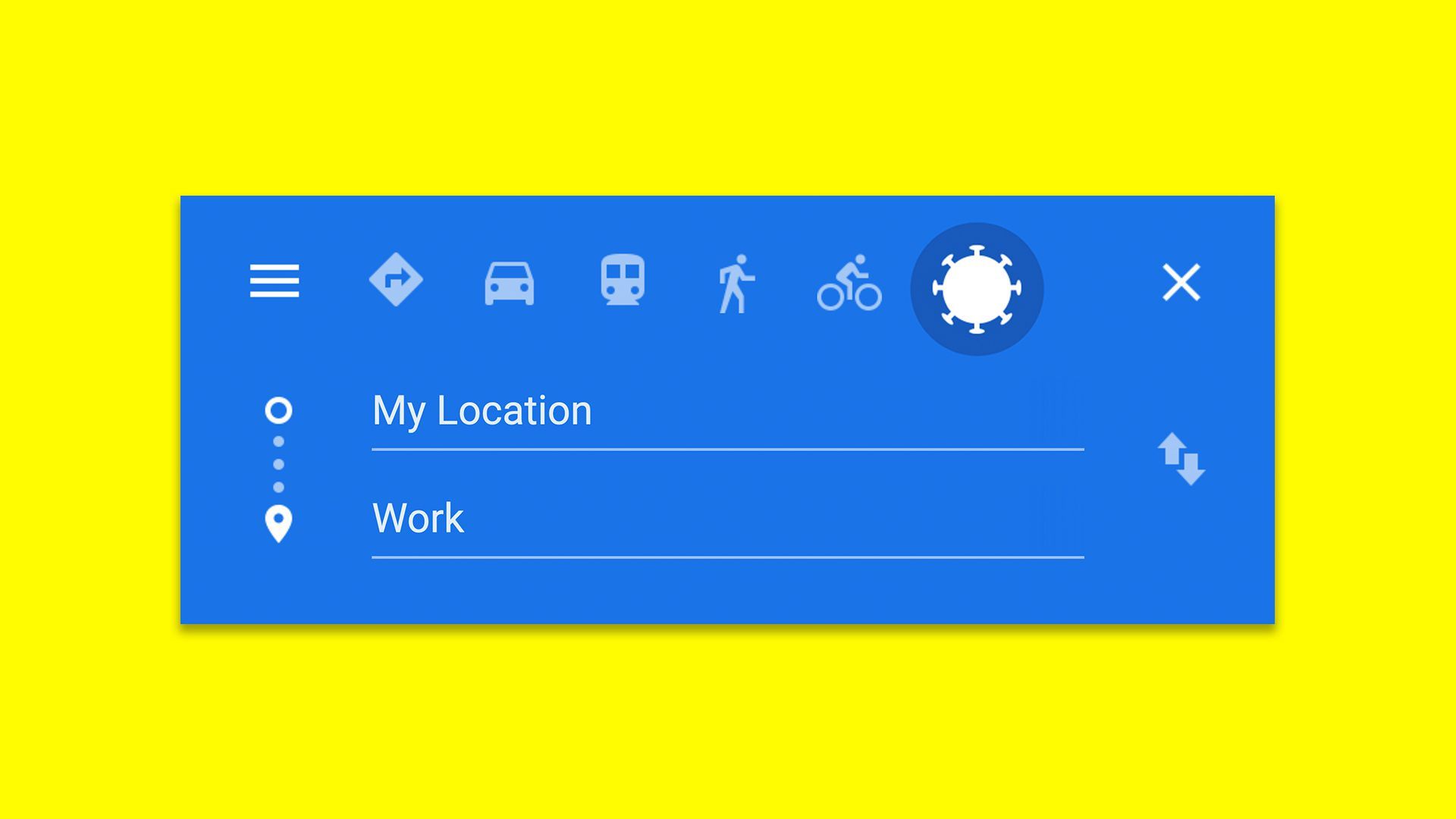 The coronavirus pandemic is remaking city landscapes worldwide, and the ultimate scope and duration of the changes will influence the future of urban mobility, pollution and even global oil demand.
Driving the news: Many cities are changing street uses and restricting cars (to varying degrees) to create new and socially distant opportunities for pedestrians, cyclists and diners. Some examples...
What we're watching: There could be colliding interests as commuting begins to revive while open space and environmental advocates fight to preserve and expand the newly airy spaces.
By the numbers: There's no precise tally of the breadth of the global changes, and policies around wider sidewalks, vehicle access and speed limits, bike paths and more vary in stringency and specifics.
But Mike Lydon of the urban planning firm Street Plans created a continuously updated public database that shows nearly 1,700 miles worth of streets affected by announced or implemented changes.
Why it matters: Cities face a new reality of uncertain duration even as restrictions are eased.
Public transit systems must run at greatly reduced capacity thanks to social distancing and budget woes, and passengers may stay away to avoid exposure.
London, in announcing its plan, warned that a mass exodus to private cars would worsen congestion and air quality.
The intrigue: Changes unfolding because of the health emergency are reinforcing a pre-pandemic movement to end cars' dominance over urban landscapes.
The amount of vehicle traffic affects air pollution, CO2 emissions. And the post-pandemic future of commuting is even one of the many forces that will affect the level of post-crisis oil consumption.
It's also all occurring as cities adjust to wider use of micro-mobility options like scooters and bike-shares.
The big question: How many of these changes will be made permanent even once people are largely able to return, in theory, to pre-crisis norms?
Officials in Paris and London, for instance, have signaled that the changes could last, and Lydon tells me that European city officials are keen to improve air quality and address climate.
But, but, but: Cities could face pressure in the other direction. There's already evidence that driving levels are bouncing back from April's troughs in a big way.
"Many transportation planners are concerned that the combination of reduced capacity, as well as fears of using transit in a pandemic world, will result in a shift towards personal vehicles," said Regina Clewlow, CEO of Populus, which provides transportation data analytics to local governments.
However, it's unclear how much the increased driving that stems from mass transit's new problems will be offset by people working from home for a long time and even permanently.
Bonus: The push for a permanent new cityscape
It's hard to say at this point how much of the changes to U.S. streetscapes will stick around long after the pandemic, but some experts expect lasting changes.
What they're saying: Urban transportation expert Yonah Freemark points out that in the 2000s, New York City's then-transportation chief Janette Sadik-Khan experimented with pro-pedestrian and cycling changes. Many became permanent.
"I expect we will see similar results in many of the places where cities are implementing slow streets, expanding cycling infrastructure, and widened sidewalks," said Freemark, who authors The Transport Politic website.
"The clear benefits these improvements provide to neighbors, as well as their limited negative impacts on traffic, will likely build support for them, and make it difficult for political officials to walk back on these policies," he tells Axios.
The bottom line: "A moment like this — when millions of urban trips are temporarily up for grabs across transportation modes — is exceedingly rare. The stakes for cities could scarcely be higher," said Harvard Kennedy School urban expert David Zipper, writing in Slate.
2. Signs emerge of the EU pandemic response
Information is coming out about how European nations hope to use economic stimulus packages to bolster deployment of climate-friendly energy sources.
Why it matters: The UN, International Energy Agency, International Monetary Fund and others want governments to use big pandemic response plans to help accelerate the global energy transition.
Driving the news: "The European Union is poised to announce the world's greenest recovery package next week, as it seeks to curb pollution and save its economy from the coronavirus pandemic," Bloomberg reports.
Reuters also has some details of the wide-ranging draft plan, which will require unanimous approval of EU governments.
Under one provision of the draft they obtained, "The [European] Commission will set aside 91 billion euros each year in grants and loan guarantees for renovations like rooftop solar panels, insulation and renewable heating systems."
Meanwhile, via the Financial Times ($), "Denmark plans to build two giant 'energy islands' as part of the world's most ambitious offshore wind project, as the Scandinavian country increases its green programme in the face of the coronavirus crisis."
3. Chart of the day: diverging oil outlooks
One reason it's hard to grapple with the long-term energy effects of the pandemic: Projecting the future is tough even without an unprecedented shock to the system.
Driving the news: That brings me to the new version of the Global Energy Outlook, a cool analysis and database from the think tank Resources for the Future.
On the data side, it provides an apples-to-apples comparison of roughly a dozen long-term outlooks for coal, renewables, oil, gas, CO2 and more.
That's tricky! Long-term outlooks from parties like the International Energy Agency, energy companies and others use different metrics, definitions, timescales and such.
The chart above looks at oil demand in a subset of those scenarios. Some are central (or "reference") cases, others model a system consistent with steep CO2 cuts (like Shell's "Sky").
The intrigue: Those projections all predate COVID-19, which is shaking things up in the near-term and maybe much longer.
For instance, multiple (and very hedged) estimates see a roughly 10 million barrel per day decline in oil demand this year, and CO2 emissions cuts in the 4%-11% range.
What's far harder to know, and will depend in part on economic stimulus responses, is the long-term fallout.
"The recent onset of COVID-19, along with government responses to it, is a stark instance of socio-economic uncertainty," they note.
4. Tesla drops lawsuit over pandemic policy
Tesla on Wednesday abandoned its federal lawsuit against Alameda County, California over pandemic-related restrictions on business operations that impacted its factory in Fremont.
Details: Tesla did not provide immediate comment. But the case filed May 9 appears to be a fait accompli at this point.
Tesla reportedly told employees a few days ago that county officials approved resumption of operations, and already Tesla had reopened the plant in defiance of the local government.
The big picture: The lawsuit against county orders was part of CEO Elon Musk's broader, contentious battle over public health restrictions during the pandemic that he called excessive.
Musk has also threatened to move the company's HQ and "future programs" from the state, but the status of those plans remains unclear.
Even before the pandemic, Tesla was planning to build an additional factory to produce Model Y crossovers for East Coast delivery, as well as its planned Cybertruck.
The company is reportedly eyeing Austin, Texas and Tulsa, Oklahoma for that plant.