Good morning, and welcome to the first edition of Generate entirely authored by someone other than the great Ben Geman, who's on a well-deserved vacation for the next several days. I've got news and analysis today on everything from OPEC to the Paris climate deal to nuclear woes.
First, you should check out the highlights from Mike Allen's talk Tuesday with House Speaker Paul Ryan. Of particular note to our energy-focused crowd: Ryan still says tax reform is going to get done this year. Please send any tips, etc., to amy@axios.com.
Now let's get to the rest of the news...
https://www.axios.com/newsletters/axios-generate-467a496f-779d-49f2-b74b-9342128d61de.html?chunk=0#story0
OPEC: Let's make a deal
Breaking from the OPEC meeting: An OPEC delegate told Reuters that the oil cartel has extended the current output deal for nine months and there's no need for deeper cuts now. Oil prices dropped on the news.
"The plan now is to stay steady," Saudi Arabia's oil minister Khalid A. Al-Falih had told reporters before the closed-door meeting began in Vienna today, according to a video of his remarks online. An official announcement is likely when today's meeting ends, scheduled at 5p.m. Vienna time.
Get smart: This move was expected and will likely keep the status quo in global oil markets for the time being.
The deal: OPEC members, which produce 40% of the world's oil, agreed late last year to cut output by about 1.8 million barrels a day, or 2% of the world's oil supply, in the first half of this year.
One level deeper: Al-Falih also said Thursday morning he doesn't see U.S. shale producers derailing what OPEC is doing and added that he thinks shale is necessary in the market.
More OPEC reading:
https://www.axios.com/newsletters/axios-generate-467a496f-779d-49f2-b74b-9342128d61de.html?chunk=1#story1
Utility exec backs wind as reliable power source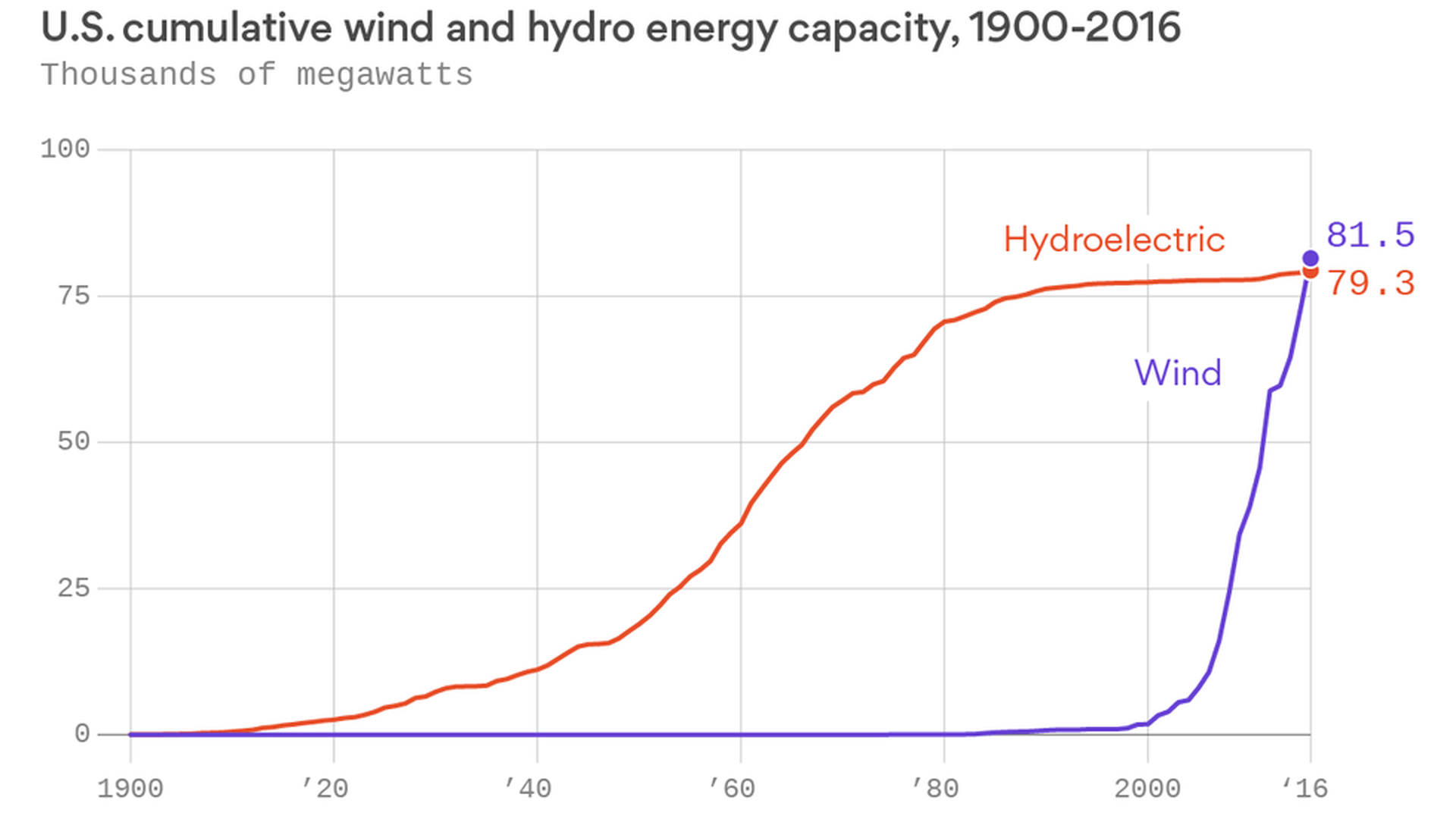 Ben Fowke, the CEO of Xcel Energy, said he's confident large amounts of wind power on the electric grid isn't putting any power at risk. That's a position that's shifted over the last few years.
"I [didn't] think 5 or 10 years ago I'd be comfortable telling you we could not sacrifice reliability when we're going to have 35% of our energy come from wind," Fowke said on stage at the American Wind Energy Association's annual conference in Anaheim. "I'm telling you, I'm very comfortable with that today."
Read more here.
https://www.axios.com/newsletters/axios-generate-467a496f-779d-49f2-b74b-9342128d61de.html?chunk=2#story2
Nuclear power woes, from Arizona to Pennsylvania
America's beleaguered nuclear power industry faced two sobering bits of news on Tuesday.
News No. 1: Nuclear giant Exelon announced its Three Mile Island plant in Pennsylvania was shut out of a key power market to sell its electricity for the third straight year in a row, and it could be at risk of early retirement, according to the state's Lancaster Online newspaper.
News No. 2: In his first extensive public remarks since Westinghouse Electric Company filed for bankruptcy, interim president and CEO José Emeterio Gutiérrez said his company was on solid footing and he expressed confidence America could keep its leadership in nuclear energy technologies. Speaking at a Nuclear Industry Association conference in Arizona, his confidence didn't come through on the economics of the power source. He emphasized that he "hoped" the industry could be economically competitive.
Reality check: Roughly a dozen nuclear reactors have either shut down or are set to shut down in the coming years, according to the Nuclear Energy Institute. Even if the four nuclear reactors Westinghouse is building survive its bankruptcies, growth beyond that is unlikely in the near future without big policy changes in government.
What's next: A small handful of nuclear plants in New York and Illinois have received state subsidies to remain open. NEI spokesman John Keeley writes from Arizona that Exelon's announcement out of Pennsylvania highlights the "urgent need for policy action to preserve the irreplaceable national assets that are nuclear plants."
https://www.axios.com/newsletters/axios-generate-467a496f-779d-49f2-b74b-9342128d61de.html?chunk=3#story3
What delay means for the Paris climate deal
President Trump's delay in making a final decision on whether to stay in or withdraw from the Paris climate deal is prompting both sides to ratchet up pressure, but in the end there will be more stakeholders urging Trump to stay in. Here's why:
The opponents: The number opposed to the deal is reaching a ceiling. Yes, there are 44 free-market and conservative organizations that sent a letter earlier this month. Yes, ten attorneys general from Republican-leaning states sent a letter to Trump on Tuesday outlining the legal risks staying in the global deal would create. However, this compares with the two dozen attorney generals who sent a letter in December urging Trump to repeal President Obama's power-plant carbon rules. This shows the lack of strong opposition among the U.S.'s top legal officers.
The proponents: More people are coming to the agreement's defense. A growing number of world leaders, including Pope Francis, are urging Trump to stay in the deal. The president should get an earful from more of them over the next couple of days at the G7 meeting in Italy, all of whom want the U.S. to stay. And, 14 attorneys general want Trump to stay in the pact.
Between the lines: Whatever Trump decides, you can bet it won't be a clear yes he's staying in or no he's pulling out. All parties — including Trump himself — will be able to spin the outcome to their liking.
What's next: Trump will probably make a final decision about the Paris climate deal "after we get home," Secretary of State Rex Tillerson told reporters Tuesday en route to Brussels. Trump is scheduled to return back to Washington this weekend.
https://www.axios.com/newsletters/axios-generate-467a496f-779d-49f2-b74b-9342128d61de.html?chunk=4#story4
Lightning round: Exxon, emissions reports, and power ideas
Here are a few reports and analyses just released that I think are worth a read:
Michael Liebreich, chairman of the Bloomberg New Energy Finance Advisory Board, on six ways to design the power market of the future, including readjusting our thinking to what "baseload" electricity means.
Rhodium Group is out with a new analysis showing how even under current policies, the U.S. will still come to close to meeting its 2009 carbon reduction target of 17% below 2005 levels by 2020, but absent new policy, it'll fall well below President Obama's goal to reduce greenhouse gas emissions 26% to 28% by 2025.
S&P issued a negative outlook on Exxon Mobil Corp.
https://www.axios.com/newsletters/axios-generate-467a496f-779d-49f2-b74b-9342128d61de.html?chunk=5#story5
One fun thing: It's national wine day!
It's still early, but when the appropriate hour arrives, you should celebrate the day WITH A GLASS OF VINO.
Relevant news: President Obama's science advisor, John Holdren, is set to speak at a wine conference in Bordeaux next month about how climate change is affecting the wine industry, Wine Spectator announced Wednesday.