Axios Generate
July 30, 2021
🎉 Friday's here! Today's Smart Brevity count is 1,304 words, 5 minutes.
📊 Data point of the day: $9.2 billion. That's Southern Co.'s increased capital cost estimate for two long-delayed reactors it's building in Georgia. Go deeper
🎧 Ben joined the Axios Today podcast to chat about the energy and climate pieces of infrastructure talks. Listen here
🎶 R.E.M.'s fourth album "Lifes Rich Pageant" turned 35 this week and provides today's intro tune...
1 big thing: Takeaways from the bipartisan infrastructure plan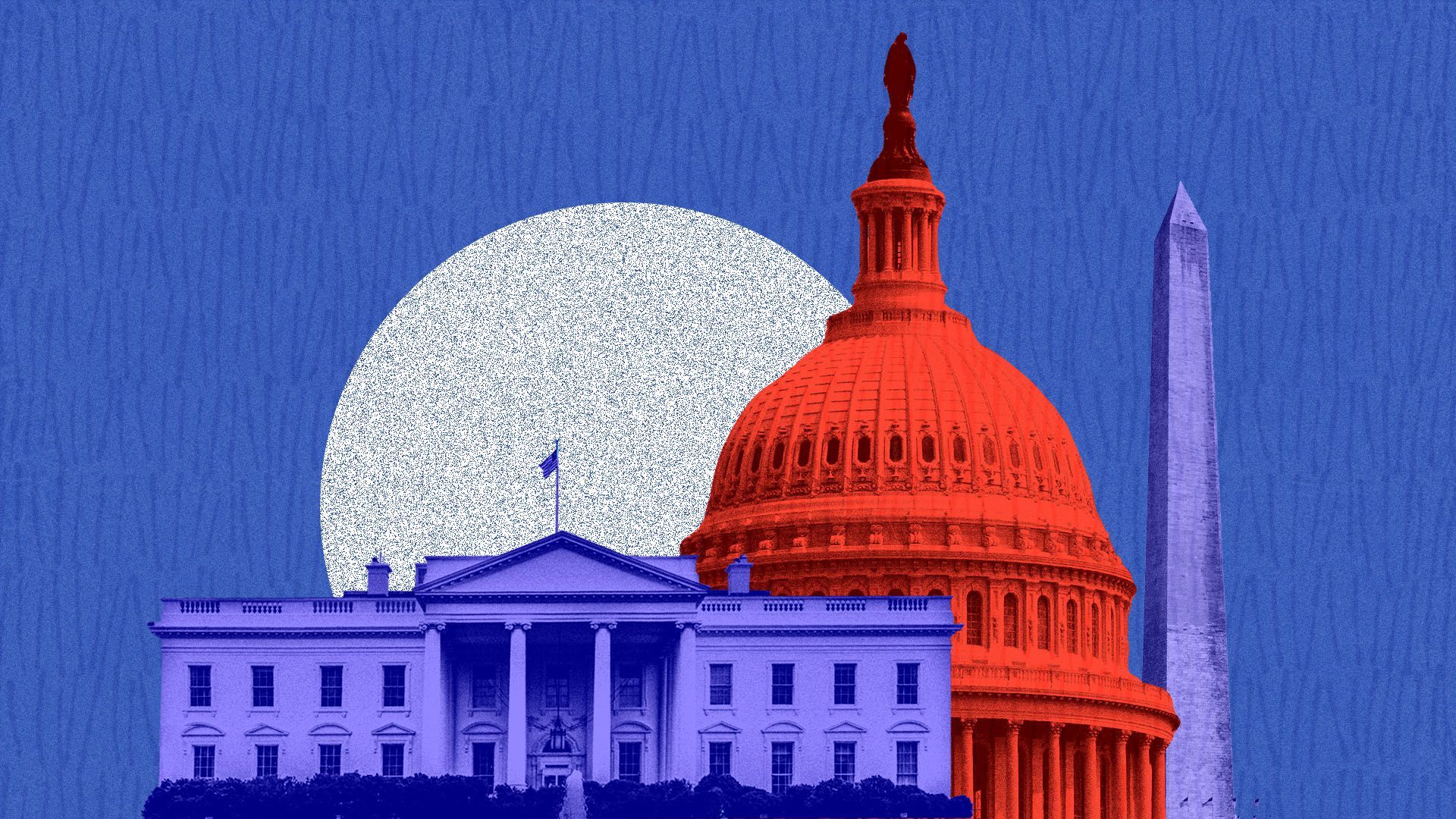 The Senate's on the cusp of debating a big energy and climate package that says plenty about today's political and scientific moment, Ben writes.
Catch up fast: Text of the bipartisan infrastructure plan isn't out yet, but a summary in circulation and releases from lawmakers and the White House offer contours of the proposal.
The Senate voted 67-32 earlier this week to move closer to formal debate on the bill, which has provisions to modernize power grids, deploy EV charging and more.
The big picture: Here's a few takeaways ahead of the arrival of the actual bill text...
We're in a new era in terms of both the size of Beltway proposals and the urgency of dealing with the scope of the climate problem.
The plan's combined energy, climate and mass transit provisions are together way larger than the $90 billion in the 2009 rescue package, at the time the biggest U.S. investments ever in these areas.
But the Earth's climate doesn't really care about that kind of comparison. Climate change is already having a host of calamitous consequences. This bill contains a down payment on larger investments and incentives likely necessary for the U.S. share of emissions cuts needed to keep Paris Agreement goals viable.
Democrats hope to move much more sweeping provisions on a party-line basis via the budget reconciliation process, such as a "clean energy standard" (CES) that would accelerate power sector decarbonization and big EV purchase incentives, to name just two goals.
A new post from the Breakthrough Institute calls for going further, but notes: "[A] bipartisan infrastructure bill of this magnitude would itself have been considered implausible before 2020."
It tells us something about the GOP's posture. Republicans generally oppose the more expensive and prescriptive (hello, CES and methane fees) stuff Democrats want to move via reconciliation.
But a number of GOP lawmakers support measures aimed at speeding demonstration and deployment of emerging tech.
Provisions in the bipartisan plan include billions of dollars around direct air capture, clean hydrogen, and carbon sequestration infrastructure.
It's time to seriously start managing consequences. The bill has a lot on hardening infrastructure, ecosystems and communities against effects of climate change that are already here and slated to worsen.
Per the White House, the resiliency measures add up to tens of billions of dollars. Andrew unpacks some of it in our third item below.
2. Exxon and Chevron post billions in profit
The largest U.S.-based global oil companies posted multibillion-dollar Q2 profits this morning, the latest sign of the sector benefitting from prices and demand recovering from the pandemic, Ben writes.
Driving the news: Exxon reported a $4.7 billion profit after losing over $1 billion in the same period last year. Bloomberg has details here.
Chevron reported a $3.1 billion Q2 profit, compared to $8 billion in losses in the same three-month period last year.
The company also announced it's resuming share buybacks next quarter "at an expected rate of $2-3 billion per year." CNBC has details.
Catch up fast: Today's earnings come after Shell, TotalEnergies and others posted significant profits earlier this week and took new steps to reward investors.
Worth noting: Chevron has created a "New Energies" division that will focus on "commercialization opportunities in hydrogen, carbon capture, and offsets and support of ongoing growth in biofuels."
3. FEMA head prioritizes climate change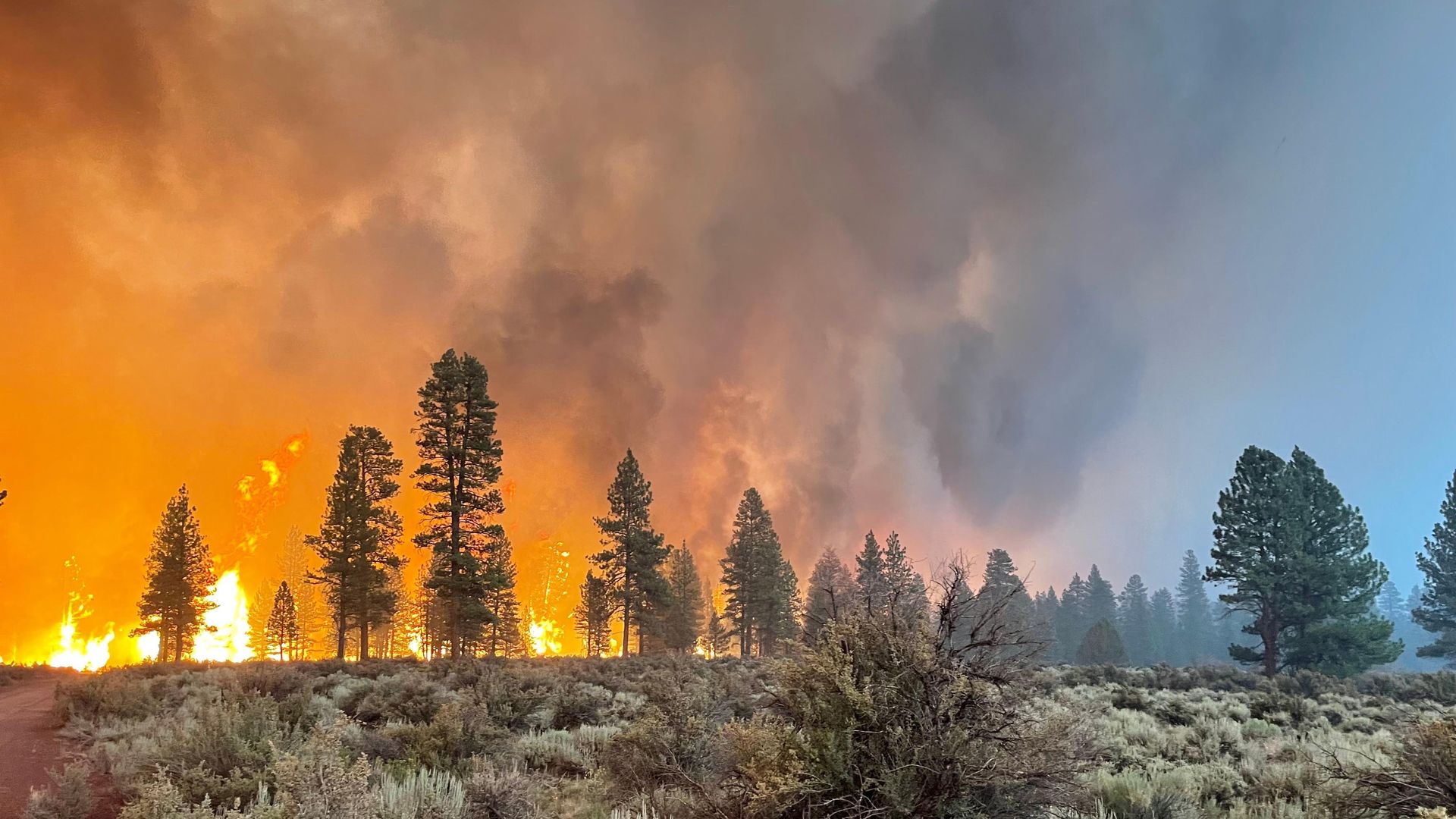 In an exclusive interview with Andrew, FEMA administrator Deanne Criswell said traveling to western states hit hard by wildfires and drought reinforced her view that the agency must focus on the role climate change is playing in wildfires and other disasters.
Why it matters: FEMA is responding to an unusually large number of wildfires for this time of year.
More than 21,500 firefighters and support personnel are currently deployed to more than 80 large blazes in the West.
Criswell cited stats showing the country is 200% above the 20-year average for the number of fires by July, and 900% over the 20-year average of the acreage affected.
Details: The interconnected drought and wildfire disasters in the West influenced senators in crafting the bipartisan infrastructure package. It includes numerous provisions on wildfire and drought resilience:
Provide $1 billion for FEMA's Building Resilient Infrastructure and Communities program, which supports hazard mitigation projects before disasters occur.
Provide $80 million over five years for high-performance computing at the National Oceanic and Atmospheric Administration, to improve drought, flood and wildfire prediction.
Allocate $216 million over five years for tribal communities to undertake climate resilience measures, including adaptation and even community relocation.
Also included would be grants for reducing the buildup of hazardous fuels in forests.
Read more of our interview with the FEMA administrator.
4. Europe's sustainable investing lead
There are $1.83 trillion of European assets in sustainable investment funds, per Morningstar. In the U.S., by contrast, the number is just $300 billion, Axios' chief financial correspondent Felix Salmon writes.
Why it matters: There's no sign of the United States catching up in the foreseeable future. Total inflows into European sustainable funds were $112 billion in Q2, compared to less than $18 billion in America.
How it works: The history of European sustainable fund mandates is decades old, especially in the Nordic countries and the Netherlands.
Professionals at large institutional investors like pension plans and insurance companies consider ESG mandates to simply be a necessary part of any responsible long-term investment shop.
European regulators are also pushing hard for further disclosure and regulatory mandates, both at the EU level and at the country level.
European banks like UBS have announced that sustainable funds will be the default option for private-wealth clients.
Go deeper and sign up here for Felix's Axios Capital newsletter.
5. Reports: Biden and Big Auto eye EV target deal
The White House and automakers could soon unveil a nonbinding deal to have electric vehicles reach at least 40% of new car sales by 2030, per reports in the Washington Post, Reuters and elsewhere, Ben writes.
The big picture: "With United Nations climate negotiations just 3½ months away, the administration is struggling with how to transform the transportation sector, America's biggest driver of carbon emissions," notes the Post, which first reported the discussions.
Catch up fast: Reported discussions on the nonbinding pledge are occurring as the administration prepares to propose new regulatory vehicle emissions and mileage standards.
But negotiations around a related and voluntary target — which Reuters notes could be as high as 50% — suggest that White House officials are seeking ways to complement planned mandates.
Several automakers have already announced their own aspirational targets, such as General Motors' goal to end sales of light-duty internal combustion vehicles by 2035.
6. White House: Climate among "root causes" of migration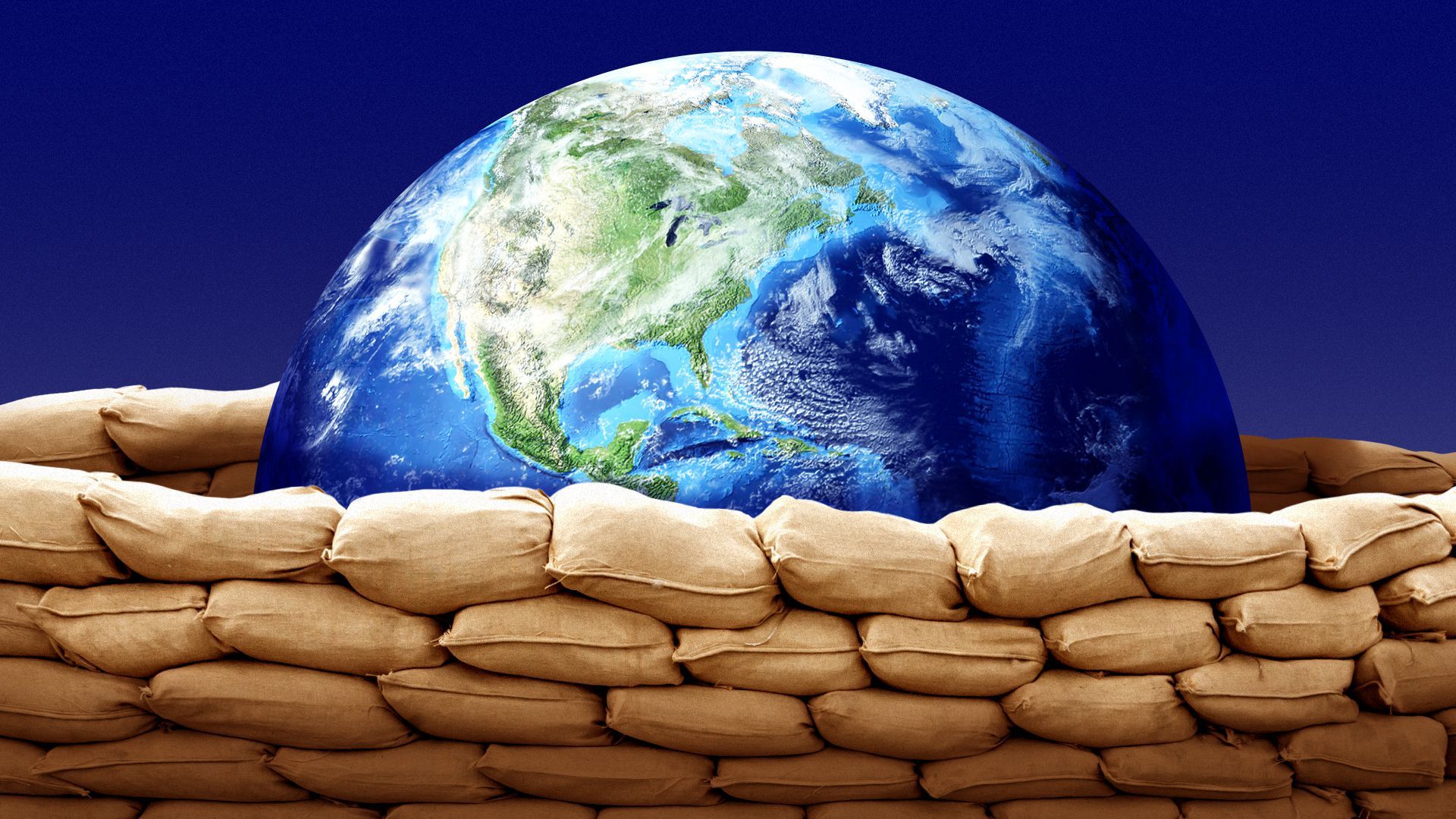 The new White House strategy for improving conditions in Central America to slow migration includes helping to build resilience to climate change, Ben writes.
Why it matters: Climate change is increasingly understood as one of many drivers of human displacement, both within and across borders, due to flooding and other extreme weather, effects on food security and more.
Driving the news: The plan unveiled Thursday offers broadly worded policy goals around bettering economic prospects, rooting out corruption, lowering gang violence, improving human and labor rights, and more.
It describes climate change as a force worsening existing conditions. "Weather shocks due to climate change contribute to growing poverty, homelessness, and food insecurity," the strategy states.
What's next: Part of the plan calls for partnering with governments, development banks and other parties to help spur farming practices that better respond to climate change and extreme weather.
One "medium term" goal is working with partners to "reinforce national and regional preparedness and disaster response capabilities and implement programs to adapt to and mitigate the impacts of climate change."
Quick take: The document is short on details, so it's hard to say what effect the efforts will have.
But it's a sign that policymakers increasingly recognize the ripple effects of climate change on immigration policy and other strategic and human rights areas.
Go deeper: Wanted: A U.S. climate migration policy