Axios Generate
August 06, 2021
☕ Good morning and happy Friday! Today's Smart Brevity count is 1,297 words, 5 minutes.
📊 Data point of the day: $45 million, the amount just raised by European micromobility startup Voi. TechCrunch has more.
🎶 At this moment in 1995, TLC ruled the Billboard Hot 100 with today's classic intro tune...
1 big thing: California's wildfire disaster has only just begun
Wildfires are expanding in northern California this morning after destroying communities nestled in the Sierras on Wednesday night and Thursday, with the Dixie Fire now the sixth-largest blaze in state history, but likely to move up the list Friday morning, Andrew writes.
Why it matters: Yet again, California is giving the country a lesson in what climate change looks like after just 1.2°C (2.16°F) of global warming.
The West is in the midst of a brutally hot and severe drought, and fires are burning in areas where wildfire risk indices are off the charts — and peak fire season doesn't arrive for another month.
The big picture: With multiple record-shattering heat waves, the worst drought seen across the West this century, longstanding forest management practices that have loaded forests with more trees to burn, and human-caused climate change escalating things further, the West faces a calamitous end of summer into early fall.
Details: The small Sierra town of Greenville, California, located about 160 miles northeast of Sacramento, was largely destroyed on Wednesday night into early Thursday as the Dixie Fire surged northward amid high winds, extremely dry air and hot temperatures.
Threat level: A low-pressure area in the upper atmosphere made the fire situation even more perilous Thursday into Thursday night, as towering thunderstorms formed over and downwind from the fires.
These storms caused winds to suddenly shift, causing firefighters to repeatedly disengage from the blaze.
How it works: Human-caused climate change is driving an increase in the likelihood and severity of heatwaves and droughts, and is behind a trend toward larger wildfires in much of the West, studies show.
Last year was California's worst wildfire season on record. So far, this season is ahead of last year's pace. The fires aren't limited to California, either, with 100 large blazes burning in 14 states.
What's new: The Biden administration, in an effort to prevent future wildfires and other climate change-related disasters, announced the largest-ever expenditure of resilience funds in a single year — $3.5 billion, including $484 million for California.
What's next: In addition to the wildfire challenges California and other western states face, drought impacts on California water and power resources are an increasingly big concern as well.
2. The long road to Biden's electric goal
The White House target of zero-emissions models reaching 50% of U.S. car and light truck sales by 2030 is hardly impossible, but a lot of things will have to break right, Ben writes.
Catch up fast: President Biden's executive order Thursday set the nonbinding 50% target of sales from battery-electric, plug-in hybrid or fuel cell electric models.
The 2030 aspirational goal is among several new moves. Others include new draft light-duty mileage and CO2 regulations through the mid-2020s, and initiating the process for longer-term rules targeting light, medium and heavy-duty vehicles.
The New York Times has more.
The big picture: Electric sales are growing, but getting to 50% in nine years would require a completely reshaped market.
In the first half of 2021, fully electric and plug-in hybrids together were 3.3% of U.S. car sales, per Wards Intelligence. Analysts like BloombergNEF and Edmunds show similar levels.
However, legacy automakers and startups are bringing a suite of new models to market, and big companies have made sales pledges consistent with Biden's target.
Combined industry investment plans to date total over $330 billion, per the Alliance for Automotive Innovation, an industry trade group.
What we're watching: Congress. The bipartisan infrastructure plan has several billion dollars for building out EV charging.
Democrats want major new consumer purchase incentives in the separate "reconciliation" package they hope to move on a party-line vote.
Automakers say meeting their 2030 pledges will require these kinds of policies and other federal support.
What they're saying: "[T]hese sales targets are certainly not unreasonable, and most likely achievable by 2030 given that automakers have already baked in large numbers of electric vehicles into their future product cycles," Edmunds analyst Jessica Caldwell said.
But Caldwell adds that "what's possibly the biggest hurdle ahead is consumer acceptance: what will it take for Americans to be willing to change their car ownership habits to go electric?"
3. Where Biden's charging stations should go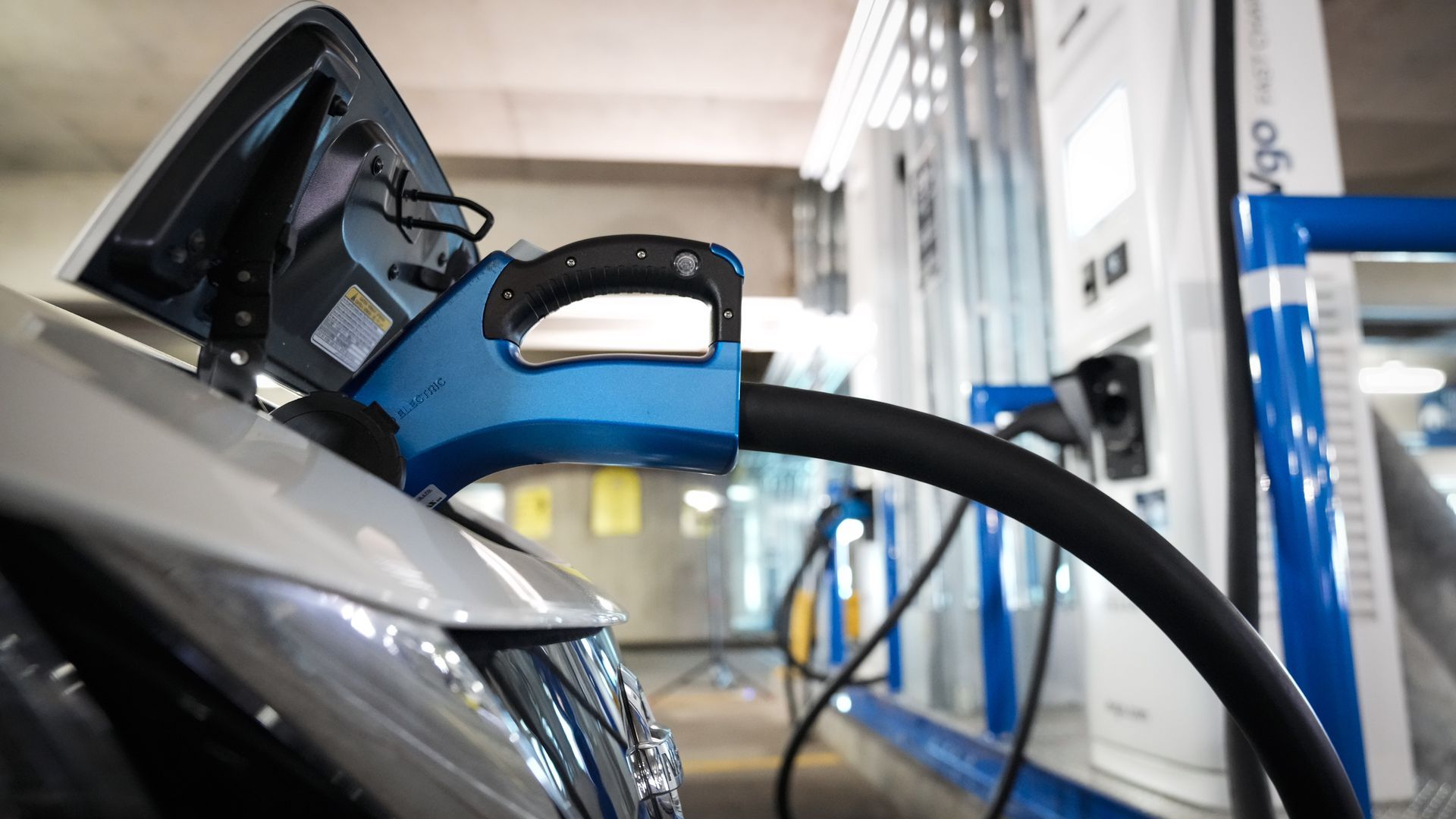 Fewer than 10% of Americans have easy access to an electric vehicle charging station, and those who do tend to be wealthy and white, Axios' Joann Muller reports.
Catch up fast: The infrastructure plan moving through Congress provides $7.5 billion for building out public charging.
Driving the news: A new analysis of EV charging access in the 50 largest U.S. cities could help authorities decide where to locate infrastructure to optimize public access.
Only 9.7% of households in U.S. cities have access to a public EV charging station within 1/4 mile from home, per the report by location analytics firm Mobilyze.ai, and funded by the Toyota Mobility Foundation.
Wealthy households have better access in some populous cities like New York and Chicago. But in many other cities, lower-income households live closer to charging in downtown areas.
Black and Latino communities have significantly fewer charging stations than white neighborhoods.
4. White House emphasizes clean bus provisions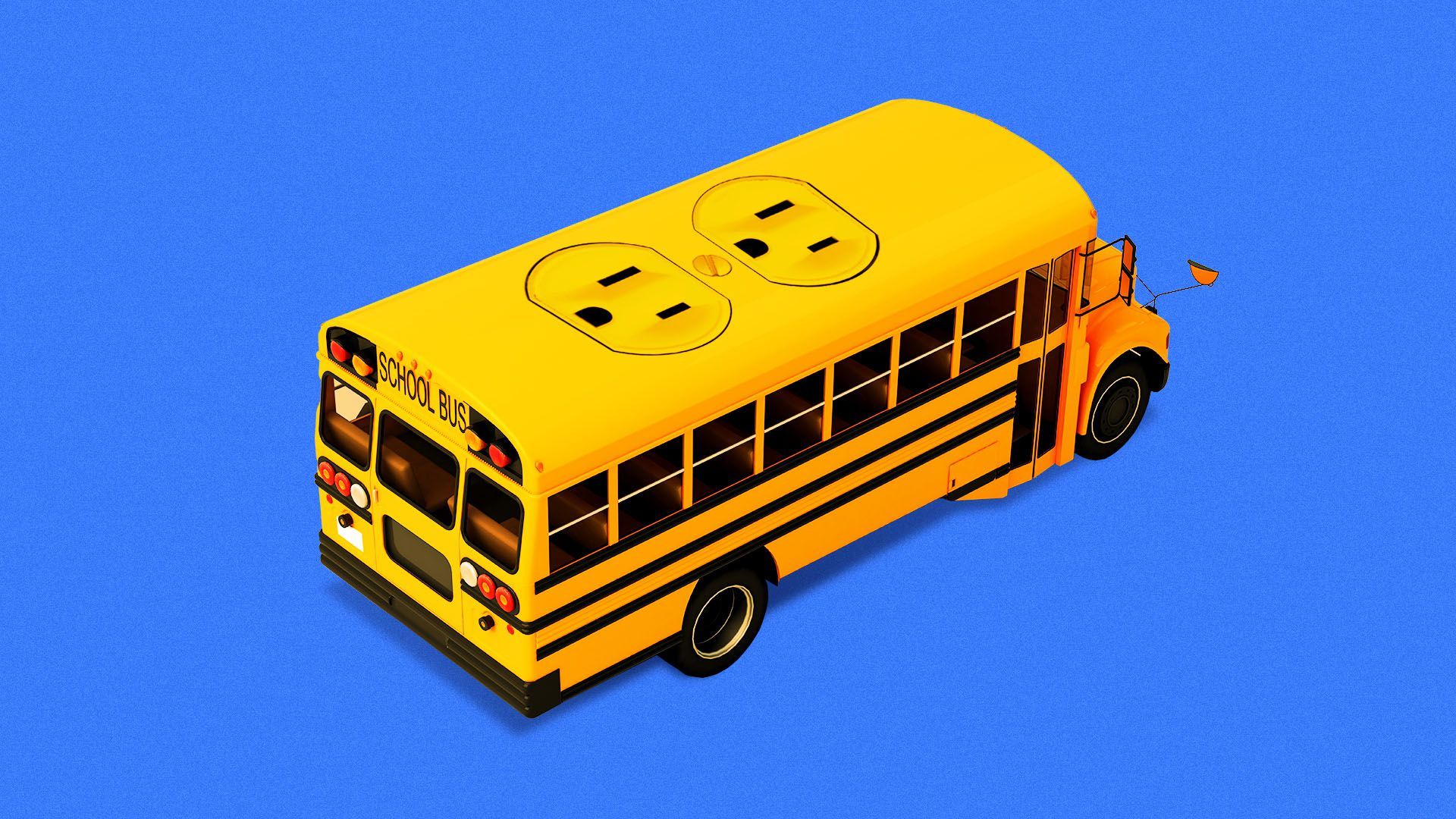 The White House is using a multimedia public sales pitch and press strategy to promote a dual message: The bipartisan infrastructure plan has really good stuff for the climate — but it can't be anywhere close to the final word from Congress, Andrew writes.
Details: The administration has sent out a blitz of fact sheets and favorable press clippings to reporters.
The intrigue: The White House provided Axios its bullish take on the clean school bus provisions in the bill.
Officials are emphasizing $5.625 billion in funding for electric and low-emission school buses, with at least 50% of that funding going toward zero-emission school buses.
The administration estimates the investments will lead to more than 12,000 new electric school buses.
The White House says these buses would be made in the U.S., including at plants the president and vice president have visited in North Carolina and South Carolina.
Be smart: The bill wouldn't solely fund purely electric buses. The language also includes room to fund compressed natural gas or other low-emission power sources as well.
What they're saying: In a statement, national climate adviser Gina McCarthy told Axios: "These buses will be made here in America and create good paying union jobs all while making sure our students breathe cleaner air."
She also touted the demand they would drive for American-made batteries and vehicles.
5. Moody's bets on disaster risk modeling
Moody's is acquiring climate and natural disaster risk modeling company RMS for about $2 billion from Daily Mail and General Trust, Axios' Kia Kokalitcheva reports.
Why it matters: Modeling climate risk exposure is becoming critical for a growing number of industries, especially as extreme weather events are dramatically picking up in frequency and impact. Supply chain disruptions are of particular concern.
The bottom line, via Andrew: "As the impacts from climate change worsen, companies are being exposed to new risks that pose a threat to their bottom line.
Incorporating climate risk information into ratings agencies like Moody's may help manage such vulnerabilities, while also helping the firm get ahead of anticipated SEC and other climate risk disclosure rules."