Good morning and welcome back! We'll get to the energy news in a moment. But last night brought a political earthquake in Alabama and the Beltway, and the Axios team has lots of smart, concise, frequently updated coverage on our website.
Ok, let's dive in . . .
https://www.axios.com/newsletters/axios-generate-40ad86ca-9e24-4231-bb26-b128e7b79c13.html?chunk=0#story0
What Doug Jones thinks about energy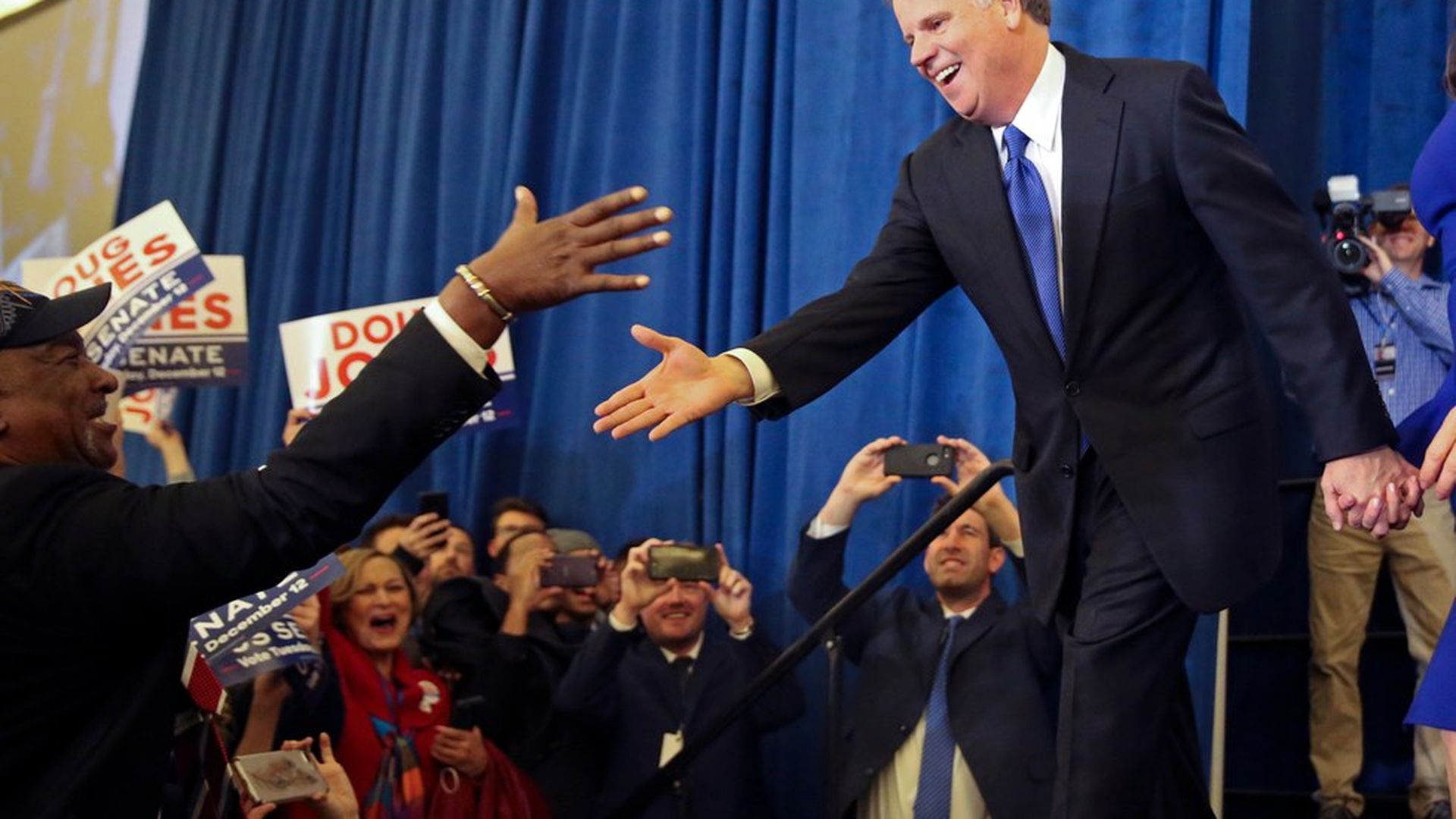 Heading to Washington: Now that Democrat Doug Jones has pulled off a surprise win in Alabama's Senate race, let's look at his energy and climate views (topics that were hardly front and center in the race). Details will certainly emerge soon, but for now...
Big picture: "The consequences of our unchecked use of fossil fuels for our planet and our health have been clear for decades. Period. Clean air and clean water are not controversial. They are essential to our health, our prosperity, and our quality of life," his website states.
"We should be encouraging investment in renewable energy and conservation as ways to create new jobs and make ourselves energy independent," he says via his website.
Coal transition: Jones emphasizes that he's the grandson of a coal miner and says he's got "enormous sympathy" for employment losses in Alabama, which as of 2015 was the nation's 15th-biggest coal producer.
"Rather than promise that miners can return for generations to dangerous, scarcely regulated jobs, I believe America must step up to provide a safety net of health care and job retraining for these workers and prepare all children in Alabama for a 21st century economy."
Paris: The site also criticizes President Trump's decision to pull the U.S. out of the Paris climate agreement, attacking the decision on broader geo-strategic grounds by noting that it has "moved us further from the international community."
https://www.axios.com/newsletters/axios-generate-40ad86ca-9e24-4231-bb26-b128e7b79c13.html?chunk=1#story1
Latest in oil: Aramco's IPO and OPEC strategy
https://www.axios.com/newsletters/axios-generate-40ad86ca-9e24-4231-bb26-b128e7b79c13.html?chunk=2#story2
The energy tech that Bill Gates wants to fund
New decision: Breakthrough Energy Ventures, a $1 billion-plus fund launched by Bill Gates and other investors last year, has announced the five broad technology where they will focus their initial investments.
They are:
Grid-scale storage
Liquid fuels
Micro- and mini-grids in Africa and India
Alternative building materials
Geothermal energy
Go deeper: Gates discusses the fund's thinking on these areas a little more in this new blog post.
He also announced over a dozen new corporate backers for broader clean energy investment effort he launched in 2015 called the Breakthrough Energy Coalition. New partners include GE, Total, India's Reliance Industries and BNP Paribas.
https://www.axios.com/newsletters/axios-generate-40ad86ca-9e24-4231-bb26-b128e7b79c13.html?chunk=3#story3
News from Congress: Taxes, nominees, NAFTA
Crunch time: As House and Senate negotiators work behind the scenes on the tax package, the formal bicameral conference committee will hold a public meeting today.
What to watch: Hints of whether the emerging compromise will include House provisions that cut the value of wind energy tax credits and kill electric vehicle credits; and the Senate's complex "Base Erosion Anti-Abuse Tax" that the renewables industry says would slam the brakes on tax equity financing for green energy projects.
Go deeper: The latest episode of Currents, a podcast about project finance from the big law firm Norton Rose Fulbright, looks in detail about how the bills would affect renewables.
Nominee under fire: Democrats on the Senate Environment and Public Works Committee say they've uncovered plagiarism in a submission from President Trump's pick to head the White House Council on Environmental Quality.
In a new letter, they cite 18 instances in which written answers from Kathleen Harnett White mirror earlier written submissions from EPA administrator Scott Pruitt and top EPA air quality regulator Bill Wehrum when their nominations were pending.
Why it matters: Yes, criticism of opposing party nominees is very common. But Harnett White's nomination already had rough patches as farm state GOP senators have attacked her past statements on biofuels, and she had a rocky confirmation hearing last month. So stay tuned for whether the nomination is in any real trouble. The White House did not respond to an Axios inquiry about the letter.
Nominees on the move: Yesterday the Senate Energy and Natural Resources Committee, with bipartisan support, approved Linda Capuano to head the Energy Information Administration and Tim Petty to be assistant secretary of the Interior for water and science.
On tap today: A House Energy and Commerce subcommittee hearing will explore how the renegotiated of NAFTA could disrupt interlinked North American energy markets.
A top DOE official is among the witnesses when a panel of the House Science, Space and Technology Commitee gathers to discuss solar energy R&D.
https://www.axios.com/newsletters/axios-generate-40ad86ca-9e24-4231-bb26-b128e7b79c13.html?chunk=4#story4
One interesting chart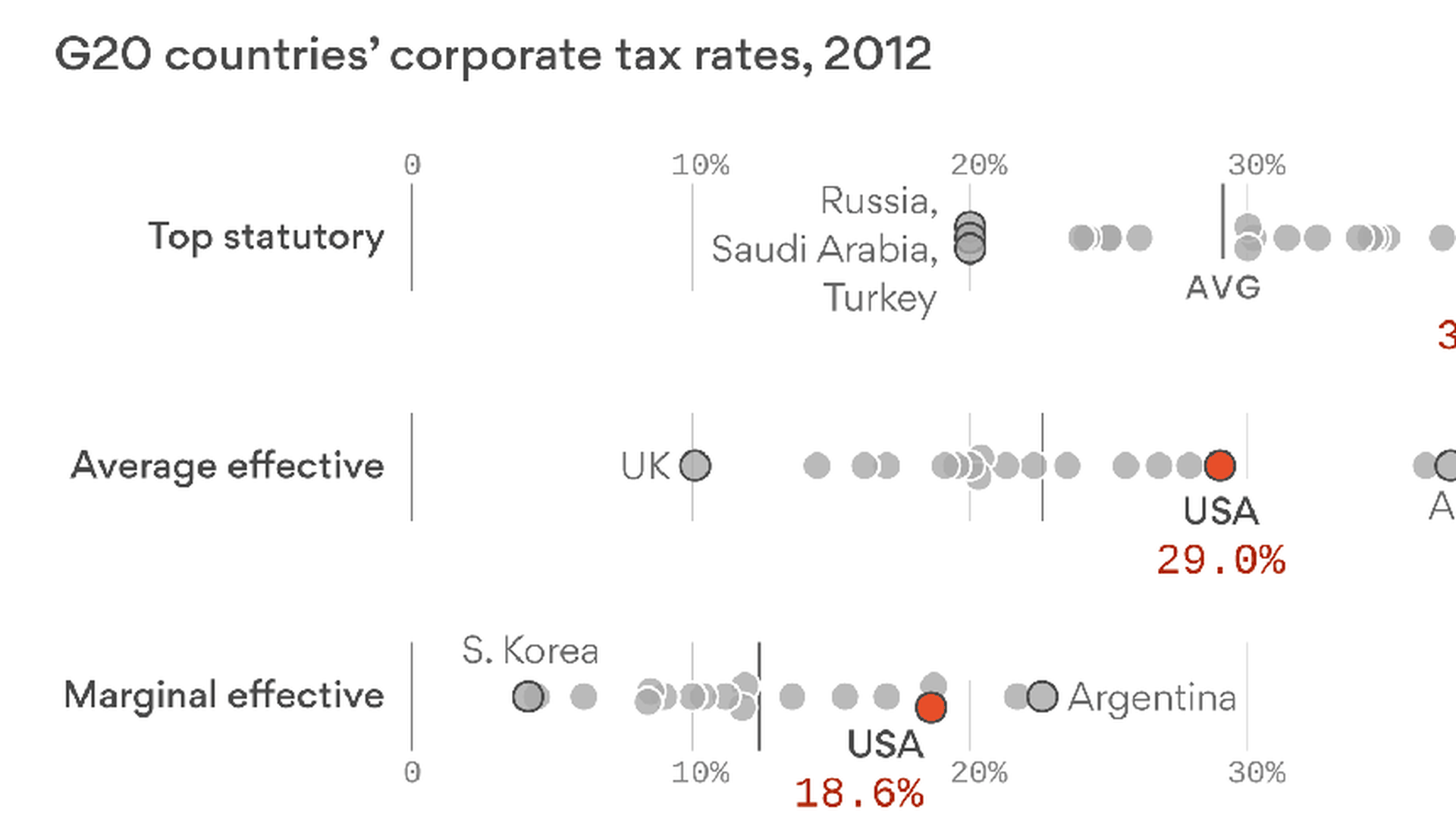 A little more on the big tax bill . . .
My Axios colleagues are out with a piece that visualizes a much-discussed aspect of tax policy: How current U.S. corporate taxes aren't really as high as they look at first glance.
Check out the chart above and the full story by my colleague Caitlin Owens here.
https://www.axios.com/newsletters/axios-generate-40ad86ca-9e24-4231-bb26-b128e7b79c13.html?chunk=5#story5
What corporate pre-orders say about Tesla's truck
PepsiCo is the latest company to go public with preliminary plans to buy electric semi-trucks from Tesla, which recently unveiled a rig with plans to begin production in 2019.
Why it matters: While these are not final transactions, the announcements by major companies represent something of a corporate vote of confidence in Tesla despite its recent stumbles scaling up production of its mass-market Model 3 sedan.
The numbers: Reuters reports that the food and beverage giant has reserved 100 of the trucks, the largest reported corporate purchase plan thus far. Walmart has reserved 15 trucks and the trucking company J. B. Hunt Transport Services has also placed orders, among other buyers. Overall reservations to date are at 276, according to Reuters' calculations.
PepsiCo confirmed the order to Axios. "These trucks will be deployed across our snacks and beverage businesses," a spokesperson said.
Big picture: If automakers like Daimler and Tesla can eventually succeed in making electric heavy trucks more than just a tiny portion of U.S. and worldwide commercial fleets, that would bring the world closer to a peak in oil demand.
Click here for more in the Axios stream.
* * *
Speaking of Tesla, a newly available filing shows they have expanded their outside lobbying team with the addition of the firm Tai Ginsberg & Associates.
Speaking of EV tech more broadly, Toyota and Panasonic announced Tuesday they're studying creation of a joint automotive battery business to "address growing demand and expectations for electrified vehicles." Reuters has more here.
https://www.axios.com/newsletters/axios-generate-40ad86ca-9e24-4231-bb26-b128e7b79c13.html?chunk=6#story6
Tracking the EPA chief abroad
An EPA official told my colleague Amy Harder yesterday that EPA administrator Scott Pruitt has been in Morocco to talk about the U.S./Morocco trade agreement and how American natural gas can help the Moroccan economy.
Why it matters: Promotion of U.S. natural gas exports has been a pillar of the Trump administration push for U.S. "energy dominance." They have also cited wider use of gas, which produces far less CO2 when burned than coal, as part of their environmental platform. Morocco hosted the UN's climate talks last year.
Between the lines: Pruitt has taken a very broad definition to what his mission is at the agency, whose stated mission is to protect human health and the environment in the U.S. It is not customary for the environmental chief of the U.S. to be touting natural gas as an economic solution to another country.
Also not normal: The EPA has faced criticism for not publicly alerting the administrator's travel ahead of time. It was not previously publicly known that Pruitt was traveling abroad.