Good morning and welcome back! Stops on today's tour include Alaska and Puerto Rico. Thanks for reading and please keep the feedback and ideas flowing to ben@axios.com. Let's dive in...
https://www.axios.com/newsletters/axios-generate-3ec47183-0340-4a26-92d7-87deebe9677c.html?chunk=0#story0
House vote could pave way for Arctic refuge drilling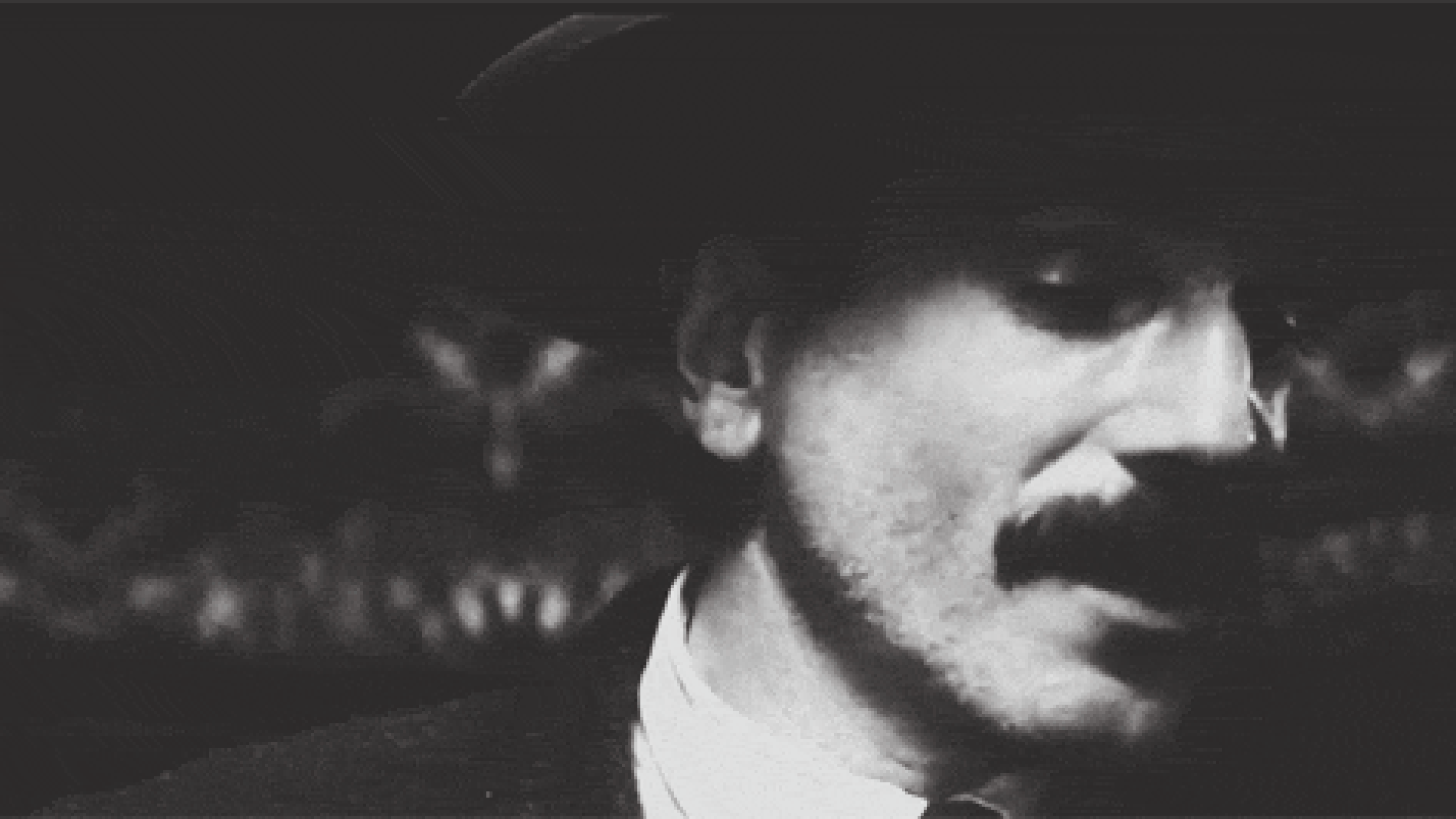 Slated for today: The House is scheduled to vote on the Senate's fiscal year 2018 budget resolution, which would enable subsequent filibuster-immune legislation to allow oil drilling in Alaska's Arctic National Wildlife Refuge (ANWR) to move forward.
Why it matters: Republicans that have unified control of Washington are closer to allowing oil exploration on the coastal plain of the refuge — possibly holding very large oil reservoirs — than at any time since ANWR bills almost made it to George W. Bush's desk in the 2005-2006 Congress.
Yes, but: There's no guarantee that there will actually be oil production in the remote, environmentally sensitive region. Here are some of the wild cards and known unknowns:
The clock: Congress moves slowly. So does the federal energy leasing and development process, although the Trump administration has vowed to speed things up. Arctic exploration is complex, and environmentalists would legally challenge lease sales and development approvals. A Democratic White House win in 2020 could bring efforts to thwart fledgling development.
The markets: There would very likely be some industry interest in ANWR drilling. But the extent of companies' appetite for controversial Arctic projects is not really clear. A lot has happened in the oil business over the last decade, notably the shale boom that has brought a wealth of opportunities in the lower 48 states that are cost-effective even at modest oil prices.
The politics: ANWR drilling has support from the vast majority of Republicans — only Sen. Susan Collins joined Democrats in a recent vote to scuttle drilling legislation, while conservative Democratic Sen. Joe Manchin voted with the GOP. So the odds look good in Congress if the budget passes. But we're in an unpredictable era where the president is openly feuding with some GOP senators, so probably best not to assume anything about ANWR bills.
Be smart: Veteran energy analyst Amy Myers Jaffe of UC-Davis provided Axios a few thoughts in an email exchange. She notes that the CEOs of the major integrated oil companies have recently signaled that they're not jazzed about investing in Arctic resources, either onshore or offshore.
"I would also assert that the major U.S. independents are focused on shale and are being pressed by Wall Street to concentrate on staying within cash flow," says Jaffe, adding that this emphasis on capital discipline would work against spending lots of money in Alaska.
However, she predicts there would be interest among private equity-backed firms that are already active elsewhere in Alaska.
https://www.axios.com/newsletters/axios-generate-3ec47183-0340-4a26-92d7-87deebe9677c.html?chunk=1#story1
Oil market notes: Statoil earnings, oil price impact, OPEC, Exxon
Statoil earnings: "Norwegian oil firm Statoil reported on Thursday lower-than-expected earnings due to impairment charges mainly related to lower output from its unconventional onshore assets in North America," Reuters reports.
Get ready: Companies including Exxon, Chevron and Total report their Q3 results tomorrow.
Go deeper on earnings: The Wall Street Journal sets the table with this feature on the heavy focus these days on oil companies' break-even levels — the oil price needed to cover costs and dividends.
"If the oil price were $70 it wouldn't matter so much, but at the moment we're on a knife edge, so it matters more," Allianz Global Investors analyst Rohan Murphy tells the paper.
OPEC deal extension: "Saudi Arabian Crown Prince Mohammed bin Salman backed the extension of OPEC production cuts beyond March 2018, making it all but certain the cartel and its allies will roll over the curbs at a meeting next month," Bloomberg reports.
Exxon exploration: "A western province in Argentina has given Exxon Mobil permission launch a 35-year shale gas exploration program, with plans for an initial investment of $200 million," the Houston Chronicle reports.
https://www.axios.com/newsletters/axios-generate-3ec47183-0340-4a26-92d7-87deebe9677c.html?chunk=2#story2
One interesting solar chart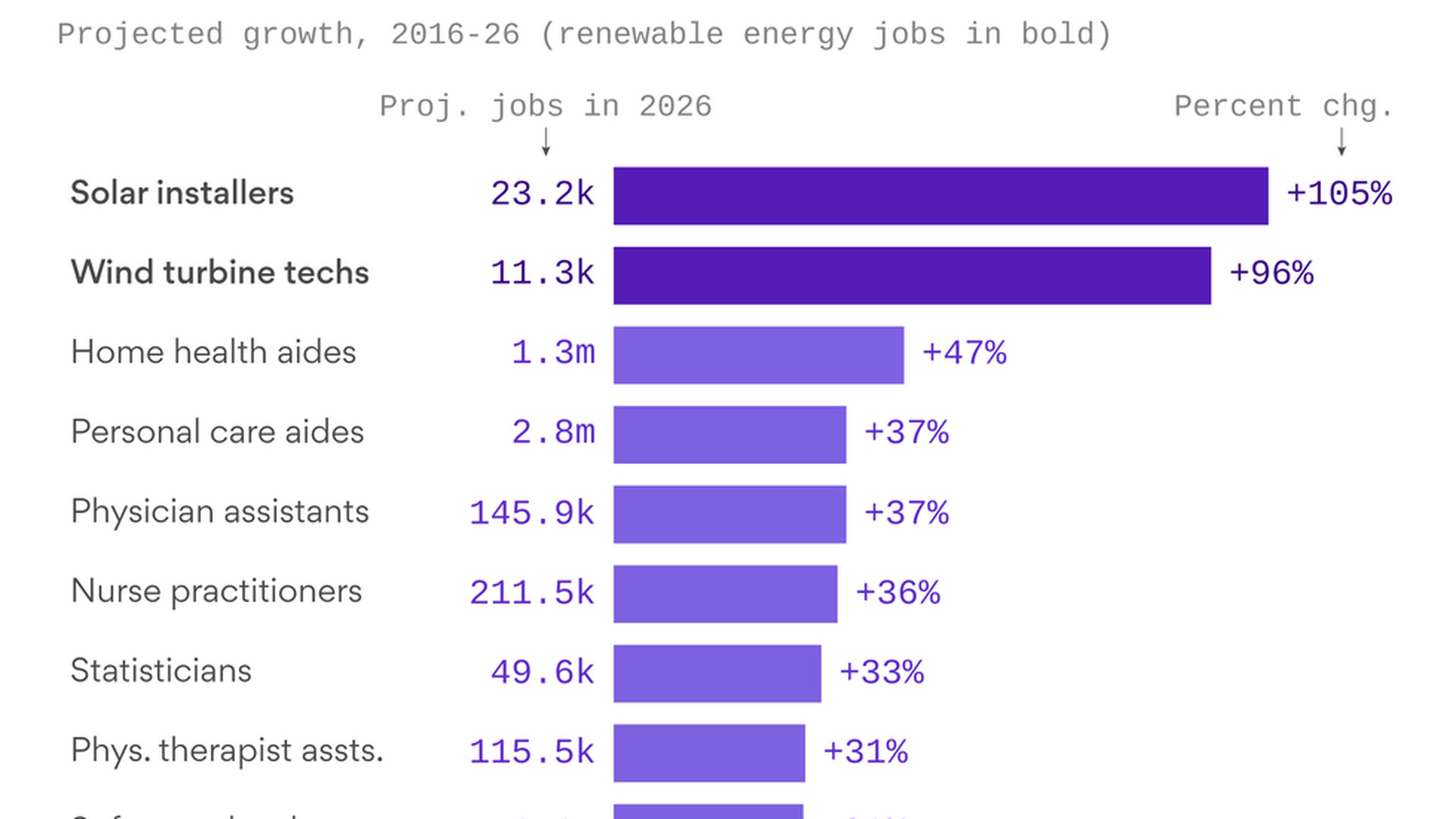 The data above, courtesy of the Bureau of Labor Statistics, shows that jobs as solar panel installers and wind industry technicians are projected to see the biggest growth in percentage terms over the next decade or so.
Why it matters: The data will provide political ammunition for advocates who say that the Trump administration should avoid policies — like new tariffs on solar panel imports — that would undercut sectors that are poised to become even larger economic forces.
Yes, but: Those portions of the wider — and much larger — renewables industry are growing from a relatively small base compared to other industry sectors seeing rapid job growth, as the chart and other BLS data show.
https://www.axios.com/newsletters/axios-generate-3ec47183-0340-4a26-92d7-87deebe9677c.html?chunk=3#story3
Solar and batteries' island potential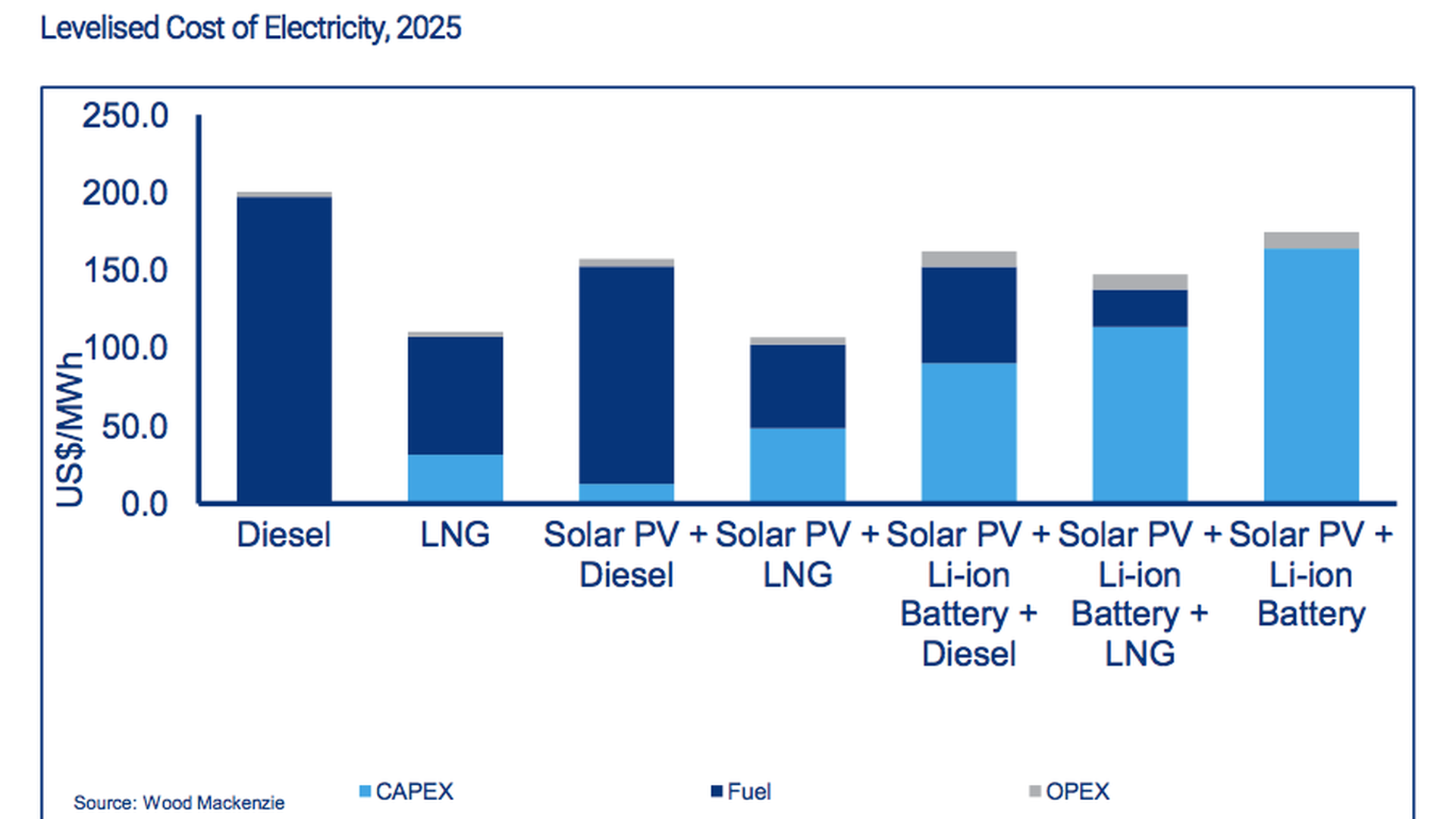 A new analysis from the consulting firm Wood Mackenzie compares the costs of using solar power and liquefied natural gas to replace the petroleum fuel, mostly diesel, that currently supplies power to several thousand islands worldwide.
What they found: LNG, and systems that combine solar and LNG, would already be cheaper on average (though it takes some time to recover up-front capital costs).
And here's where the chart above comes in: Combining solar and lithium ion battery storage is also projected to be more cost-effective than petroleum by 2025, and the cost difference between solar with storage and LNG is narrowing.
Why it matters: Moving away from burning diesel has the potential to reduce costs in island regions where consumers pay high power prices, and also would bring environmental benefits. It's an especially relevant topic as Puerto Rico and other islands must repair and rebuild power networks after devastating storms.
One level deeper: Here's what they envision in 2025 based on modeling that assumes oil prices rise to $68-per-barrel, and solar and battery costs keep falling by 17% and 49% respectively.
"The solar + Li-ion battery only solution would become increasingly competitive, achieving lower [levelized cost of electricity] than continuing to burn oil products. But while this solution would have a zero carbon footprint, it would remain over 50% more expensive than the LNG only solution or the solar + LNG solution, unless battery costs fall significantly below US$100/MWh. We think this is unlikely to happen ahead of 2030."
***
Puerto Rico adds wrinkle to tariff fight: I noticed an interesting filing in the U.S. International Trade Commission docket over potential tariffs on imported panel equipment.
Democratic State Senator Eduardo Bhatia says the tariffs that two financially distressed panel manufacturers are seeking would make it too expensive to use solar to rebuild the island's devastated power grid. The ITC is preparing to offer solar trade policy proposals to the White House in mid-November.
https://www.axios.com/newsletters/axios-generate-3ec47183-0340-4a26-92d7-87deebe9677c.html?chunk=4#story4
On my screen: big electricity deal, EPA chief, Whitefish controversy
Power move: The Wall Street Journal reports that two big power companies, Vistra Energy and Dynegy, are in "advanced talks" to combine and that a deal could arrive as soon as next week.
"Dynegy's market value was $1.2 billion at the start of trading Wednesday. But including debt, the companies combined are worth more than $20 billion as both have enterprise values exceeding $10 billion. Vistra had a market value of $8.4 billion," the paper notes.
Speaking of Vistra: They recently added new outside lobbyists by bringing on the Alpine Group, a newly public filing shows.
Power controversy: "The governor of Puerto Rico is requesting an audit into how a small energy company from Interior Secretary Ryan Zinke's Montana hometown won a multimillion-dollar contract to restore power to Puerto Rico," The Hill reports.
There's more, via CBS News: Whitefish Energy "apologized late Wednesday to San Juan mayor Carmen Yulín Cruz after they sparred over the contract."
EPA chief on the record: Administrator Scott Pruitt chatted with Bloomberg about several things. In one case, he signaled that he's still proceeding with plans for a "red team, blue team" exercise on climate science.
But he's also keeping his distance — for now at least — from a head-on challenge to EPA's formal 2009 endangerment finding that greenhouse gases are a threat to humans.
https://www.axios.com/newsletters/axios-generate-3ec47183-0340-4a26-92d7-87deebe9677c.html?chunk=5#story5
One new, electric sound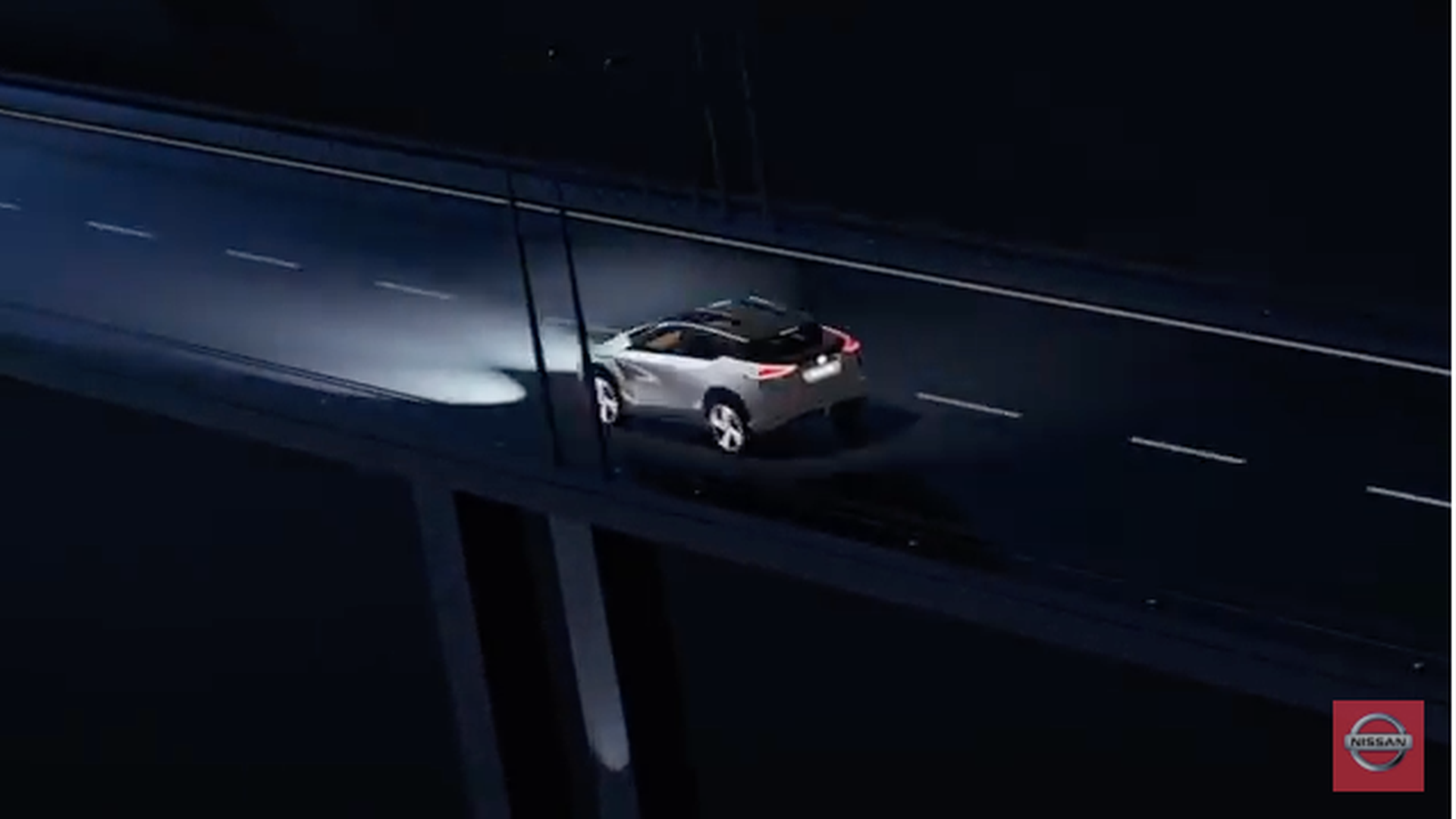 Electric tone: The screenshot above is from Nissan's YouTube page, where they posted a clip with the future sound of their electric vehicles.
Car and Driver's blog has more on it here. "The soothing sound activates between 12 and 19 mph to alert those outside the vehicle that it's in motion. There are specific tones and pitches to distinguish among forward acceleration, braking, and backing up," the magazine notes.