Axios Generate
January 06, 2022
☕️ Good morning, readers. Today's Smart Brevity count is 1,172 words, 4.5 minutes.
🎶 At this moment in 1978, Fleetwood Mac still led the charts with "Rumours," the masterpiece that dominated 1977 and provides today's intro tune...
1 big thing: The fast-evolving EV landscape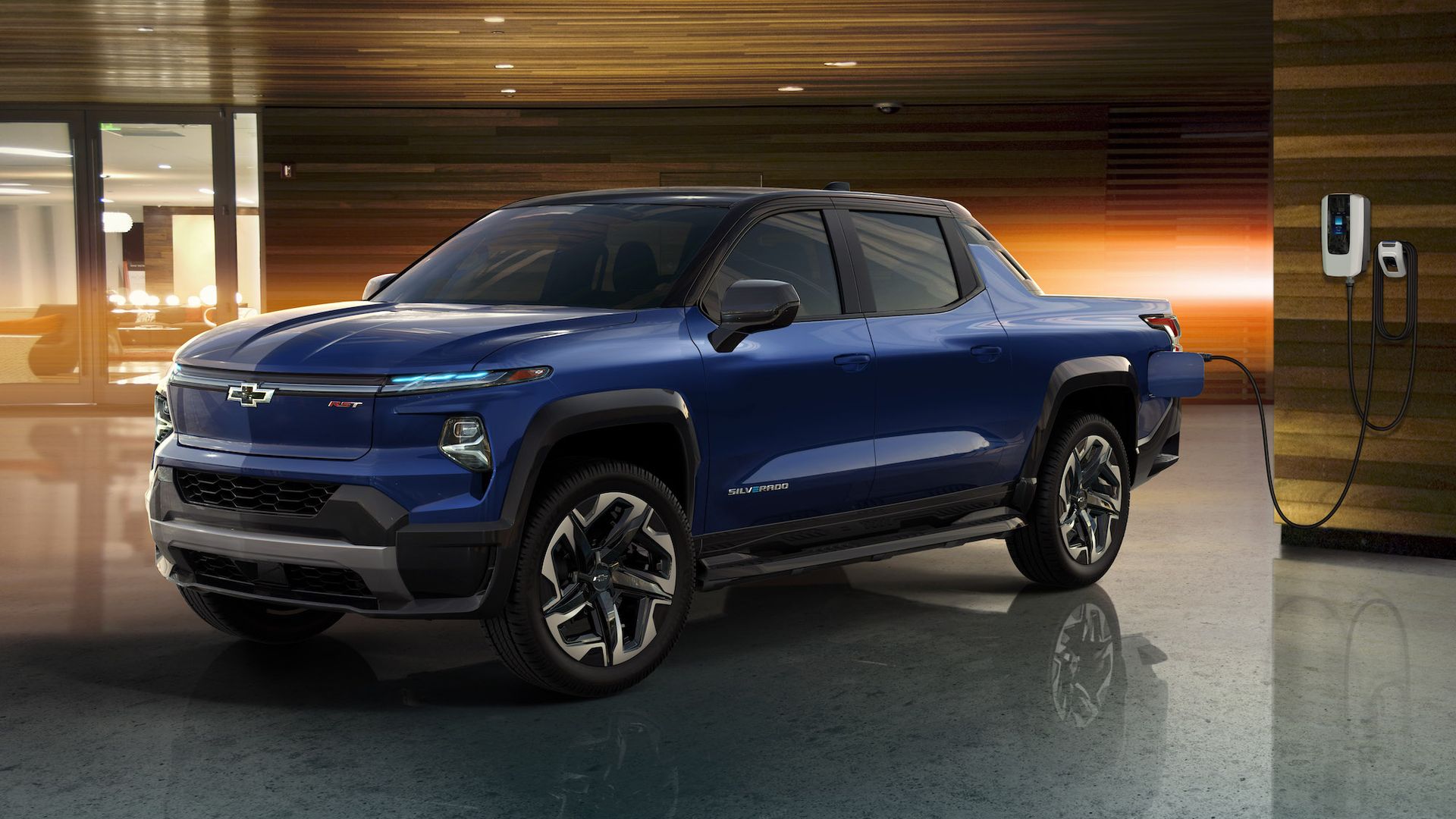 New vehicle rollouts, pledges and data this week offer a snapshot of where the electric vehicle market is today and where it's heading, Ben writes.
Driving the news: The big CES tech show brought several announcements, including:
General Motors took the wraps off the Chevy Silverado pickup, as well as plans for two new electric SUVs: a Chevy Equinox EV starting around $30,000 and a Chevy Blazer, both coming in 2023.
Chrysler, part of the huge Stellantis group, said its whole lineup will be all-electric by 2028 and previewed its direction by unveiling the Airflow, a concept SUV.
Sony, two years after vaguely signaling vehicle plans, offered firmer info: It's creating a business unit called Sony Mobility Inc. to "explore entry into the EV market." Sony also unveiled an SUV concept.
Back to GM: It touted growth of its new BrightDrop commercial delivery van unit, with FedEx ordering another 2,000 vehicles and Walmart becoming the newest customer.
Our thought bubbles: As Axios' Joann Muller noted in our story yesterday, the prominence of pickups and SUVs shows how companies are taking aim at the heart of the U.S. vehicle market.
Remember Ford said this week it's doubling production capacity for its electric F-150 pickup.
Electric pickups and SUVs are a potentially huge market — if consumers can be persuaded to go electric in large numbers. SUVs are approaching half (!) of global auto sales.
My colleague Nathan Bomey, in the Axios Closer newsletter, notes that GM and Ford sold 1.26 million Silverado and F-series pickups in the U.S. in 2021 — 34% more than Tesla's total vehicle sales worldwide.
More via Nathan: GM and Ford are positioned to jolt initial sales by tapping established relationships with fleet buyers, such as businesses and governments, that need a steady flow of new pickups and are eager to cut emissions.
The intrigue: The nexus between big tech and electric vehicles is clearly becoming a thing, but remains uncertain.
Apple's auto plans are a moving target, and overall it's not clear whether tech giants might become car makers themselves.
And here's The Verge on Sony: "[W]hether it intends to join the party as a full-fledged competitor or some form of supplier or partner is what we, and possibly Sony, don't know yet."
By the numbers: A Morgan Stanley note this week says global sales of battery electric vehicles were up nearly 80% year over year in November.
EVs are still a small slice of global sales, but a growing one. "BEV penetration is running at ~16% in [the] EU, 16% in China and ~4% in the U.S.," it notes. Tesla is the global sales leader by a wide margin.
2. Oil is still king with consumers despite EV growth
Most consumers, especially in the U.S., plan to stick with internal combustion tech for their next vehicles, a wide-ranging new survey shows, Ben writes.
Driving the news: Deloitte's annual survey of consumer auto views breaks down preferences by country, showing regional differences but overall that traditional vehicles and to a lesser extent hybrids are the strong favorites.
"Consumers who said they are not considering an EV as their next vehicle cited range anxiety and a lack of public charging infrastructure as their biggest concerns," the survey notes.
Why it matters: EV sales are growing quickly, but the extremely high market penetration sought by many regulators and activists will require major shifts in public confidence.
3. Early data ranks 2021 as Earth's fifth warmest year
The early numbers are in, and 2021 ranks as the fifth warmest year on record, according to the European Union's Copernicus Climate Change Service, Andrew writes.
Why it matters: The ranking signals that the temporary cooling influence of a moderate La Niña event in the tropical Pacific Ocean cannot do much to dampen the influence of human-caused global warming.
Details: The preliminary data from Copernicus confirms projections by U.S. climate agencies such as NOAA, which has forecast that the year is almost certain to rank as the sixth warmest year in its database, which dates back to the late 19th century.
Copernicus' data, based on sophisticated splicing of observations with computer model, goes back to 1979.
As the chart shows, natural variability, such as La Niña episodes and their warmer relatives, known as El Niños, can cause global temperature anomalies to bounce up or down from year to year.
However, the overall trend consists of a relentless, human-driven upward march.
Copernicus has found that 21 of the 22 hottest years have come since the year 2000, while NOAA's records show the world's 10 warmest years have all happened since 2005.
The approximately 1.1°C (1.98°F) of global warming that's taken place since the preindustrial era is already leading to unprecedented extreme weather events, from heat waves to wildfires and more powerful hurricanes.
What's next: The Copernicus data will soon be finalized and joined by information from other global temperature tracking groups.
4. Petro notes: Policy, deals, drilling
Environment: "The Biden administration on Wednesday said more than half of U.S. states intend to apply for a portion of the $4.7 billion carved out in the new infrastructure law for cleaning up abandoned oil and gas wells." (Reuters)
Acquisitions: "Repsol SA has acquired shale oil and gas assets from driller Rockdale Marcellus for $222 million under a bankruptcy sale process." (MarketWatch)
Potential acquisitions: "U.S. oil and gas-focused investment firm Aethon Energy Management is exploring a sale of its acreage in North Louisiana which could be valued at around $6 billion, including debt." (Reuters)
Discoveries: "ExxonMobil said Wednesday that it made two additional oil discoveries off the coast of Guyana as the South American country prepares to become the world's newest major oil producer." (Associated Press)
Litigation: "The vessel hired by Royal Dutch Shell Plc to look for potential oil and gas fields is on course to leave South African waters after community groups won a court case to temporarily halt the activity." (Bloomberg)
5. The U.S. is now the top LNG exporter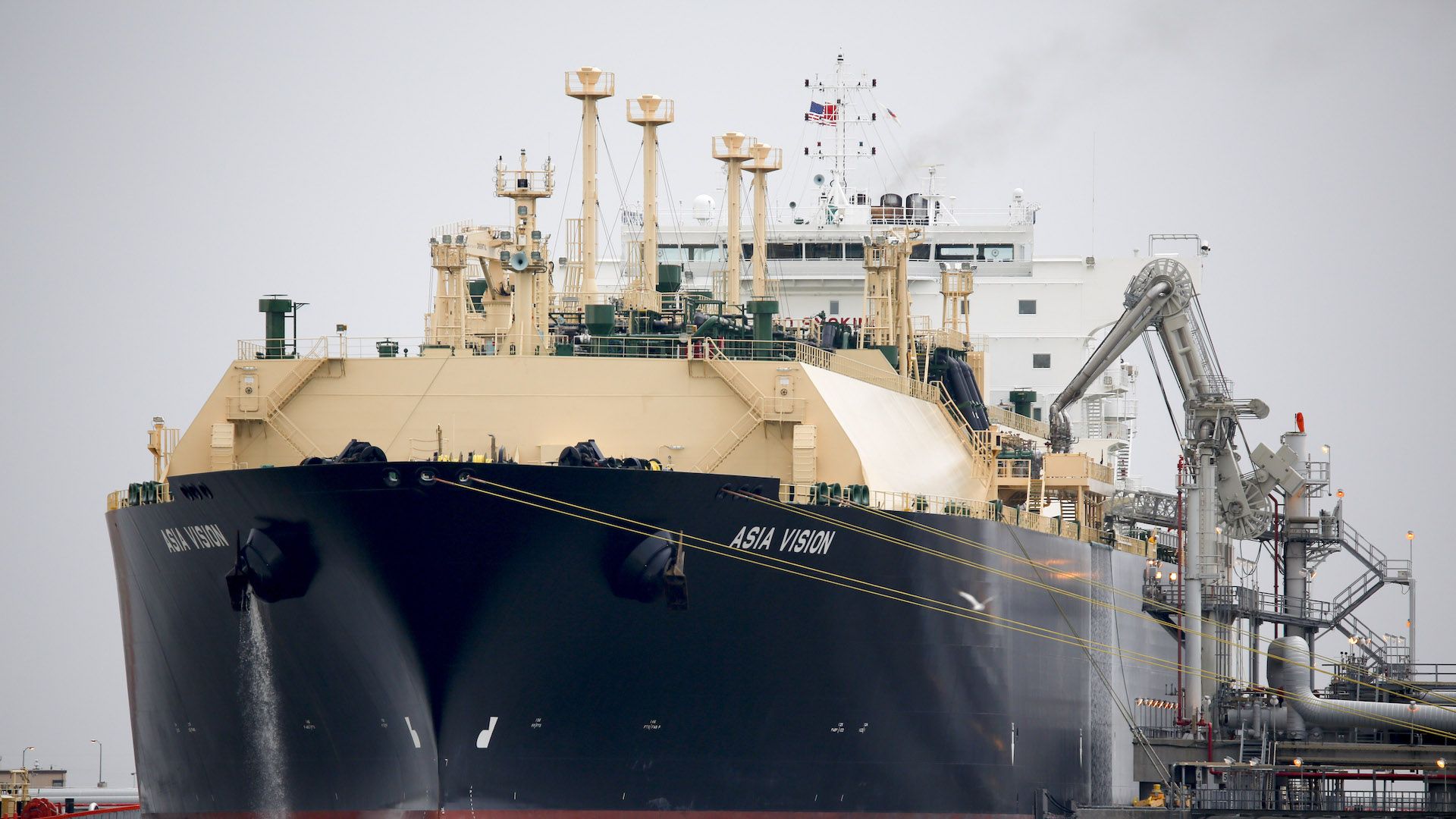 Multiple analysts are reaching the same conclusion: The U.S. has already become the world's largest liquefied natural gas exporter, Ben writes.
Driving the news: "LNG exports from the United States topped 7 million tonnes (7.7 million tons) in December, according to ship-tracking data from ICIS LNG Edge, narrowly edging out rival producers Qatar and Australia for the first time," CNN reports.
Bloomberg's tracking has reached the same conclusion about December output "as deliveries surged to energy-starved Europe."
Overall, Asia has been the top destination for U.S. LNG exports since the industry began taking off in the mid-2010s.
What's next: A new report from the consultancy IHS Markit says the U.S. will be the biggest LNG exporter on a full-year basis in 2022.
"It is a tale of two markets with China fueling the demand surge as the world's top importer and the United States, poised to become the world's leading exporter, providing the supply push," IHS' Michael Stoppard said in a statement alongside the data.
Quick take: It's unlikely the Biden administration will take steps to curtail U.S. exports despite a push from some environmentalists, given the commercial and geostrategic benefits of the boom.