Axios Generate
December 14, 2021
🥞 Good morning! Today's Smart Brevity count is 1,358 words, 5.5 minutes.
🌤️ Situational awareness: Supply chain woes and trade policy uncertainty are cutting 25% off 2022's projected U.S. solar growth. CNBC has more.
🎶 At this moment in 1972, the soul singer Billy Paul was atop the Billboard charts with today's intro tune...
1 big thing: Businesses face mounting flood risks
A groundbreaking report finds that businesses in the U.S. could lose more than 3.1 million days of operation next year due to increasing flood risks from human-caused global warming. This total may grow to 4 million days by 2051, the report predicts, warning of ripple effects throughout local economies, Andrew writes.
Previous reports had looked at residential and critical infrastructure exposure. This is the first detailed report examining commercial real estate's increasing vulnerability.
Why it matters: The report, from the nonprofit First Street Foundation and commercial engineering firm Arup, examines the damage, downtime and economic toll from growing flood risks to over 3.6 million commercial retail, office and multi-unit residential properties in the Lower 48 states.
Details: Some of the findings are surprising, showing high vulnerability in cities not normally associated with floods, such as Pittsburgh.
The report also drives home the increased costs, both in time and money, of flooding during the next few decades as sea levels rise and heavy precipitation events aggravate inland flooding.
According to the report, today there are 729,999 retail, office and multi-unit residential properties that face at least a 1% chance of flood damage in the Lower 48. The structural damage tied to these risks is expected to be about $13.5 billion next year, growing by 25% by 2052, to more than $16.9 billion, the report found.
When buildings incur severe structural damage, businesses are forced to close and residents to relocate while repairs are made.
The economic impact of operational time loss is projected to increase from about $27 billion in lost output and $23 billion in indirect impacts to metropolitan areas and states to $34 billion in operational time losses by 2052. The indirect losses by 2052 could total $29.1 billion, the report found.
Between the lines: The report comes as large banks and businesses are under increasing pressure to quantify their climate risk exposure, including what may be embedded within their real estate holdings.
What they're saying: "American businesses and local economies face much more uncertainty and unpredictability when it comes to the potential impact of flooding on their bottom line than they may realize," said First Street Foundation founder and executive director Matthew Eby in a statement.
Bonus: Geography of flood damage shifts to the Gulf
This map, from the report by the First Street Foundation and Arup, shows the increasing concentration of flood risk along the Gulf Coast during the next few decades.
2. Omicron won't reverse oil demand recovery — IEA
The International Energy Agency said that rising COVID cases are likely to "temporarily slow, but not upend" the global oil demand recovery, Ben writes.
Driving the news: The agency's closely watched monthly analysis this morning slightly cut demand growth estimates for this year and 2022, but overall said:
"New containment measures put in place to halt the spread of the virus are likely to have a more muted impact on the economy versus previous COVID waves, not least because of widespread vaccination campaigns."
By the numbers: The IEA now sees global demand this year at 5.4 million barrels per day (mbd) above 2020's COVID-battered levels, and rising another 3.3 mbd next year to reach pre-pandemic levels.
Both tallies are 100,000 barrels per day less than prior projections.
The big picture: Overall, IEA continues to see a softening supply-demand balance heading into next year as production growth comes from the U.S., Canada, Brazil and OPEC+.
The WSJ has more.
3. Amazon funds two climate tech firms as a third gains ground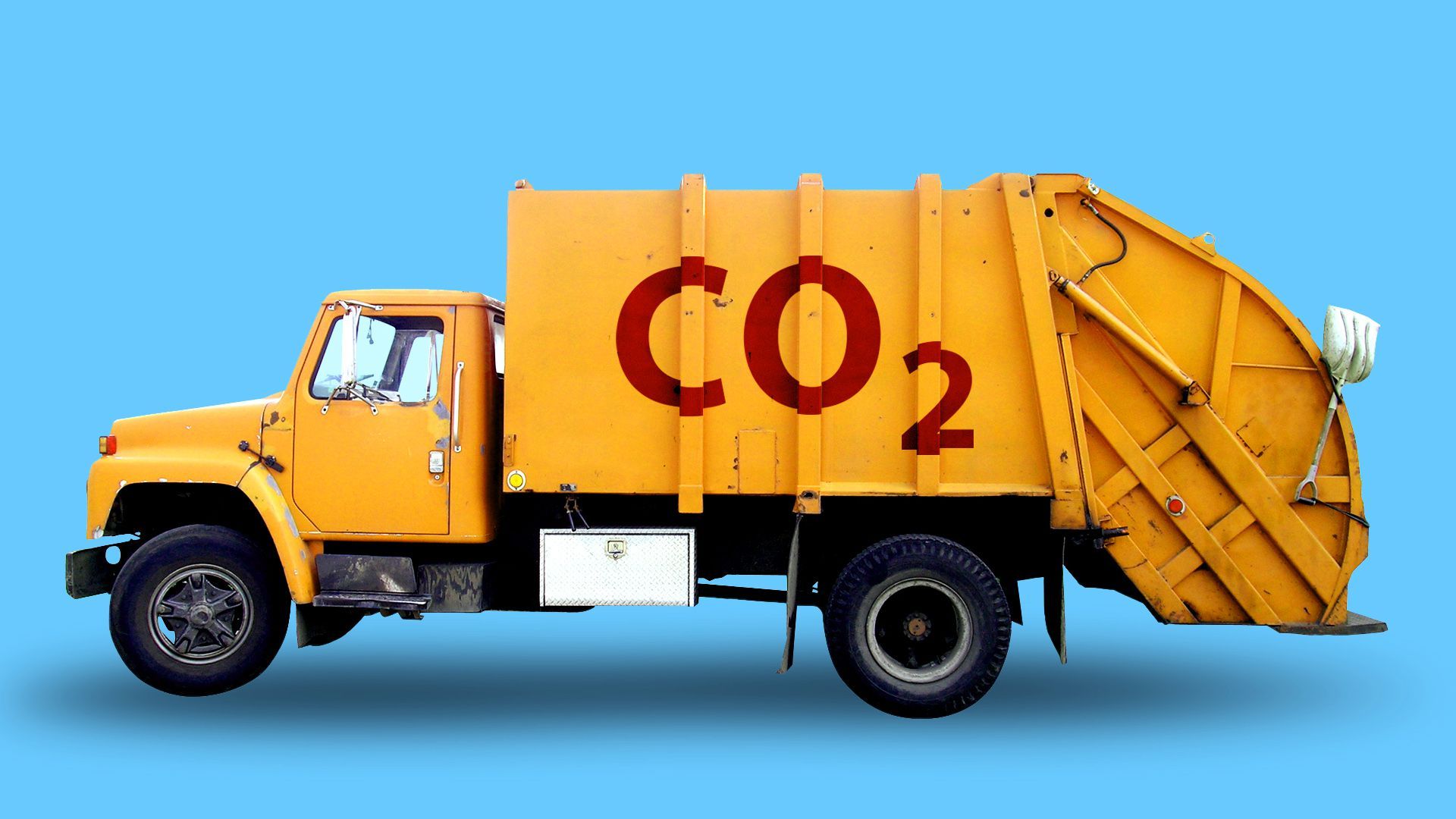 The Amazon Climate Pledge Fund announced investments in two new companies today, both as Series A funding rounds made alongside other investors, Andrew writes.
Driving the news: The larger Series A round totals just under $20 million for Brooklyn-based Amogy, a company that aims to decarbonize transportation, starting with marine shipping.
Company co-founder and CEO Seonghoon Woo told Axios its mission is to use energy-dense liquid ammonia for producing zero-emissions vessels, as marine shipping is one of the hardest sectors to convert from fossil fuels.
The firm's technology uses compact reactor technology to convert liquid ammonia into hydrogen components to generate power.
"We view ammonia as part of the broader hydrogen economy. And the hydrogen economy is something that is of great interest to us," Matt Peterson, head of the $2 billion Amazon Climate Pledge Fund, told Axios, noting hydrogen's potential for cleaning up long-haul trucking and potentially aviation.
Separately, the Amazon Pledge Fund also invested in Hippo Harvest, a California agriculture company that seeks to slash emissions and waste from produce farming by using plant science, machine learning and robotics.
The company boasts that its greenhouse system uses up to 95% less water than traditional farming techniques while moving food production closer to consumers.
This is the Amazon fund's first agriculture investment, and other funders in this $11 million round include Congruent Ventures, Energy Impact Partners and Collaborative Fund.
Meanwhile: Sweep, a French carbon management company that helps large businesses reach their emissions reduction goals using a data-driven platform, announced a $22 million Series A round, led by Balderton Capital.
Rachel Delacour, CEO and co-founder of Sweep, tells Axios the company works to give customers a 360-degree view of their emissions, including what is embedded throughout their supply chain and the end-use of their products (Scope 3 emissions), to enable them to turn their pledges into actions.
4. Three loud climate warning signals
This week is bringing several fresh signals of a warming planet and the deepening perils that come alongside higher temperatures, Ben writes.
Driving the news: This year is a lock (at least 99% chance) to rank among the 10 hottest in temperature records that date back to 1880, the National Oceanic and Atmospheric Administration (NOAA) said.
2021 has at least a 95% chance to rank as the sixth-warmest year.
The average surface temperature in January-November was 0.84°C (1.51°F) above the 20th-century average, the sixth-warmest such period on record, NOAA said. November alone was the fourth-warmest.
The big picture: Every year in the top 10 has occurred this century, and the top five have all been in 2015 or later.
Threat level: The latest temperature data arrived as scientists presented alarming new findings about the stability of a critical Antarctic floating ice shelf that helps prevent a massive glacier from sliding into the sea.
Researchers have discovered new fractures in the Thwaites Eastern Ice Shelf, which acts like a cork in a wine bottle, buttressing the melting Thwaites Glacier. Thwaites already contributes up to 4% of the annual global sea-level rise.
Why it matters: The findings, gained from on-site observations and unveiled at a scientific conference in New Orleans, suggest the ice shelf could break up in as little as five years, allowing inland ice to flow faster into the sea.
By the numbers: Finally, the World Meteorological Organization (WMO) on Monday formally recognized a new Arctic temperature record: 38°C (100.4°F) in the Russian town of Verkhoyansk reached on June 20, 2020.
The record is one of a series that "sound the alarm bells about our changing climate," said WMO Secretary-General Petteri Taalas.
5. Kerry nods toward post-COP26 summit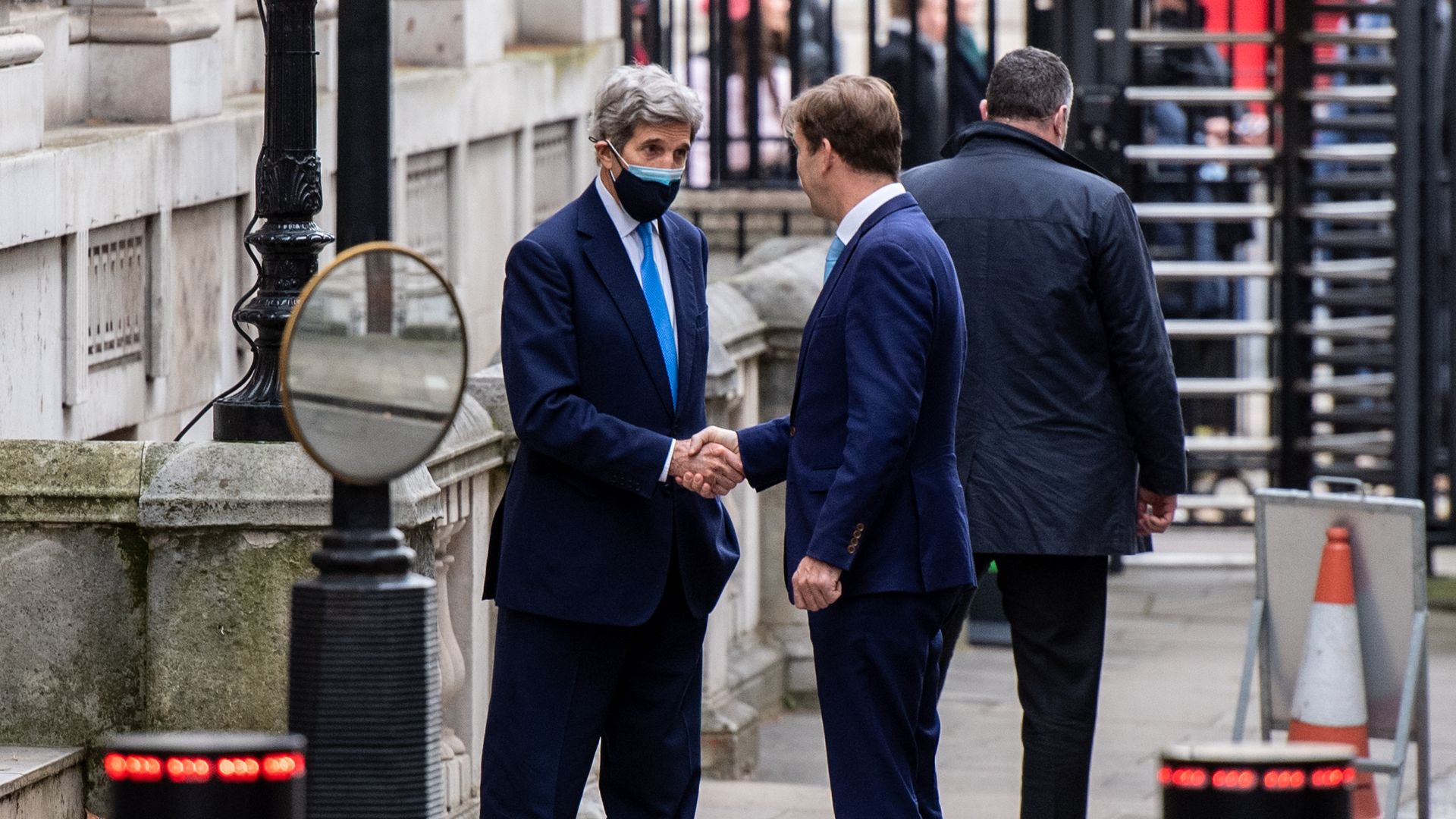 John Kerry, the U.S. climate envoy, offered a hint about plans for a multilateral meeting this spring aimed at accelerating emissions-cutting efforts, Ben writes.
Driving the news: "In April next year, we're going to be having a summit on the subject of increased mitigation," Kerry tells Euractiv.
He didn't offer details, but it followed remarks about efforts via the U.S.-led Major Economies Forum on Energy and Climate.
A State Department official confirmed discussions but also did not provide details.
Why it matters: The big United Nations climate summit last month brought a wealth of new nonbinding commitments.
The big question is what concrete steps nations are taking to transform them into tangible policy.
6. EV moves: Toyota lineup and a big lithium bet
Toyota: Japanese automaker Toyota Motor Corp. is beefing up its electric vehicle lineup and investments, seeking to offer 30 new fully electric models by 2030, its president, Akio Toyoda, said Tuesday. (AP)
Lithium plant: A $790 million new European lithium processing plant is planned as a joint venture between Northvolt and Galp Energia, to meet rising demand for lithium-ion batteries for electric vehicles. (Reuters)
Bonus: On our screens
The New York Times Opinion section is out with an ambitious multimedia project that depicts how climate change is affecting every country in the world.
Thanks for reading! You can subscribe to Generate and any of our other free national and local newsletters, and keep up with the day's news on our site.