June 05, 2020
Good morning. Today's Smart Brevity count: 1,413 words, 5.5 minutes.
Worthy of your time: Today at 12:30pm ET, Axios editors are hosting "An Epidemic of Inequality," a live virtual event about the impact of the Black Lives Matter movement.
They'll talk with Rep. Bobby Rush (D-Ill.), St. Paul Mayor Melvin Carter, Rochester Mayor Lovely Warren, and NAACP president and CEO Derrick Johnson.
🎤 Finally, this weekend brings the birthday of the late and brilliant Prince, so he's got today's very relevant intro tune...
1 big thing: The emergency era of environmental policy
Welcome to the crisis era of energy and environmental policymaking.
Driving the news: A new White House executive order, citing COVID-19, invokes emergency powers to accelerate and even waive some environmental reviews of infrastructure and energy projects.
The order yesterday said the initiative is needed for economic recovery from the pandemic. It's aimed at speeding up mines, pipelines, highways and more, per the Washington Post.
"Unnecessary regulatory delays will deny our citizens opportunities for jobs and economic security, keeping millions of Americans out of work and hindering our economic recovery from the national emergency," the order states.
Invoking the pandemic emergency adds a new rationale to longstanding White House efforts to ease restrictions on energy projects.
But, but, but: President Trump is not alone in calling for use of emergency powers in environmental and energy policymaking.
Outside climate advisers to the Democratic National Committee yesterday released a wide-ranging set of recommendations.
One of them is that the next president should declare a "national climate emergency" under the National Emergencies Act to unlock "key statutory powers" to enable aggressive emissions-cutting steps.
It's unknown which recommendations will make it into the formal DNC platform, but idea has already been in the bloodstream on the left.
For instance, Bernie Sanders' climate platform called for using emergency powers. Joe Biden's plan calls climate change an emergency, but stops short of invoking emergency statutes and powers.
What we're watching: Whether Trump's move made it more likely that a subsequent president could invoke emergency powers to push climate initiatives.
What's next: A more concrete movement is already underway to stitch low-carbon energy measures into economic recovery legislation in response to the COVID-19 crisis — an idea Biden has endorsed.
Senate Minority Leader Chuck Schumer this week issued a full-throated statement of support for the idea in response to this letter from a bunch of House and Senate Democrats.
There's precedent here. The 2009 economic stimulus package contained roughly $90 billion worth of low-carbon energy and transportation provisions.
* * *
Getting back to Trump's order, one question is whether companies might be wary of taking advantage of project approvals issued under it.
"We believe opponents of the Administration's actions can and are likely to challenge permits issued under the emergency authorities provided by the June 4, 2020 EO," ClearView Energy Partners said in a note.
However, they add that the administration's "project-by-project approach" signals that opponents would need to litigate approvals individually, a slow process.
The big picture: Via the Washington Examiner, "According to legal experts, the federal government can waive environmental regulations during an emergency, but it's primarily been used in the past for physical reasons rather than economic ones."
2. Charting Big Oil's renewable investments
Axios' Amy Harder reports ... European oil companies, led by Equinor and Royal Dutch Shell, are investing the most in solar and wind projects, according to new data from consultancy Rystad Energy.
Why it matters: Scrutinizing the actual size of renewable investments by Big Oil companies reveals the degree to which they're serious about evolving into broader energy players as the world seeks to tackle climate change and shift to cleaner energy.
Driving the news:
Equinor, which is making huge investments in offshore wind, makes up the lion's share of the investments over the next five years ($10 billion out of $18 billion).
Shell ramps up its investments in the latter half of this decade.
BP, which has been an early mover in this space, has far fewer specific investments in the pipeline compared to its counterparts.
American companies' absence in the chart reflects the fact that they invest next to nothing in wind and solar.
How it works: Rystad's analysis considers solar and wind investments announced before June 1, and those that can be "pinpointed to specific projects," according to a statement accompanying the research.
The firm didn't include funds dedicated to renewable energy targets, for example, due to the uncertainty of them playing out.
What they're saying: "Recent suggestions of 'resilient green strategies' or 'business as usual' simply do not carry much weight, with the exception of Equinor," Rystad product manager for renewables Gero Farruggio says.
"Not until later in the decade do we see an increase in renewable spending from other companies."
The bottom line: The world's biggest oil and gas companies are expected to invest more than $18 billion in solar and wind over the next five years, but that number pales in comparison to the $166 billion they are planning to spend on new oil and gas projects, per Rystad.
3. Electric delivery vans are having a moment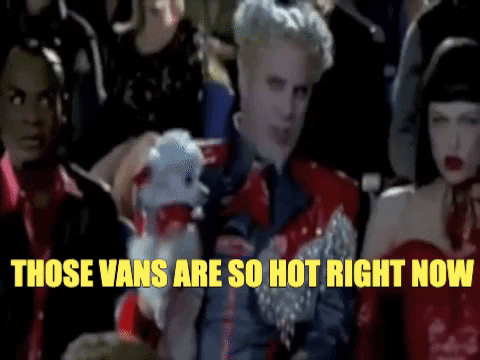 Commercial vans are emerging as a key growth area for electrification.
Driving the news: Reuters reports in an important story that "General Motors Co. is developing an electric van aimed at business users, joining a growing list of carmakers planning EVs for the same segment which includes customers such as Amazon.com Inc. and United Parcel Service Inc."
The Reuters piece — based on anonymous sources but not denied by GM — shows how a powerful legacy automaker wants in on the action.
The intrigue: The fledgeling battery-powered van market, like other EV segments, includes both startups and giant automakers.
Amazon, in late 2019, vowed to buy 100,000 electric delivery vehicles from the startup Rivian and hopes to have 10,000 operating as soon as 2022.
Ford announced in March that it's developing an electric version of its Ford Transit cargo van.
UPS is planning to buy at least 10,000 electric vans from the U.K. startup Arrival.
What they're saying: Morgan Stanley analysts called electric vans "America's hottest new vehicle" in a research note yesterday that says there's a good business case.
"Delivery vans have highly predictable routes, conduct high-value services, operate a high utilization and generally stay within a specific geographic area … all of which fits well with EV infrastructure and charging ecosystems which enable their full economic use," they write.
4. Oil climbs on word of OPEC deal and jobs
Crude oil prices rose today as word emerged of OPEC+ agreeing to continue their current production cuts by one month rather than allowing them to shrink, and far better-than-expected U.S. jobs numbers were released.
Driving the news: "OPEC+ is set to extend production cuts to prop up the oil market after a breakthrough in high-stakes negotiations, with the alliance meeting on Saturday to sign off on the deal," Bloomberg reports.
Under the tentative plan, the 9.7 million barrel per day cut will extend through July, rather than dropping to 7.7 million barrels at the end of June as initially envisioned under the long-term deal in April, they report.
Plus, the U.S. unemployment rate fell to 13.3% in May, with 2.5 million jobs gained, the government said on Friday.
What they're saying: "With people leaving their houses, returning to work — maybe even avoiding public transport in favour of the car — and borders reopening, record supply cuts won't have to last much longer to sustain these prices, even if another month is agreed this weekend," Oanda analyst Craig Erlam said in a note.
Where it stands: This morning, Brent crude was trading around $41.88 and WTI at $38.89.
5. The march of global CO2 concentrations
Last month brought the highest level of atmospheric CO2 concentrations ever recorded at 417 parts per million, per new data from the National Oceanic and Atmospheric Administration.
Why it matters: Measurements at the Mauna Loa Observatory in Hawaii show that while emissions have recently fallen due to the pandemic, it's not something that really changes the overall picture of ongoing buildup.
What they're saying: "[T]he buildup of CO2 is a bit like trash in a landfill. As we keep emitting, it keeps piling up," said geochemist Ralph Keeling of Scripps Institution of Oceanography in a statement alongside the data.
"The crisis has slowed emissions, but not enough to show up perceptibly at Mauna Loa. What will matter much more is the trajectory we take coming out of this situation," he said.
Go deeper: Heat-trapping carbon dioxide in air hits new record high (AP)
6. Following up: Biden and environmental justice
Earlier in the week we explored the environmental dimensions of the crisis over policing and systemic racism — and wondered how it might influence the presidential race.
What's new: Biden spoke on the topic at a virtual fundraiser yesterday hosted by, among others, billionaire climate activist Tom Steyer.
Here are excerpts from the pooled coverage by BuzzFeed's Nidhi Prakash...
He talked about addressing the climate crisis being tied to racial justice because low-income people and people of color disproportionately deal with the fallout of climate change.
Biden said addressing climate change is urgent "not just to stop the earth from warming, but to address the environmental injustices that have left so many low-income people and people of color more vulnerable to the coronavirus, to asthma and other respiratory problems, the effects of pollution," as well as being more vulnerable to problems like flooding and failing infrastructure, he said.