Axios Generate
October 11, 2021
☕ Good morning. Today's Smart Brevity count is 1,298 words, 5 minutes.
📊 Data point of the day: 300+, the # of coal-fired power plants slated to come online over 5 years, per an IEA-World Bank op-ed on moving away from coal.
🛢️ Situational awareness: U.S. crude oil prices reached fresh 7-year highs above $81-per-barrel this morning. Read more
ICYMI: Pope Francis is no longer slated to attend the UN climate summit. Go deeper
🎶 And happy birthday to Daryl Hall of Hall & Oates, who has today's intro tune...
1 big thing: Pondering Biden's Plan(et) B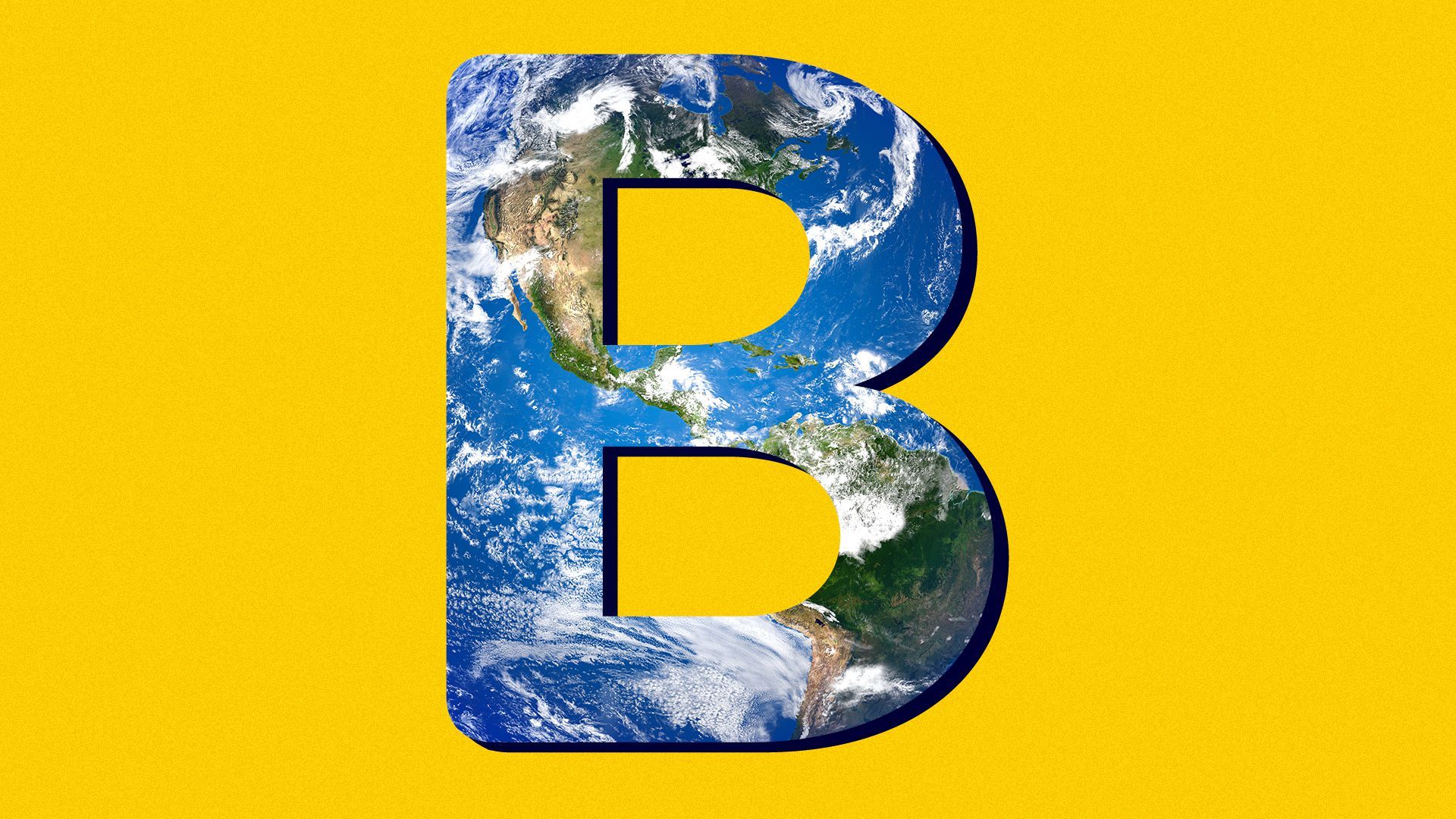 Plan A for the White House is walking into the UN climate summit in Glasgow with a huge new emissions-cutting law from Congress. Plan B is more complicated, Ben writes.
The big picture: It's anyone's guess whether Democrats' reconciliation plan will pass before the summit starts on Halloween, and if so, whether huge climate investments will be intact.
The same goes for the bipartisan infrastructure plan, which has smaller, but still significant, climate measures.
Why it matters: As the window narrows fast to keep warming within the Paris Agreement targets, getting other nations on board with aggressive efforts is tougher if President Biden's legislative agenda is stuck.
What we're watching: What's plan B?
A White House aide said there's "a number of paths to meeting our emission goals and targets," adding the agenda "doesn't hinge on reconciliation or the infrastructure package alone."
Biden's pledge under the Paris Agreement is a 50%-52% cut in U.S. emissions below 2005 levels by 2030.
Here's how the White House, if needed, will likely argue its pledge has teeth without Congress:
Regulations: EPA recently completed rules to phase down the use of powerful greenhouse gases called hydrofluorocarbons. And many other regulations are in the offing around vehicle emissions, methane, appliances and more.
Breadth: Beyond binding rules, Biden officials this year have rolled out an array of programs. Think new targets and approvals for offshore wind development and reviving the Energy Department's loan guarantee program, to name just two.
Persuasion: The administration has been pushing the private sector and other nations on several fronts with domestic and global emissions ramifications, such as banks' sustainable lending practices. For instance, it has lined up pledges to ramp up electric sales and, per Bloomberg, is crafting a new heavy industry coalition.
The intrigue: We're watching for new moves before the summit. A strategy document on meeting the 2030 target is expected this year at some point. There's also the possibility of a congressional deal during the two-week summit.
And who knows, maybe a wild card's in the offing. Some legislators and activists want the White House to declare a climate "emergency" that frees up new federal powers.
Reality check: Executive moves are not a substitute for the scope of measures in the Democrats' plans, such as hundreds of billions in new clean power and EV incentives and major new finance for utilities to get greener.
The bottom line: Tufts University climate expert Rachel Kyte tells the New York Times that if the bills don't pass, the U.S. will roll into the Glasgow summit with "fine words" but "not much else."
Says Kyte, dean of the Fletcher School and a UN adviser, doesn't mince words about the fallout at the summit if the legislation flops: "The whole world is watching."
2. America's critical infrastructure flood problem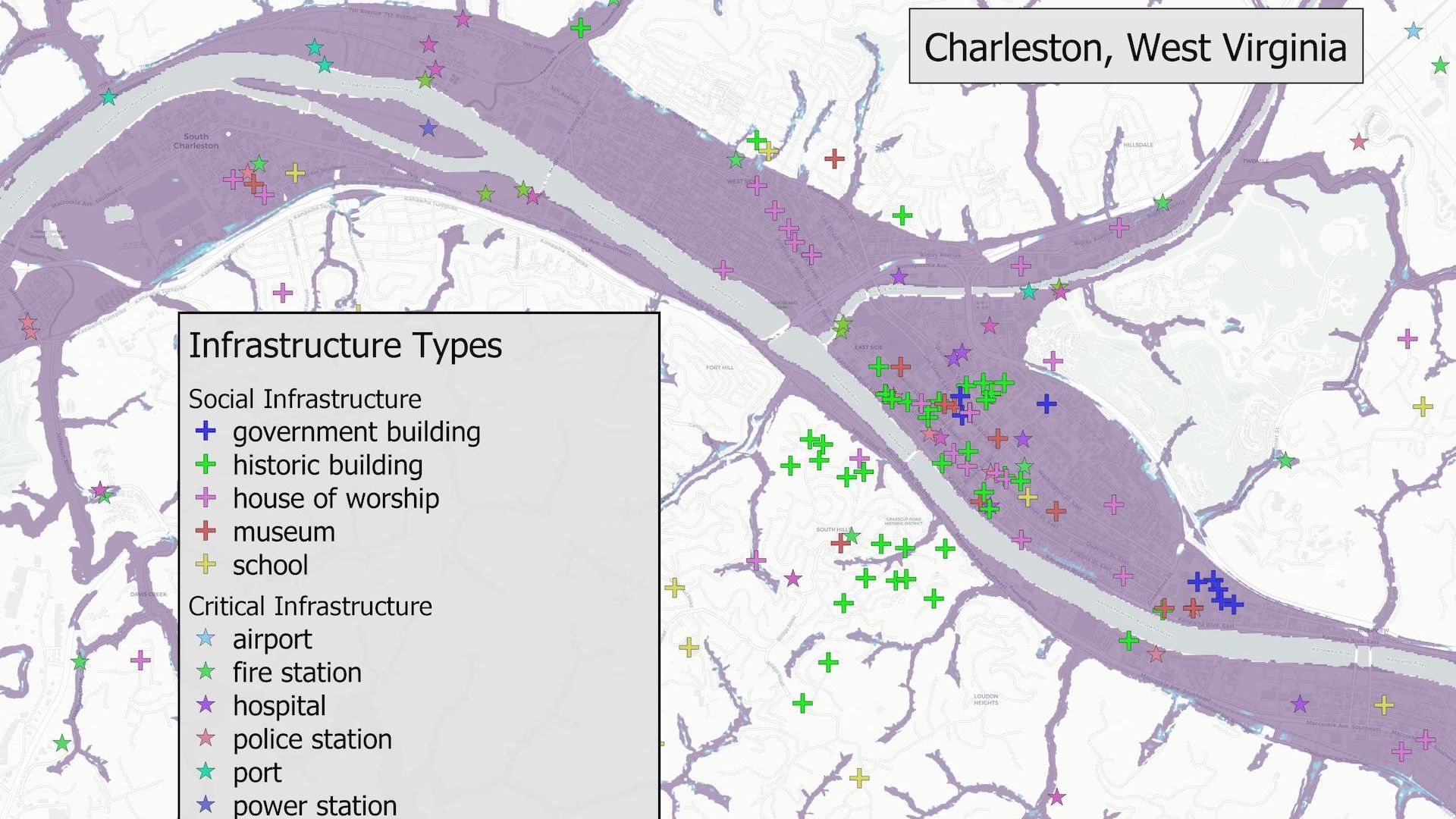 About 25%, or 1 in 4 units of critical infrastructure, such as police stations, airports and hospitals, are at risk of being rendered inoperable due to flooding, a comprehensive new report finds, Andrew writes.
Climate change is already heightening such risks, the report says.
Why it matters: The new national inventory of flood risk during the next 30 years, which takes into account climate change-driven increases in sea levels and heavy precipitation events, is the first of its kind.
The report, from the First Street Foundation, a nonprofit flood research and communications group, presents a stark warning — the U.S. isn't ready for the climate of today, let alone the extreme weather and climate events coming in the next few decades.
Specifically, during the next 30 years as the climate continues to warm, the flood risk situation will grow more dire, the report warns.
By the numbers: Consider these aggregate statistics from the national resilience report:
About 2 million miles of road are already at risk of becoming "impassable" due to flooding.
Nearly a million commercial properties, including 17% of all social infrastructure facilities such as museums, and 12.4 million residential properties also have "operational risk," per First Street.
Over the next 30 years, the typical lifetime of a home mortgage, about 1.2 million residential properties, and 2,000 pieces of critical infrastructure (airports, hospitals, fire stations, hazardous waste sites and power plants) will also be at risk of becoming inoperable due to flooding from sea level rise and heavy rainfall, the report finds.
The communities most at risk are located in Louisiana, Florida, Kentucky and West Virginia.
Go deeper: Hospitals overhaul climate prep after a relentless year of damages
3. New in pledges: Big Oil, methane, banking
Chevron this morning unveiled an "aspiration" to become a net-zero emissions company by 2050, Ben writes.
Why it matters: While several European majors have these long-term goals, to date U.S.-based behemoths Exxon and Chevron have resisted such pledges.
How it works: The commitment covers Chevron's projects and energy use but does not cover Scope 3 emissions — that is, CO2 from the use of a company's products, like gasoline, in the wider economy. Scope 3 is the largest share of industry CO2 output.
Yes, but: However, Chevron is including Scope 3 in an updated, nearer-term pledge to cut intensity — that is, emissions per unit of output.
Reuters has more.
Breaking Monday, part 2: A whole bunch of countries this morning said they're joining a nonbinding pledge to cut emissions of the potent greenhouse gas methane by 30% by 2030.
The 24 new signatories to the pledge include Japan, Nigeria and Canada, per the State Department. It was first unveiled last month by the U.S., EU and several others including Iraq.
Catch up fast: "JPMorgan Chase & Co. signed a pledge to align its lending and investment portfolios with net-zero emissions by 2050, joining more than 40 rival financial firms in the Net-Zero Banking Alliance." (Bloomberg)
4. Shale oil's upward march
U.S. oil companies are deploying more drilling rigs, but domestic production remains far from its pre-pandemic highs, Ben writes.
Driving the news: The number of active U.S. oil rigs increased again last week to reach 433, per the latest tally by the oilfield services firm Baker Hughes Friday.
The big picture: The research firm BloombergNEF sees total shale production expanding at a "modest rate" over the next 18 months, per Bloomberg.
"Producers are using cash flow to pay down debt and reward shareholders rather than invest in new drilling," it reported last week.
U.S. production reached a record of near 13 million barrels per day (mbd) before the pandemic and then cratered by up to 3 mbd when demand collapsed before growth resumed.
What we're watching: How much the current price surge changes the equation.
The BloombergNEF report sees production reaching 12.1 mbd at the end of 2022, but 12.4 mbd if the U.S. averages $80 per barrel through 2022, and right now they've climbed above that price.
5. A new plan to boost community solar
The Energy Department is launching new efforts to boost "community solar" — a form of development that provides access to people ill-equipped to install rooftop systems, Ben writes.
Driving the news: DOE just launched the "National Community Solar Partnership (NCSP)," which brings together the agency, developers, local and state governments and more.
The goal is enough community solar development to power 5 million households by 2025.
How it works: Community solar helps provide renewables to people who can't install panels because they live in multi-unit buildings, aren't homeowners or lack the resources.
Multiple customers subscribe to power from a solar project — typically in the same region — and receive credits on their power bills.
It's a small part of overall nationwide solar deployment, but it has been growing significantly (see chart above) and attracting new capital. There's currently enough to power 600,000 households, per DOE.
What's next: The NCSP provides technical assistance (such as project financing analysis), networking, case studies, research and more.
It has provided $1 million in technical assistance and plans to provide another $2 million in the next year, DOE said.