Greetings from Anaheim, where I'm set to interview top executives in wind energy on Tuesday during the American Wind Energy Association's annual conference here. Are you here, or know anyone here and want us to meet up? Reach me at amy@axios.com.
My latest Harder Line column published this morning, How the GOP is going green, is partly in response to some reaction I received from my column a couple weeks ago, Washington's broke climate debate. It includes some exclusive details showing how the conservative movement on climate change is (slowly) picking up steam.
After my column, I'm going to hand things back to Ben to get you up to speed back in Washington on all the latest news. Let's get to it . . .
How the GOP is slowly going green
Conservatives are slowly coming around on climate change.
Over the past few years, more than a half-dozen organizations have popped up pushing conservative climate-change and clean-energy policies. And, if you look at the number of GOP members on the bipartisan Climate Solutions Caucus, it is steadily rising towards almost 10 percent of the House Republicans.
Why it matters: Since 2010, climate change has been an issue unilaterally pushed by the Democratic Party, but for any climate and energy policy to pass Congress, it must also get support from within the GOP ranks.
The changes among Republicans are small, but represent a sea change from a few years ago when under pressure from conservative interest groups and Tea Party activism, most Republicans denied the scientific consensus that human activity is driving up the Earth's temperature.
Click here for more on the evidence of the changes afoot.
It's so on, OPEC edition
The big thing in oil markets this week is OPEC's May 25 meeting in Vienna to decide the future of the production-limiting deal between the cartel and a number of other producers, including Russia.
Why it matters: The six-month deal to jointly pull 1.8 million barrels per day from the market that began early this year is credited with at least helping to put a floor under oil prices.
The top energy official for Saudi Arabia, OPEC's dominant producer, made widely circulated remarks over the weekend stating that there's widespread support for extending the deal for nine months.
"We think we have everybody on board," Saudi energy minister Khalid Al-Falih told Bloomberg, adding, "Everybody I've talked to indicated that nine months was a wise decision."
Wild card: The energy consulting firm IHS Markit, in a note setting the table for the meeting, cautioned that predictions are only that.
"When it comes to decision-making at OPEC meetings, history suggests it is best not to rule out unusual or even startling results, no matter how unlikely they may seem," writes Bhushan Bahree, one of their top analysts.
He says these two market-rattling possibilities are "not very likely" but can't be entirely ruled out: an agreement for even deeper cuts and a complete collapse of talks.
The future:
One veteran oil analyst tells Axios that one long-term thing he's watching is whether OPEC truly has a strategy to deal with the U.S. shale boom.
The big moment for the Pro-Paris movement
Donald Trump's first foreign trip as U.S. president could be critical in deciding whether the U.S. abandons the Paris climate change accord.
Foreign leaders are expected to make the pro-Paris case during European legs of his trip this week, especially at the G-7 heads of state meeting on May 26-27 in Sicily.
Climate change is also likely to surface when Trump meets with Pope Francis, who has elevated the Vatican's focus on climate, on Wednesday.
Why it matters: The Trump administration, which is internally divided on its Paris stance, recently delayed a decision about its plans until after the G-7 meeting, though a specific timeline is unknown.
Quotable: Among huge fossil fuel companies, the most outspoken Paris proponent has been Royal Dutch Shell CEO Ben van Beurden. The Financial Times posted a new interview with him this morning that makes the case on business grounds in fairly stark terms.
"With the US being the largest investment destination for a company like Shell, yes, I think I would regret having a lot of business here that potentially could be at a disadvantage because of [the] implications of that decision to pull out of Paris," he said.
Big in Washington this week
The White House will unveil its first full budget proposal on Tuesday, adding details to the outline released in March that floated steep cuts to environmental and energy agencies.
Why it matters: While White House budgets are just a wish list, it lays down a marker in negotiations with Congress.
Flashback: As Amy reported here and here, the draft plan is slated to seek huge funding reductions in Energy Department renewables and efficiency programs, as well as big cuts in nuclear and fossil energy offices.
Nominations: On Thursday, the Senate Energy and Natural Resources Committee will hear from two Trump nominees for the Federal Energy Regulatory Commission as well as his choice for the number two slot at the Energy Department.
On my screen
Batteries: Bloomberg looks at plans for several new major battery factories in Europe to help meet growing demand for electric vehicles and energy storage.
Oil: The Wall Street Journal has a deep dive into the diverging oil industry and analysts' projections about when global crude demand will peak, noting that "Calling it accurately is high stakes for an industry sitting on trillions of dollars of crude-oil reserves."
Some companies see a peak as soon as 2025-2030, while other companies and the International Energy Agency believe it won't arrive until 2040 at the earliest.
"Whenever it finally does happen, the tipping point from global oil-demand growth to decline will reverberate through the energy world, knocking down oil prices and some companies' shareholders," the paper notes.
Lobbying: Planetary Resources, a company exploring the concept of asteroid mining, has added M & W Government Affairs to its stable of of outside lobbyists.
According to a disclosure filing, M & W may lobby on topics including: "Use of space resources; identification, tracking, and interaction with asteroids," as well as appropriations and "study of applications for satellites to promote crop management and prevent crop loss."
One silly (and unrelated) thing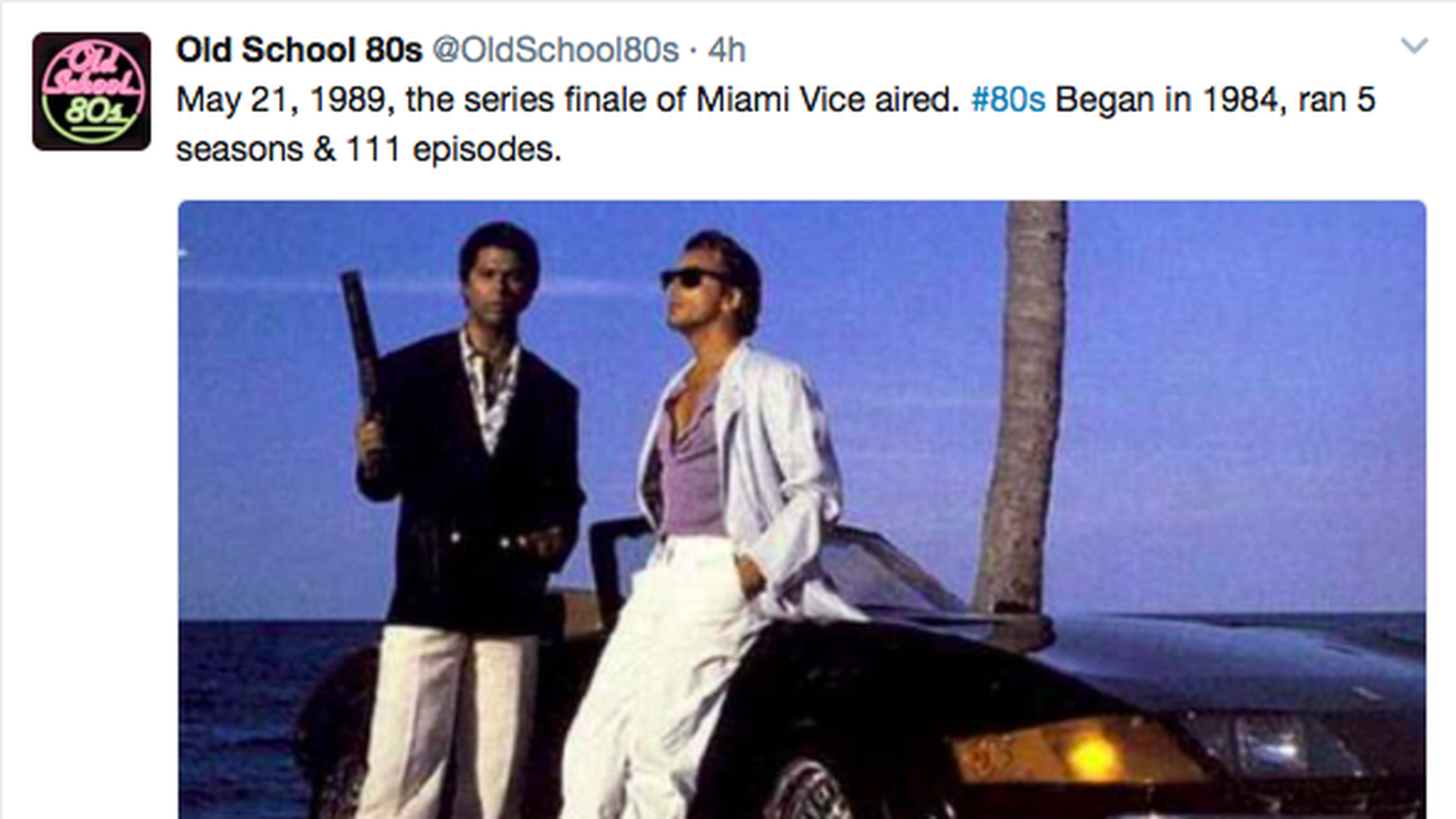 This Twitter feed, called Old School 80s, is a fun but jarring reminder of how fast time flies by. Enjoy.
Thanks for reading! Busy week coming up, so please find us in the Axios stream as well as right back here tomorrow. Tips and feedback welcome at ben@axios.com.