Good morning! Today marks the birthday of the late E Street Band sax player Clarence Clemons. RIP.
He's terrific on the touching Springsteen song Bobby Jean, one of my favorites, so that's today's intro tune . . .
https://www.axios.com/newsletters/axios-generate-37128fc0-8a4f-427f-919f-26d8bc602096.html?chunk=0#story0
BP CEO on new offshore drilling: Meh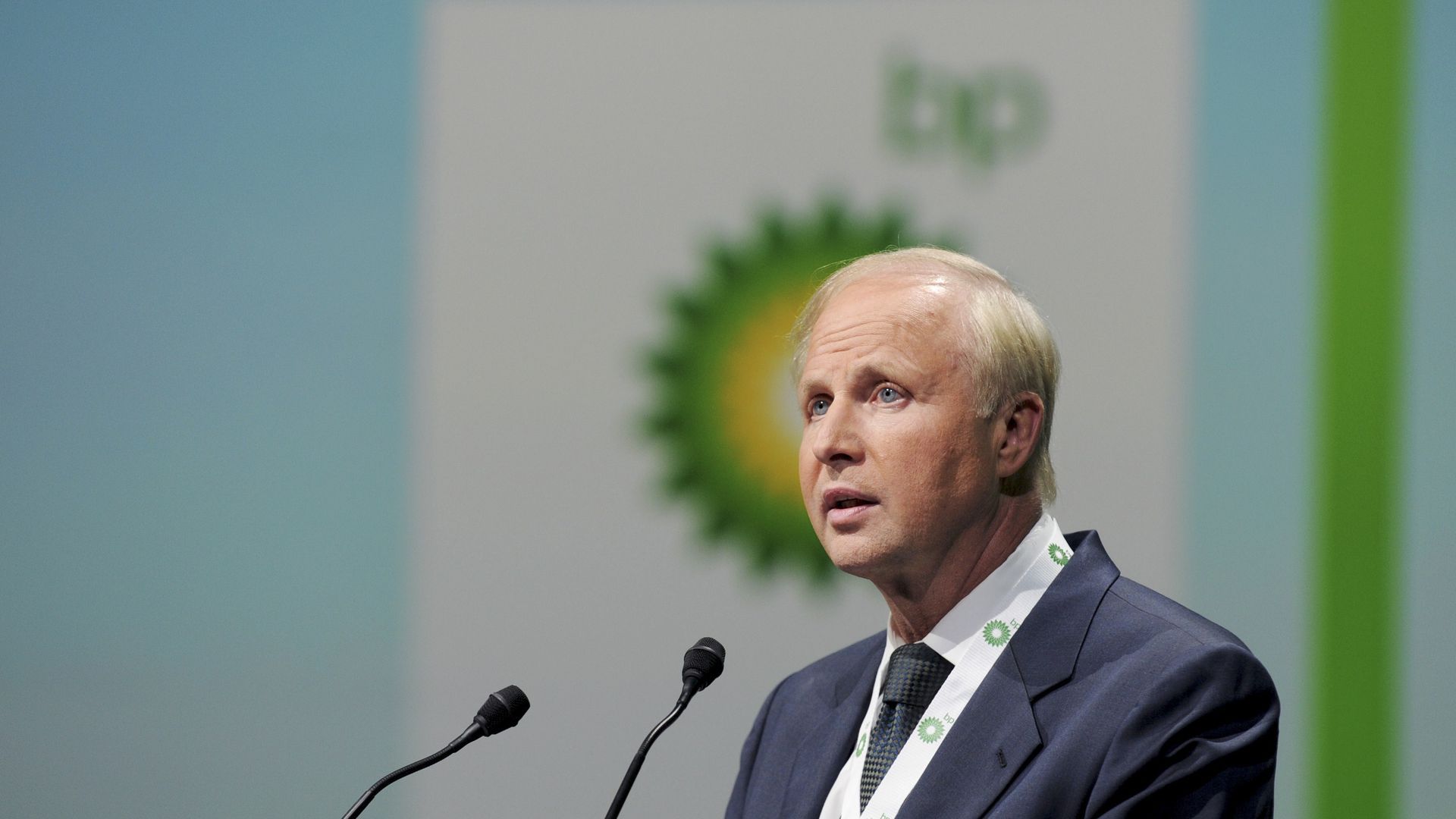 My colleague Amy Harder reports...
BP CEO Bob Dudley showed a muted appetite for pursuing drilling in new areas off America's coasts in an exclusive interview with Axios this week.
Why it matters: Dudley's comments throw cold water on the idea oil companies are going to jump on drilling new wells off America's coasts in response to the Trump administration proposal to open up almost all federal waters to new leasing. The reality is more complicated — and less compelling — than top administration officials have made it seem as they pursue President Trump's "energy dominance" agenda.
"For us, we've got a very full plate in the United States," Dudley said. "We don't have a plan that says, 'Here's what we're interested in' because we have prioritized a lot of activity, including reducing exploration and the size of the company."
BP has a unique portfolio that's got Dudley cautious about drilling in new areas, including its continued response to the 2010 oil spill that nearly bankrupted the global oil producer, and its already big presence in the Western Gulf of Mexico.
But Dudley's caution is likely shared by other major oil companies, analysts say, for a few reasons:
Continued low oil prices, relative to 2014.
Pressure by shareholders to continue keeping costs down even as oil prices have risen in recent days to three-year highs.
Continued focus on onshore shale oil and natural gas, which offer cheaper, quicker ways to produce the fuel.
Political, regulatory and litigation obstacles in new areas, such as off the coasts of Pacific and Atlantic states.
Click here for the rest of the story in the Axios stream.
https://www.axios.com/newsletters/axios-generate-37128fc0-8a4f-427f-919f-26d8bc602096.html?chunk=1#story1
The fast-moving battle over offshore drilling
Let's get caught up on the latest developments after the Interior Secretary Ryan Zinke announced Tuesday evening that he's yanking Florida from the agency's new plan to massively expand coastal areas offered for oil-and-gas leasing.
Not normal: Offshore leasing policy is usually the stuff of painstaking detail, so a big, abrupt policy shift made without any accompanying documents has left confusion in its wake.
What we're hearing: Oil and gas industry sources I spoke with yesterday were scrambling to learn what precisely Zinke meant when he abruptly said he was "removing Florida from consideration for any new oil and gas platforms."
Interior's PR shop has said that this means the entire eastern Gulf of Mexico, but the department has not provided any details or maps to describe the agreement, and nobody I've spoken with has a clear picture of the precise scope.
Similarly, it's not clear how far up the Atlantic Coast the agreement extends. Details matter here, because what are known as outer continental shelf "planning areas" don't line up neatly with state borders.
Criticism: Based on what they do know about it, major oil-and-gas industry lobbying groups attacked the move. The Hill has more on that here.
Pressure: My colleague Khorri Atkinson reports on the growing number of Atlantic Coast governors from both parties who are ramping up their push for exemptions in the wake of Florida Gov. Rick Scott's deal with Zinke.
That's in addition to calls from Pacific Coast governors for the same thing.
Zinke told The Washington Post on Wednesday that "I will no doubt talk to every governor. It doesn't matter to me whether you're Republican or Democrat."
ICYMI: Yesterday we explored how the Florida announcement could create legal problems for Interior's proposed 2019-2024 offshore leasing plan.
https://www.axios.com/newsletters/axios-generate-37128fc0-8a4f-427f-919f-26d8bc602096.html?chunk=2#story2
On my screen: renewable power, Bitcoin's power demand, oil prices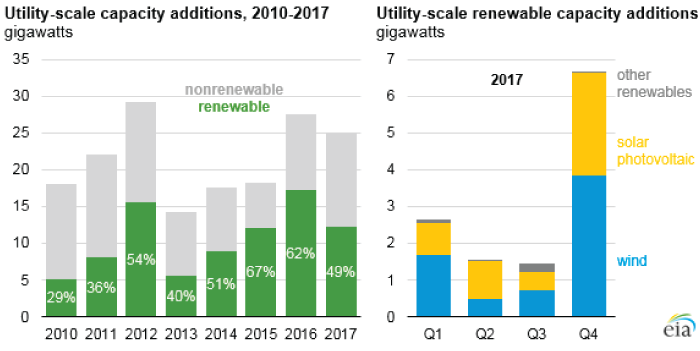 Renewable power capacity additions. Charts from EIA's "Today in Energy"
Capacity addition: A brief Energy Information Administration report (and charts above) sums up the growth of renewable power capacity in the U.S.
"Once final data are in, EIA expects about 25 gigawatts (GW) of new utility-scale electric generating capacity to have been added to the power grid during 2017, nearly half of which use renewable technologies, especially wind and solar," they note.
Quick take: While coal and natural gas together make up the bulk of electricity generation, renewables are a big share of new capacity coming online.
Bitcoin: A new Morgan Stanley research note sums up the power demand associated with cryptocurrencies. Via Bloomberg:
"Miners of bitcoin and other cryptocurrencies could require up to 140 terawatt-hours of electricity in 2018, about 0.6 percent of the global total, Morgan Stanley analysts led by Nicholas Ashworth wrote in a note Wednesday. That's more than expected power demand from electric vehicles in 2025."
Oil markets: The Wall Street Journal looks at bullish forecasts. "Oil prices have been grinding higher and higher, spurring forecasters to predict they could hit $80 a barrel this year," they write.
OPEC's future: Via CNBC, "The United Arab Emirates' (UAE) oil minister has hinted that an alliance between OPEC and non-OPEC producers, including Russia, could continue in some shape or form beyond their current deal to curb oil output."
NAFTA's future: My colleague Caitlin Owens reports that Senate Republicans have "strategically revved up their attempt to convince President Trump to not withdraw from NAFTA."
Why it matters: The oil-and-gas industry is deeply worried that abandoning the North American Free Trade Agreement would hinder what's not a robust cross-border energy relationship. The industry has been part of a wider business-community fight to save the pact.
https://www.axios.com/newsletters/axios-generate-37128fc0-8a4f-427f-919f-26d8bc602096.html?chunk=3#story3
Climate notes: Paris, litigation, turtles
A few climate-related items on my radar...
Empire State offensive: The New York Times reports that New York City Mayor Bill de Blasio announced a "two-pronged attack against the fossil-fuel industry."
It involves plans to divest city pension funds from fossil fuel company holdings, and litigation against oil giants including Exxon and Shell "seeking to collect billions of dollars in damages to pay for city efforts to cope with the effects of climate change."
Paris on his mind: Trump, in a press conference with Norwegian Prime Minister Erna Solberg, on Wednesday again dangled the possibility that he could reverse his decision to exit the Paris climate accord.
Yes, but: There is no public evidence to date that the administration has an actual policy posture on what it would take to remain in the deal.
NYT's Lisa Friedman has Trump's remarks here.
Research corner, part 1: Via Reuters, "Unless countries urgently boost their flood defenses, millions more people will be at risk from river flooding in the next 20 years as global warming increases the likelihood of severe rainfall, scientists said on Wednesday."
Research corner, part 2: Australia is home to the Pacific Ocean's largest breeding ground for green sea turtles, and rising temperatures in the region are causing 99% of the sea turtles to be born female, according to National Geographic.
https://www.axios.com/newsletters/axios-generate-37128fc0-8a4f-427f-919f-26d8bc602096.html?chunk=4#story4
One pretty thing (actually several)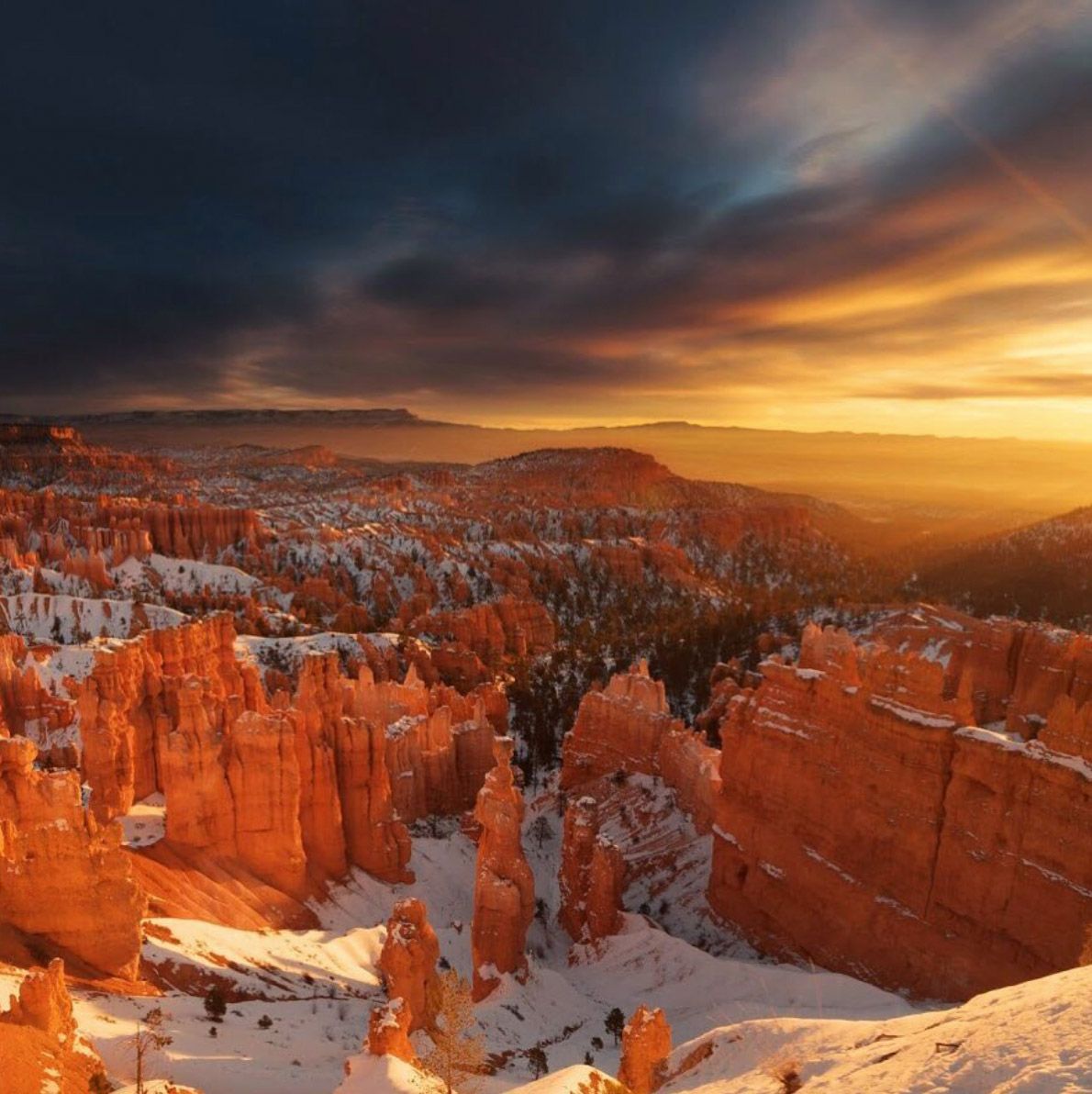 Bryce Canyon National Park via the Interior Department's Instagram feed
Winter wonders: The Interior Department's Instagram feed has been featuring some lovely and even breathtaking winter wilderness photos lately.
The shot above is of Bryce Canyon National Park in Utah, and there's plenty more from around the country here.