Axios Generate
July 28, 2021
☕ Good morning! Today's Smart Brevity count is 1,202 words, <5 minutes.
📊 Data point of the day: 9.6 billion cubic feet per day, the average U.S. LNG exports in the first half of 2021. It's a record high. Go deeper
🎶 At this moment in 1975, the Isley Brothers were atop Billboard's R&B charts with today's intro tune...
1 big thing: The private climate finance surge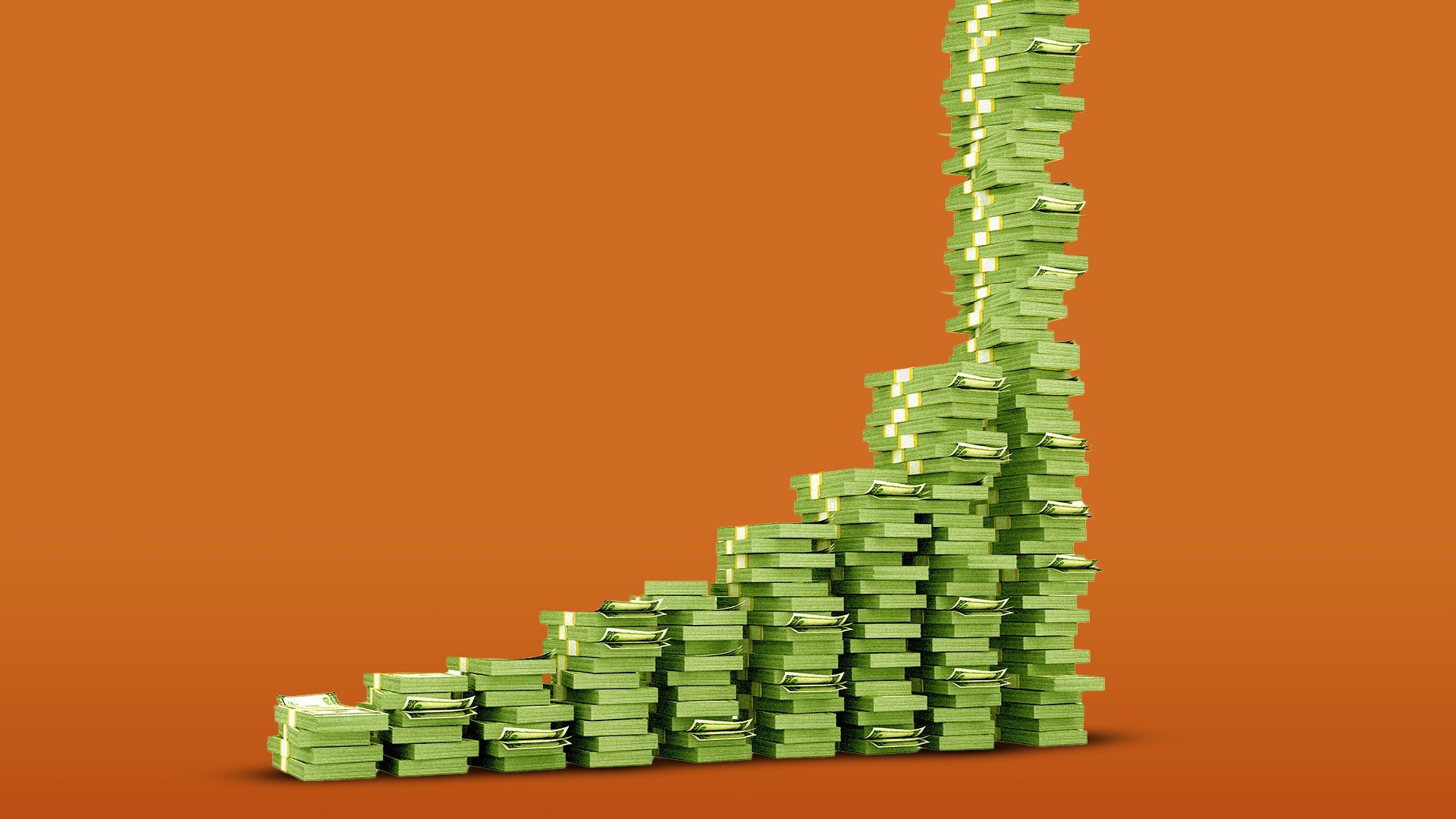 There's so much private equity and infrastructure fund action in the climate tech space these days that it's hard to keep up, Ben writes.
Driving the news: Brookfield Asset Management yesterday closed $7 billion for its Global Transition Fund that aims to scale clean energy and help carbon-intensive industries cut emissions.
The fund, with founding partners Ontario Teachers' Pension Plan Board and Singapore-based investment heavyweight Temasek, has a cap of $12.5 billion.
The news hit about the same time that private equity giant TPG — backed by huge institutional investors and companies — announced $5.4 billion for the inaugural round of its TPG Rise Climate fund that's focused on energy, agriculture, transport, natural solutions and more.
Those are just the latest in a suite of recent fund announcements and closings. PitchBook calls it a "climate-focused fund frenzy," with efforts also underway from private equity firms including KKR and Carlyle.
What they're saying: "Asset owners are finally waking up to the reality of the climate crisis in a big and meaningful way, but looking to the most established asset managers to deploy their capital into climate solutions, across asset classes," Daniel Firger, managing director at Great Circle Capital Advisors, tells Axios.
The big picture: The Brookfield and TPG funds are somewhat different in focus, with the TPG money focused on growth equity investments in companies.
But in another way, they're of a piece, representing a surge in finance — for private equity and VC firms and infrastructure investors — heading into companies and projects that can help cut emissions.
"If Brookfield were to raise the full $12.5 billion it is seeking, it would amount to nearly the total capital raised by buyout firms for impact funds over the past five years," Bloomberg notes, citing the data provider Preqin.
And via PitchBook: "So far in 2021, global investors have already closed as many climate-focused funds as were raised during the previous five years combined."
Catch up fast: You only need to look back about 10 days to find another $6 billion heading toward clean technology companies or project finance.
Generate Capital, a sustainable infrastructure firm, announced it raised $2 billion on July 19.
That came right after General Atlantic unveiled plans to raise $4 billion for a growth equity fund focused on climate tech companies.
Quick take: There's no single factor driving the action, but market and social forces include...
Clean energy is increasingly cost-competitive and attractive.
Overall, the money surge is a bet that policymakers in big markets will continue getting more aggressive on climate.
Many corporate giants have set emissions-cutting targets, which drives demand for tech and projects to implement the pledges.
The finance industry is under growing pressure to get greener.
The bottom line: "The decarbonization opportunities are bigger and are coming sooner than we might have expected a few months ago," Brookfield's Mark Carney, the former Bank of England head, tells Bloomberg.
2. European power demand outpaces fossil fuels
A new analysis finds that European Union electricity use is almost back to its pre-pandemic levels, but the bloc's use of fossil fuels to generate power has not returned nearly as much, Ben writes.
The big picture: The data, via the environmental think tank Ember, reveal a mixed verdict of sorts for the EU's efforts to decarbonize.
It shows renewables' ongoing rise and finds that it's now far more expensive to generate power from existing coal and gas plants than new wind and solar projects.
But the group also notes that the trajectory of power sector emissions is inconsistent with the EU's economy-wide climate law, which seeks to cut greenhouse gases 55% below 1990 levels by 2030.
The bottom line: "Fossil fuels are in rapid decline as Europe cleans up its power sector. But progress is nowhere near fast enough to meet the EU's own emissions target, let alone reach 100% clean electricity by 2035," Ember analyst Charles Moore said in a statement.
3. Here come Biden's first auto rules
The Biden administration is on the cusp of floating draft auto emissions and mileage rules, per several reports.
Why it matters: Transportation is the largest source of U.S. carbon emissions, but auto rules have been in a complex regulatory, courtroom and lobbying seesaw for years.
The Trump administration scaled back Obama-era mandates for model years into the mid-2020s, but now the pendulum is swinging back.
Driving the news: AP first reported yesterday that draft EPA and Transportation Department rules are expected as soon as next week.
"The move ... resembles a 2019 pact between California and five automakers that mandates a 3.7 percent annual mileage increase through the 2026 model year," the Washington Post reports.
The rules would then become more stringent in subsequent years, per various reports. But in the short term, they will "fall short of what environmental activists have called for," Bloomberg notes.
4. Big Oil notes: Shell, TotalEnergies, Exxon, Equinor
Electricity: "Royal Dutch Shell Plc said on Tuesday it would buy renewable energy retailer Inspire Energy Capital LLC, as the European major looks to expand its renewable power business in the United States." (Reuters)
EV charging: "TotalEnergies SE said Wednesday that it signed an agreement with Bollore Group to acquire an electric-vehicle charge points network in Singapore." (MarketWatch)
Discoveries: "Exxon Mobil Corp has made a new discovery at Whiptail in the Stabroek Block offshore Guyana, the U.S. oil major said on Wednesday, as it develops one of the world's most important new oil and gas blocks in the last decade." (Reuters)
Earnings: "Equinor ASA more than doubled its quarterly profit and confirmed share buybacks, buoyed by higher energy prices and tax relief in its home market." (Bloomberg)
5. A new push to diversify the climate startup world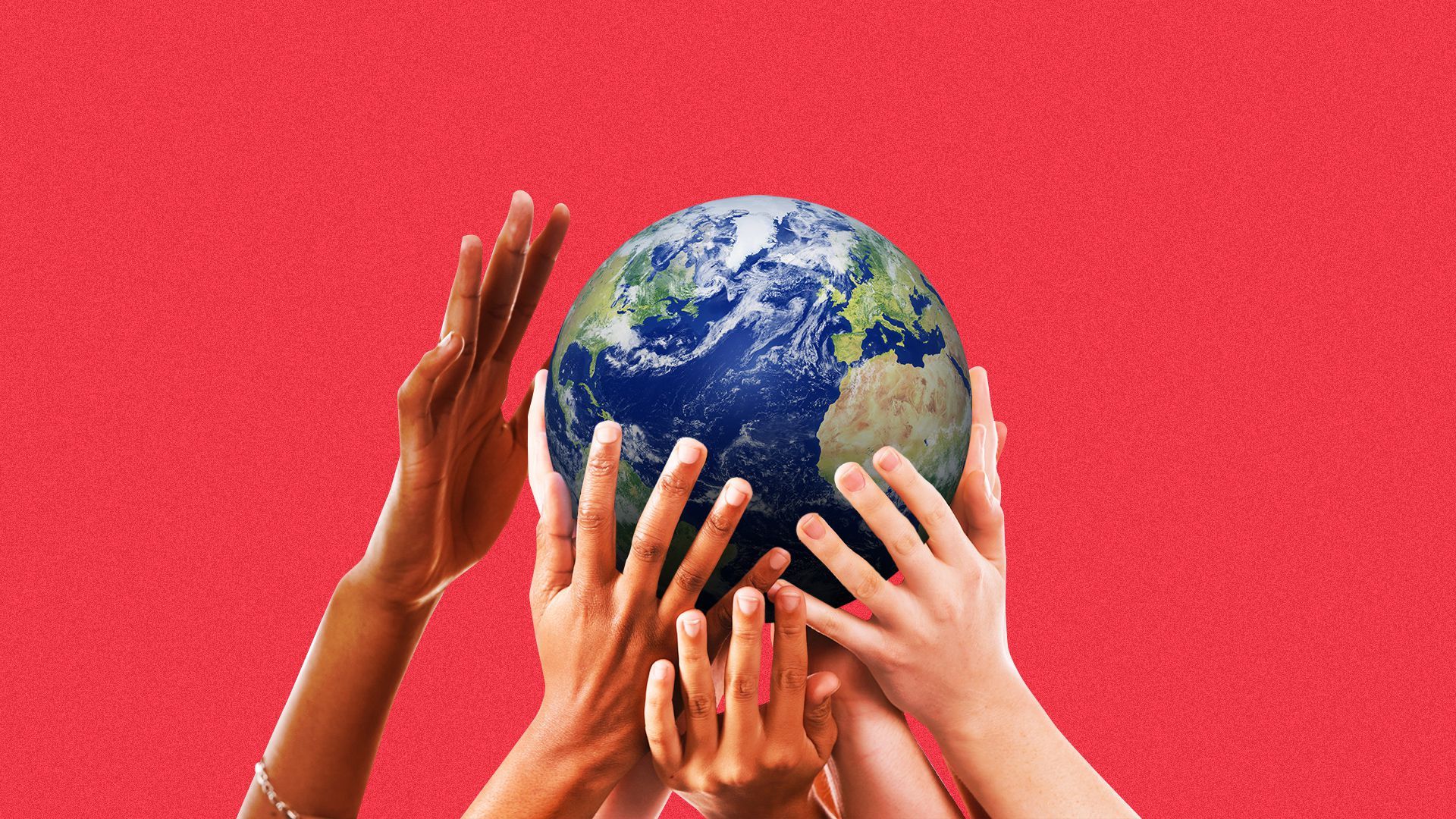 A prominent energy venture capital firm and large companies including Microsoft and Duke Energy are launching a new fund to help diversify the clean technology startup sector, Ben writes.
Driving the news: The clean energy and climate-tech focused Energy Impact Partners (EIP) this morning unveiled the Elevate Future Fund.
It aims to "create a more diverse founder community and inclusive venture capital ecosystem within the broader energy transition."
The goal is backing companies founded and led by people from Black, Latino, LGBTQ+ and other underrepresented groups.
How it works: The fund is initially targeting $120 million and has secured over half that from investors that also include Southern Co., Xcel Energy and several others.
EIP has largely targeted growth-stage companies, but the fund will focus on early-stage investments, said Anthony Oni, the new fund's managing partner.
"[C]ultivation of diverse founders needs to start early in the investment lifecycle — Seed and Series A as they are not receiving the early funding to make it to the later stage of investments," Oni said via email.
Why it matters: Communities of color are underrepresented in business ownership and C-Suites, and the startup world is not isolated from the problem.
Crunchbase News recently reported that "of the record $161 billion in venture capital invested in the U.S. last year, single-digit percentages went to Black, Latino or female entrepreneurs."
Also, with the world far off pace from emissions cuts needed to hold global warming in check, finding a broader pool of entrepreneurial talent matters for everyone.
Where it stands: The new fund has already made three investments, including ChargerHelp!, an LA-based tech company founded by Black women that enables fast servicing of electric vehicle charging stations.