Axios Generate
February 11, 2020
Hey and happy Tuesday: I'm moderating a conversation on the Future of Clean Growth at the British Embassy tonight, at 6pm ET. 
Panelists include Dr. Jason Kelly, Ginkgo Bioworks; Julian Critchlow, U.K. Department for Business, Energy and Industrial Strategy; and Michelle Patron, Microsoft Corporation. Tune in via the livestream!
Today's Smart Brevity: 1,284 words, < 5 minutes.
Plus, at this moment in 1982, The Jam was atop the U.K. singles charts with today's earworm of an intro tune...
1 big thing: Trump's budget undercuts GOP's innovation push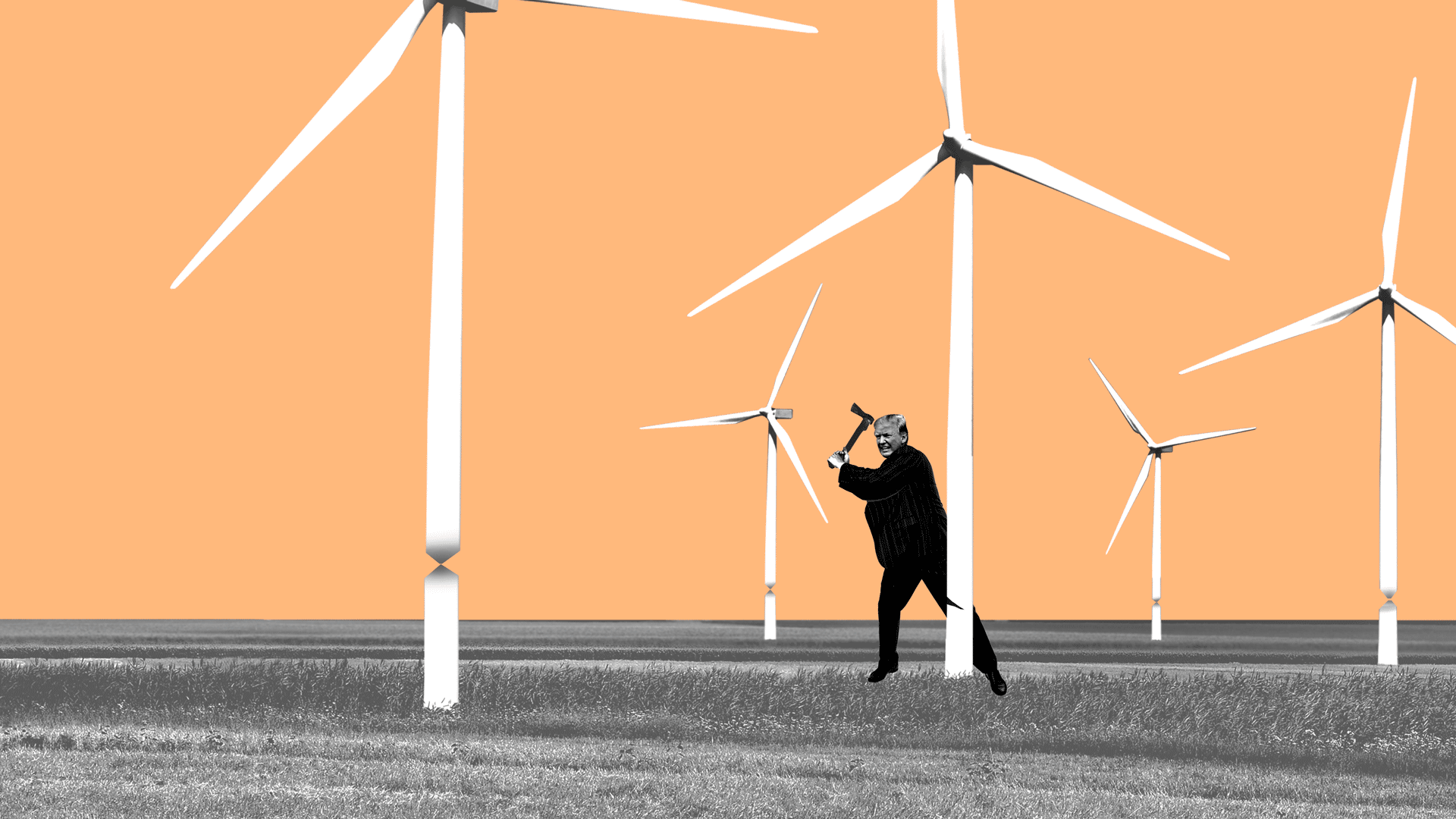 The new White House budget proposal is awkward for Capitol Hill Republicans who are taking pains to emphasize "innovation" to fight climate change.
Driving the news: The fiscal year 2021 plan would slash Energy Department science and R&D programs. For instance, it calls for...
A 75% cut in DOE's Office of Energy Efficiency and Renewable Energy, down to $720 million.
An end to funding for the Advanced Research Projects Agency-Energy.
A slash to DOE's Office of Science funding by roughly $1.2 billion to $5.8 billion.
Cuts to nuclear energy and, albeit smaller, fossil energy R&D.
The intrigue: Ok, yes, the White House has tried to deeply slash DOE programs for years, and Congress hasn't gone along and won't this time.
But this year's release arrives on the heels of House Republicans beginning their push to promote a climate agenda.
And their policy ideas focus in part on accelerating clean technology development, while steering clear of emissions-cutting mandates and carbon pricing.
One of those recent proposals, from Rep. Frank Lucas who's the top Republican on the House science panel, would greatly expand funding for scientific research.
The bottom line: To some extent this is all theater because nobody expects this budget to resemble what's ultimately appropriated.
But it complicates GOP efforts to tout their ideas when the president, who commands fierce loyalty from the party, is pushing in the other direction.
What they're saying: I asked House Minority Leader Kevin McCarthy's office whether the budget proposals are consistent with his innovation focus. Per a spokesperson...
"Our vision is to double funding for basic research and fundamental science."
"By investing in the foundations of technological breakthroughs, we are committed to putting American tax dollars to work in the most efficient manner possible."
The spokesperson added proposals are en route that bring the public and private sectors together to "ensure that commercialization of these breakthrough technologies is in sight" while cutting "inefficient" spending.
Bonus 1: Views on the White House budget
Renewables and environmental groups bashed the budget plan, which would also cut EPA programs. One example, the Environmental Defense Fund, hit at the White House for "prioritizing polluters" over public health.
The intrigue: We were curious what ClearPath, a group that promotes "conservative" policies to boost clean energy tech, made of it.
What they're saying: Executive director Rich Powell praised some elements, including a proposed $300 million for DOE's Versatile Test Reactor project. He said...
"The inclusion of the Versatile Test Reactor, Energy Storage Grand Challenge and the grid storage launchpad is a positive signal they'll be priority programs."
"Based on the recent spending bills, we are encouraged that Congress and the Administration will continue their trend of investing in clean energy innovation R&D when they put together the legislation."
2. Dominion joins power giants' net-zero push
The huge utility Dominion Energy vowed this morning to achieve net-zero greenhouse gas emissions by midcentury.
Why it matters: Virginia-headquartered Dominion has ranked among the country's 10 largest power generators and operates in 18 states.
They're joining a growing list of utility giants making long-term emissions pledges.
Others with net-zero commitments or carbon-free pledges by midcentury include Duke, Xcel Energy, Arizona Public Service, and DTE Energy.
What's next: "The company will focus not only on driving toward the 2050 goal, but on achieving near-term progress, particularly on methane emissions," the announcement states.
It includes a nearer-term goal of cutting emissions of methane, a highly potent planet-warmer, by 65% by 2030.
The big picture: Dominion — whose fleet includes coal, gas, nuclear and renewables — said it plans to meet the overall goal with a menu of strategies.
That includes its power generation — such as more renewables investments and nuclear plant life extensions — but also more efforts to spur emissions cuts in other industries.
On the transportation side, they're exploring faster EV charging deployment; boosting their existing electric school bus program; and use of gas and hydrogen in heavy vehicles.
They aim to help industrial energy users move away from coal and oil with natural gas, and to expand their work with agriculture sector on methane capture.
Over the long-term, they're citing the potential for tech like carbon capture, large-scale storage, and new reactor technologies.
3. Analysis: Flat global CO2 emissions in 2019
If you look at it just right, the glass appears almost half-full on carbon emissions, at least to the International Energy Agency.
Driving the news: An IEA analysis released Monday evening found that energy-related CO2 emissions were flat last year at 33.3 gigatonnes.
That's despite "widespread expectations of another increase" following growth in 2017 and 2018, IEA said.
The finding is roughly consistent with separate analysis from a research consortium called the Global Carbon Project (which also looks at cement industry emissions).
They estimated in December that energy-related emissions growth slowed last year to 0.6%. (One of that report's authors has a very helpful Twitter thread this morning.)
Why it matters: Scientific analyses show that steep, steep cuts — not just a plateau — are needed to meet the temperature goals of the Paris climate agreement. That's nowhere near happening and emissions are at record levels, but, well, let's have IEA boss Fatih Birol take it from here...
"We now need to work hard to make sure that 2019 is remembered as a definitive peak in global emissions, not just another pause in growth," he said in a statement.
"We have the energy technologies to do this, and we have to make use of them all," Birol said, noting IEA is seeking to build a "grand coalition" to boost global focus on emissions cuts.
Where it stands: IEA, explaining why overall emissions were flat, cited a "sharp decline" in CO2 from the power sector in advanced economies as renewables, gas and higher nuclear output shove coal aside.
"Global CO2 emissions from coal use declined by almost 200 million tonnes (Mt), or 1.3%, from 2018 levels, offsetting increases in emissions from oil and natural gas," they note.
However, emissions outside of the advanced economies kept growing, with most of the increase occurring in Asia as coal use there keeps rising.
Go deeper: Energy emissions stall as rich nations kick their coal habit (Bloomberg)
Bonus 2: Coal's EU decline
Here's one thing that helped global emissions growth seemingly flatten: Wind and solar power combined outpaced coal-fired generation in the EU for the first time last year, a pair of think tanks said.
Why it matters: Energy transitions are notoriously slow — until they're not.
The recent analysis from the U.K.-based Sandbag and Germany's Agora Energiewende found that coal-fired generation "collapsed" in the EU last year, falling 24%.
"Only five years ago, the EU generated twice as much from coal as it did from wind and solar," a summary notes.
4. Catching up with coronavirus' oil effect
Let's check in on how how coronavirus is hitting oil markets. Reuters reports this morning...
"Oil rose to $54 a barrel on Tuesday, recovering from a 13-month low as the number of new coronavirus cases slowed in China, easing some concerns about lengthy destruction of oil demand."
The big picture: More analysis is emerging about the scope of the outbreak's effect.
A new note from the consultancy Rystad Energy cuts their 2020 demand growth forecast by 25% to 820,000 barrels per day.
"The coronavirus' impact on demand growth could be even wider, however, slashing growth to as low as 650,000 bpd year on year (y/y) in our worst case scenario," they said.
What's next: IEA's next oil market analysis arrives Thursday.
5. California power crisis charges up battery sales
Sales of residential batteries in California are expected to quadruple this year to over 50,000 storage systems, the research firm BloombergNEF said in a short new analysis.
Why it matters: It adds specifics to the expectation that power outages — notably widespread blackouts by utilities seeking to cut wildfire risk — will juice sales.
"[C]ustomers installing solar are willing to pay a premium to add storage for backup," they said in the short report.
The big picture: They note it's an opportunity for solar companies that also offer batteries.
"Storage sales have been increasing quickly due to generous subsidies, time-of-use tariffs and solar companies eager to upsell," it states.