Good morning and welcome back! A quick note of gratitude and respect to veterans today. Thank you.
Ok let's head for the weekend . . .
https://www.axios.com/newsletters/axios-generate-34eb4fe9-ab95-4ca2-95a2-c9d5d22ce028.html?chunk=0#story0
Amy's notebook: Understanding Trump, climate edition
My Axios colleague Amy Harder has her first dispatch from Bonn, Germany, where she'll be for the next week covering the United Nations' annual climate conference underway through Nov. 17.
Quoted: "You have to understand where [President] Trump is coming from and what that might mean for U.S. commitments," implored a top American business executive on a panel discussion Thursday, held at a sprawling conference center near a park alongside the Rhine River.
Gritty details: The executive, top U.S. Chamber of Commerce official Stephen Eule, went into detail to help explain to a largely foreign audience what was driving Trump — and try to help them understand his decision to pull the U.S. out of the Paris climate agreement.
Trump campaigned on reviving America's manufacturing sector, Eule said, and he's pursuing policies helping coal and nuclear power plants in the name of resilient electricity. And regardless of whether Trump ultimately does withdraw from the Paris deal, whatever he does on climate will be far less than his predecessor, Eule said.
The other side: Leon de Graaf, advisor to BusinessEurope, a group representing European businesses, said negotiators shouldn't treat the U.S. any different because Trump has indicated he's going to withdraw. "If you're trying to push them away," then the chances of them coming back are lower, Graaf said.
Why it matters: This awkward but cordial mood is setting the stage for how the Trump administration will be portrayed in the conference. The rest of the world isn't prepared (yet anyway) to punish America for doing anything, because technically it hasn't. It takes a few years for the formal withdrawal process to play out. The rest of the world is still holding out hope Trump will change his mind.
Click here for the rest in the Axios stream.
https://www.axios.com/newsletters/axios-generate-34eb4fe9-ab95-4ca2-95a2-c9d5d22ce028.html?chunk=1#story1
On my screen: power for refugees, Congress, election fallout
Grid tech: A new piece in Foreign Affairs uses the crisis in Puerto Rico as a jumping off point to explore how mini-grids and other technologies can be used in emergencies and to help displaced people, including deployment in refugee camps around the world.
"As extreme weather, conflict, and political upheaval continue to drive tens of millions of people from their homes, the need for power systems that can survive or respond quickly to a disaster will only grow," the story notes.
Congress, part 1: The Senate version of tax legislation unveiled yesterday does not include House provisions that would cut the value of the wind energy production tax credit and kill credits for electric vehicle purchases. Nor does it include House measures that extend the availability of a nuclear production credit.
Quick take: The support for wind energy among influential Senate Republicans like Chuck Grassley always made that effort a non-starter in the Senate.
Go deeper: Bloomberg compares other energy-related differences between the House and Senate packages here.
Congress, part 2: The Congressional Budget Office score for new GOP Senate legislation to open the coastal plain of the Arctic National Wildlife Refuge to oil drilling nicely summarizes something we've been writing about — the uncertainty around industry response to future leasing there.
It forecasts $1.2 billion in federal revenues over a decade, but also notes uncertainties such as how the industry would weigh future prices and the potential resource base.
"In particular, oil companies have other domestic and overseas investment options that they would evaluate and compare with potential investments in ANWR. The potential profitability for a wide range of such global investment options would probably be a significant factor in prospective bidders' ultimate choices of how much to bid for ANWR leases," the CBO report says.
Election fallout: Here's a few examples of how Tuesday's election night could change energy and environmental landscape. A note from ClearView Energy Partners and various news reports points out that Democratic wins in the New Jersey and Virginia governor's races pave the way for...
New Jersey to join the the Regional Greenhouse Gas Initiative, a multi-state carbon trading program to curb power industry emissions.
Virginia to join RGGI too, or participate in carbon-trading in some way.
Via Reuters, "In Washington state, a victory by Democrat Manka Dhingra in a state Senate district flipped control of the legislature to Democrats, a boost to Democratic Governor Jay Inslee's plan to join California, Quebec and Ontario in a carbon trading scheme.
https://www.axios.com/newsletters/axios-generate-34eb4fe9-ab95-4ca2-95a2-c9d5d22ce028.html?chunk=2#story2
Latest in oil: OPEC, geopolitics, and lots and lots of sand
OPEC state of play: Argus Media chats with Kuwait's OPEC governor Haitham al-Ghais about the upcoming November 30th meeting and the future of the production-cutting deal.
He says it remains unclear whether the meeting will bring a decision on the particulars of what's widely expected to be an extension of the deal well beyond the first quarter of 2018.
"Let us not forget that the OPEC meeting on the 30th is a routine meeting. It is a scheduled meeting that happens twice a year, regardless. So it is not specifically a meeting for the purpose of deciding what to do with this agreement," said al-Ghais, who chairs the joint technical committee overseeing the agreement between OPEC and non-OPEC producers including Russia.
Big picture: The Wall Street Journal explores how geopolitical tensions, including the turmoil in Saudi Arabia, have pushed prices to their highest levels in two years.
"Saudi Arabia is the second largest crude producer after Russia, it's the largest exporter and it's the country with the largest spare capacity, so obviously if in such an important oil nation something happens which you didn't expect at all, you start to price in a risk premium," Giovanni Staunovo of UBS Wealth Management tells the paper.
Service companies in focus: The latest edition of Crude for Thought, a Wood Mackenzie podcast, looks at the state of play for oilfield service companies heading into 2018, including availability of truck drivers.
Some fascinating numbers: A new note from RBN Energy looks at the state of the fracking sand market, including development of new mines in the Permian region to serve growing shale production. A lot of it is quite insider-y, but the sheer volumes required are wild.
The note says that it's now common to drill horizontal wells up to 10,000 feet long and use 2,000-5,000 pounds of sand per foot, so...
"If you do the math, you'll see that the completion of a 10,000-foot well with 2,000 pounds of sand per linear foot demands 20 million pounds (or 10,000 tons) of sand. Given that each truck can move about 24 tons when fully loaded, each typical completion would require more than 400 truckloads of sand."
https://www.axios.com/newsletters/axios-generate-34eb4fe9-ab95-4ca2-95a2-c9d5d22ce028.html?chunk=3#story3
Chatterjee's pro-coal push takes shape with "interim" plan
https://www.axios.com/newsletters/axios-generate-34eb4fe9-ab95-4ca2-95a2-c9d5d22ce028.html?chunk=4#story4
Let's talk about trucks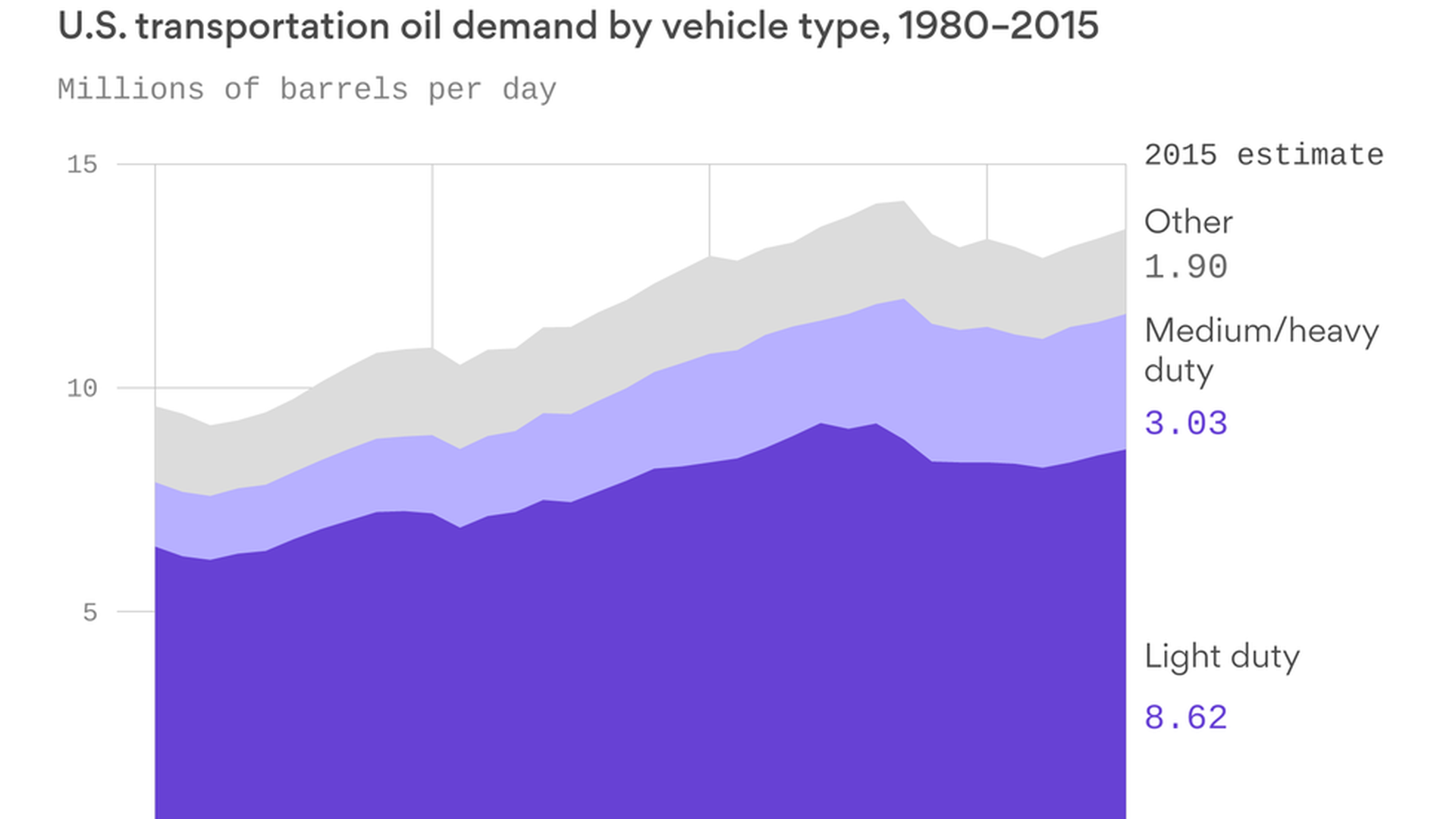 Heavy: A new report from Securing America's Future Energy (SAFE) says advanced technologies can bring huge fuel savings in the oil-thirsty trucking industry — if Congress and federal agencies make policy changes that catalyze their deployment. Some key nuggets:
"The adoption of linked 33-foot trailers, known as twin-33s, will result in an estimated 23 billion gallons of diesel saved by 2050."
"The widespread use of existing platooning technologies could save up to 20 billion gallons of diesel fuel through 2050."
Why it matters: Check out the chart above that reflects the report's findings that oil demand from trucking has grown more than passenger cars and other transport sectors in recent decades.
Overall, according to SAFE, long-haul trucks that move hundreds of billions of dollars of freight annually are just 4% of the vehicles on the road but account for 13% of U.S. petroleum demand.
***
Latest from EPA: "The Environmental Protection Agency proposed a rule Thursday to repeal tighter emissions standards for heavy-duty trucks with older engines, an Obama-era regulation aimed at controlling soot and other pollutants along with greenhouse-gas emissions linked to climate change," The Washington Post reports.