Axios Generate
August 17, 2020
Good morning! Today's Smart Brevity count: 1,141 words, 4.5 minutes.
📺 Tonight at 11:15 pm ET/PT on "Axios on HBO," we interview acting Secretary of Homeland Security Chad Wolf about how federal officers handled the Portland protests and his concerns about a Biden-Harris White House (clip), and much more.
🎵 Saturday marked 25 years since Southern Culture on the Skids released the album "Dirt Track Date," which provides today's fun intro tune...
1 big thing: Oil industry's ride into uncertainty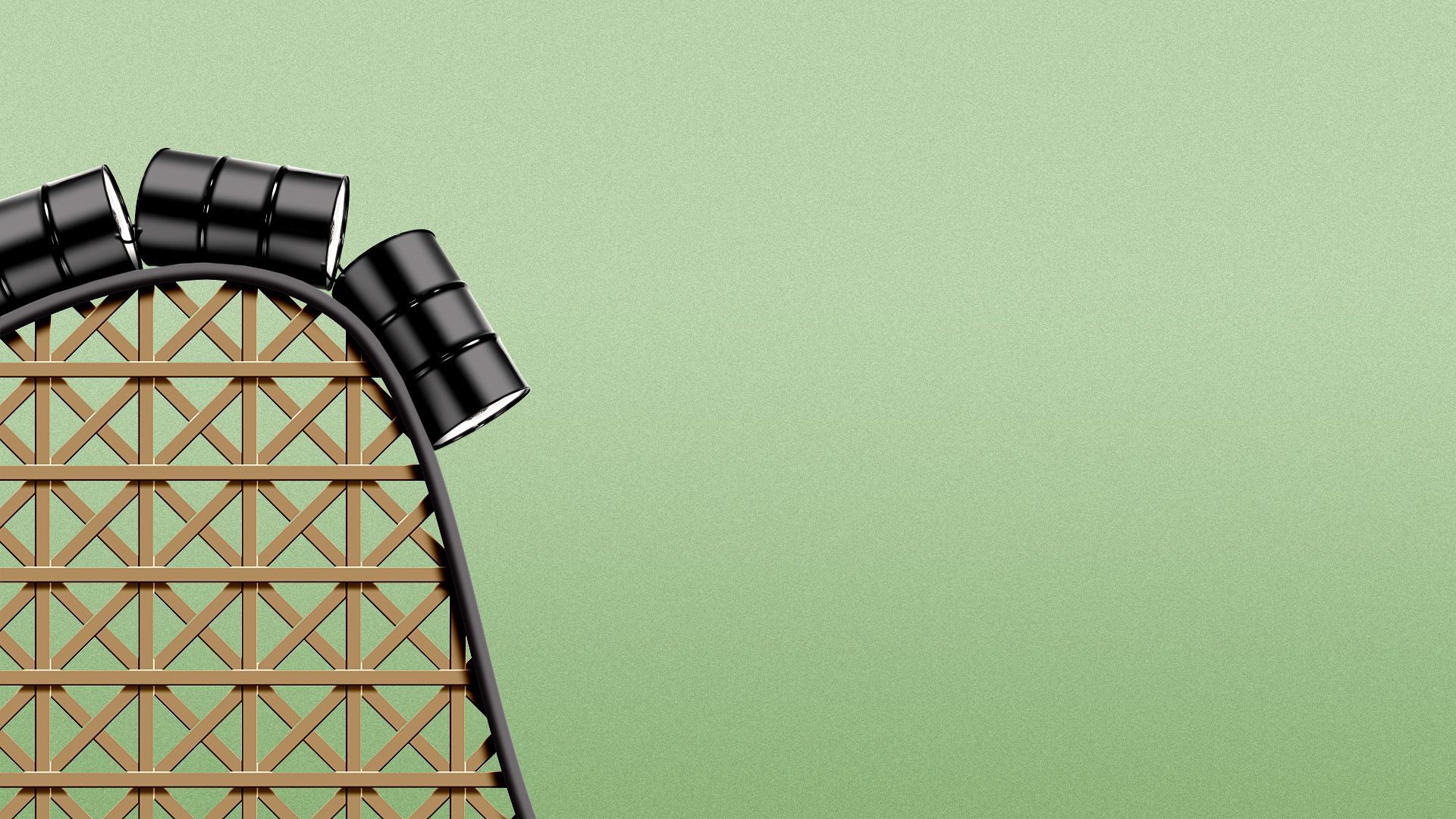 The oil industry is facing an immense amount of uncertainty, even for a sector that bobs along in the currents of global markets and geopolitics despite its enormous power.
Driving the news: In the U.S., Democrats hold their convention this week, seeking a boost for Joe Biden heading into the heart of the 2020 campaign.
And the election is unfolding against another huge source of uncertainty for the industry in the U.S. and worldwide: COVID-19.
Why it matters: Biden's platform calls for major new restrictions and regulations on oil-and-gas development, as well as steps to greatly speed deployment of electric vehicles and renewables.
It's a stark departure from Trump administration practices. And Biden is also hoping to use diplomacy and trade policy to pressure other countries to move faster on climate.
Biden's platform would also go much further than anything proposed — let alone implemented — during the Obama years that saw rapid growth of domestic production.
"It's hard to overstate how far Joe Biden's Democratic party has shifted on fossil fuels, especially natural gas, in just four years," Robert McNally of the Rapidan Energy Group tells the Financial Times.
The big picture: COVID-19 and its unknown trajectory create big new question marks around future oil demand for at least three big reasons...
Nobody really knows when the pandemic will be brought under control in the U.S. or worldwide, and vaccine timing and distribution are mysteries too.
The long-term stickiness of pandemic behaviors, especially working from home, is unclear as well.
How much governments worldwide use economic recovery packages to invest in low-carbon energy is also an unfolding story.
The intrigue: Some of the world's largest companies like BP and Shell are accelerating their moves to diversify away from their still-dominant fossil fuel businesses and into areas like renewable power and EV charging.
What we're watching: How much space the prime-time convention speakers — including Biden and VP pick Kamala Harris — devote to their energy agenda.
It's an early — and, admittedly, imperfect — hint at how much political capital they might deploy if they win (and if Democrats also gain Senate control).
Bonus chart: The U.S. drilling decline
The combined number of active U.S. oil and natural gas drilling rigs slid again last week, per data compiled by the oilfield services firm Baker Hughes.
Why it matters: It signals the pullback in new development that will keep U.S. output below pre-pandemic levels for a long time.
Existing shale wells decline quickly, so the big slowdown in creating new ones is a proxy for future output, albeit a loose one.
Where it stands: The number of active oil rigs declined by four to reach 172, compared to 770 a year ago, while one gas rig was added.
Go deeper: Downturn has yet to reach bottom for drilling rig operators (Houston Chronicle)
2. California's hot and dark days
California's grid operator is warning residents to prepare for more intentional outages this week as a major heatwave strains the state's power system.
Driving the news: On Sunday, the California Independent System Operator urged residents to conserve energy during late afternoon and evening hours to avoid the need for blackouts or lessen their duration if they occur.
Threat level: "A persistent, record-breaking heat wave in California and the western states is causing a strain on supplies, and consumers should be prepared for likely rolling outages during the late afternoons and early evenings through Wednesday," they said.
Catch up fast: The latest warning follows rolling blackouts ordered on Friday and Saturday that affected hundreds of thousands of customers.
Why it matters: Beyond the immediate crisis, Bloomberg notes that "climate change is contributing to increasingly extreme weather in California."
This year's heat waves come after years of bad wildfires. Last year PG&E implemented widespread preemptive outages to stem risks of downed power lines sparking even more fires in windy weather.
"In addition to mass blackouts to protect the grid, a prolonged hot spell could trigger scattered outages as aging utility equipment fails in the heat," Bloomberg reports.
The intrigue: The New York Times reports that it's not exactly clear that California's grid operator needed to implement blackouts on Friday and Saturday, given the amount of reserve capacity available.
The shut-offs "left some of the state's energy experts bewildered," the NYT reports.
Go deeper:
3. Elon Musk channels Henry Ford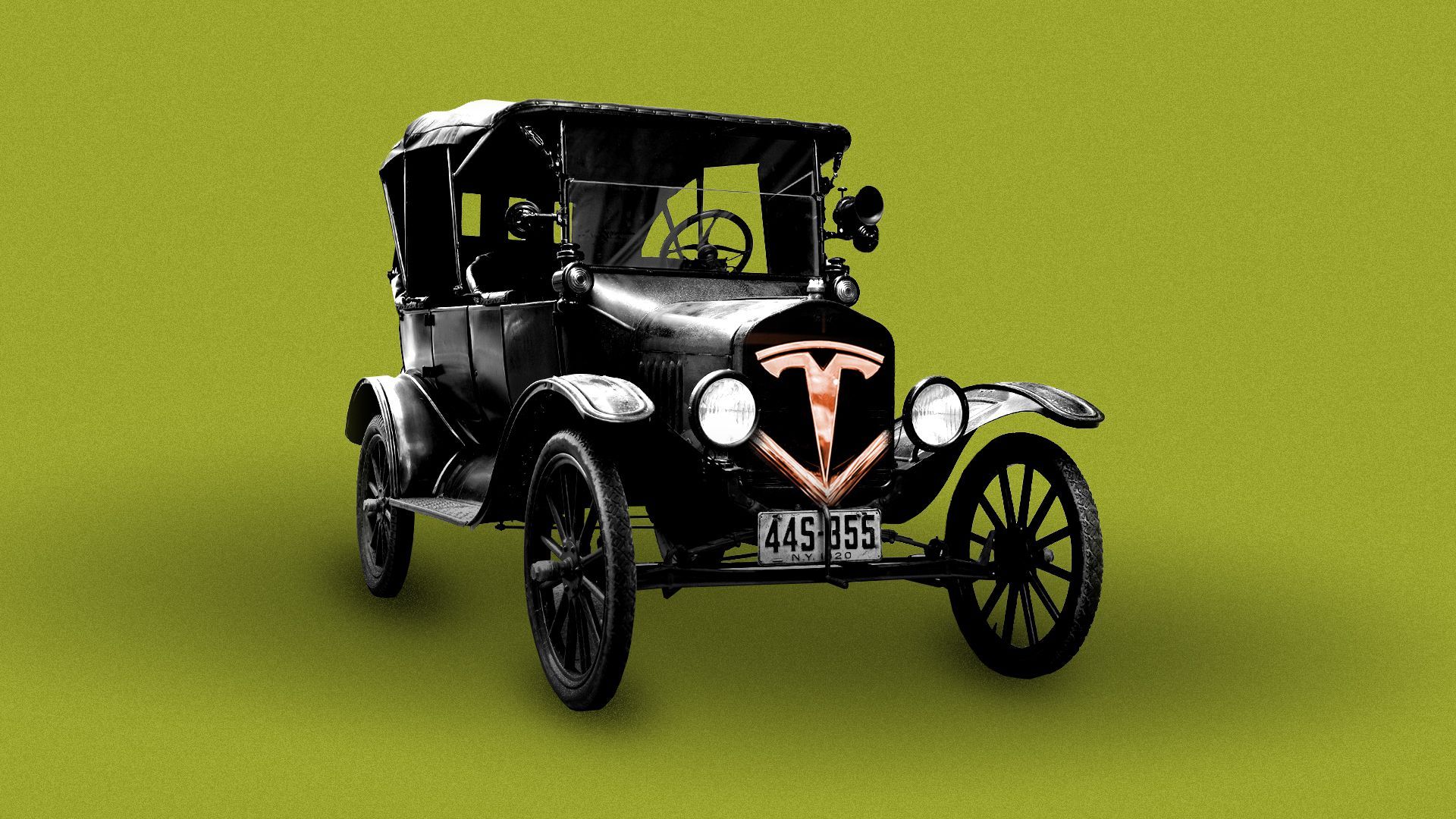 Axios' Joann Muller reports that Tesla CEO Elon Musk, who has spent more than a decade trying to disrupt the traditional auto industry, is sounding more and more like the man most closely associated with it: Henry Ford.
Why it matters: In his quest to build affordable electric cars for the masses, Musk is starting to embrace many of the ideas pioneered by Ford's founder — things like vertical supply chains and an obsession with manufacturing efficiency.
A century ago that approach helped to popularize the American automobile by lowering the cost of the Model T.
The big picture: Musk is making batteries, computer chips and many vehicle components in-house — and securing supplies of raw materials.
He's either bucking the prevailing industry trend that favors outsourcing to lower-cost global supply chains — or coming full circle.
The intrigue: Like Henry Ford in the early 20th century, Musk was ridiculed at first. But even Tesla skeptics are surprised by the leaps the EV company has made in its manufacturing capability and efficiency.
Two years ago, after taking apart a Tesla Model 3, "I couldn't believe how bad the body was [put together]," says Sandy Munro, a former Ford Motor engineer whose consulting firm, Munro & Associates, specializes in reverse-engineering and competitive analysis for the auto industry.
"Everything else blew me away," he tells Axios, referring to Tesla's electric power train.
Now, after poring over every inch of a disassembled Model Y, its newest product, Munro says Tesla's improvement is remarkable.
Yes, but: Tesla still has work to do on paint quality and fitting body panels together, but several engineering innovations stood out, says Munro, whose findings are summarized in this video.
4. Catch up fast: Mauritius spill, shale, White House
Oil spill: "The grounded Japanese ship that leaked tons of oil near protected areas off the Indian Ocean island nation of Mauritius has split apart, officials said Saturday, with remaining fuel spreading into the turquoise waters." (AP)
Shale: "Oklahoma shale driller Chaparral Energy Inc filed for Chapter 11 bankruptcy protection on Sunday, the latest U.S. energy sector casualty in recent months as COVID-19 crushes oil demand." (Reuters)
Agencies: "The Trump administration withdrew the controversial nomination of William 'Perry' Pendley to head the Bureau of Land Management on Saturday amid signs that the choice would hurt the reelection prospects of Republican Sens. Cory Gardner (Colo.) and Steve Daines (Mont.)." (Washington Post)
5. Number of the day: 130 degrees Fahrenheit
That's the scorching temperature recorded in California's Death Valley on Sunday afternoon, per the National Weather Service, which said that if validated, it would be the highest reading at the site by 3 degrees.
Why it matters: The Washington Post reports that if the figure is indeed validated, "it would also rank among the top-three highest temperatures ever reliably measured on the planet at any time and may, in fact, be the highest."