Good morning, though also a horribly sad one. My colleague Mike Allen sums things up well here. And of course Puerto Rico is still deep in crisis. So I'll just re-up lists here and here of organizations providing assistance.
Ok, here's a chance to listen to Tom Petty (RIP) since it is time to Time To Move On to the latest energy news...
https://www.axios.com/newsletters/axios-generate-34486579-fe61-4733-aba6-3ad740472ed9.html?chunk=0#story0
Power market battle gets very real, very fast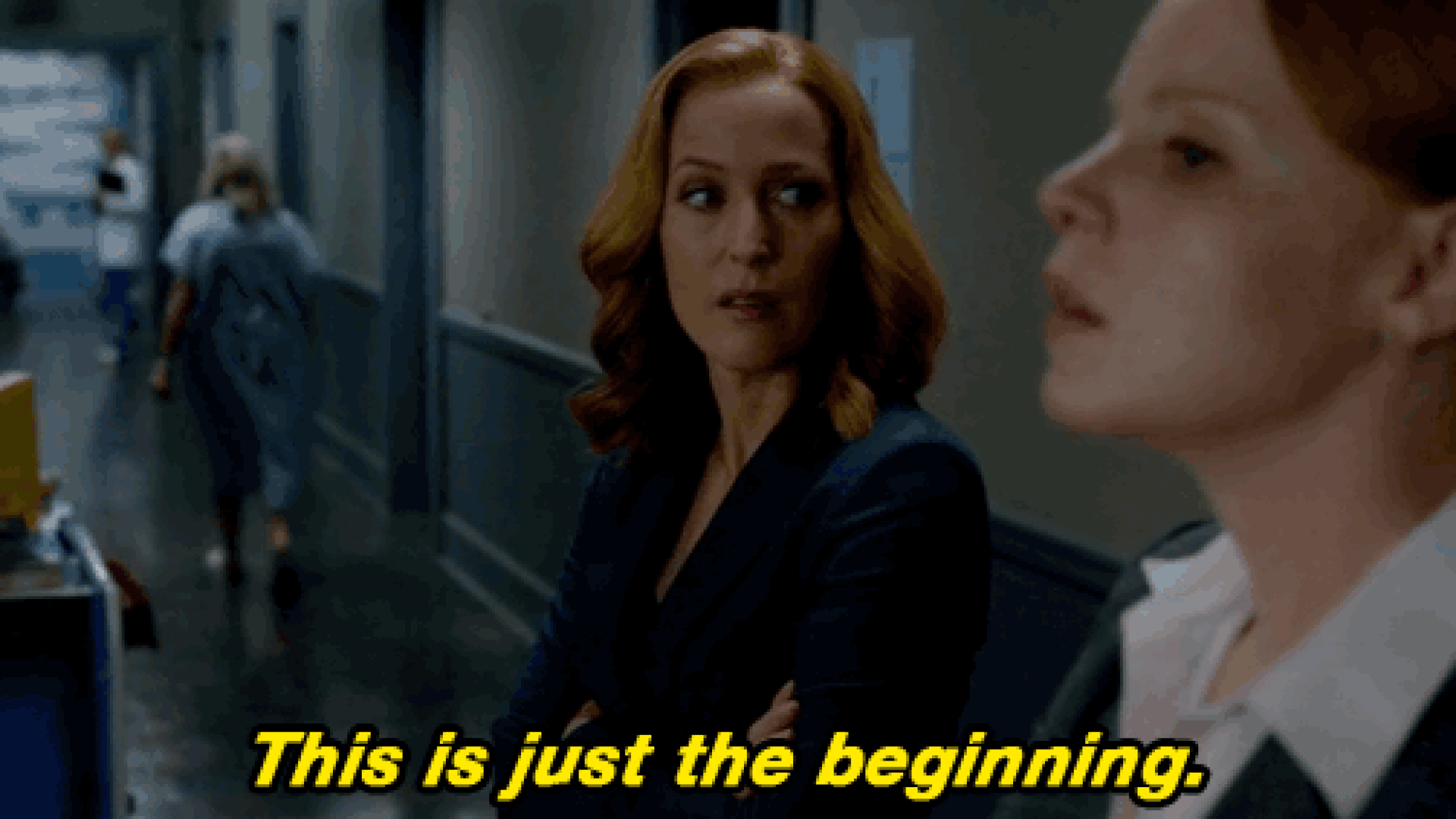 Powerful energy interests are fast taking sides and making opening moves around the Energy Department's instantly controversial new proposal to ensure power markets reward coal and nuclear plants for their "reliability and resilience" attributes.
The latest: Eleven energy trade groups that don't exactly see eye-to-eye on some topics — ranging from the American Petroleum Institute to wind and solar trade groups — made a joint filing with the Federal Energy Regulatory Commission yesterday opposing DOE's push for a very fast 60-day rulemaking.
In their words: The filing calls it one of the most significant proposed rules in "decades," one that could "affect electricity prices paid by hundreds of millions of consumers and hundreds of thousands of businesses, as well as entire industries and their tens of thousands of workers."
Behind the news: The quick action by this strange bedfellows coalition signals how natural gas and renewables lobbyists are deeply concerned about the proposal.
What's happening today: Another sign that DOE's surprise move is the new big thing: at least two congressional hearings today are likely to become public battlegrounds over the proposal. It will surface at a House Energy and Commerce subcommittee hearing on the grid and a separate House Science Committee session.
Prepared testimony from a major coal industry group for the Energy and Commerce session calls for the rule to be adopted "as quickly as possible."
"DOE's proposal is a major step toward achieving long overdue reforms in wholesale electricity markets," states the American Coalition for Clean Coal Electricity.
Similarly, the Nuclear Energy Institute's testimony calls for fast action on the rule.
On the other side, API testimony promoting natural gas and comments from wind and solar groups is slightly less explicit, but unmistakably signals their concern.
Go deeper: Utility Dive looks in-depth at how power industry experts are reacting to the proposal, while a new edition of the Interchange, a Greentech Media podcast, unpacks it all here.
https://www.axios.com/newsletters/axios-generate-34486579-fe61-4733-aba6-3ad740472ed9.html?chunk=1#story1
The electric cars are coming...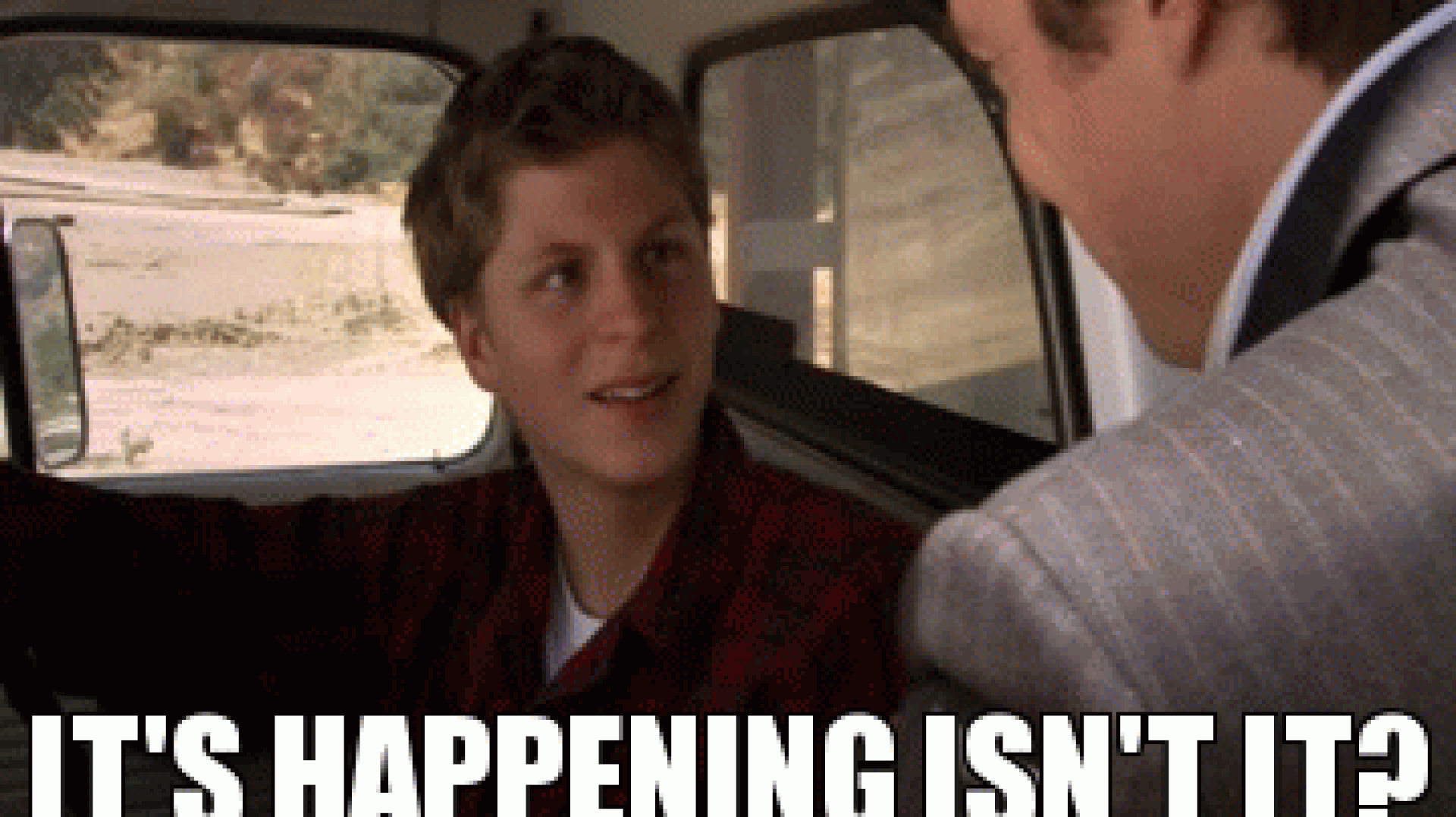 Detroit deepens EV push: General Motors announced plans Monday to roll out two new electric vehicles in the next 18 months, the first of what the auto giant says will be 20 new models by 2023.
Ford Motor, meanwhile, said it's deepening its push into electrics with creation of a new internal unit called "Team Edison." Sherif Marakby, Ford's VP for electrics, tells Reuters the plan is to "think big."
"One aim of Ford's 'Team Edison' is to identify and develop electric-vehicle partnerships with other companies, including suppliers, in some markets," they report.
Why it matters: The new moves by U.S. auto giants are the latest in a spate of announcement by manufacturers including Volkswagen and Volvo to expand their EV offerings, even though they're currently a tiny slice of the market.
It's happening as a number of countries including the U.K., France, and China — the world's largest auto market — are proposing to phase out fossil fuel-powered cars in coming decades.
"China is their biggest market," Autotrader analyst Michelle Krebs tells The Los Angeles Times. "If China decides to go electric, they have to do it."
China also detailed its nearer term plans to expand EV deployment last week.
Tesla's challenge: Of course, there's going to be bumps on the road to more EV deployment. Case in point, via CNN:
Tesla announced it fell far short of its plan to build 1,500 of its first mass market car, the Model 3, in the third quarter. The actual number it built? 260, or 83% less than promised.
https://www.axios.com/newsletters/axios-generate-34486579-fe61-4733-aba6-3ad740472ed9.html?chunk=2#story2
...and a new report says it's time to charge them
No time to waste: A major Rocky Mountain Institute report released this morning says policymakers need to move ahead ASAP with wise policies to plan for and create the charging infrastructure for EV's in an energy-efficient and financially sound way.
"Electric vehicles of all sizes, shapes, and applications are coming quickly, and utilities and their regulators need to be prepared to implement programs now that will transform the mobility marketplace, lest they find themselves uncomfortably behind the curve and suddenly facing the need to install expensive peaking generation or to upgrade a large number of distribution transformers."
What's interesting: The RMI report is based on a deep dive into the literature on EVs and they conclude that widespread EV deployment will benefit a wide range of stakeholders.
"Even non-drivers will benefit from the drastically reduced air pollutants of vehicle exhaust, the lower total cost of maintaining mobility infrastructure, and synergistic effects that can put downward pressure on the price of all goods and services, including the price of electricity and climate change mitigation measures."
https://www.axios.com/newsletters/axios-generate-34486579-fe61-4733-aba6-3ad740472ed9.html?chunk=3#story3
Amy's notebook: Oil exec on creating — and solving — climate change
My Axios colleague Amy Harder passes along this dispatch that's born out of her latest Harder Line column...
The debate about who bears blame and responsibility for global warming has faced new concerted attention over the past couple of years as ExxonMobil, America's largest oil company, faces attorney general investigations about whether it's covered up what it knew about fossil fuels' impact on climate change for decades.
Quoted: In my recent interview with Bjørn Otto Sverdrup, top sustainability officer for Norway-based Statoil, I asked Sverdrup about to what degree he thinks his company bears a moral responsibility to address climate change. Here's his take, edited for clarity and length:
It's fair to recognize that energy systems are an important part of the carbon emissions and global warming. But most of the emissions are related to consumption, and now there are more than seven billion people on the planet. We're on a pathway to become nine billion people.
When all these people would like to either have food or light or heating or cooling or even some of the richest people in the world would like to travel around, that puts a big toll on nature and climate and the energy we use also does the same.
We are part of that problem but we are also part of the solution. We take very seriously the accountability of all of our emissions.
https://www.axios.com/newsletters/axios-generate-34486579-fe61-4733-aba6-3ad740472ed9.html?chunk=4#story4
Latest in lobbying
What's new: A few new energy-related registrations popped up in the Lobbying Disclosure Act database over the past day. Behold...
Electric cars: BYD Motors has tapped Whitmer & Worrall for representation on "issues related to electric vehicle manufacturing of consumer electric and commercial/industrial vehicles" and "issues related to energy storage systems and solar power," a newly public filing states.
Utilities: Power giant Pacific Gas & Electric has brought on Miller Strategies for work on "energy issues related to spent nuclear fuel policy, cybersecurity, hydroelectric relicensing reform, grid modernization, security, energy efficiency, environment, climate resilience and energy preparedness."
Federal budget: The nonprofit ClearPath Foundation has tapped Natural Resource Results to lobby on spending for energy-related programs.
https://www.axios.com/newsletters/axios-generate-34486579-fe61-4733-aba6-3ad740472ed9.html?chunk=5#story5
On my screen: Oil markets, Zinke's travel, climate polling
Oil market hive mind: "Banks cut their oil-price forecasts for a fifth consecutive month despite a recent price rally amid concerns that the oversupply of crude will grow next year," The Wall Street Journal reports in their latest survey of 15 investment banks.
Look under the hood: Via Politico, the Interior Department's inspector general "has opened an investigation into Secretary Ryan Zinke's use of taxpayer-funded charter planes."
Taking the pulse: My Axios colleague Shannon Vavra looks at new polling on public attitudes on climate change...
With President Trump planning to pull the U.S. out of the Paris climate accord, 57% of Americans say they want local governments to work to reduce greenhouse gas emissions on their own, according to a new poll by the AP-NORC Center for Public Affairs Research and the Energy Policy Institute at the University of Chicago. Only 10% oppose that stance.
A day in the life at EPA: The New York Times looks at hundreds of pages of EPA administrator Scott Pruitt's schedule. The upshot:
"Since taking office in February, Mr. Trump's E.P.A. chief has held back-to-back meetings, briefing sessions and speaking engagements almost daily with top corporate executives and lobbyists from all the major economic sectors that he regulates — and almost no meetings with environmental groups or consumer or public health advocates."
Carbon capture: "Three major European oil companies announced plans on Monday to assemble a network of technology and facilities that will capture and store carbon bleeding out of industrial sites in Norway, part of an effort to help mitigate rising temperatures," the Houston Chronicle reports.
https://www.axios.com/newsletters/axios-generate-34486579-fe61-4733-aba6-3ad740472ed9.html?chunk=6#story6
One interesting chart: The oil price decline and federal spending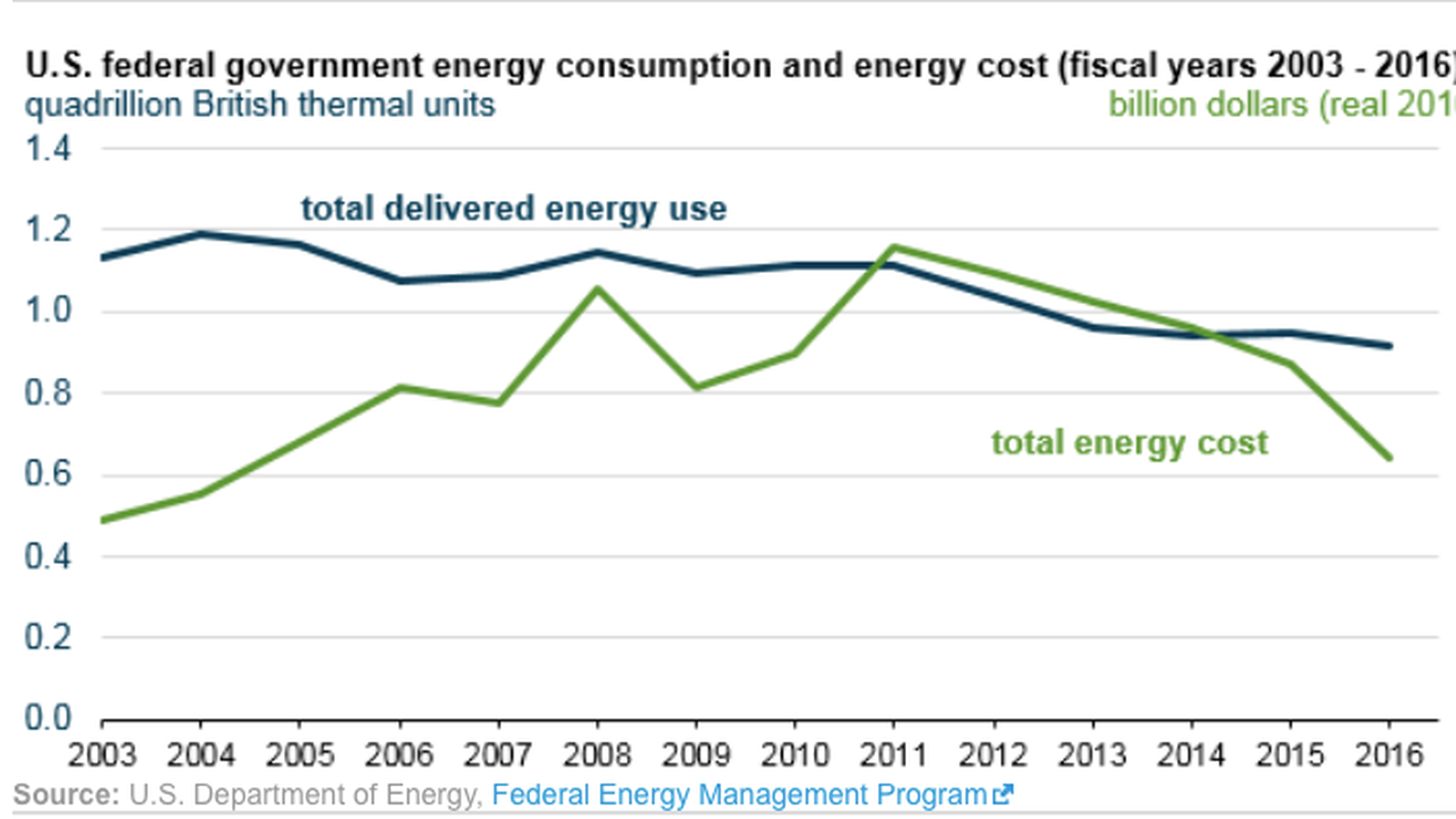 The government's energy tab: Fiscal year 2016 brought the lowest federal energy tab in a dozen years, thanks largely to lower oil prices that ease costs for the Pentagon (which uses lots of fuel) and other agencies, the Energy Information Administration said in a brief report.
The government-wide tab in fiscal 2016, the last year with complete data, was $16.1 billion.
Falling electricity costs also played a role amid lower natural gas costs.
Why it matters: The report is a sign of how energy price fluctuations can be a double-edged sword when it comes to federal finances. Lower oil and natural gas prices have also meant lower revenues from federal lands production in recent years.