Good morning, it's only Monday but the news isn't stopping, so let's dive right in.
My latest Harder Line column has exclusive details in the investor fight over climate change. I'll share part of that, and then Ben Geman will get you up to speed on the rest of the news. 
https://www.axios.com/newsletters/axios-generate-33fe2af4-99f7-4629-9ebd-68fe2d051742.html?chunk=0#story0
New wrinkle in Wall Street's climate battle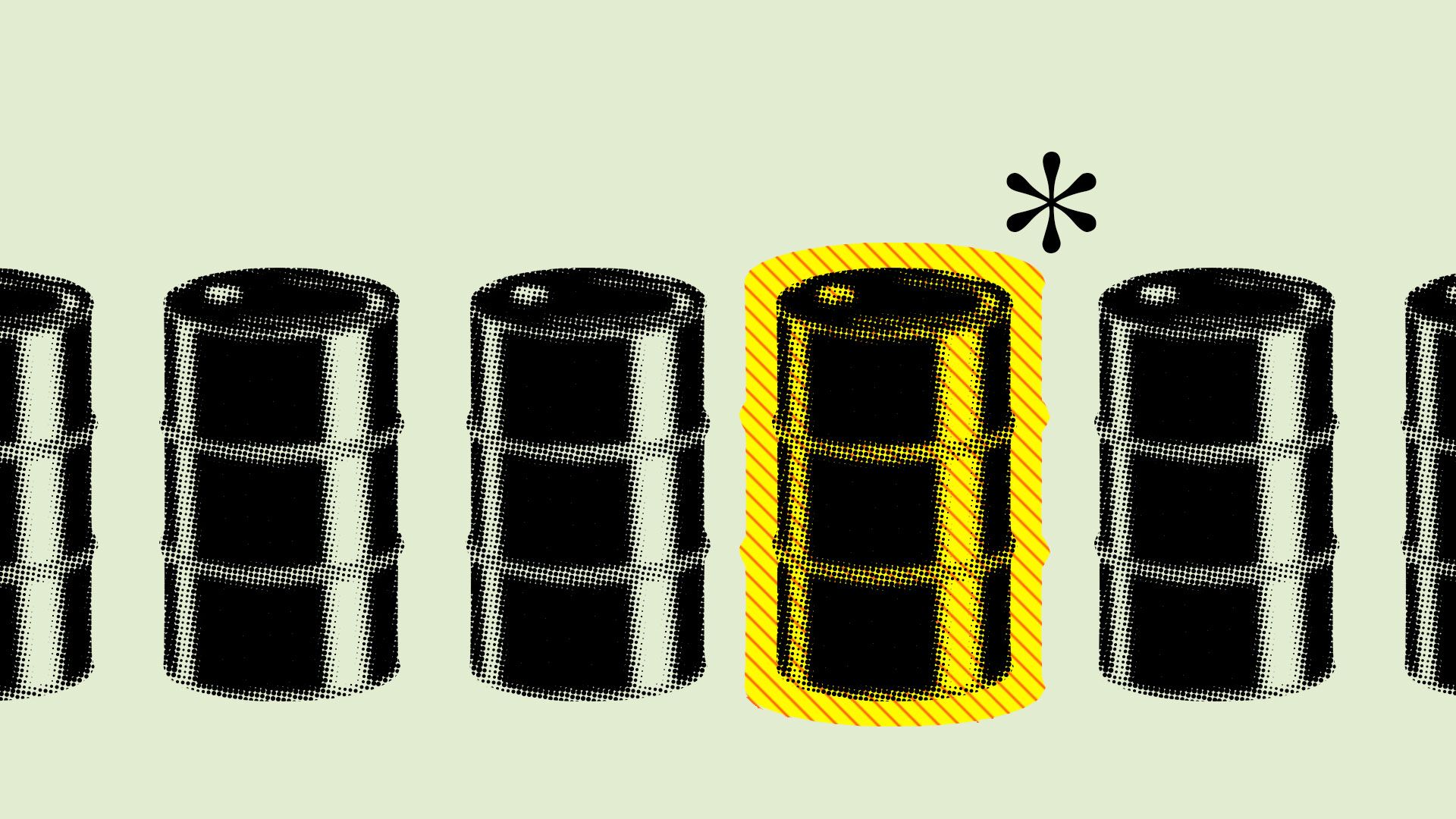 Illustration: Lazaro Gamio/Axios
A new twist is unfolding in the fight between activist investors and the oil industry: an unprecedented move by federal regulators allowing a major producer to preemptively kill a shareholder resolution on climate change without a vote.
Why it matters: The Securities and Exchange Commission's support of oil producer EOG Resources is emerging as a flashpoint in what has become America's central battleground over climate change: what investors do about it. It's an arcane fight, but a consequential one, because President Trump is reversing course on climate policy.
"What the SEC has done here really feels like interfering with the marketplace, substituting their judgment for what shareholders and investors already think and do."
— Jonas Kron, director of shareholder advocacy at Trillium Asset Management, the investment firm that filed the now-blocked resolution
For the record, the SEC and EOG declined to comment.
The details: Trillium proposed a resolution calling on EOG to set a target to reduce its greenhouse gas emissions. EOG complained to the SEC in late December that the proposal would micromanage the company, calling it a "rigid, time-bound" target, and asked to omit it from consideration.
Responding in late February, the SEC agreed and took a veiled shot at shareholders, implying they don't know enough to set company policy. The SEC sent another letter last month to Kron's firm rejecting an appeal request.
The big picture: The development comes ahead of this year's annual shareholder meetings that run through spring. Investors, including large asset managers BlackRock and Vanguard, are putting increasing pressure on fossil-fuel companies to acknowledge the risks climate change pose to their bottom lines.
https://www.axios.com/newsletters/axios-generate-33fe2af4-99f7-4629-9ebd-68fe2d051742.html?chunk=1#story1
Big this week: EPA makes its move on autos
Any moment now: This week EPA is expected to announce a long-awaited decision to begin weakening auto mileage and carbon emissions rules that cover models years 2022–2025.
Why it matters: The regulations are a pillar of Obama-era efforts to cut greenhouse gas emissions.
And, as the Associated Press notes here, the move is "likely to set up a lengthy legal showdown" with California over whether that state and about a dozen others that follow its lead can maintain the tougher rules.
Be smart: Over in our Expert Voices section, veteran energy analyst Amy Myers Jaffe offers a critical look at EPA's pending move. Here's a piece of it...
"Letting U.S. automakers produce cars with inferior mileage performance will lead Americans and foreign consumers to favor cars made in countries with tighter environmental and mileage standards — like China, Japan and Europe — especially since the price of oil is rising again. Eventually, that shift could spell a third round of Detroit bailouts."
https://www.axios.com/newsletters/axios-generate-33fe2af4-99f7-4629-9ebd-68fe2d051742.html?chunk=2#story2
FirstEnergy on the brink
Over the weekend the struggling power company FirstEnergy Solutions Corp., whose assets include coal-fired and nuclear plants in Ohio and Pennsylvania, filed for Chapter 11 bankruptcy protection.
Why that name is familiar: The move comes right on the heels of their request for the Energy Department to make sweeping use of its emergency powers to guarantee revenues to coal and nuclear plants in the PJM Interconnection region.
The big picture: The case, alongside the company's announcement last week that it plans to close 3 nuclear plants in coming years, raises the stakes in the intense policy and political fight over whether DOE should seek to aggressively intervene to stave off plant retirements.
Via The Wall Street Journal, "The bankrupt FirstEnergy affiliates operate seven power facilities in Midwestern power markets where aggressive competition from cheaper gas-fired and renewable energy sources has undercut the economics of traditional nuclear and coal plants."
The near-term: The company and its affiliates, in announcing the filing near midnight on Saturday, said they have over $550 million in cash to provide "sufficient liquidity to continue normal operations and meet post-petition obligations to employees, suppliers and customers as they come due."
What's next: The first hearing in the case arrives tomorrow morning in a federal bankruptcy court in Akron, Ohio.
https://www.axios.com/newsletters/axios-generate-33fe2af4-99f7-4629-9ebd-68fe2d051742.html?chunk=3#story3
Poll shows energy fears at 18-year low
Breaking: New Gallup polling finds that 25% of American adults are greatly concerned about energy prices and access, which is the lowest level — albeit by a hair — in 18 years of their polling on the question.
The same survey, conducted early last month, shows that 59% of respondents prioritize environmental protection over fossil fuel development.
Why it matters: The Gallup data underscores how energy prices — which are low these days thanks partially to the U.S. oil-and-gas surge — influence public perception.
"Energy has been a key issue at times in the U.S., particularly when it has been scarce or particularly costly. But now, with relatively low gas prices and little evidence of energy shortages in the U.S., Americans' concern has declined and is currently at or near record lows," Gallup says in its summary.
One level deeper: 73% said they preferred an emphasis on alternative energy, such as wind and solar, over fossil fuels. Republicans are more narrowly divided there, with 51% favoring a focus on alternative energy compared with 41% favoring fossil fuel production. Among Democrats, that divide is a much wider 88% to 9%.
Similarly, "Democrats prioritize environmental protection over development of energy supplies by 79% to 15%, while Republicans take the opposite view, favoring development of energy by 62% to 31%," Gallup reports.
https://www.axios.com/newsletters/axios-generate-33fe2af4-99f7-4629-9ebd-68fe2d051742.html?chunk=4#story4
Latest in EVs: Tesla turmoil, UPS strategy
Tesla, part 1: Per Bloomberg, "With pressure escalating after one of the worst weeks in its almost 15-year-history, Tesla Inc. raced to manufacture and deliver its mission-critical Model 3 sedan to burnish the numbers it's about to report to rattled investors."
Tesla, part 2: Via the Washington Post, "Federal investigators said Sunday they were 'unhappy' that Tesla had released information related to a fatal crash involving one of its Model X vehicles late last month."
State of the industry: A piece in the Harvard Business Review looks at how shipping giant UPS is deploying electric trucking technology, and finds both direct and ancillary benefits, like...
"Millennials want to know that they're working for a company with a greater purpose," UPS CEO David Abney told investors, per HBR.
https://www.axios.com/newsletters/axios-generate-33fe2af4-99f7-4629-9ebd-68fe2d051742.html?chunk=5#story5
Quote of the day
"Listen, I don't know how you survive this one."
— Former NJ Gov. Chris Christie on Pruitt
The context: Christie, speaking on ABC's "This Week" yesterday, is sizing up revelations about EPA administrator Scott Pruitt's use last year of a condo owned by the wife of an energy lobbyist.
"Pruitt lived during his first six months in Washington, D.C., in a condo co-owned by Vicki Hart, whose husband, J. Steven Hart, is chairman of a top D.C. lobbying firm and who is registered to lobby for several major environmental and energy concerns," ABC notes.
Why it matters: It's another sign that the controversy around the occasional $50-per-night use of the condo in a plum location on Capitol Hill is creating serious political problems for Pruitt, even though EPA ethics officials say it was OK.
The White House did not respond to an Axios request for comment over the weekend about Pruitt's stature with Trump.
https://www.axios.com/newsletters/axios-generate-33fe2af4-99f7-4629-9ebd-68fe2d051742.html?chunk=6#story6
Quote of the day, part 2
"In twenty years, oil goes to zero, and then renewables take over. I have twenty years to reorient my country and launch it into the future."
— Comment attributed to Saudi Crown Prince Mohammed bin Salman (MBS) by an attendee of a meeting.
The context: The quote is from this just-published piece in The New Yorker on the Saudi ruler-in-waiting. It comes via an anonymous attendee at a meeting the story says MBS held with venture capitalists in San Francisco.
Why it matters: While MBS has repeatedly emphasized efforts to diversify the kingdom's oil-reliant economy, the remark — if accurate — would suggest the Saudis see a much faster timeline for the end of oil's dominance than they have stated publicly.
https://www.axios.com/newsletters/axios-generate-33fe2af4-99f7-4629-9ebd-68fe2d051742.html?chunk=7#story7
Names in the news
On the move, part 1: Departing American Petroleum Institute president Jack Gerard has announced what he'll do next, after he leaves later this year.
"I have been called by the senior leadership of my church, The Church of Jesus Christ of Latter-day Saints (Mormon), to serve as a General Authority Seventy following my time at API," he told staff in a weekend email, noting he will relocate to Salt Lake City and that he's "humbled and honored" by the position.
On the move, part 2: There's new blood at a key climate group. Per Reuters, "London-based environmental think tank Carbon Tracker Initiative has hired Mark Lewis, previously managing director and head of European utilities at Barclays, to be its managing director and head of research from April 2."