Good morning and welcome back! Happy birthday to R.E.M. co-founder Michael Stipe. One of my wife's favorite R.E.M. songs is today's intro music...
https://www.axios.com/newsletters/axios-generate-33cc5957-2a34-426a-905d-0e29e0b52a7e.html?chunk=0#story0
Parsing Tesla's ho-hum day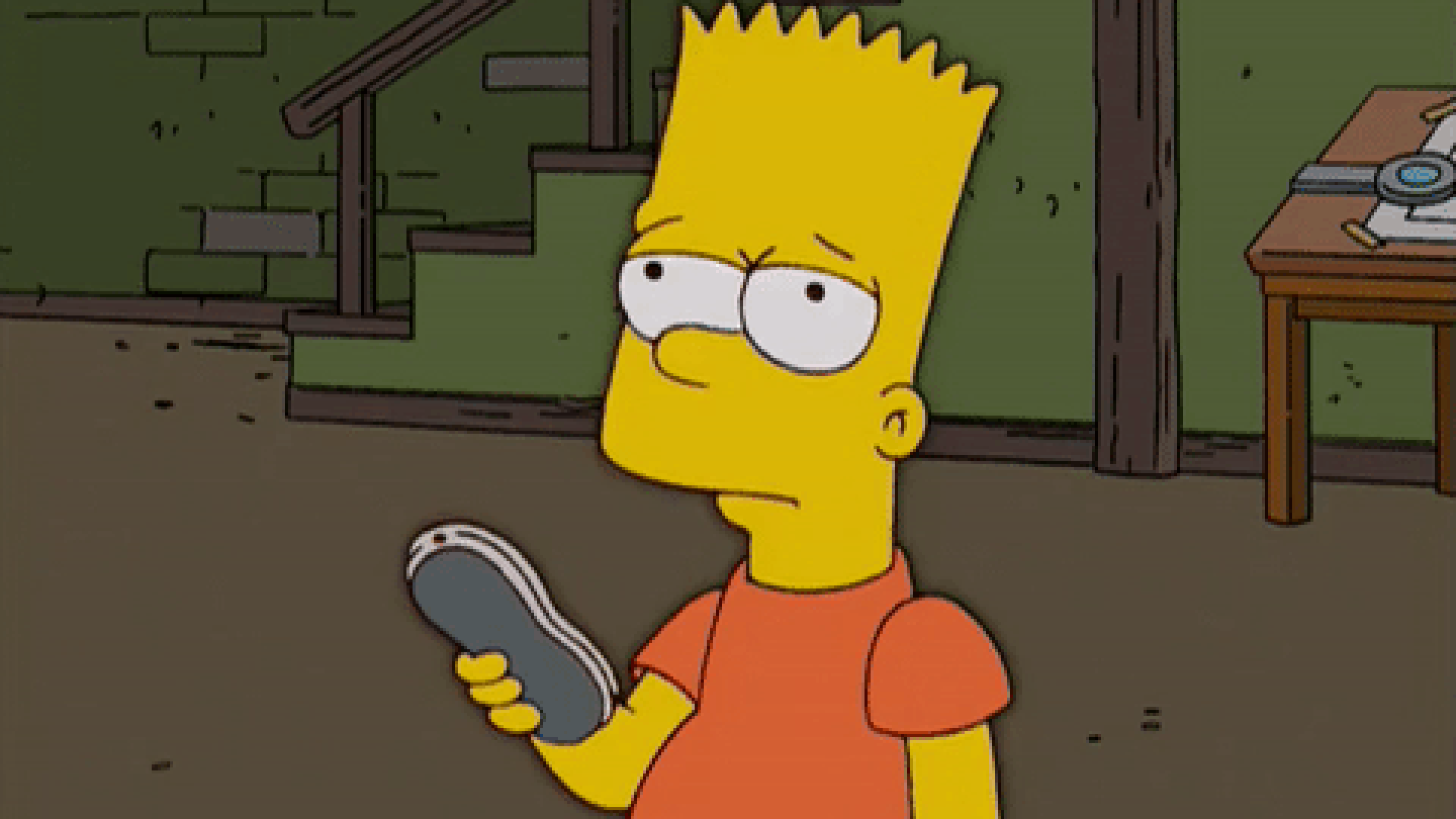 State of Elon Musk's ship: It's kind of a glass half-empty or half-full question right now when it comes to the mass-market Model 3 electric sedan.
As we reported in the Axios stream yesterday, the Silicon Valley automaker reported a jump in Model 3 production in the fourth quarter, producing 2,425 of the mainstream priced cars compared to a paltry 260 in the prior quarter.
Yes, but: Tesla has once again delayed its target of producing 5,000-per-week, and the new timeline is to reach that level at the end of the second quarter of this year. Wall Street was not impressed — the stock fell by almost 3% in after-hours trading.
Why it matters: Tesla's ability to address what CEO Elon Musk has called "production hell" and churn out the Model 3 at scale is vital for the company's future in the increasingly competitive EV market.
Case in point: Quartz contrasts Tesla's Model 3 production with GM's electric Chevy Bolt:
"GM launched the car in 2015, far ahead of the $35,000 Model 3, Tesla's first mass-market vehicle, and it seemed like no contest at the time. Tesla had amassed an impressive 400,000-person or so waiting list, and no one was lining up to buy GM's comparatively dowdy car months before it rolled off assembly lines. Today, monthly sales keep climbing, and it has reported 22,662 in sales since its debut in Dec. 2016."
Quick take: Tesla's quarterly announcement was exceedingly earnest and humble in tone. Musk seems to understand that he over-promised and that he needs to be ultra-cautious in what he says now.
The big picture: The Los Angeles Times has an in-depth look at the status of the EV and solar power company, and its ability to keep raising money from investors.
https://www.axios.com/newsletters/axios-generate-33cc5957-2a34-426a-905d-0e29e0b52a7e.html?chunk=1#story1
A perfect storm of electricity politics
My colleague Amy Harder reports...
With a winter storm barreling down the East Coast, representatives from almost every type of energy source are seizing the opportunity to tout how superior their fuel is to America's electricity supply.
The bottom line: It's a classic, ugly political move: Never let a crisis go to waste. Millions of Americans hunkering down to weather a winter storm are worried about if their electricity goes out, not what particular energy is actually fueling their electricity. It's a simple point lost amid the lobbying and messaging battles that so often dominate Washington.
Driving the news: This winter storm is adding fuel to an escalating fight. Advocacy groups representing different fuel types are battling it out ahead of a Jan. 10 deadline facing the Federal Energy Regulatory Commission, an independent government agency, to decide what to do with an Energy Department proposal compensating coal and nuclear power plants for their ability to store fuel on site, which most other electricity types can't do.
That rule's stated aim is to ensure a resilient electric grid, but the department's own data shows fuel diversity isn't the main problem, it's things like power lines going down during bad weather (including the winter storm now hitting the East Coast).
More: Click here for the rest of the story in the Axios stream, where Amy looks at how lobbyists for various power sources are seizing on the cold snap to promote their fuel.
https://www.axios.com/newsletters/axios-generate-33cc5957-2a34-426a-905d-0e29e0b52a7e.html?chunk=2#story2
Report predicts global oil exploration spending drop this year
New forecast: The consultancy Wood Mackenzie predicts that oil industry investment this year in finding and assessing conventional new discoveries will slip again despite the improved price outlook.
"Global investment in conventional exploration and appraisal will be around US$37 billion in 2018. This will be 7% less than 2017 spend of US$40 billion, and over 60% below its 2014 peak," Andrew Latham, a top analyst with the firm, said in a statement.
One reason it matters: As global crude consumption keeps rising, some experts say that more robust industry investment in finding and developing conventional sources of oil will be needed to avoid a precarious supply situation in a few years, despite the rise of shale.
Go deeper: Reuters chatted with Latham and has a story on the report here, including this synopsis of his analysis which notes that the projected decline in exploration spending "masks a modest uptick in drilling activity as lower rig rates and a focused approach on well-charted basins allow firms to do more with their money." He predicts that "activity will be flat to higher."
https://www.axios.com/newsletters/axios-generate-33cc5957-2a34-426a-905d-0e29e0b52a7e.html?chunk=3#story3
More oil-and-gas notes
Lobbying: The major U.S. liquefied natural gas company Cheniere Energy has tapped Bracewell LLP to lobby on "federal regulatory reform related to natural gas pipeline development," a new filing shows.
Russia: Gazprom, the Russian state energy giant, said yesterday that exports to Europe set a new record and rose 8.1% last year, according to comments in The Financial Times and elsewhere.
Why it matters: In recent years, U.S. policymakers have sought to help Europe diversify supply sources from its continued heavy reliance on Gazprom including the promotion of U.S. LNG becoming a part of the picture.
Yes, but: Reliance is not the same as dependence per se. As Harvard expert Meghan O'Sullivan notes in her book Windfall (which we explored here), recent changes in gas markets and the growth of the global LNG trade gives European countries more leverage when dealing with Russia. Natural gas is now more of a buyer's market, so the continent is less vulnerable to Russia's "political manipulation" of supply even though Europe will continue buying massive amounts of Russian gas.
State of the market: Oil prices are trending upward again in trading this morning, with WTI close to $62 per barrel. Bloomberg explains that multiple forces are pushing in the same direction:
"Swollen inventories in the U.S. are declining and could shrink further as winter storms boost demand for heating fuel, while a strong economy underpins consumption. OPEC is continuing its fight against a global glut, while street protests are stoking concern over the stability of the group's third-biggest producer, Iran."
https://www.axios.com/newsletters/axios-generate-33cc5957-2a34-426a-905d-0e29e0b52a7e.html?chunk=4#story4
Analysis: Don't credit Trump for coal production boost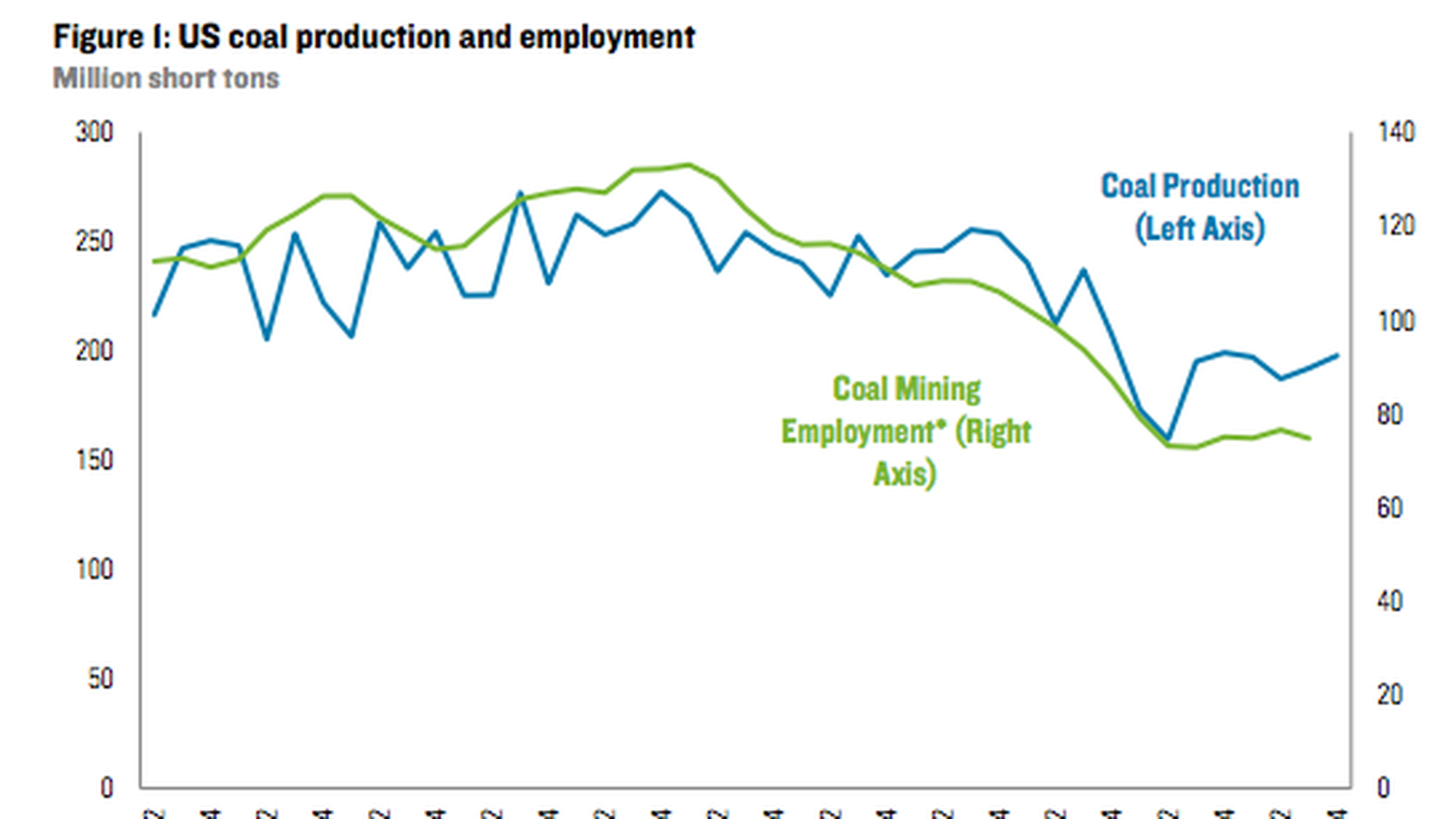 New this morning: A new research note from the Rhodium Group consultancy explores what is and isn't behind the rise in U.S. coal production (see chart above) last year.
Key conclusion: A big reason for the higher production stemmed from demand for U.S. exports to meet a recovery in Asian coal demand, notably for steelmaking, combined with lower Chinese supplies and higher prices for Australian coal. That all made U.S. exports more viable.
Citing several data sources, they estimate that U.S. domestic coal use fell again in 2017, falling another 2.4% to 713 million short tons, its lowest level since 1982.
Why it matters: If they're right, the data suggests that the Trump administration's suite of moves to bolster the coal sector are not the reason for the production boost.
Yes, but: It's too early to conclude that the various White House regulatory rollbacks aren't going to help the coal sector's fortunes in the coming years.
The International Energy Agency's latest coal report last month — a snapshot of coal markets in 2017 and a five-year look-ahead — concludes that changes in the regulatory environment have "provided optimism to the sector."
https://www.axios.com/newsletters/axios-generate-33cc5957-2a34-426a-905d-0e29e0b52a7e.html?chunk=5#story5
10 very cool things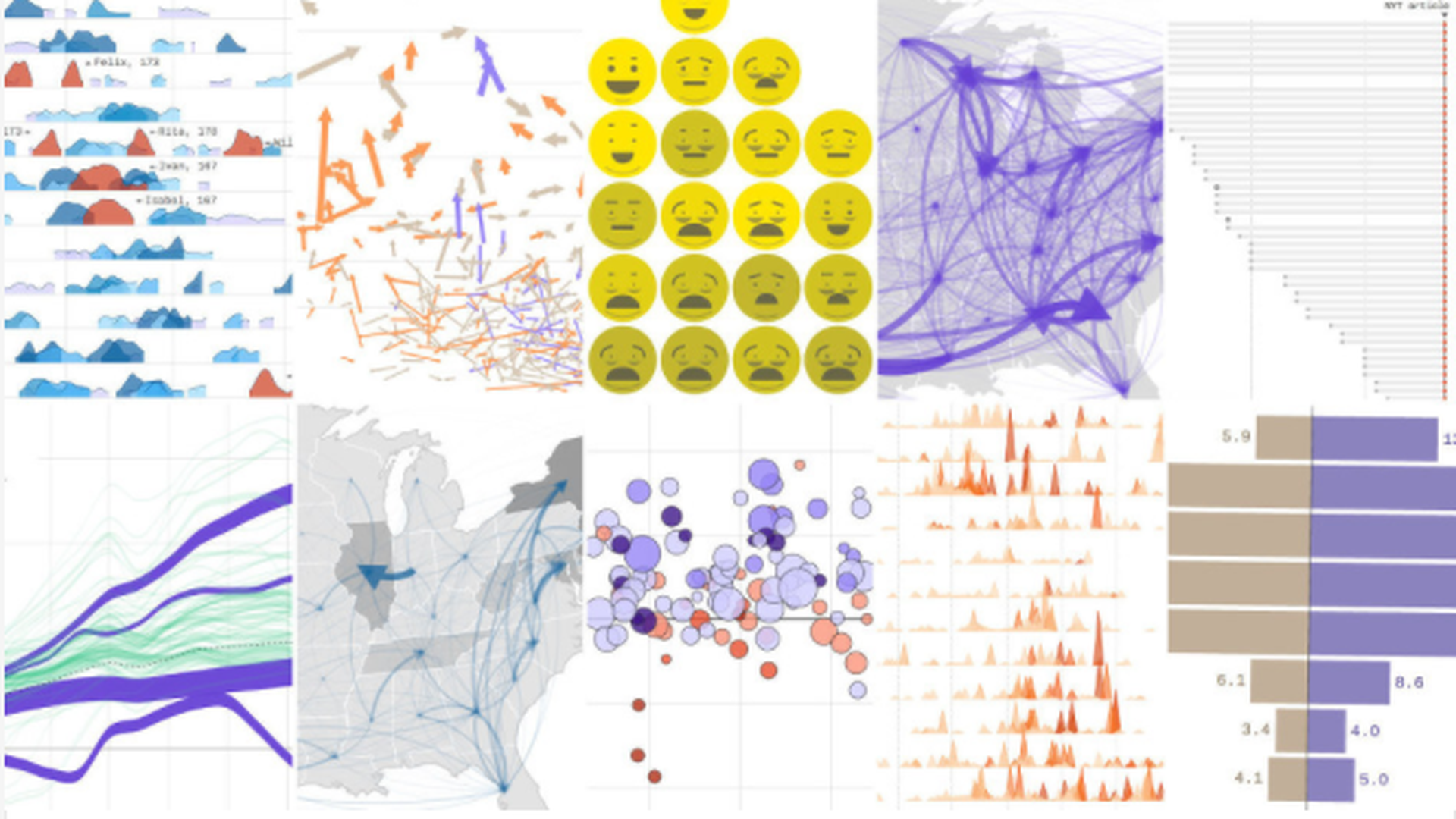 Good stuff: Readers of this newsletter probably know already that the Axios Visuals team produces lots elegant and informative stuff on energy. But that's really just the tip of the iceberg.
Click here to see 10 of their coolest, most informative data visualizations on other topics over the past year.