Good morning and welcome back!
A periodic reminder: Axios has a bunch of cool, smart, breezy and free email newsletters. They cover politics, business, tech, health care, science and more. You can sign up here.
The internet informs me that the band Blind Faith announced their presence on this day in 1969, so we'll get into the news with this cut from the short-lived supergroup files...
https://www.axios.com/newsletters/axios-generate-33aec7a1-1cc7-46d1-8527-9a201cacb401.html?chunk=0#story0
Digging into the latest big move in battery tech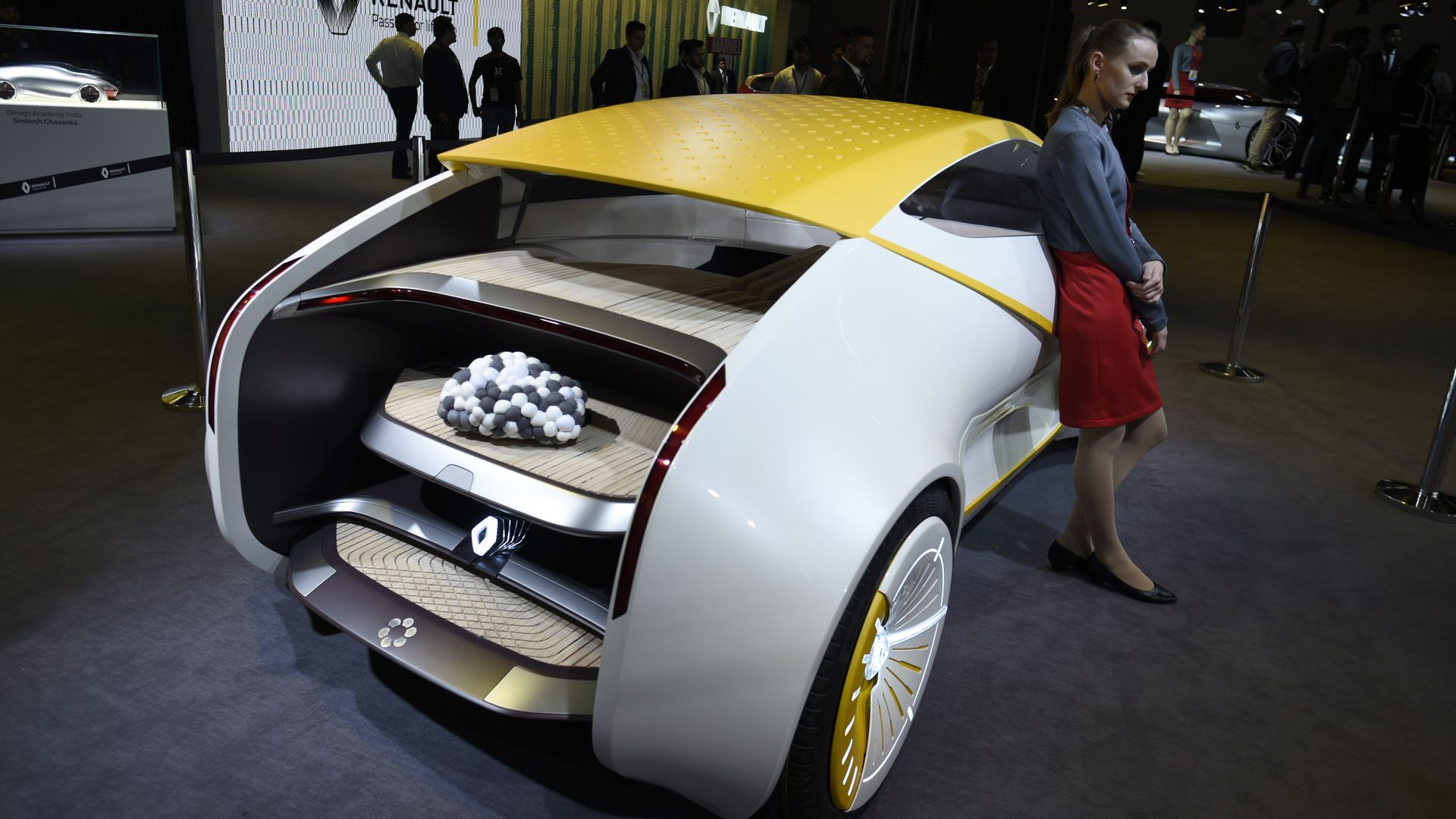 Driving the news: Ionic Materials has raised another $65 million to help the development and commercialization of its plastic solid-state battery tech, with funders including the venture fund alliance of auto giants Renault, Nissan and Mitsubishi.
Notable: Yesterday's announcement of Series C funding was also the first investment from Volta Energy Technologies, although the amount of investment was not disclosed.
The recently formed Volta is backed by utility giant Exelon and the chemical company Albemarle and has an agreement with Argonne National Laboratory that's designed to help develop and validate promising storage technologies.
Why it matters: Improvements in battery tech are a key piece of the puzzle to speeding deployment of electric vehicles, as well as stationary power storage that can help bring far more renewables onto the grid.
On the record: Volta CEO Jeff Chamberlain chatted with your Generate host yesterday. A few takeaways...
1. The lab connection: Ionic is a good fit for Volta's relationship with Argonne, and Ionic's work with the lab will begin this year, he says.
The lab's capacity to analyze material behavior at the molecular level is important to eventually tailoring it to specific commercial applications.
"If you understand the physical behavior of the material, then when you go to manufacture it, you can set the specifications," he says.
2. Volta's next moves: Chamberlain says the company will announce more investments this year. He emphasizes that they're looking at the entire energy storage ecosystem, not just battery materials.
"It is a suite of materials, new chemistry, integration hardware and charging hardware, and new artificial intelligence software that ties it all together," he says.
https://www.axios.com/newsletters/axios-generate-33aec7a1-1cc7-46d1-8527-9a201cacb401.html?chunk=1#story1
Unpacking Tesla's earnings report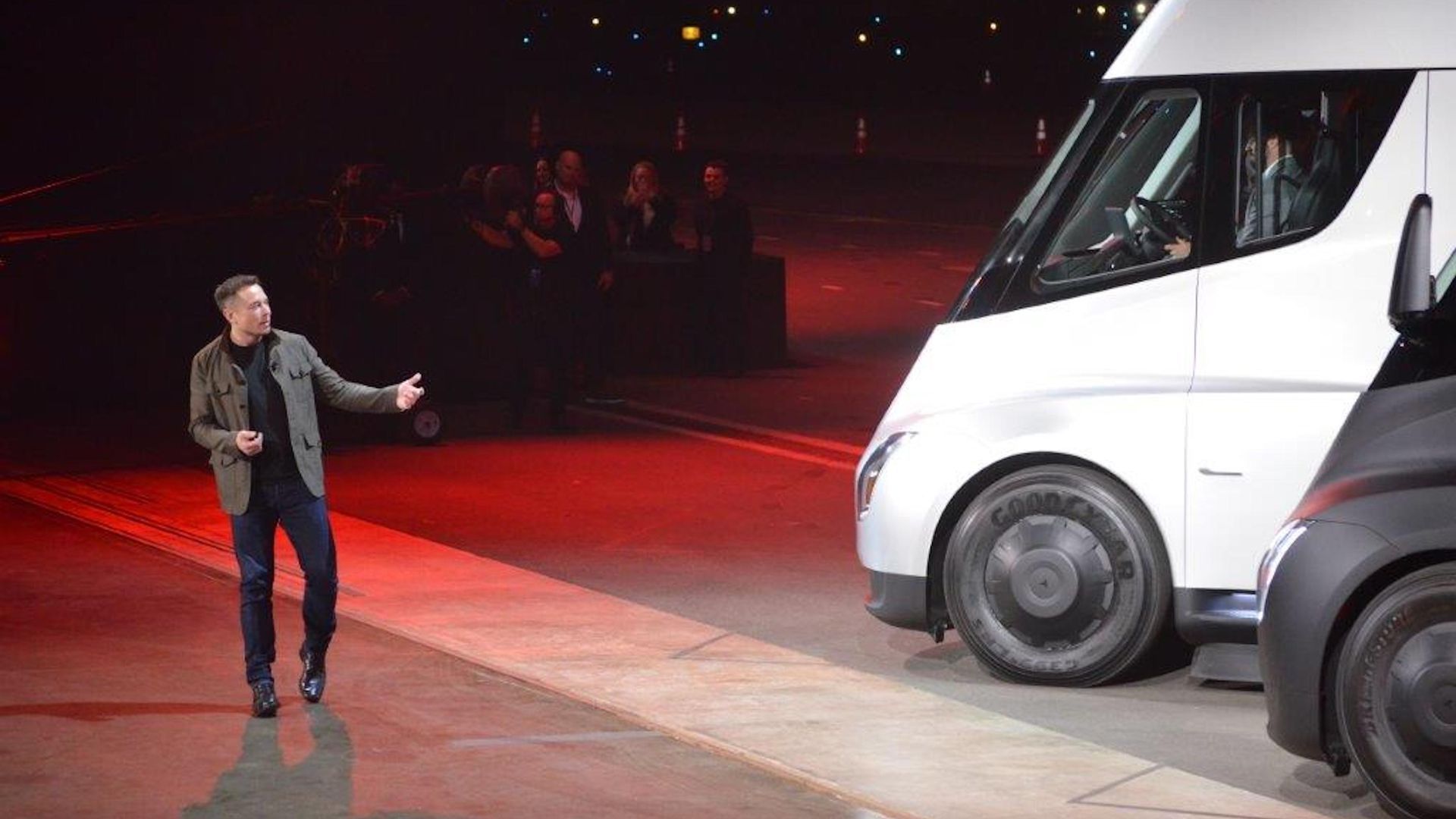 CEO Elon Musk introducing the Tesla Semi in November. Photo: Veronique DuPont / AFP / Getty Images
State of Elon Musk's ship: Tesla yesterday reported record losses for the fourth quarter on the glitch-riddled ramp-up of its mass-market Model 3 electric car, but said annual revenue grew by 55% in 2017, and suggested that its main problems will be resolved in the coming weeks.
Here's more from my Axios colleague Steve LeVine...
On the record: CEO Elon Musk spent much of an hour-long call with analysts explaining why his flagship Model 3 is so far behind production targets, and vowing to get back on track. Relying on humor and a bit of braggadocio, he suggested that he had what he called "deeper hell than we expected" under control.
Be smart: Forget the losses ($2.2 billion in all for 2017), and the revenue ($11.8 billion) as well. All that matters for Tesla is delivering the Model 3 at scale some time this year, meaning somewhere approaching 10,000 cars a week. As long as Musk can more or less achieve that, the repetitive black eyes and smack talk he has suffered will be forgotten.
Battery bottleneck: Musk said the chief bottleneck has been in the production of lithium-ion battery modules. When production began, he said, two of four battery production zones "flat out didn't work." In Germany, Tesla has redesigned the equipment, which he said will reach the U.S. next month for installation at the company's Gigafactory in Nevada.
https://www.axios.com/newsletters/axios-generate-33aec7a1-1cc7-46d1-8527-9a201cacb401.html?chunk=2#story2
Tracking advanced nuclear technology
My Axios colleague Amy Harder reports...
The number of projects developing advanced nuclear technologies across North America has grown more than 50%, to 75 from 48, over the past three years, according to a new analysis and interactive map being released today by the centrist think tank Third Way.
Why it matters: The trend provides a counterweight to the dismal outlook for America's existing nuclear industry, which features different technologies and is struggling to remain competitive with cheap natural gas and renewable power.
Yes, but: The obstacles facing a potential rush of new advanced nuclear reactors are aplenty:
The Energy Department's budget proposal cuts spending to its nuclear office.
There's no price on carbon emissions that would monetize nuclear's carbon-free profile.
America's stagnant electricity growth doesn't provide a lot of room for new power sources.
The aforementioned competition from natural gas and renewables is a challenge for any new electricity source.
https://www.axios.com/newsletters/axios-generate-33aec7a1-1cc7-46d1-8527-9a201cacb401.html?chunk=3#story3
Two offshore drilling things
Gauntlet thrown: Via Reuters, "California will block the transportation through its state of petroleum from new offshore oil rigs, officials told Reuters on Wednesday, a move meant to hobble the Trump administration's effort to vastly expand drilling in U.S. federal waters."
Why it matters: The threat is a reminder that the complex jurisdictional web of state and federal powers provides anti-drilling governors with powers that could sap industry interest in regions that may be technically open to development.
Be smart: When the Trump administration's offshore leasing plan was first announced weeks ago, ClearView Energy Partners said in a note that while Pacific Coast development is theoretically possible without state support by using floating production, storage and offloading vessels, this is likely to be cost-prohibitive.
***
Let's talk: A newly posted record shows that industry representatives met with White House and Interior Department aides last week about Interior's plan to scale-back an Obama-era offshore drilling rule that toughened requirements for blowout preventer systems.
Representatives of Exxon, Chevron, industry trade groups and other companies took part in the Feb. 1 meeting.
https://www.axios.com/newsletters/axios-generate-33aec7a1-1cc7-46d1-8527-9a201cacb401.html?chunk=4#story4
More petro notes: crude record, sanctions, earnings
Up, up and away: The Energy Information Administration reported yesterday that U.S. crude oil production averaged 10.25 million barrels per day in the week that ended Feb. 2.
If that estimate holds, the long-expected record in U.S. crude production just happened. Production already tied the early 1970s peak late last year.
Earnings: Via Bloomberg, the French multinational oil giant Total's profits "climbed 19 percent in the fourth quarter to $2.87 billion following a rebound in crude prices and rising output."
Big picture: The Wall Street Journal looks at the trend in earnings season as companies enjoy the fruits of higher crude prices. "Big dividends and share buybacks are making a comeback in the oil industry amid a fragile market recovery," the paper reports this morning.
Venezuela: Via the Los Angeles Times, "Crisscrossing Latin America over the past week, Secretary of State Rex Tillerson has tried to rally support for stiffer sanctions against Venezuela, including a possible embargo on its oil exports, but had only mixed success."
https://www.axios.com/newsletters/axios-generate-33aec7a1-1cc7-46d1-8527-9a201cacb401.html?chunk=5#story5
Fact-checking Pruitt's climate comments
Amy reports...
EPA administrator Scott Pruitt said in an interview this week that some global warming could be good for humanity. He's technically not wrong, but he's overstating and muddling a scientific debate that's unequivocally saying the opposite.
The bottom line: Yes, there are benefits to a warmer planet, notably in colder regions like Canada and Russia. But overall, the negative effects far outweigh the benefits in colder regions, in part because most people live in places that are already as warm as they should be.
One level deeper: This is what the United Nations' summary of the world's foremost scientific literature says on the matter:
"Overall, the report identifies many more negative impacts than positive impacts projected for the future, especially for high magnitudes and rates of climate change. Climate change will, however, have different impacts on people around the world and those effects will vary not only by region but over time, depending on the rate and magnitude of climate change."
Read more in the Axios stream.
* * *
Speaking of climate change: "The much-heralded demise of the coal industry may be overstated, a new scientific analysis asserts — finding that if all planned plants were constructed, the world would have little chance of meeting its climate change goals," The Washington Post reports.
Go deeper: You can read the whole study here.