Good morning and welcome back! Before we dive in, I want to flag some exciting news about Axios that's certainly relevant to readers who care about energy.
As Axios turns one year old, co-founder Jim VandeHei is announcing plans for expanded coverage, including a new section of our website devoted to global news and trends that will feature our own reporting and outside expert voices.
Jim's memo is here. Ok, let's go...
https://www.axios.com/newsletters/axios-generate-3197e1ae-4d2b-44f4-98e0-a16f908a8915.html?chunk=0#story0
Little ANWR oil expected before 2030: IEA chief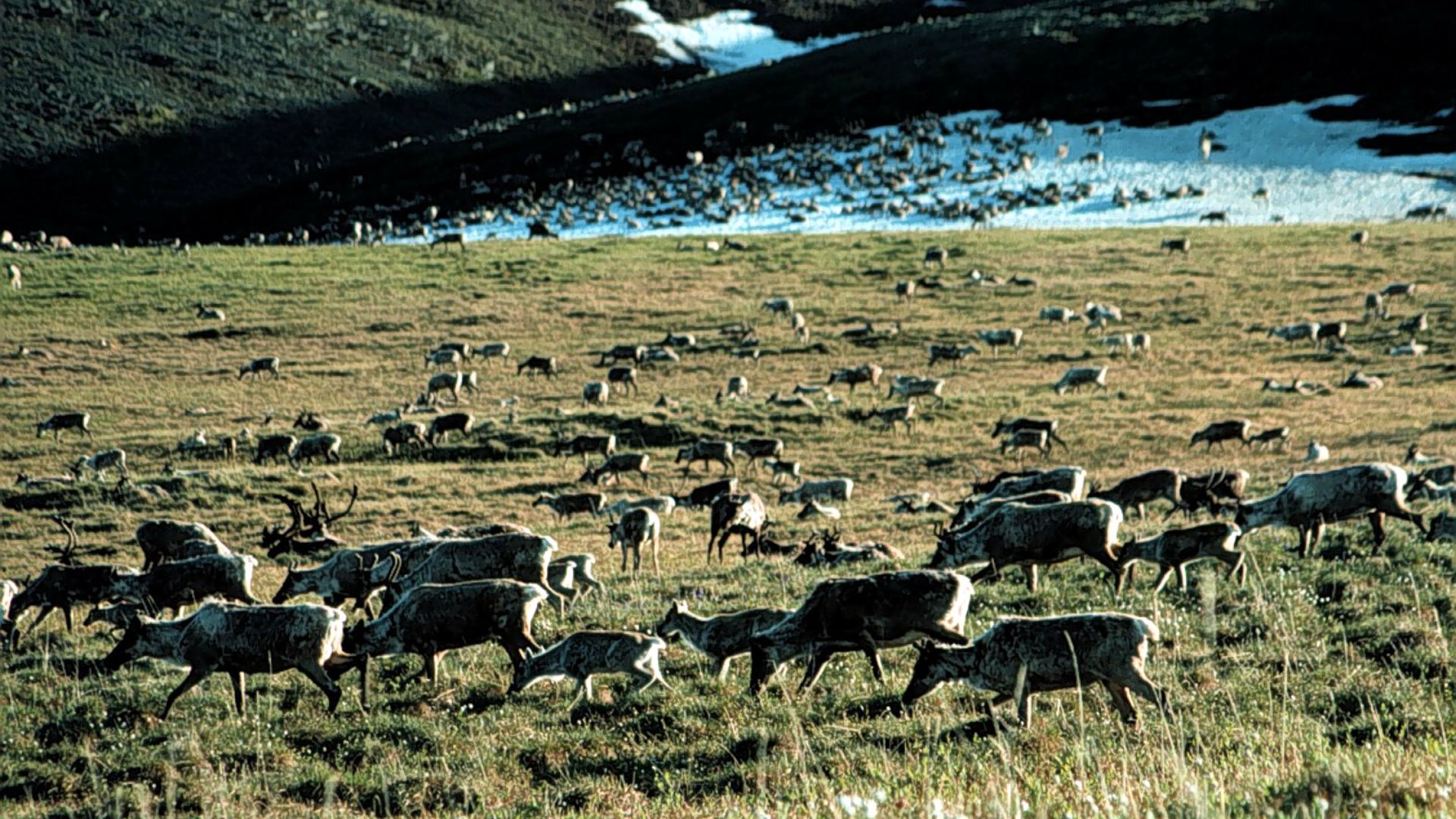 Fatih Birol, head of the International Energy Agency, doesn't expect to see much oil flowing from the Arctic National Wildlife Refuge for more than a decade.
On the record: The IEA chief told the Senate Energy and Natural Resources Committee Tuesday that modest prices and the bountiful shale opportunities will temper industry interest despite the region's proximity to the Trans-Alaska Pipeline and potentially huge hydrocarbon resources.
"With the current context, it will be difficult to believe that there will be a substantial amount of oil production coming from that region before 2030, unless we see some surprises in the markets."
— Birol tells Senate panel
Why it matters: The tax overhaul bill that President Trump signed late last year authorizes oil-and-gas leasing on ANWR's coastal plain, providing a big victory for Alaskan officials and oil-and-gas advocates who have fought for decades to open the region.
However, Birol's comments lend weight to the view that development will likely be slow to materialize once leases are sold. The tax bill requires Interior to hold the first lease sale within the next four years.
Yes, but: Birol was more bullish on the prospect of LNG exports from Alaska. It's a prospect that's gaining new attention following a preliminary agreement between Chinese companies, the state of Alaska and the Alaska Gasline Development Corporation.
https://www.axios.com/newsletters/axios-generate-3197e1ae-4d2b-44f4-98e0-a16f908a8915.html?chunk=1#story1
BP CEO: Russia and OPEC will keep working together
My Axios colleague Amy Harder reports...
BP CEO Bob Dudley is bullish on a lasting cooperation between Russia and OPEC, a position he told Axios in an exclusive interview that goes against conventional wisdom.
Why it matters: Dudley has extensive experience working in Russia and with Russian companies. BP has an almost 20% stake in Rosneft, the Russian state-owned oil company whose CEO, Igor Sechin, is among the individuals the U.S. government has sanctioned.
Gritty details: Dudley's comments, made to Axios in a wide-ranging interview last week in Washington, come as some analysts are predicting the production-limiting deal between Russia and OPEC may end sooner than its scheduled December end, given that oil prices are at three-year highs.
Dudley indicated he thinks the deal could last at least through the full year, and possibly longer. His comments in full:
"Historically, they have not worked together, communicated together. They are now. I think there is a general view out there that this is a convenient relationship for a short period of time. I actually don't subscribe to that. I think you'll always have debates among OPEC nations and in Russia itself, but I think the cooperation around this, which is so vital to all the countries, I think they will remain more open and closer than what I would say is conventional wisdom."
Go deeper with more from Amy's interview:
https://www.axios.com/newsletters/axios-generate-3197e1ae-4d2b-44f4-98e0-a16f908a8915.html?chunk=2#story2
The future takes a backseat at Detroit's auto show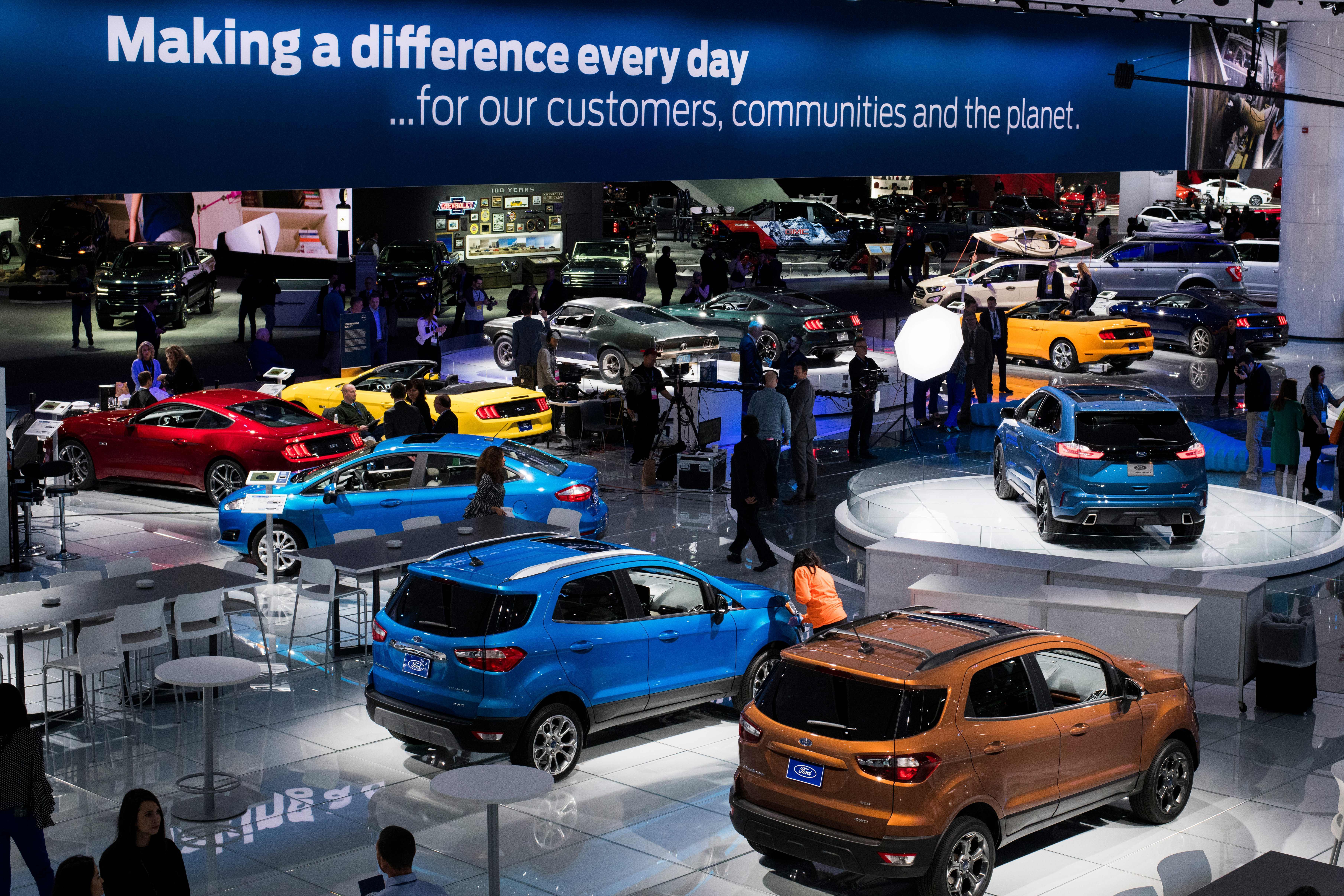 Ford's stand at the Detroit Auto Show. Photo: Jewel Samad / AFP / Getty Images
State of the industry: My Axios colleague Shane Savitzky has a look at the trends on display at the big Detroit auto show. One of his takeaways is that compared to the glittery future promises of last week's Consumer Electronics Show in Las Vegas, the Detroit show includes more meat and potatoes stuff.
From his piece...
Trucks and SUVs are the highlight: Detroit's biggest push looks exactly like what's already popular on American roads — pickup trucks and SUVs. After U.S. auto sales sagged last year for the first time in nearly a decade, manufacturers set their sights on refreshing their heavier lineups in order to boost sales, per the BBC. It should be no surprise that the reveals of the 2019 Chevy Silverado and Ford Ranger gained some of the biggest headlines from Detroit's early days.
Yes, but: That doesn't mean the auto industry's move toward electric vehicles, which are now less than one percent of the global fleet, isn't also apparent in Detroit and elsewhere.
We've already noted Ford's plan to increase EV investments and offerings. Shane adds that "GM, Toyota, and Volkswagen all outlined ambitious plans to electrify their vehicle lineups in coming years. "
More details from the show:
High end: Via the Detroit News, "Infiniti, the luxury brand of Japanese automaker Nissan, will start phasing out gas-powered vehicles in 2021 and switch to 'all electrified' models, the maker's new CEO Hiroto Saikawa said Tuesday afternoon."
Higher end: "Ferrari will make a battery-electric supercar to snatch some market share and attention away from Tesla, the dominant player in the luxury electric vehicle industry, CEO Sergio Marchionne told reporters at the North American International Auto Show in Detroit," Fortune reports.
For your D.C. radar: Next Thursday the Senate Energy and Natural Resources Committee will hold a field hearing on the sidelines of the Washington Auto Show about "the opportunities and challenges facing vehicle technologies, especially energy-relevant technologies."
https://www.axios.com/newsletters/axios-generate-3197e1ae-4d2b-44f4-98e0-a16f908a8915.html?chunk=3#story3
The latest Permian forecast and more petro notes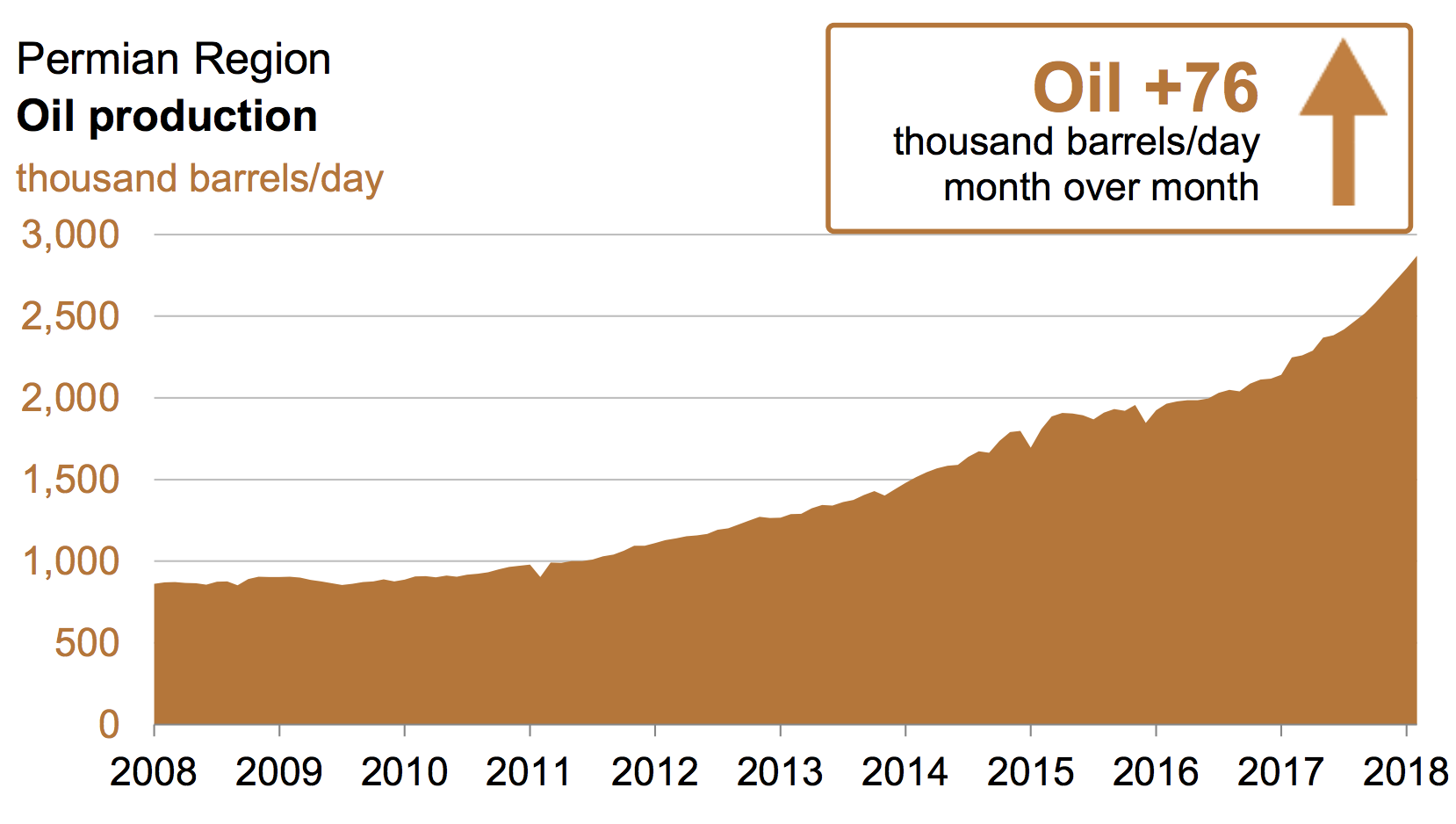 Permian basin oil production growth chart from the EIA's latest Drilling Productivity Report.
Up, up, up onshore: The Energy Information Administration's latest projections for U.S. tight oil and shale formations forecast that oil production from those regions will grow another 111,000 barrels per day to reach 6.55 million barrels per day next month.
Check out the chart above: It shows how the Permian Basin region of Texas and New Mexico will once again lead the way, accounting for over two-thirds of that growth.
Go deeper: CNBC looks at the data for various shale regions here.
Hurdles offshore: A new Bloomberg piece explains why the Trump administration may struggle to lure industry investment off the East Coast, even though the region may share some of the massive hydrocarbon bounty that companies are tapping in South America's Atlantic waters.
"Geologists speculate that those U.S. waters could hold an equally tantalizing amount of crude oil and natural gas. But oil companies may not be willing to endure the high production costs and public opposition to find out. Gushers of litigation are more likely than gushers of oil," their story notes.
Pipelines: The Wall Street Journal has an interesting feature this morning on the evolution of nationwide battles over new pipelines. Under the headline "Pipeline builders outflank opposition with expansions," they report:
As environmentalists and local activists make it extraordinarily difficult to build new oil and gas lines, energy companies are working around the opposition by supersizing old pipes that already crisscross parts of the continent.
Disaster: "Several oil slicks have been found in waters around a sunken Iranian tanker ship in the East China Sea in a spill that is growing and whose potentially major impact on the marine environment is still being assessed," the Associated Press reports.
https://www.axios.com/newsletters/axios-generate-3197e1ae-4d2b-44f4-98e0-a16f908a8915.html?chunk=4#story4
More from IEA's leader: renewables, geopolitics, crude supply
Here's a bit more from Birol's remarks at the Senate hearing, and later in the day at the Center for Strategic and International Studies.
Renewables: He talked up the growing cost-competitiveness of renewable power worldwide.
"We expect that around the year 2020, most of the renewables in the world may not need any more subsidy. They can be competitive with every traditional sources of energy."
"Sometime soon, in five years or so, we may see in many countries — most countries I should say — especially for solar and onshore wind, we may not need subsidies."
Oil supply: Birol is still worried that investment in finding and developing new oilfields is lagging.
"2016 and 2017 were not only the lowest number of discoveries we had, but also the lowest number of sanctioned resources. This is very depressing in a world in which we lose every year on average about 2 million barrels per day because of the decline of the existing fields," he said at CSIS.
Geopolitics: Overall, he said the U.S. is "becoming the undisputed global oil and gas leader." Birol repeatedly noted the leverage that the U.S. oil and natural gas boom gives the country in foreign affairs.
"I am sure Secretary Tillerson, in the international negotiations with his counterparts, is sitting on his chair much more comfortably compared to his predecessors," he told the Senate committee.
Defending IEA: The agency has taken all kinds of heat for a years-long pattern of underestimating the growth of renewable electricity deployment worldwide. But Birol defended the agency's analyses, noting they model only existing policies.
"Our aim is not to guess the future. We are just giving a framework for the policymakers, for the industry to think [about] where the world is heading with the current policy framework," he said at CSIS.
Go deeper: His prepared Senate testimony is here, and the archived webcast from the CSIS event is here.
https://www.axios.com/newsletters/axios-generate-3197e1ae-4d2b-44f4-98e0-a16f908a8915.html?chunk=5#story5
On my screen: tech predictions, gas tax, solar trade battle, FERC
Crystal ball: Bloomberg New Energy Finance is out with its annual list of 10 predictions for the new year around renewables, electric vehicles and other green tech. Here's one of them: global electric vehicle sales will rise around 40% to 1.5 million this year.
Check out the rest of the 2018 predictions here.
Good luck with that: The Washington Post reports that the U.S. Chamber of Commerce is launching an uphill battle to convince Congress and the White House to agree to raise the gasoline tax by 25 cents per gallon to fund an infrastructure package.
Crunch time in solar case: With the White House facing a Jan. 26 deadline for its decision on new trade restrictions on solar panel equipment imports, Greentech Media explains how the dispute could drag on further.
"According to trade experts, a remedy decision could be delayed an additional 90 days if the Trump administration decides to pursue a 'negotiated settlement.' The type of action referenced in the Section 201 statute that could trigger further review would involve negotiating 'quantitative restrictions' on imports of solar products subject to the 201 investigation," they report.
FERC's approach: Utility Dive looks at what two members of the Federal Energy Regulatory Commission had to say yesterday about their newly launched process to explore grid resilience, now that the panel has unanimously rejected Energy Secretary Rick Perry's plan to boost revenues for coal and nuclear plants in some markets.
"In rejecting the proposal, FERC gave regional grid operators 60 days to detail how they could enhance grid resilience, after which industry participants will have 30 days to reply. That is considerably faster than most major market reform discussions at FERC, but [commissioner Neil] Chatterjee warned the docket could stretch further," the story notes.