Axios Generate
July 20, 2021
🎉 Welcome back! Today's Smart Brevity count is 1,293 words, < 5 minutes.
📊 Data point of the day: 10%. That's last year's decline in the U.S. energy sector workforce, per new DOE-funded analysis.
🚨 Breaking: DHS just issued new security directives to owners and operators of hazardous liquids and natural gas pipelines, citing "urgently needed protections against cyber intrusions."
🎸 And happy 40th birthday to ZZ Top's album "El Loco," which provides today's intro tune...
1 big thing: Global COVID recovery plans aren't very green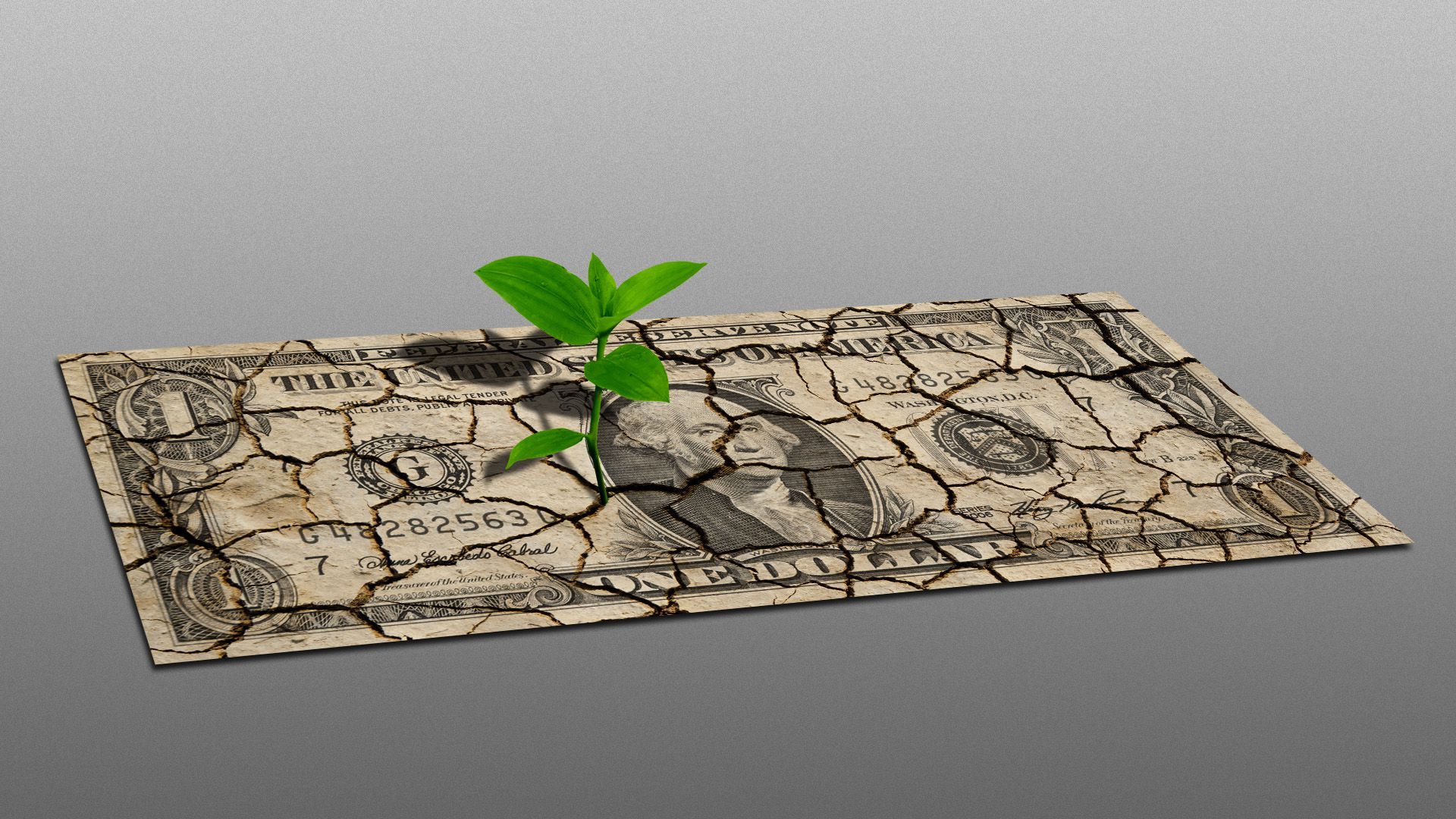 Two new analyses show that governments' economic responses to COVID-19 haven't been remotely as climate-friendly as multilateral agencies and advocates called for when the crisis took hold last year, Ben writes.
Driving the news, part 1: An International Energy Agency report finds that as of this year's second quarter, 2% — or $380 billion — of the $16 trillion worldwide fiscal response has been allocated to clean energy measures.
A lot of that $16 trillion went toward emergency support and relief to people and companies.
But even looking at longer-term recovery and growth-related spending, clean energy is still a fraction of the $2.3 trillion in that category.
Driving the news, part 2: The research firm BloombergNEF, in a separate analysis, concludes: "Calls for a green economic recovery have thus far largely fallen on deaf ears, with much more funding targeted at CO2-intensive sectors."
Their findings, part of a wider new climate policy report released in partnership with Bloomberg Philanthropies, explore measures in the G20 group of nations.
Their assessment is that $363 billion has been allocated for various kinds of "green" efforts, while over $1.2 trillion has been set aside for "carbon-intensive sectors such as aviation and construction with no green element."
Why it matters: Groups like the IEA, International Monetary Fund and environmentalists say that recovery packages should serve the dual purpose of restoring economies while helping to cut carbon emissions.
The findings come as emissions have rebounded from their big decline during the last year's pandemic restrictions and may be heading for record highs.
What they're saying: "Many governments may have talked about the importance of building back better for a cleaner future, but many of them are yet to put their money where their mouth is," IEA head Fatih Birol said.
What we're watching: In the U.S, the $3.5 trillion budget reconciliation package Senate Democrats hope to pass, which is slated to have major clean energy spending and tax incentives.
The proposed bipartisan infrastructure plan has smaller but still significant provisions, including $73 billion in grid and transmission spending.
2. CO2 emissions are heading for a new record — IEA
The new IEA analysis projects that global carbon emissions are heading for a new record despite some green provisions in governments' recovery plans to date, Ben writes.
The big picture: Check out the middle line in the chart above.
It shows IEA's top-line finding that even if the clean energy measures in nations' recovery measures to date are implemented, energy-related CO2 emissions — that is, the lion's share — will keep rising.
The provisions and the private resources they would leverage lead to lower emissions than would have occurred absent the efforts, but it's nothing close to an emissions trajectory consistent with Paris Agreement targets.
The bottom line: "The sums of money, both public and private, being mobilised worldwide by recovery plans fall well short of what is needed to reach international climate goals," IEA said in a statement alongside the analysis.
3. PG&E's wildfire woes continue as blazes scorch the West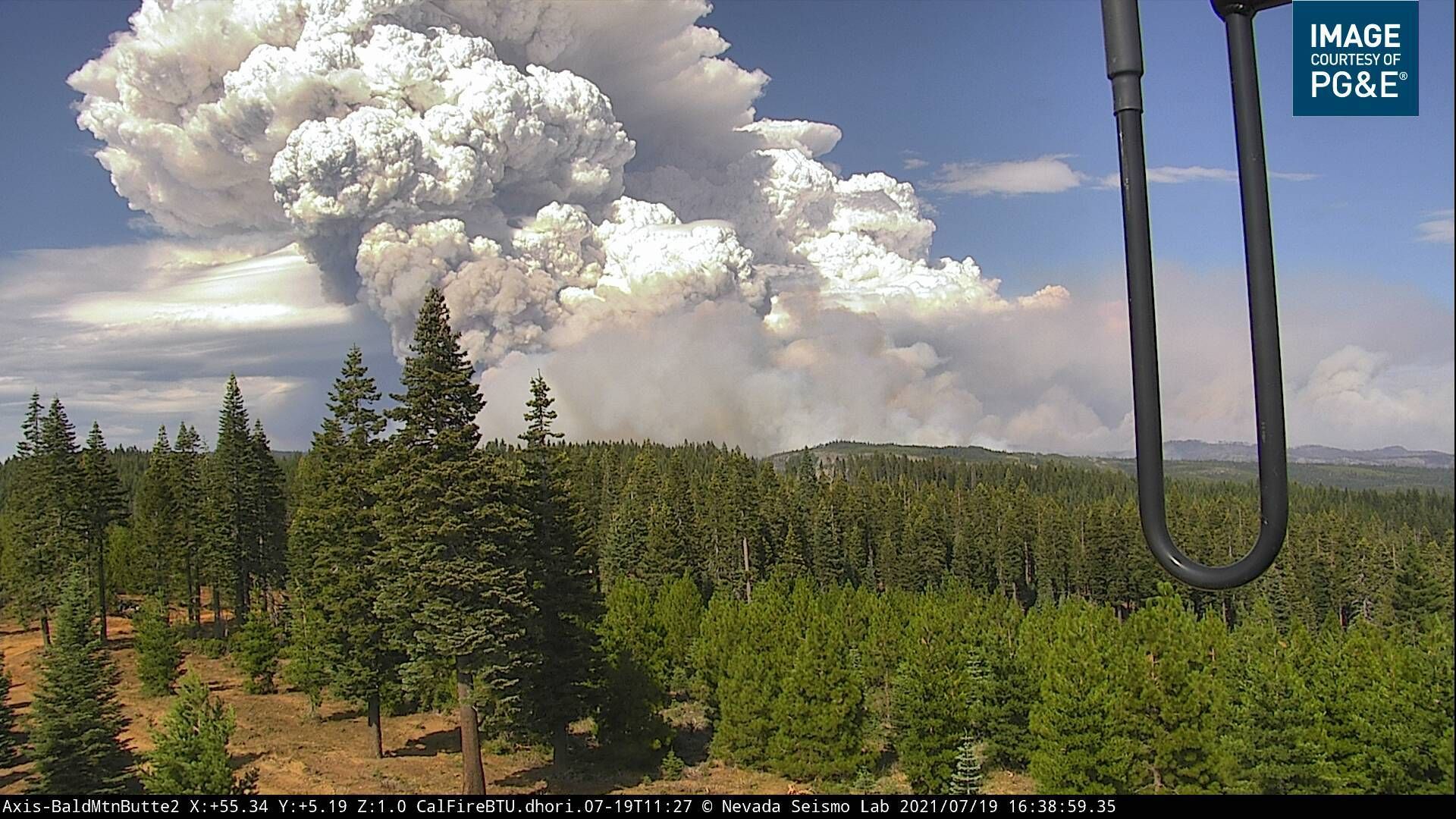 Western wildfires exploded in size on Monday through Monday night. A California blaze that may have been set off by Pacific Gas & Electric Co. power equipment, known as the Dixie Fire, grew while vaulting smoke 45,000 feet into the atmosphere, Andrew writes.
Why it matters: The western wildfire season is in high gear about two months early, as drought and heat waves have dried out vegetation to late summer levels.
Driving the news: Nearly 300 blazes are burning in British Columbia, setting off numerous evacuations, and more than 80 large wildfires were burning in the U.S. Tuesday morning.
Human-caused climate change is making these wildfires larger and more intense.
In a filing with the California Public Utilities Commission, PG&E said blown fuses on its power equipment may have sparked the Dixie Fire. This would be the latest in a string of large California blazes started by the company's equipment.
The blaze expanded Monday, forcing fire crews to retreat as a towering fire-related thunderstorm cloud, known as a pyrocumulonimbus, grew above the blaze.
4. COVID-19 is battering oil prices anew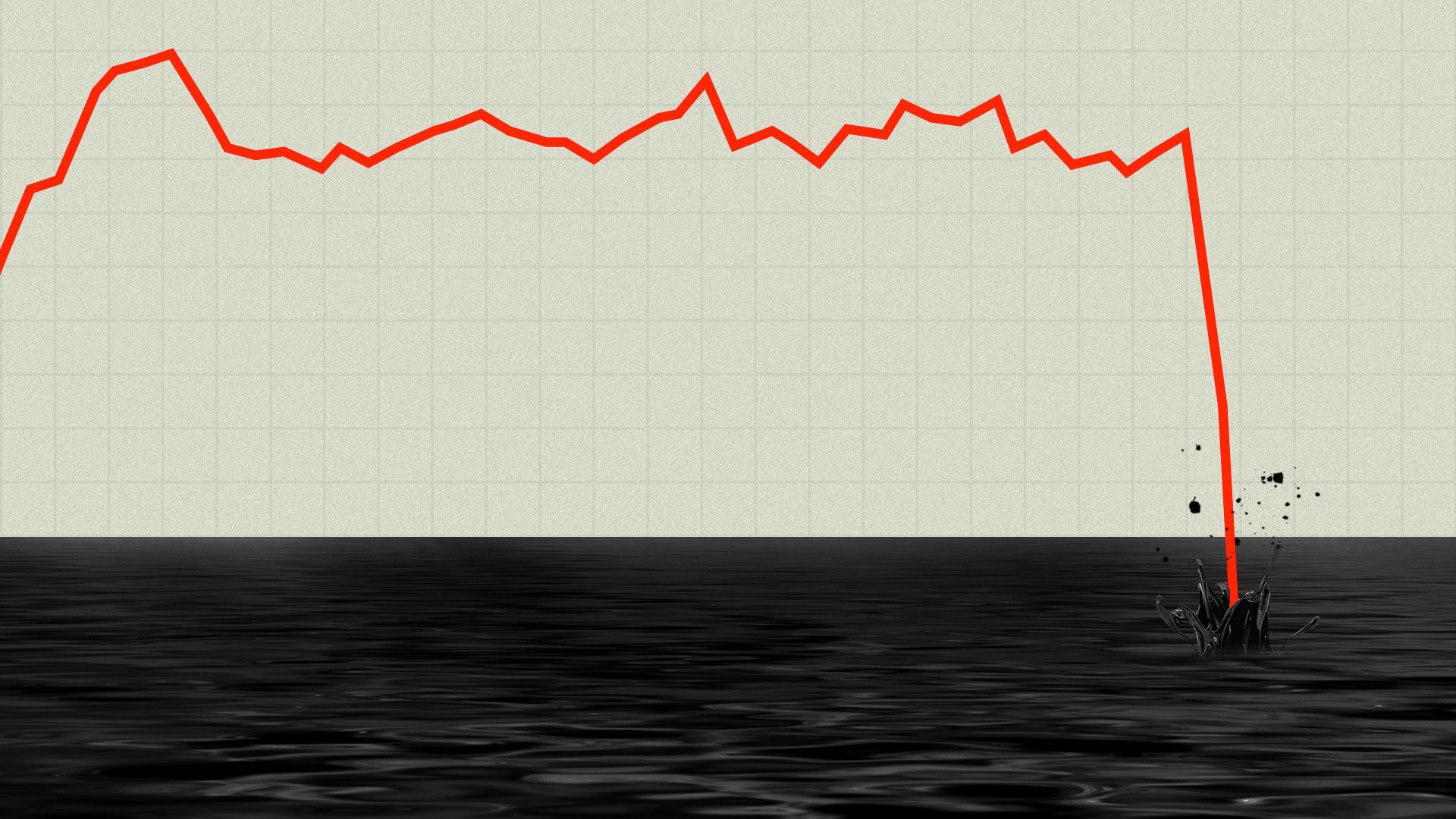 Crude oil prices slid to their lowest levels since May on Monday as analysts pointed to multiple forces putting downward pressure on the market, Ben writes.
Driving the news: Brent crude, the global benchmark, slid by almost 7% into the $68-per-barrel range, with U.S. prices seeing a similar drop. Prices have regained a little ground since yesterday.
Why it matters: Analysts said one reason for the plunge is the spread of the Delta variant of the virus, while the OPEC+ deal to boost supply is also a factor.
"As things stand, it is hard to see prices staging a comeback unless virus jitters are brought back under control," said PVM Oil Associates analyst Stephen Brennock, via Bloomberg.
And per Reuters, Price Futures Group analyst Phil Flynn said "the market is very fixated on the potential for the Delta variant exploding."
Yes, but: Goldman Sachs analysts, in a new note, see prices moving significantly higher later this year, even as the Delta variant may create a near-term demand drag.
They see Brent prices averaging $80 per barrel in Q4.
"[O]il prices may continue to gyrate wildly in the coming weeks given the uncertainties of the Delta variant and the slow velocity of supply developments," they write.
"Nonetheless, we believe that the oil market repricing to a higher equilibrium is far from over," the note adds.
5. Democrats unveil carbon border tax plan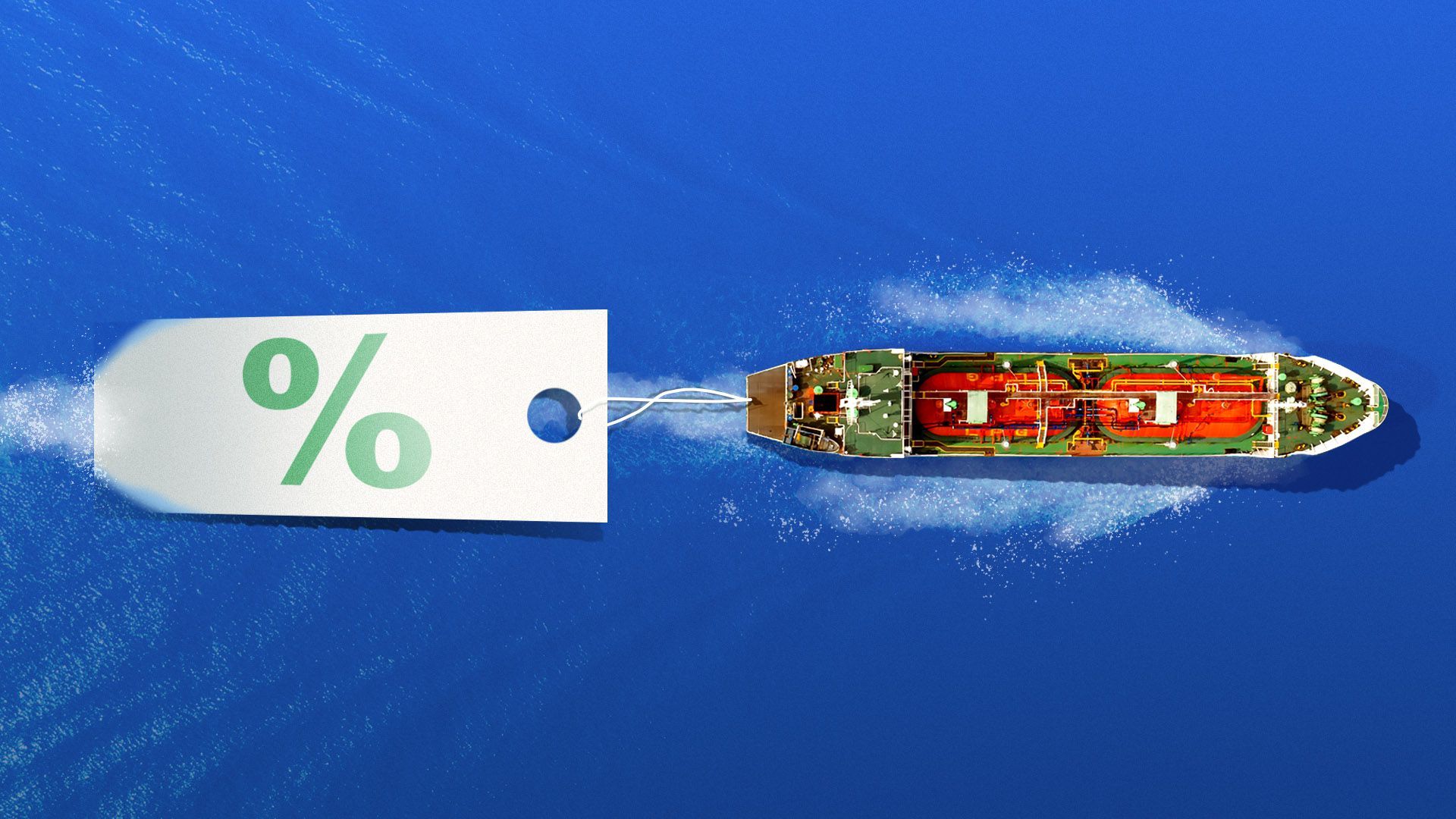 Sen. Chris Coons (D-Del.) and Rep. Scott Peters (D-Calif.) unveiled legislation on Monday that would levy a fee on imported carbon-intensive goods, such as steel and aluminum, Andrew writes.
Why it matters: The "border carbon adjustment," which is expected to be included in the legislative text of the Democrats-only infrastructure bill that would move through the reconciliation process, uses trade policy to help address climate change.
It follows a move by the European Union to implement a similar policy.
Details: The border carbon adjustment, or BCA, would protect American industries that have to pay more to comply with climate regulations from competitors based in countries that aren't reducing their emissions as aggressively.
Foreign producers of goods such as steel would have to pay a fee based on each ton of carbon dioxide they emitted while producing such materials.
Initially, the draft bill targets the following energy and pollution-intensive products: steel, aluminum and cement, as well as natural gas, petroleum and coal.
The tariff may expand over time.
The intrigue: The measure might be attractive to moderate lawmakers who are worried about hobbling the domestic energy and manufacturing sectors.
Yes, but: Policies like this can be difficult to implement, especially since countries have expressed their emissions reduction goals differently.
Such a measure could provoke other countries to act in ways that restrict American imports.
In addition, considering and enacting such a measure could make diplomatic negotiations at the next United Nations climate summit even more fraught.
6. Here's John Kerry's ask of big nations
John Kerry, President Biden's special climate envoy, today will press every major economy to commit to "meaningful absolute reductions" in greenhouse gas emissions by 2030, Ben writes.
Why it matters: The comments, part of what's being billed as a "major policy speech" in London, provide a greater sense of the U.S. posture ahead of the critical U.N. climate summit this fall.
Quick take: Kerry's remarks are likely directed at major emitters including China, the world's largest, which thus far has pledged only to have an emissions peak before 2030.
What's next: Kerry will say there's still time to limit to global temperature rise to 1.5°C above pre-industrial levels — the most ambitious goal of the Paris deal — but only with steep cuts this decade.
"That is the only way to put the world on a credible track to global net zero by midcentury," he will say, per excerpts shared by aides.
"We're already seeing dramatic consequences with 1.2°C degrees of warming. To contemplate doubling that is to invite catastrophe," Kerry will say.