Good morning and welcome back!
Since Amy sends Monday newsletters, I didn't get to mark yesterday's 1991 release date of REM's "Out of Time." Let's correct that with today's intro tune . . .
https://www.axios.com/newsletters/axios-generate-30733924-26cc-48f8-8086-1414bb30e1d5.html?chunk=0#story0
Behind the scenes of the Paris decision
Former White House international energy aide George David Banks, chatting with the Columbia Energy Exchange podcast, offers behind-the-scenes color about President Trump's decision to begin withdrawing from the Paris deal.
On the record: Banks, who wanted the U.S. to remain but with a less stringent emissions pledge, discussed Trump's June 1 Rose Garden announcement, noting it came before John Kelly became chief of staff and imposed a more defined process.
"So I didn't see the speech until maybe a few hours before the speech. I'll never forget being asked by the comms folks, 'Hey we need you to go out and defend the speech with the press corps.' And then I came back and said, well I need to see the speech first in order to be able to prepare for that," Banks said.
"When I first looked at it, I think people who understand the issues recognize that maybe there were some things that didn't quite reflect the reality of where some things are in the international climate process."
Prediction: Banks believes Trump will ultimately stay in the deal while weakening the Obama-era emissions pledge.
Trump hosts the G-7 summit in 2020, and Banks calls that a venue to claim victory:
"I think it will be fairly easy for the president to agree that we are going to stay in, we are going to change the number, and then walk out of that summit arguing that he re-negotiated the Paris agreement and did something that no one thought he could do, and came up with a much better deal than what the previous administration presented."
https://www.axios.com/newsletters/axios-generate-30733924-26cc-48f8-8086-1414bb30e1d5.html?chunk=1#story1
A glass half-something on climate
China's greenhouse gas emissions growth last year was less than previously estimated, researchers with Norway's Cicero Center for International Climate Research said in a new finding.
New estimate: Their analysis of China shows growth of 1.4% after 3 years of flat or slightly falling emissions (see chart above), compared with earlier estimates of 3%–4% growth.
Why it matters: The Chinese uptick is one reason why these and other scientists, in a major report in November known as the Global Carbon Budget, estimated that worldwide emissions ticked up again in 2017 after a 3-year plateau.
Yes, but: The revision to estimates for China, the world's largest emitter, doesn't change the overall conclusion that the 3-year pause in worldwide emissions growth ended last year, according to Glen Peters of the Cicero Center, one of the co-authors of an updated version of the Global Carbon Budget report released yesterday.
China's decline was offset somewhat by an upward revision in CO2 emissions growth in India from 2% to 4%, Peters said via Twitter on Tuesday.
Bottom line: Overall, the revised study estimates global CO2 emissions growth at 1.5% last year, compared with 2% in the prior version released in November.
https://www.axios.com/newsletters/axios-generate-30733924-26cc-48f8-8086-1414bb30e1d5.html?chunk=2#story2
On my screen: shale, EVs, CO2 tax numbers
VW's big EV move: Breaking news from Germany via Bloomberg from VW's annual press conference...
"Volkswagen AG secured 20 billion euros ($25 billion) in battery supplies to underpin an aggressive push into electric cars in the coming years, putting pressure on Tesla Inc. as it struggles with production issues for the mainstream Model 3."
The company will "equip 16 factories to produce electric vehicles by the end of 2022, compared with three currently."
Questions about shale: A deeply reported Financial Times story looks at a potential fly in the ointment with the U.S. shale surge. Refiners' worldwide demand for the super-light stuff is uncertain, because many invested before the shale boom in plants that process heavier crudes.
Some analysts "warn of a potential crunch in years to come caused not by an outright shortage of crude, but by refiners scrambling to compete for more conventional barrels as US shale is found wanting."
Tax credits: Amy's column yesterday is a good look into the newly expanded U.S. tax credits for trapping and storing carbon emissions.
Here's a little more: Over in Forbes, University of Texas-Austin researcher Joshua Rhodes looks at whether the credits are generous enough to spur development of new coal plants.
The short answer: Maybe, but it's very tricky.
https://www.axios.com/newsletters/axios-generate-30733924-26cc-48f8-8086-1414bb30e1d5.html?chunk=3#story3
Occidental's take on climate disclosure
Amy reports...
Occidental Petroleum, one of the biggest producers in Texas' Permian Basin, quietly issued its first-ever climate change report earlier this month.
Why it matters: Occidental's report is the latest from a string of fossil fuel companies responding to resolutions pushed last year by investors requiring more disclosure about what companies are doing to prepare for a carbon-constrained future. Occidental stood out last year because its measure was both the first to pass and saw record votes in support.
One level deeper:
Much of the report is devoted to explaining how its decades-long practice of using carbon to extract oil will help it cut carbon emissions. Occidental mostly uses naturally occurring carbon, but the company anticipates using more human-captured carbon with the passage of tax credits incentivizing carbon-capture technologies.
It also finds that its oil resources won't be impacted in a world that sees carbon emissions reduced to a level consistent with keeping Earth's temperature from rising two degrees Celsius, a common benchmark in these shareholder resolutions that also is driving the 2015 Paris climate deal.
What we're hearing:
"Importantly, the company has coupled the release of this report to a number of forward-looking commitments, including regularly re-evaluating its climate strategy with board oversight, using more rigorous scenarios, and embedding a carbon cost in the capital allocation process."
— Andrew Logan, director of oil and gas with the sustainable investment group Ceres
https://www.axios.com/newsletters/axios-generate-30733924-26cc-48f8-8086-1414bb30e1d5.html?chunk=4#story4
The U.S.-Saudi nuclear conundrum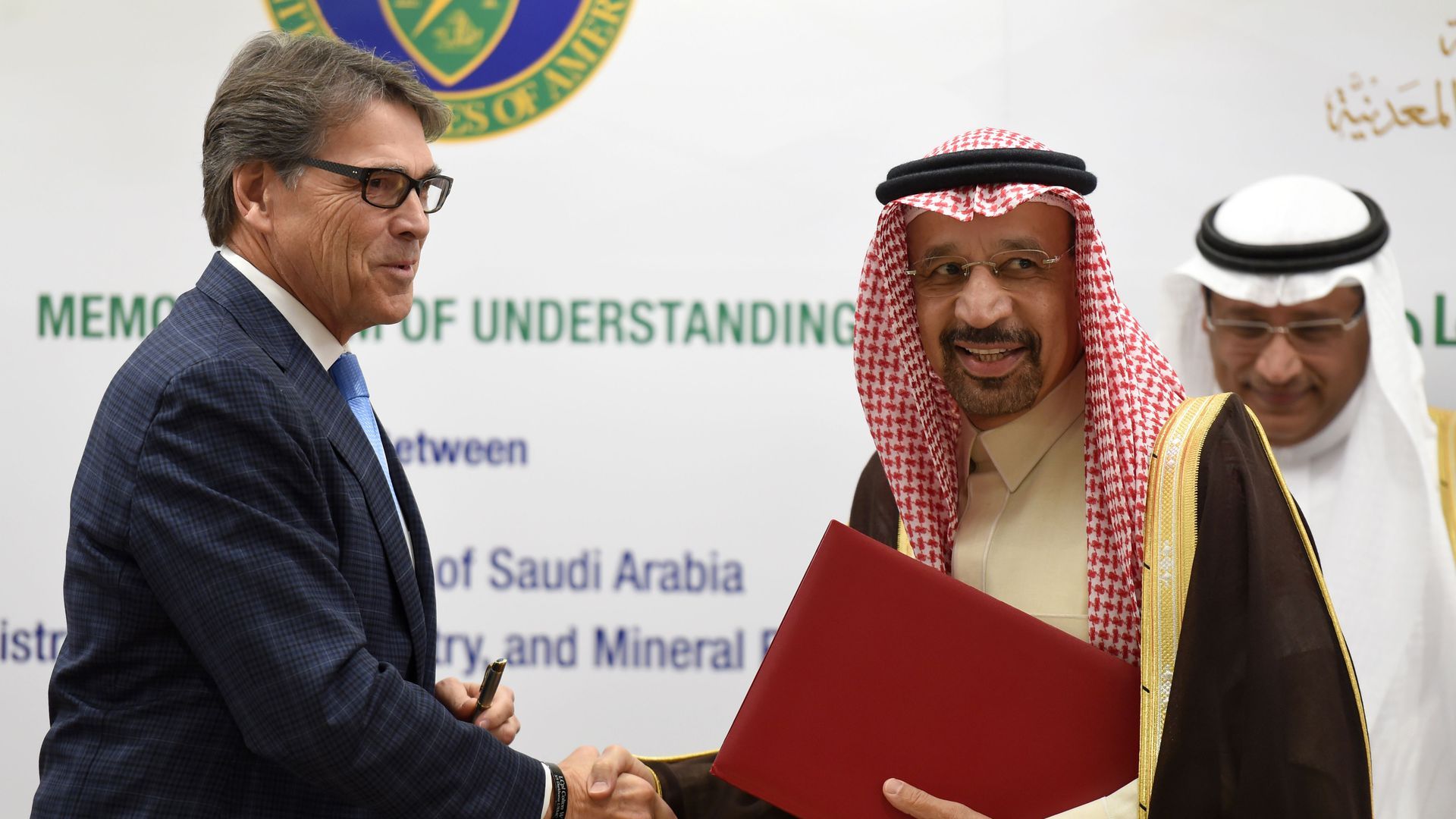 Secretary Rick Perry with Saudi Energy Minister Khalid al-Falih in Riyadh. Photo: Fayz Nureldine/AFP via Getty Images
It's tricky: Over in our Expert Voices section, Jackie Kempfer explores the potential deal that would allow the U.S. to provide nuclear reactor technology to Saudi Arabia.
The intrigue: The piece notes that in order to secure the deal, the Trump administration may relax the U.S.'s "gold standard" nonproliferation guidelines — conditions that would prohibit Saudi Arabia from enriching uranium or reprocessing spent fuel.
The dilemma:
Enriching and reprocessing capabilities make it easy to exploit peaceful nuclear activities to develop a clandestine weapons program. Waiving the nonproliferation standard would open a pathway for Saudi Arabia to develop nuclear weapons as tensions with its regional rival, Iran, continue to escalate.
Yet if the U.S. insists on the gold standard as a condition for this deal, Saudi Arabia could turn to Russia or China, costing the U.S. an important economic and diplomatic foothold in the region.
The bottom line: Whichever course the administration pursues, the Saudi nuclear deal will carry a steep political cost, either compromising the United States' strong record on nonproliferation or allowing its leadership in the international nuclear industry to slip even further.
Kempfer is a nuclear security research associate with the Promoting Security and Prosperity Initiative at the Stimson Center.
https://www.axios.com/newsletters/axios-generate-30733924-26cc-48f8-8086-1414bb30e1d5.html?chunk=5#story5
Latest in policy: climate, ethanol, Jones Act
Climate: A Louisiana senator is urging the United Nations' Green Climate Fund to help developing nations curb emissions by using natural gas in place of more carbon-intensive fossil fuels — and touting U.S. exports as a good supply source.
A new letter from GOP Sen. Bill Cassidy cites the benefits of using fast-ramping gas plants to back up intermittent renewable power and calls it cost-effective.
"[R]enewable energy paired with fast-reacting natural gas capable of quickly making up shortfalls in energy production is the best solution for decreasing global emissions," his letter states.
Quick take: The letter highlights one of the tensions inherent in the wider GOP posture on global warming. It's a threat many Republicans downplay or question, while at the same time officials tout gas — which has helped the U.S. cut emissions by displacing coal — as a key mitigation tool.
Biofuels: Via The Houston Chronicle, "EPA chief Scott Pruitt raised the idea Monday of limiting Wall Street's ability to trade the government-issued credits for ethanol and other biofuels in an effort to aid oil refineries."
Smog: Via Reuters, "A federal court on Monday ordered the Environmental Protection Agency to implement protections against smog set in 2015, the latest defeat in court by the agency as it rolls back environmental regulations."
Shipping: "The Trump White House is studying the feasibility of a permanent Jones Act waiver for Puerto Rico, according to multiple sources," S&P Global Platts reports.
https://www.axios.com/newsletters/axios-generate-30733924-26cc-48f8-8086-1414bb30e1d5.html?chunk=6#story6
One fun Arnold thing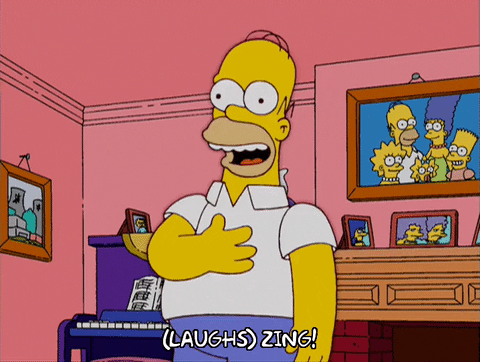 Shade: Via TMZ, Arnold Schwarzenegger can be counted among the people criticizing Tesla founder Elon Musk for the slow production of the Model 3 sedan.
TMZ asked him at South by Southwest whether he would volunteer for Musk's proposed manned journeys to Mars (which Musk envisions via his company SpaceX).
"No but I volunteer to go be a salesman for his Model 3 that never comes out," Schwarzenegger quipped.
"I have no idea what's going on there," Schwarzenegger said with a slight grin while signing autographs. "He's so good, but he never comes out with a car."
Yes, but: The car actually has come out, albeit with a much slower ramp up than initially pledged. Musk is hoping to produce 5,000 per week by mid-year.
One level deeper: I had to write something about Musk or I'll disappoint The New Yorker (click here to see what I mean).
https://www.axios.com/newsletters/axios-generate-30733924-26cc-48f8-8086-1414bb30e1d5.html?chunk=7#story7
One serious Arnold thing
I have a couple more details about a story you may have seen yesterday about Schwarzenegger exploring lawsuits against oil companies over climate change.
What he's saying: The former California governor told Politico at South by Southwest:
"The oil companies knew from 1959 on, they did their own study and knew, there would be global warming and climate change happening because of fossil fuels, and on top of it that it would be risky for people's lives, that it would kill people."
Why 1959: A spokesman for Schwarzenegger tells Axios that he's referring to a Center for Public Integrity report that the American Petroleum Institute first became aware of climate change that year but then embarked on a decades long "disinformation" campaign.
API did not respond to a request for comment.
Who would sue: The spokesman said the litigation would be undertaken through the Schwarzenegger Institute at the University of Southern California.
Why it matters: The potential litigation would raise the profile of various lawsuits against the industry over global warming.