Axios Generate
April 15, 2020
Good morning. Today's Smart Brevity count: 1,365 words, a 5-minute read.
Situational awareness: Another reminder that World Central Kitchen is working to feed vulnerable people and help the badly distressed restaurant sector at the same time. Donate here.
🎵At this moment 40 years ago, Blondie was about to begin a six-week run atop Billboard's Hot 100 with today's intro tune...
1 big thing: Oil's long and painful road back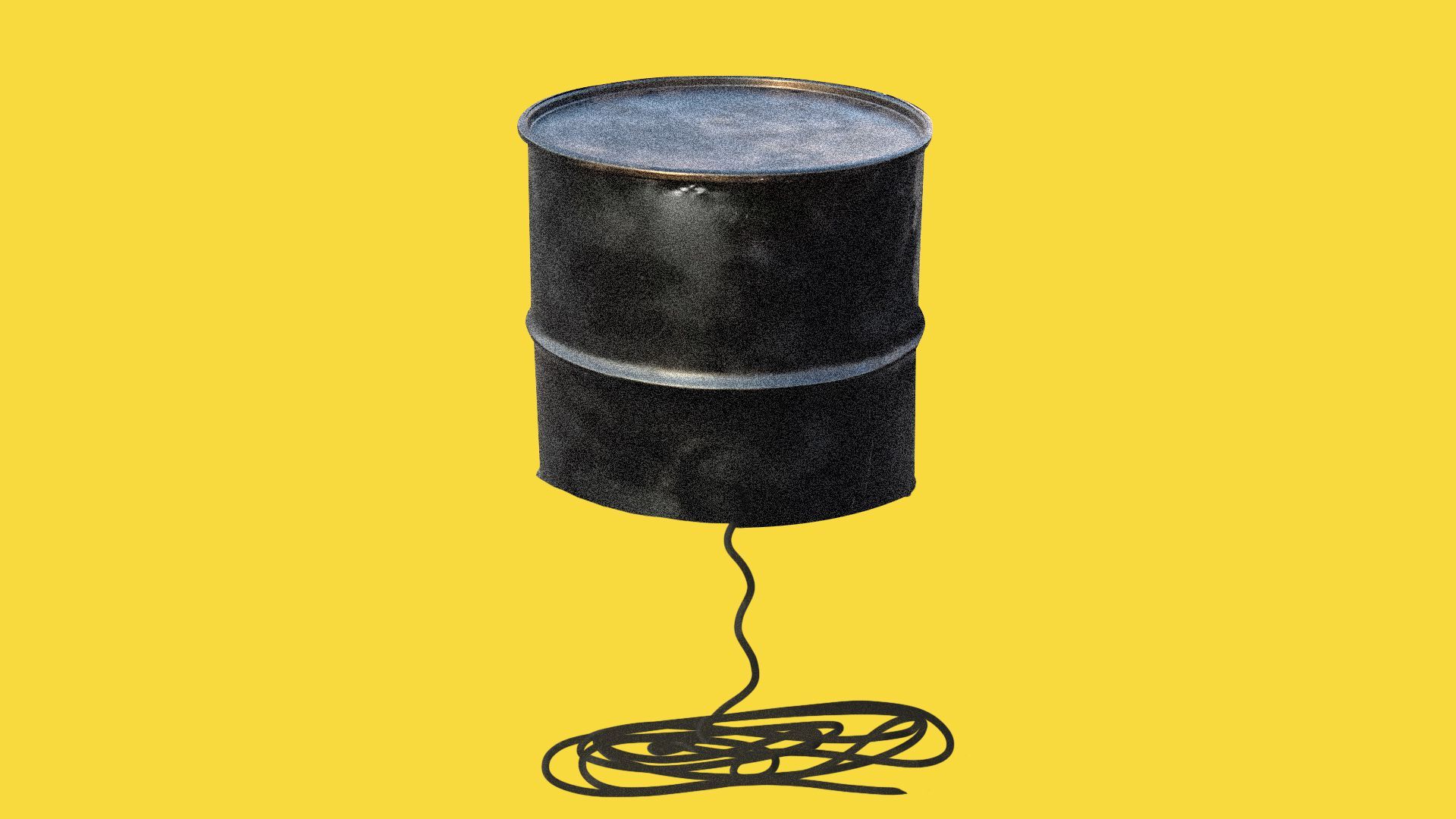 There's simply nothing policymakers can do that will quickly fix the oil sector's woes, and events this morning show why the path ahead is so difficult and will overwhelm some companies.
Driving the news: This morning, the International Energy Agency issued an immense downward revision of its 2020 estimates for global oil demand.
It immediately put even more downward pressure on oil prices, which have already been falling again this week.
The U.S. benchmark WTI is back below $20-per-barrel while Brent is in the $28 range this morning.
Threat level: An International Monetary Fund report this morning also shows how the crude price collapse is creating financial jeopardy far beyond America's oil patch.
"Measured in real terms ... oil prices have not been this low since 2001. Oil prices at these levels could result in more than $230 billion in lost annual revenue across MENAP oil exporters compared with October projections, placing significant strains on fiscal and external balances."
(MENAP refers to the Middle East, North Africa, Afghanistan, and Pakistan region.)
Why it matters: IEA's data and the price moves signal how even the big new OPEC+ supply-cutting pact and expected reductions from some G20 nations are getting overwhelmed by the effects of the coronavirus pandemic.
The IEA praises those decisions, which should ease production by over 14 million barrels per day in coming months, as well as the plans of several nations to use strategic storage to mop up unwanted oil.
They say these various efforts should help the industry come back from "the brink" of an even greater crisis.
But, but, but: "Even so, the implied stock build-up of 12 [million bpd] in the first half of the year still threatens to overwhelm the logistics of the oil industry — ships, pipelines and storage tanks — in the coming weeks," they note.
By the numbers: IEA now estimates that demand this month will be roughly 29 million bpd lower than the same period last year, and still off by 26 million bpd next month.
That's pretty crazy in a world that typically consumes around 100 million bpd. This month's consumption levels were last seen in 1995, IEA notes.
In June, "the gradual recovery likely begins to gain traction" and they see demand down by 15 million bpd.
Their full-year estimate is a 9.3 million bpd reduction compared to last year, "erasing almost a decade of growth."
What's next: IEA's analysis explores how the situation could eventually improve.
"There is no feasible agreement that could cut supply by enough to offset such near-term demand losses," the report states.
"However, the past week's achievements are a solid start and have the potential to start to reverse the build-up in stocks as we move into the second half of the year."
Bonus chart: Coronavirus' effect on oil demand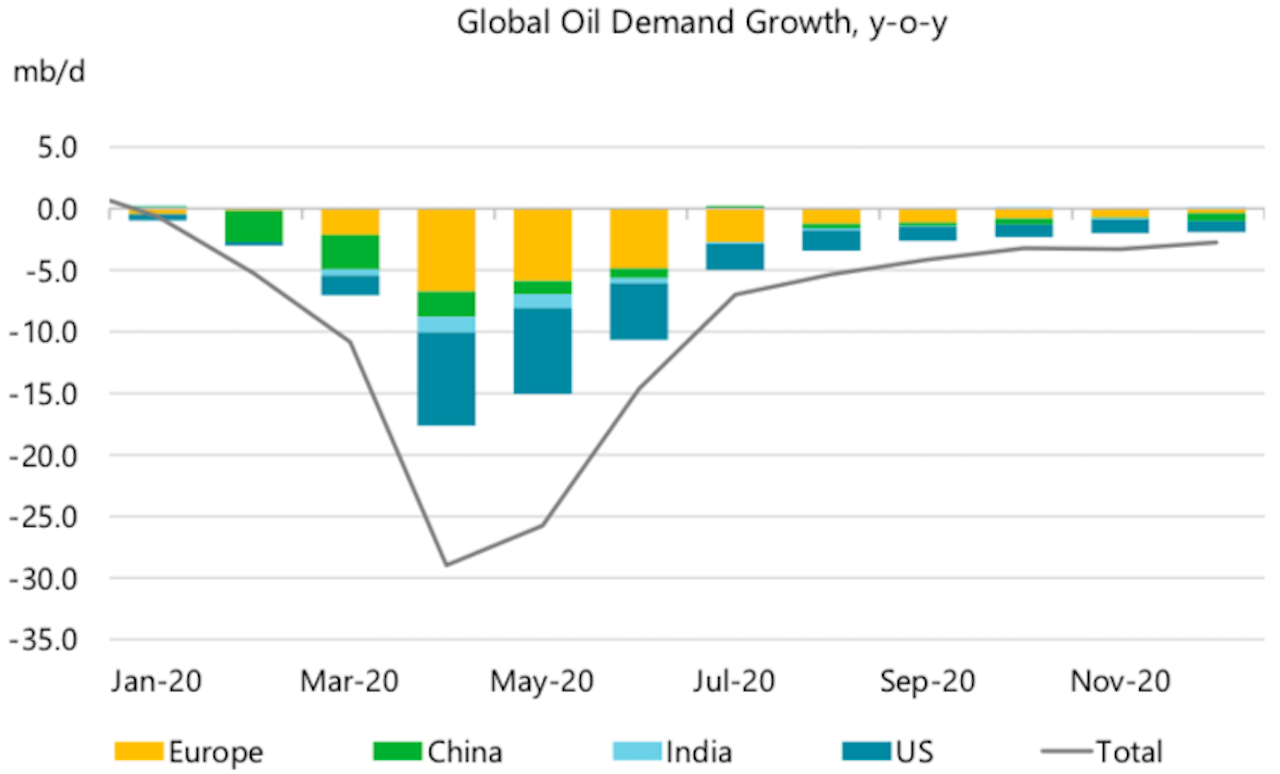 The chart above shows IEA's current projections for oil demand this year, but the agency is cautioning that the estimates are "fraught with uncertainties."
Quick take: While the estimates are fairly consistent with some other forecasts, the Paris-based agency's work is closely watched and helps confirm how the global energy landscape has been turned upside down.
What they're saying: "In a few years' time, when we look back on 2020 we may well see that it was the worst year in the history of global oil markets," IEA executive director Fatih Birol told reporters this morning, per Reuters.
2. Tracking the collapse in travel
Apple released data yesterday from nations and cities worldwide that help to show the stunning reductions in travel due to the coronavirus.
Why it matters: Stay-at-home policies and closures of schools, offices and more are among the forces driving the collapse in oil demand (so is the decline of flying, which is not directly captured here).
What they did: Apple unveiled an interactive online tool that shows the results of changes in the number of requests for directions to Apple Maps. It's one proxy for reductions in travel, and captures direction requests for walking, driving and mass transit including buses.
Take it for a spin. The data for the U.S. overall are above, but you can also check many countries and cities.
Search for European cities — including Barcelona, Paris and Rome — and you'll see cuts in the 90% range.
The big picture: Apple said they released the data to help efforts to mitigate the spread of COVID-19.
"This mobility data may provide helpful insights to local governments and health authorities and may also be used as a foundation for new public policies by showing the change in volume of people driving, walking or taking public transit in their communities," the tech giant said.
3. Partisan split on climate vs. coronavirus
New polling shows an immense partisan divide on the threat of climate change, one that contrasts sharply with widespread agreement on the risks of spreading infectious disease.
What they found: Check out the chart above, showing some of the results from Pew Research Center polling conducted March 3–29.
The pollsters asked about various threats and charted the partisan gap in the responses. The chart shows global climate change as having the widest gap in response, alongside the very narrow divide on infectious disease.
The margin of error (MOE) for the party-specific findings is plus-or-minus 5.5% for Democrats and 5.6% for Republicans.
The intrigue: Another finding is that young people are less worried about a bunch of different threats than their older peers, with one big exception — climate change.
What they did: Pew asked three age groupings about cyberattacks, Russia, terrorism, infectious diseases and more.
On climate change, 71% of people from age 18–29 say global climate change is a "major threat," compared to 62% of people age 30–49 and 54% of people over 50.
It's the only topic among 10 polled where the younger group sees a higher risk level than the oldest, though the difference is close on a couple others.
Of note: They did not provide MOE data for the age-grouped questions.
4. EPA stands pat on soot requirements
The EPA proposed Tuesday to keep air quality standards for soot pollution unchanged from 2012, Axios' Marisa Fernandez reports.
Why it matters: States' compliance with toughened standards would have been years away. Nonetheless, this action has relevance to today's pandemic, according to Axios' Amy Harder.
Some scientists say soot air pollution can exacerbate the effects of respiratory diseases, like the one caused by the coronavirus.
The big picture: Particulate matter — tiny bits of pollution that comes from a range of sources, including fuel combustion and indoor sources — is associated with acute cardiovascular and respiratory diseases.
What they're saying:
"The U.S. has made incredible strides in reducing particulate matter concentrations across the nation. Based on review of the scientific literature and recommendation from our independent science advisors, we are proposing to retain existing PM standards which will ensure the continued protection of both public health and the environment."
— EPA Administrator Andrew Wheeler
But, but, but: The decision drew widespread criticism from environmentalists, who called it an affront to public health.
It also goes against the advice of EPA air staffers, who found that the existing limits may be allowing thousands of premature deaths each year, E&E News reports.
Catch up fast: The announcement comes just a week after Harvard released a study that found higher levels of the fine particulate matter, known as PM2.5, were associated with higher rates of death from COVID-19.
Go deeper: Trump officials reject stricter air quality standards, despite link between air pollution, coronavirus risks (The Washington Post)
5. Petro-notes: tariffs, Texas, Shell
Diplomacy: A pair of newly published interviews with Energy Secretary Dan Brouillette offers a window onto the negotiations that led to the OPEC+ deal, and the U.S. posture moving forward.
He tells FT that tariffs on oil imports are not off the table.
And in an interview with the consultancy Wood Mackenzie about negotiations with the Russians and Saudis, he said, "The president said every option is on the table. But there are many more options than just tariffs or import restrictions. This is the best economy in the world to invest in, and Saudi Arabia certainly has made enormous investments here. But you can't take that for granted, and I think that's something that came through."
Shale: "Texas regulators on Tuesday debated curtailing oil output in the state in response to cratering demand caused by the new coronavirus, but it quickly became apparent that the industry was divided over taking such a historic step." (WSJ)
Arctic: "International energy major Shell has decided not to complete a deal on a Russian Arctic oil joint venture, Meretoyakha Neftegaz, it was expected to enter with Gazprom Neft, because of some 'external' factors." (Reuters)