Good morning. Let's head for the weekend...
https://www.axios.com/newsletters/axios-generate-2ae888e9-81fa-4ec0-86c8-331dce989502.html?chunk=0#story0
The next phase of the new power market war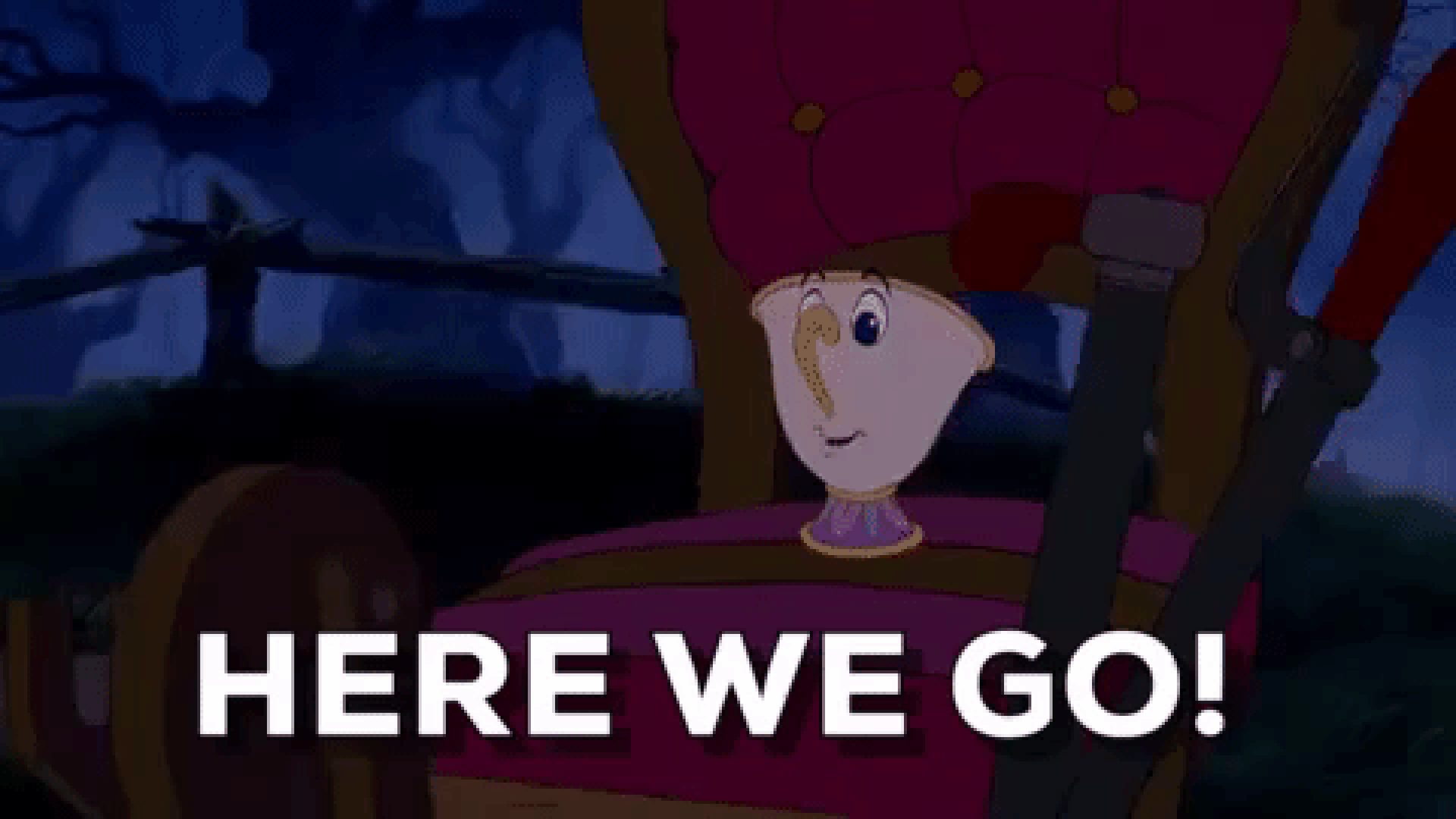 Mark your calendars: Energy secretary Rick Perry will testify before a House Energy and Commerce subcommittee next Thursday, lawmakers announced yesterday.
The hearing's focus is supposed to be broad. But expect lots of questions about Perry's instantly controversial proposal to shake up power market rules by ensuring coal and nuclear plants are compensated for their "reliability and resilience" attributes.
Why the stakes are high: Perry is catching lots of flak from critics who call the plan a naked attempt to prop up power sources that are increasingly on the losing end of competition from natural gas and renewables.
If Perry isn't able to mount a convincing and detailed defense of why he asked the Federal Energy Regulatory Commission to craft the rules, it will bolster opponents who say the move is more about rewarding favored power sources than ensuring grid reliability and resilience in the event of disasters.
What else to look for: Whether influential House GOP lawmakers who oversee energy policy — including Energy and Commerce chairman Greg Walden and energy subcommittee head Fred Upton — start tipping their hand about what they think of the underlying proposal.
Interest is running high: There's mounting concern about the fast pace of the rulemaking process, specifically FERC's request for initial comments from outside parties by Oct. 23. One new sign: yesterday a suite of groups representing independent oil-and-gas producers asked FERC for at least a 90 day initial comment period.
Their motion, which adds to requests from other gas and renewables trade groups, says FERC should quickly signal that it's slowing down the process in order to "reassure markets...that adequate time and resources" will be devoted to the topic.
https://www.axios.com/newsletters/axios-generate-2ae888e9-81fa-4ec0-86c8-331dce989502.html?chunk=1#story1
Exxon's Guyana bounty and other oil market notes
ExxonMobil said yesterday that drilling off Guyana's coast has yielded its fifth discovery in what's turning out to be a massive hydrocarbon bounty in the so-called Stabroek Block.
Why it matters: According to Wood Mackenzie analyst Pablo Medina, Exxon's discoveries in the region are now in the 2 billion to 2.5 billion barrel range. He chats about the find on this short podcast.
"This is one of the most interesting stories in the oil-and-gas world, particularly in deepwater," he said.
Plans by Exxon and its partners to develop the massive offshore field is a big deal for Guyana, which does not currently have any oil production. But Medina estimates that production in the mid-2020s will reach around 400,000 barrels per day, making the country a major player in Latin American oil.
The trade publication E&P puts it this way:
"Offshore Guyana continues to be a beacon of light for the industry's exploration sector and a growth engine for the small South American country nestled between oil-rich Brazil and Venezuela and Suriname, where interest is also picking up given nearby finds in the North Atlantic."
Go deeper: In late July we looked at an earlier discovery in the region.
***
As long as we're on oil, a quick follow-up to yesterday's Generate item about U.S. crude oil exports reaching 2 million barrels per day in late September...
Infrastructure push: The Houston Chronicle reports on the industry push to build storage tanks, pipelines, and loading terminals to accommodate expanding exports from the Gulf Coast.
"[A]t least 15 projects to expand or construct pipelines have been proposed to carry oil, natural gas and natural gas liquids from Permian Basin to Houston, Corpus Christi and Beaumont," they report.
The future: This CNBC piece looks at how the wide spread between WTI and Brent crude prices is fueling the export surge, and what happens when the discounted price of U.S. crude relative to Brent narrows again. Matt Smith of the tanker-tracking firm ClipperData tells CNBC:
"We were seeing exports getting close to a million barrels per day even when the spread was nearly half of what it is now...It seems as long as our spread remains above three or four dollars, we're going to see a million barrels-per-day-plus exports."
https://www.axios.com/newsletters/axios-generate-2ae888e9-81fa-4ec0-86c8-331dce989502.html?chunk=2#story2
Poll: Growing majority sees "solid evidence" of global warming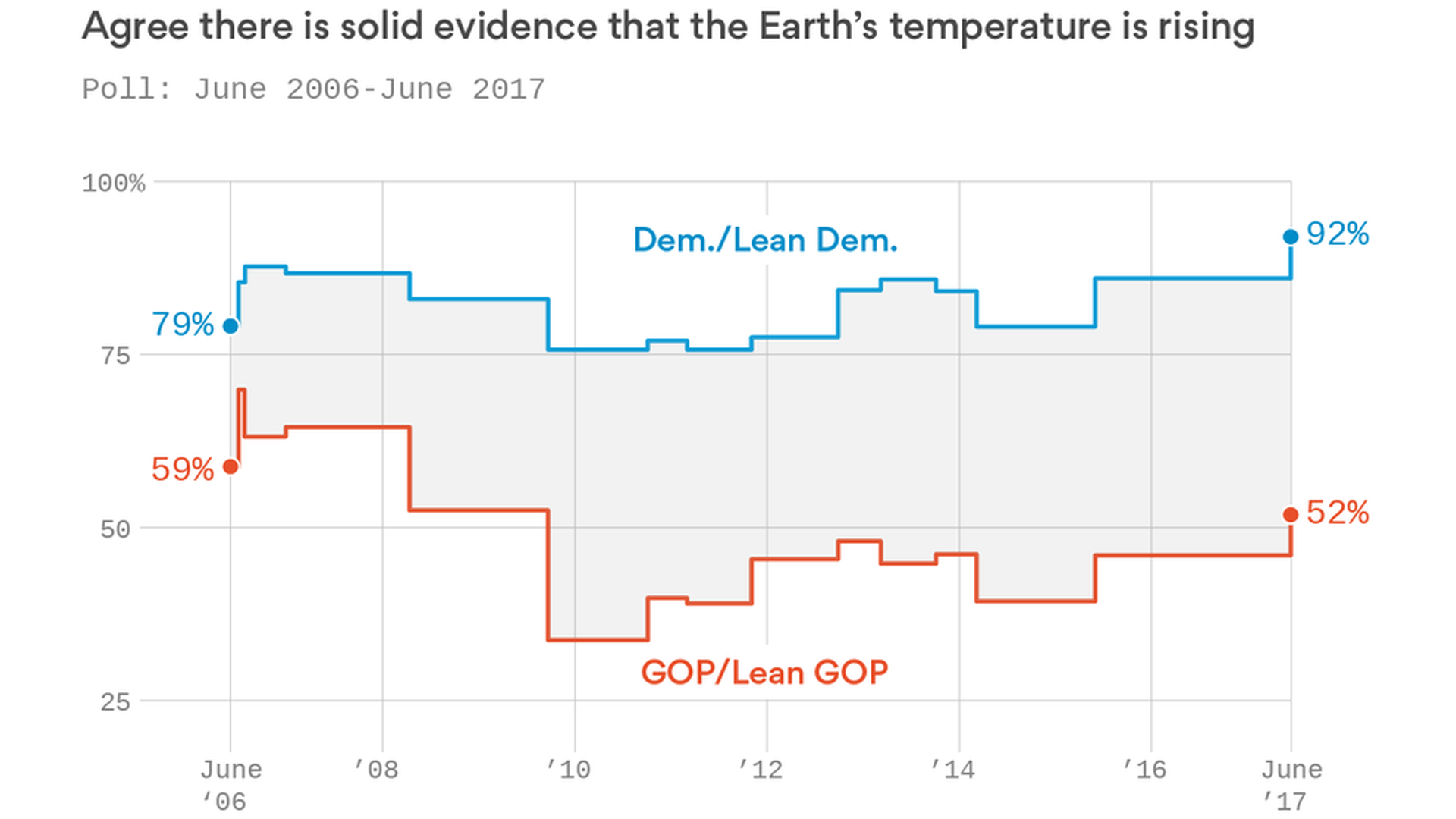 New polling shows that three quarters of the public believes global temperatures have been rising in recent decades, including a growing share of Republicans, but a wide partisan gap on climate change persists.
Why it matters: The new Pew Research Center data offers a snapshot of Americans' views at a time when the White House is moving aggressively to dismantle Obama-era climate change policies. A few takeaways from the big Pew poll conducted over the summer...
Increasing belief: The 74% who agree there is "solid evidence" of warming is the highest level in Pew's polling since 2007, and well above the 61% share in their early 2014 poll.
Big party split remains: The new poll shows that 92% of Democrats say Earth's average temperatures have climbed in recent decades, compared to 52% of GOP respondents.
Upward GOP trend: The 52% of Republicans who believe there is solid evidence of warming is above the 39% in 2014, but remains below where it was a decade ago.
Yes, but: The same poll shows that when asked about environmental regulations (though not climate rules specifically), 36% of Republicans said stricter regulations are worth the cost, well below the 58% who agreed with that view a decade ago.
One level deeper: On climate, the data shows that most Republicans polled remain out of step with the overwhelming view among scientists that human activities, like burning fossil fuels and deforestation, have been the primary cause of warming since the mid-20th century.
Pew found that 24% of Republicans agree there's global warming and that it's caused mostly by humans, while in contrast nearly eight in 10 Democrats agree on the human influence.
https://www.axios.com/newsletters/axios-generate-2ae888e9-81fa-4ec0-86c8-331dce989502.html?chunk=3#story3
Puerto Rico wants to chat with Tesla on flagship project idea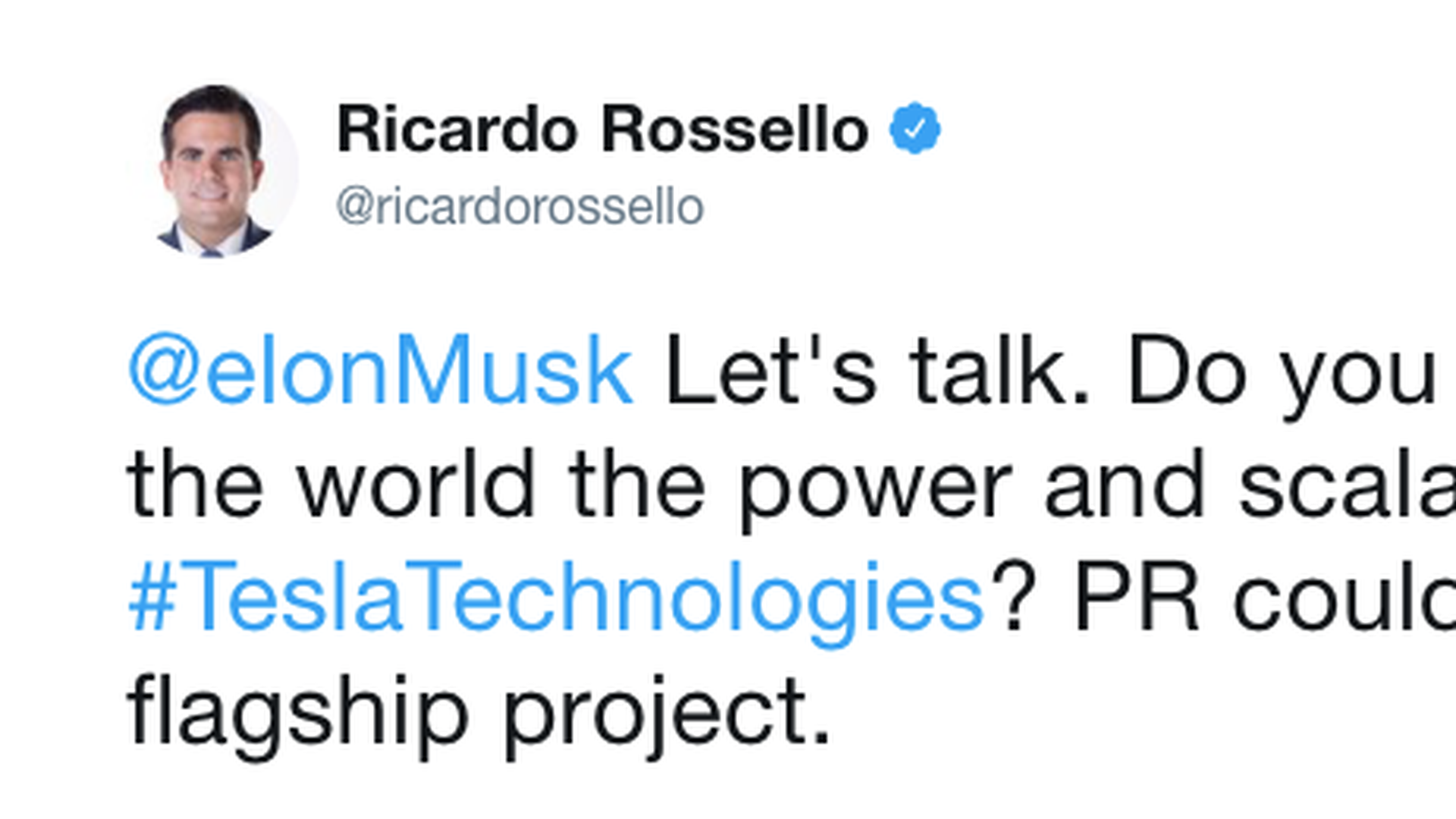 PR gov wants to talk with Elon Musk: The screengrab above is from yesterday's tweet by Puerto Rico Gov. Ricardo Rossello. He's expressing interest in Tesla chief Elon Musk's own Twitter comment earlier in the day that Tesla could help rebuild the island's power network with solar and battery systems.
Here's what Musk tweeted hours earlier: "The Tesla team has done this for many smaller islands around the world, but there is no scalability limit, so it can be done for Puerto Rico too. Such a decision would be in the hands of the PR govt, PUC, any commercial stakeholders and, most importantly, the people of PR."
Go deeper: Mashable has a closer — and somewhat skeptical — look at the possibility here.
https://www.axios.com/newsletters/axios-generate-2ae888e9-81fa-4ec0-86c8-331dce989502.html?chunk=4#story4
EPA update: climate rule repeal and Trump's deputy pick
EPA readies climate rule repeal: Bloomberg has the goods on how the Environmental Protection Agency will justify its upcoming, closely watched proposal to scuttle the Clean Power Plan mandating cuts in carbon emissions from power plants. EPA might eventually replace the 2015 regulation, which was issued under President Obama but frozen by the Supreme Court, with something more modest.
Some key points, via Bloomberg:
"The Trump administration is set to argue that repealing the Clean Power Plan could spare an estimated $33 billion in compliance costs in 2030."
"While Obama's EPA factored global considerations into its cost-benefit analysis, the Trump administration uses a metric focused on the potential impacts of climate change anticipated to occur within U.S. borders." Using that narrower lens, the Trump administration documents show the repeal means "forgoing an estimated $18.8 billion in energy efficiency benefits in 2030 and $500 million in unrealized climate benefits," the story states.
Trump taps ex-coal lobbyist for senior slot: Per The Hill, "President Trump is picking Andrew Wheeler, a former lobbyist and senior Republican congressional staffer, to be the Environmental Protection Agency's (EPA) deputy administrator."
https://www.axios.com/newsletters/axios-generate-2ae888e9-81fa-4ec0-86c8-331dce989502.html?chunk=5#story5
Low-carbon energy investment snapshot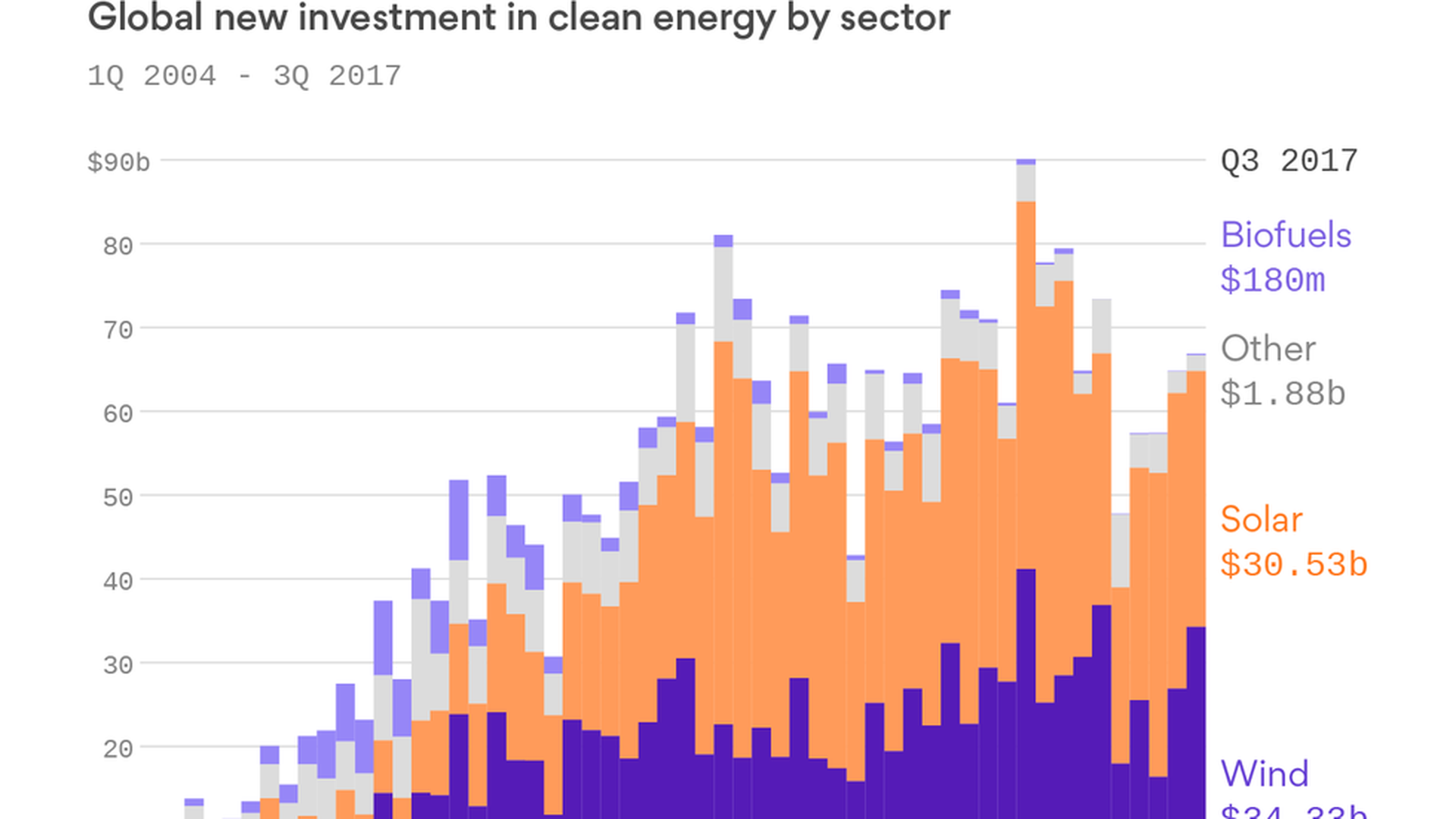 Bloomberg New Energy Finance is out with its latest quarterly look at the scope of global investment in various green energy technologies.
Big picture: The third quarter saw roughly $67 billion in total investment, which covers all kinds of private sector deals, government spending, and other financing. It's a slight uptick from the prior three-month stretch and 40% above Q3 in 2016.
Wind deals: Large-scale wind project financing in a number of countries helped fuel this quarter's total. The biggest is utility giant American Electric Power's big $4.5 billion investment in an 800-turbine project in Oklahoma, which we looked at here.
Big drop: Venture capital and private equity funding fell sharply to $662 million, down 79% from the same period a year earlier, BNEF said.