Good morning and welcome back! Quick programming note: my Axios colleague Amy Harder will be your host for the next two days, and then Generate will take a break during the week of August 7.
But keep an eye on the Axios stream for energy news during that stretch. Ok let's get to it . . .
https://www.axios.com/newsletters/axios-generate-25f302f5-1b7c-44c3-910d-71750943419d.html?chunk=0#story0
Tesla earnings land this afternoon
Driving the news: Tesla will release its second quarter earnings report this afternoon and CEO Elon Musk will brief reporters and analysts.
By the numbers: Per the Wall Street Journal, Tesla is forecast to post an adjusted loss of $1.82 cents per share, while revenues are expected to be $2.51 billion, compared to $1.27 billion in the second quarter of 2016.
Why it matters: The latest report will arrive at a pivotal juncture for the Silicon Valley electric vehicle and solar company. It has just begun deliveries of the Model 3 sedan designed to bring EVs to the mass market, with the goal of scaling production 20,000 per month by December. Analysts will also be looking for news on its recently launched solar roof product.
What else to watch: Signs of when the company can become consistently profitable; when it might return to capital markets to for another round of finance as it expands production of vehicles and batteries for cars and the power storage market; and an update on Musk's longer-term projects, like plans for electric semi-trucks.
State of the ship: Musk could be asked to comment on the departure of several senior executives in recent month. The latest became public Tuesday with the news, first reported by Bloomberg, that Kurt Kelty, director of battery tech, left the company after more than a decade.
* * *
Hyperloop One update: Speaking of Musk, my Axios colleague David McCabe reports this morning that Musk's idea of super-fast, tube-based transportation is a step closer to reality.
https://www.axios.com/newsletters/axios-generate-25f302f5-1b7c-44c3-910d-71750943419d.html?chunk=1#story1
What Ds, Rs & the world think about climate change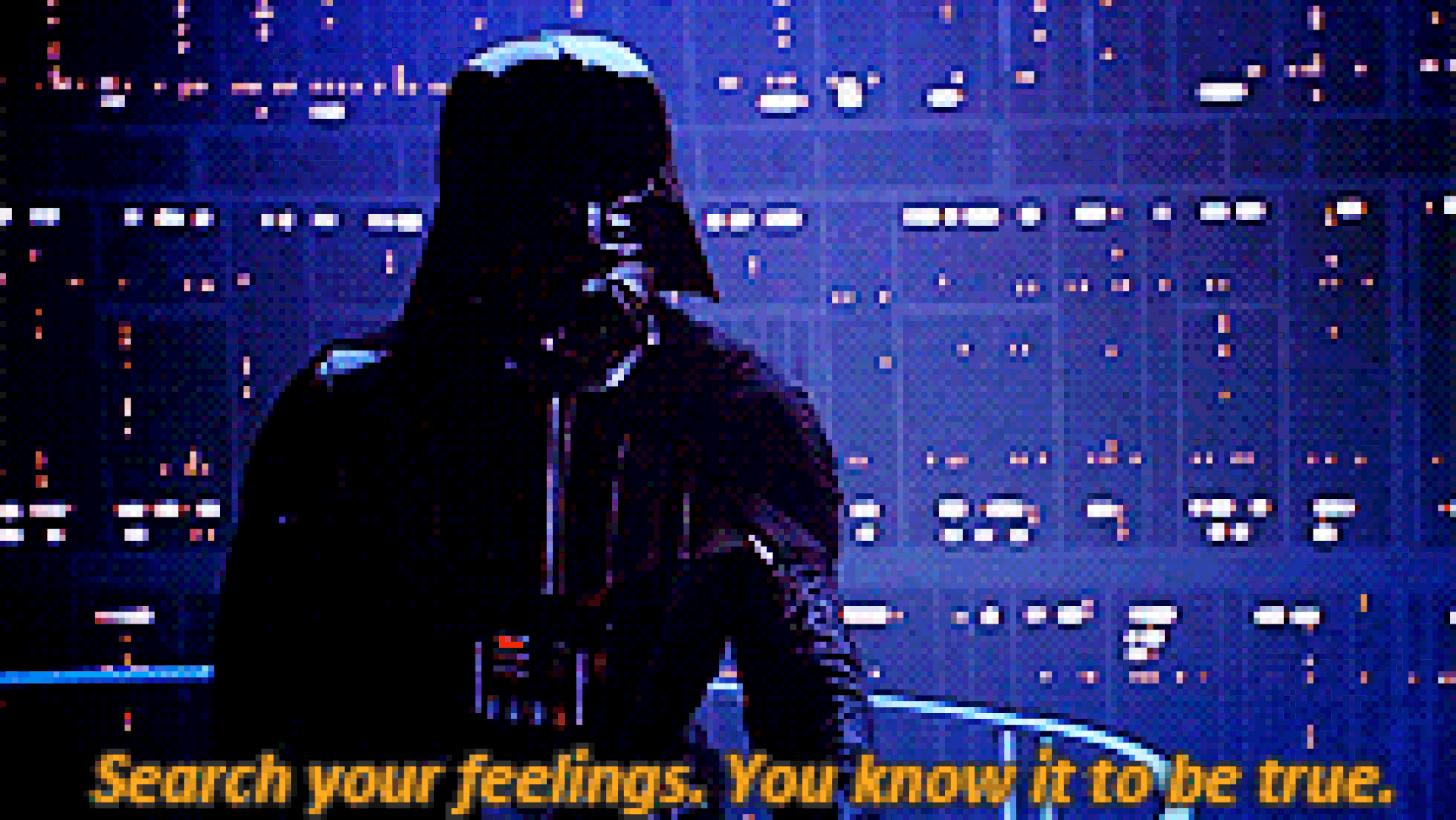 New this morning: Yale and George Mason universities issued their latest polling results from their series of detailed climate surveys.
Why it matters: The voter data will provide political ammunition for advocates of emissions curbs and thwarting the White House push for deep cuts in green energy R&D. A few top lines...
Science:
56% of registered voters agree that global warming is caused mostly by human activity, which is consistent with their 2016 polling.
But the partisan divide is stark. 45% of liberal/moderate Republicans hold that view (a nine point dip since November) and 30% of conservative Republicans do, compared to 87% and 62% for liberal and moderate Dems, respectively.
National concern:
55% are very or somewhat worried about global warming, which is seven points less than the pollsters found in 2008, and again, there's a big party split.
Policy:
74% want more action from corporations and industry, including 56% of Republicans. 63% want Congress to do more and 61% want Trump to take more action, but only around a third of GOP voters have that view, compared to an overwhelming share of Dems.
69% support strict limits on carbon emissions from coal-fired power plants, 70% support requiring fossil fuel companies to pay a carbon tax paired with cutting other taxes (like income taxes). Two-thirds of independents and slightly under half of Republicans polled back those policies.
There's strong support across party lines for greater funding for renewables R&D and tax rebates for buying efficient cars and solar panels.
* * *
The world: The Pew Research Center has a big global survey of security attitudes that shows ISIS and climate change top the list of what respondents called the biggest threats.
"In 13 countries, mostly in Latin America and Africa, publics identify global climate change as the topmost threat. It is the second-ranked concern in many other countries polled," Pew found.
Yes, but: In the U.S., climate ranked a distant third.
Read more: The NYT has a detailed piece on Pew's results.
https://www.axios.com/newsletters/axios-generate-25f302f5-1b7c-44c3-910d-71750943419d.html?chunk=2#story2
On my screen
Tech: My Axios colleague Sara Fischer has an interesting look at how Paramount is using Snapchat to market the new Al Gore climate change documentary to teenagers.
Big data: Reuters unpacks a new paper in the journal American Mineralogist about the latest resource discovery techniques.
"Scientists searching for everything from oil and gas to copper and gold are adopting techniques used by companies such as Netflix or Amazon to sift through vast amounts of data."
Climate: Nature explores how the Trump administration will handle the release of a sweeping federal climate change report that's nearly complete.
"Many climate scientists are particularly uneasy about the potential for interference by the US Environmental Protection Agency (EPA), one of 13 agencies that must approve the science report before its expected release in November."
https://www.axios.com/newsletters/axios-generate-25f302f5-1b7c-44c3-910d-71750943419d.html?chunk=3#story3
A mighty (offshore) wind
Joining forces: Deepwater Wind is proposing a 144 megawatt project off the Massachusetts coast that would also have 40 megawatt-hour battery storage system provided by Tesla. The project, if approved, would begin construction in 2022 and start operating in 2023.
Why it matters: If built, it would be the world's largest hybrid offshore wind and energy storage project, according to Deepwater Wind.
Combining storage with solar and wind projects helps to deploy more renewables onto the grid by creating flexibility to provide energy from intermittent resources when it's most needed.
Still not a player: While there are several projects planned, for now the U.S. remains a bit player in the global offshore wind market that's currently dominated by European projects. Deepwater Wind's Block Island project off Rhode Island is the only U.S. commercial offshore wind farm in operation.
"[A] firm pipeline is beginning to emerge in the early 2020s as [U.S.] states slowly establish new routes to market," notes a recently released Bloomberg New Energy Finance report. Still, the U.S. accounts for a very small share of the cumulative 71 gigawatt offshore wind market they forecast in 2025 as Chinese development grows rapidly and Europe, also growing, remains the biggest player overall.
https://www.axios.com/newsletters/axios-generate-25f302f5-1b7c-44c3-910d-71750943419d.html?chunk=4#story4
Global oil in focus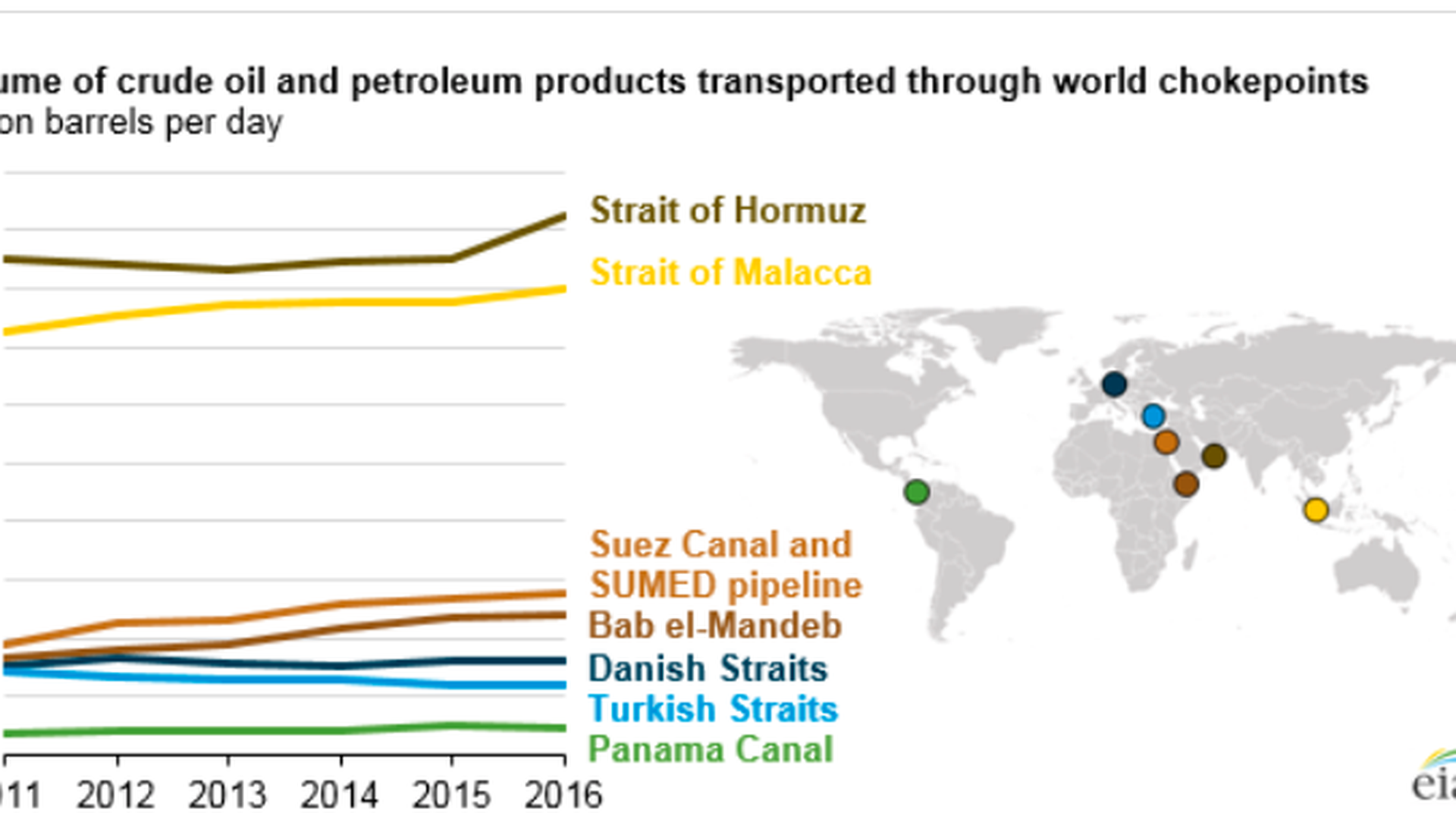 Shipping: The Energy Information Administration is out with its latest report on maritime oil "chokepoints." Check out the chart above.
Why it matters: It's a reminder that while there's plenty of crude sloshing around global markets, it's not that hard to envision a disruption given how much of it flows through some pretty sensitive and narrow spots.
"The inability of oil tankers to transit a major chokepoint, even temporarily, can lead to substantial supply delays and higher shipping costs, resulting in higher world energy prices," a summary EIA posted yesterday notes.
Sanctions: In yesterday's Generate we noted that the Trump administration's new sanctions against Venezuelan President Nicolás Maduro's regime avoided the oil sector for now. But energy-related sanctions remain a live possibility.
Clearview Energy Partners, in a midday note Monday, sees a 75% chance of petroleum-related sanctions, predicting them eventually as part of a "phased" ratcheting up of penalties if the Maduro-friendly assembly moves ahead with plans to rewrite the nation's constitution. Options include barring export of U.S. crude and refined products to Venezuela and then moving to bar U.S. imports of Venezuelan crude.
Go deeper: CNBC has a detailed look at the possibility and impact of petroleum sanctions here.
"Sanctions against Venezuela's oil industry could have ripple effects across the energy sector, creating winners and losers from American gas pumps to African export terminals. They could also contribute to a total collapse in Venezuela, rather than an orderly transition of power, some say," CNBC reports.