Axios Generate
January 11, 2023
🐪 Halfway there! Today's newsletter has a Smart Brevity count of 1,236 words, 5 minutes. 
🎶 This month marks 10 years since Yo La Tengo released the album "Fade," which provides today's intro tune...
1 big thing: A $2.5B solar manufacturing deal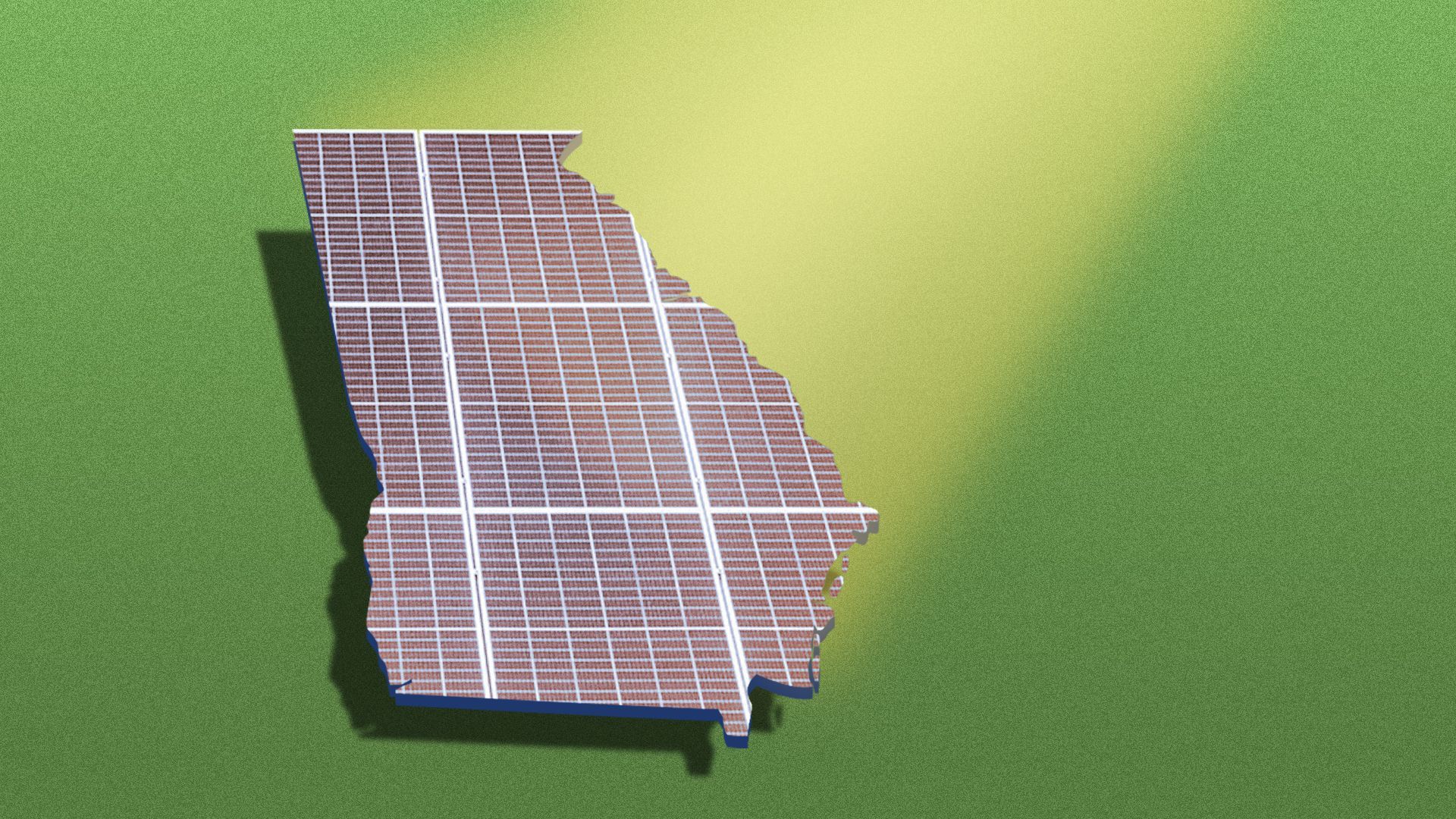 The solar equipment manufacturer Qcells this morning announced a $2.5 billion investment in Georgia, Ben writes.
Driving the news: The company is building a new facility in Cartersville, 55 miles outside Atlanta, and expanding its panel plant in Dalton.
Qcells, an arm of Korean industrial giant Hanwha, cited incentives in the recently enacted climate law.
The new plant will manufacture ingots, wafers, cells, and finished panels.
It's also taking steps to source silicon materials in the U.S., touting a "fully integrated" domestic supply chain.
Why it matters: It signals how the new statute, which greatly expands federal support for manufacturing low-emissions energy tech, is affecting business decisions.
The big picture: Qcells and President Biden, in a statement touting its link to the new law, called it the largest-ever U.S. solar investment.
Zoom in: Qcells specifically cited a provision crafted by Sen. Jon Ossoff (D) that provides tax credits for domestically produced solar equipment.
The company plans to have 8.4 gigawatts of production capacity in Georgia by 2024 and hire another 2,500 people.
What they're saying: Ossoff, in a statement, said his goal is to "make Georgia the world leader in advanced energy production."
Brian Kemp, the state's GOP governor, credited the state's "business-friendly environment."
2. Ocean heat content hit record high in 2022
Ocean heat content hit a record high in 2022, a new study found, in a clear indication of continued global warming, Andrew writes.
The big picture: The research, published in the journal Advances in Atmospheric Sciences, indicates that ocean warming is leading to widespread changes throughout the sea, with salty areas getting saltier and fresh regions of the ocean getting fresher.
This alters key ocean currents responsible for distributing heat around the world.
The two-dozen researchers involved in the study found that the vertical slice of the ocean from 0 to 2,000 meters deep gained about 10 zettajoules of heat between 2021 and 2022.
According to a statement, this heat is equal to about 100 times the world's electricity generation in 2021.
Context: Warmer waters are also tied to stronger, wetter hurricanes, heat waves, droughts and heavy precipitation events, studies show.
What they're saying: "If you want to know how fast the globe has warmed and if you want to look into the future climate, the answer is in the oceans," study co-author John Abraham of the University of St. Thomas told Axios via email.
"It tells us the past and helps us project into the future," he said.
3. Outlook sees oil market chilling out (but with caveats)
The Energy Department's analysis arm sees oil prices continuing to fall in coming years as rising global production bolsters commercial stockpiles, Ben writes.
Driving the news: The Energy Information Administration's new monthly outlook — its first with 2024 projections — sees Brent crude averaging $83 per barrel this year and $78 in 2024.
Prices averaged $101 last year and the global benchmark price is $81 this morning.
That's not cheap, but prices surged above $130 not long after Russia invaded Ukraine.
Why it matters: Oil prices affect the global economy but also reflect expectations about its strength or, more recently, weakness.
EIA's take is the latest to show the global market weathering the shock of the war and sanctions on Russian energy.
Zoom in: It sees U.S. production hitting new annual records this year and in 2024, representing the largest source of global output growth in their forecast.
Yes, but: Production and price forecasts always come with big caveats.
EIA notes the U.S. outlook "remains uncertain because of relatively low capital investment from oil producers," and other wildcards include Russian production and Chinese COVID policies.
Another variable is OPEC production decisions. Goldman Sachs is more bullish on prices than EIA and, in a new analysis, argues that "the pricing power of OPEC is now unusually high."
4. How to deepen the carbon removal buyer pool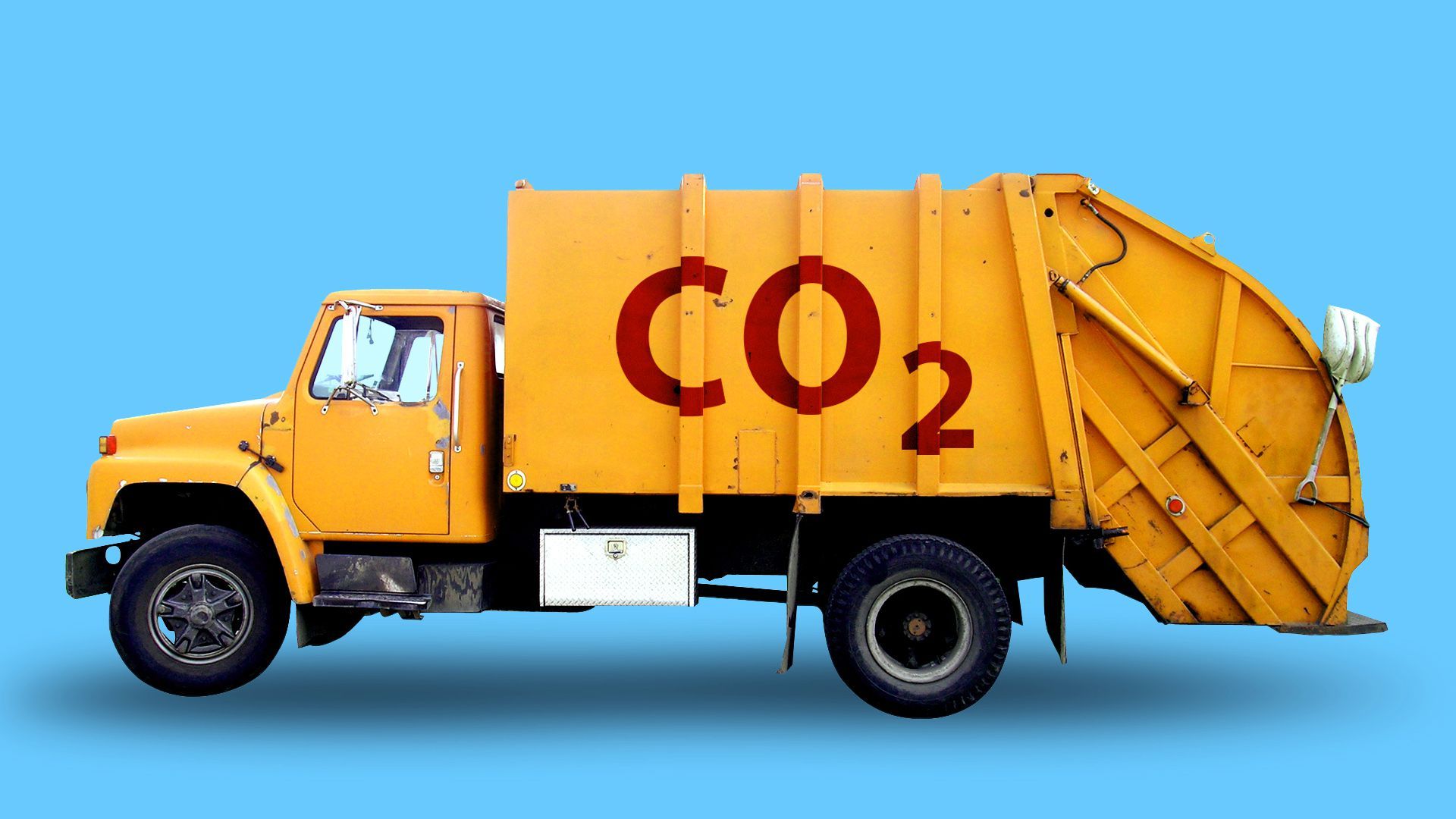 Watershed, a startup that helps clients track and cut emissions, is teaming up with corporate giants to make carbon removal more widely available, Ben writes.
Driving the news: Watershed today unveiled a partnership with Frontier — the consortium of Meta, Alphabet, Stripe and others that's spending almost $1 billion to help create the market for services that draw CO2 from the atmosphere.
How it works: The idea is to enable Watershed clients to tap into Frontier's relationships with removal startups, vetting processes and other expertise.
It will broaden access to removal tech "by enabling buy-in for Watershed customers at a wider range of commitment sizes."
Why it matters: The market for services like direct air capture, enhanced weathering and other methods is very young and costs are high.
Expanding the customer pool further beyond big tech and other large players could help bring removal to scale faster.
What they're saying: "We need many shots on goal in carbon removal, and that means lowering barriers to entry to more companies to help scale innovative approaches," Watershed co-founder Christian Anderson tells Axios via email.
Zoom in: Watershed clients taking part already are Boom Supersonic, Canva, SKIMS and Zendesk.
5. The expanding battle over gas stoves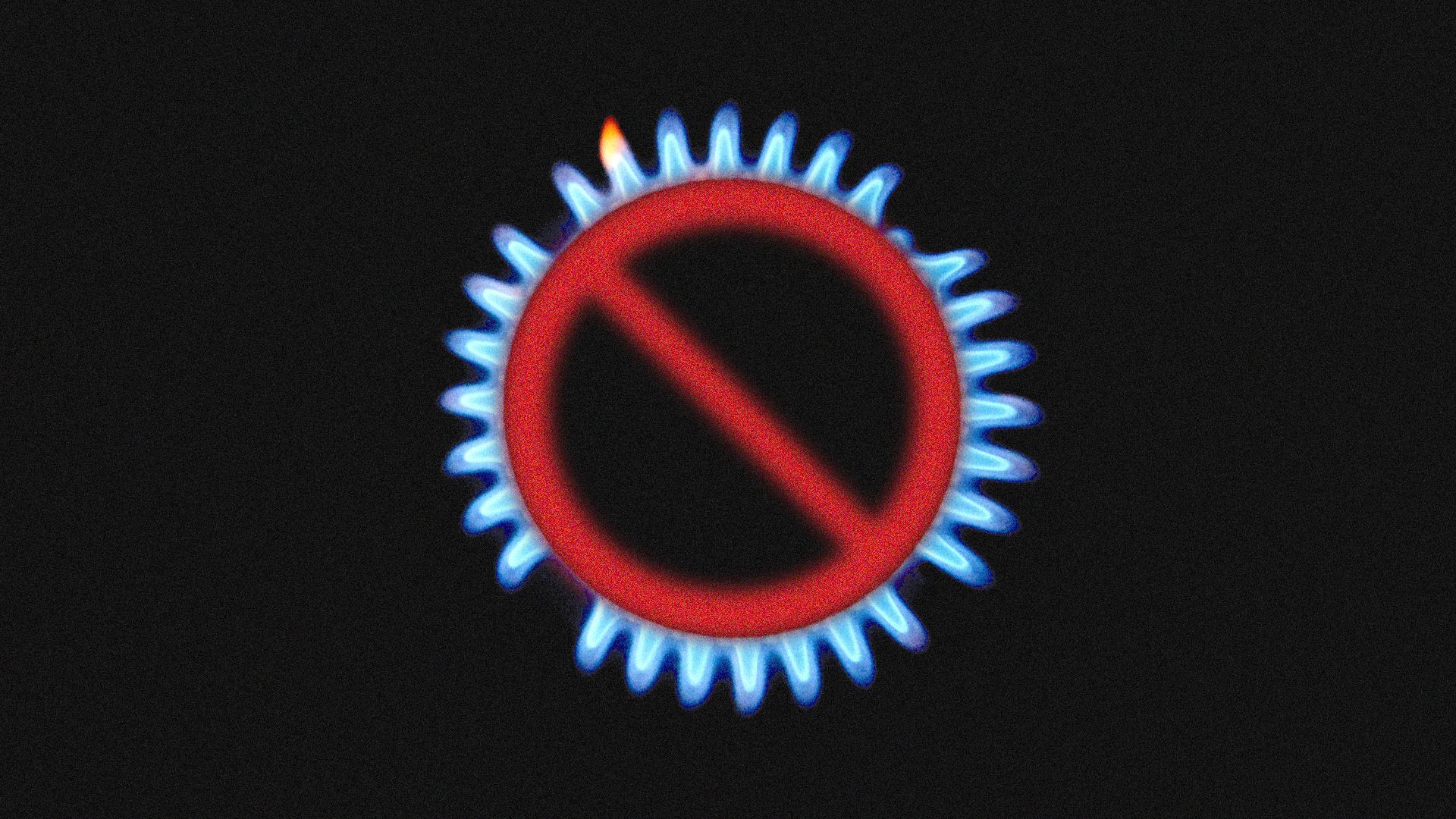 New York Gov. Kathy Hochul (D) hopes to bar the use of fossil fuel equipment in new buildings, even as faint signals of new federal restrictions draw pushback on Capitol Hill, Ben writes.
Driving the news: Hochul yesterday called for "zero emissions new buildings, with no on-site fossil fuel combustion by 2025 for smaller buildings, and by 2028 for larger buildings," per a summary.
The proposal to the legislature would also bar the sale of "any new fossil fuel heating equipment by 2030 for smaller buildings and 2035 for larger buildings."
Why it matters: New York is the fourth-largest state and, per multiple reports, would be the first to enact such a ban.
The big picture: It's the latest front in battles over gas-fired equipment, especially stoves, which are linked to health problems including childhood asthma and emitting greenhouse gases.
A number of cities and local governments are enacting restrictions already.
The intrigue: Hochul's plan arrives shortly after a Consumer Product Safety Commission member floated the idea of banning gas stoves.
But the commission doesn't appear anywhere close to such a step and may never.
What they're saying: Richard Trumka Jr., the CPSC member whose Bloomberg interview kicked up so much dust, said rules would be forward-looking.
"CPSC isn't coming for anyone's gas stoves," he tweeted. But even the idea is drawing pushback from several Republicans and Sen. Joe Manchin (D-W.Va.), who heads the Senate's energy panel.
Bonus policy notes: Interior, Fed, EPA
🌊 The Interior Department's offshore energy branch has a new leader: Elizabeth Klein, an adviser to Secretary Deb Haaland who also served at the department in the Clinton and Obama eras, Ben writes.
Why it matters: Interior's Bureau of Ocean Energy Management leads White House efforts to expand wind power and also makes politically sensitive decisions about oil-and-gas leasing. The Washington Post notes Klein is a "critic of fossil fuels."
What we're watching: How Klein deals with the controversial rollout of a final five-year oil-and-gas leasing schedule as Interior faces opposing pressures from green groups and oil companies on its scope.
🏭 EPA is throwing open the doors for applications for $100 million worth of environmental justice grants. AP has more.
💰Fed chairman Jerome Powell is offering a preview of how he'll parry congressional GOP accusations that the central bank is veering too close to global warming policy.
Driving the news: Powell said yesterday that the Fed isn't a "climate policymaker," but acknowledged it has a duty to ensure banks understand the financial risks associated with climate change, Axios' Courtenay Brown reports. Go deeper
📬 Did a friend send you this newsletter? Welcome, please sign up.
🙏 Thanks to Mickey Meece and David Nather for edits to today's newsletter.