Axios Generate
October 21, 2021
☀️ Good morning! Smart Brevity count is 1,296 words, 5 minutes.
🚨 Situational awareness: Indian Prime Minister Narendra Modi will attend the big UN climate summit, Reuters reports.
🎶 This week marks 40 years since The Jam released a killer single that's today's intro tune...
1 big thing: Prepping for climate-fueled security risks, migration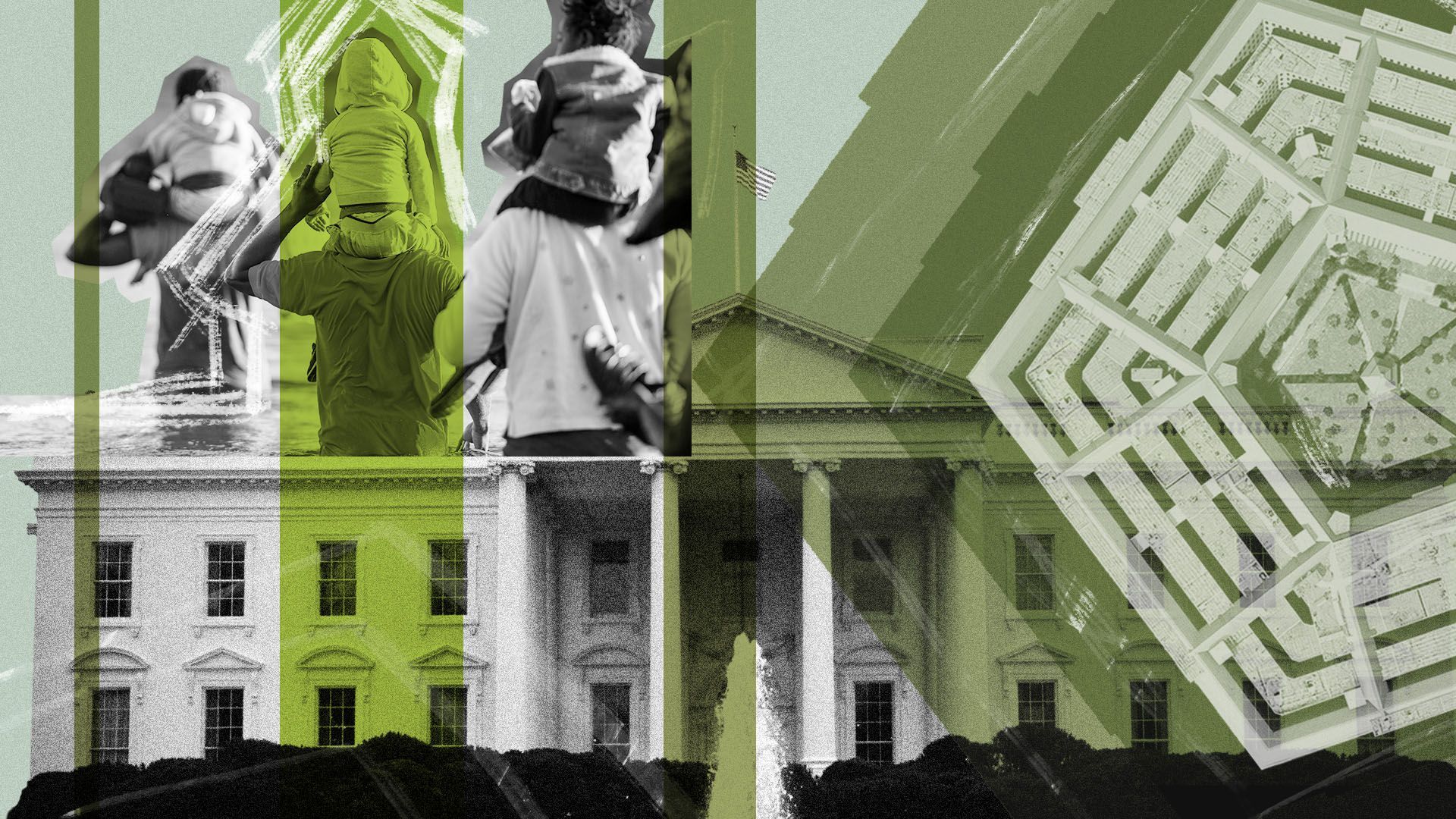 The Biden administration is releasing today a sweeping set of assessments on how to view threats that climate change poses to national security and its role in fueling migration, Ben and Axios' Zachary Basu report.
Why it matters: One of the key products, a formal National Intelligence Estimate on climate change, marks the first time all 18 elements of the U.S. intelligence community have released a consensus report on the topic.
Separately, an analysis of the impact climate change is having on migration will "mark the first time the U.S. government is officially recognizing and reporting on" the connection, a senior administration official said.
The "central recommendation" of the climate and migration report is to establish an interagency policy process, which had not previously existed, the official added.
The big picture: The administration is seeking to breathe life into President Biden's week-one vow to make climate change "central" to U.S. foreign policy and national security.
Defense and intelligence analysts in and out of government have long recognized climate-related threats, but the Biden administration is looking to identify and prepare for those risks on several fronts.
In order to have a strategy on climate and migration, the official stressed, the government must first "understand the challenge itself."
The administration is also releasing two other analyses, the official said:
A Defense Department analysis of the "strategic and mission implications of climate change."
A Department of Homeland Security "strategic framework" on climate change that addresses areas like the response to "increases in climate driven emergencies."
What they're saying: A White House summary of the intelligence estimate says the intelligence community sees three broad categories of risks.
Increased geopolitical tension as countries argue over how to address climate change and how fast, and competition in the transition to lower-carbon energy.
Cross-border "geopolitical flashpoints" from the physical effects of climate change.
Climate change is "straining country-level stability in select countries and regions of concern."
2. Exclusive: Jupiter Intelligence raises $54 million
Jupiter Intelligence, a climate risk analytics company, has raised a $54 million Series C round, co-led by ClearVision Ventures and MPower Partners, Andrew writes.
Why it matters: Climate change threatens to disrupt supply chains, damage or destroy factories, cause mounting insurance losses in extreme weather events, and potentially upend financial markets.
Jupiter is one of the leading corporate players working to help reduce the climate risks to the public and private sectors.
Details: All of Jupiter's major existing investors, including Energize Ventures and Liberty Mutual, participated in this round, the company said.
The new money is more than Jupiter has raised in any previous round, and brings its total funding to about $100 million, according to CEO and co-founder Rich Sorkin.
What they're saying: Sorkin told Axios the company will add 50 people to its existing workforce of 60. The company is also working to develop new services to be announced at a later date, he said.
Sorkin said Jupiter has an "overwhelming market share" when it comes to assessing the physical risks to company or government-owned physical assets, and competes in this area with much larger firms such as Moody's, McKinsey, Verisk and others.
"The market for analytics to support resilience and risk management from the impacts of climate change, while still in its infancy, is exploding," Sorkin said in an email.
3. The intensifying race for EV battery supplies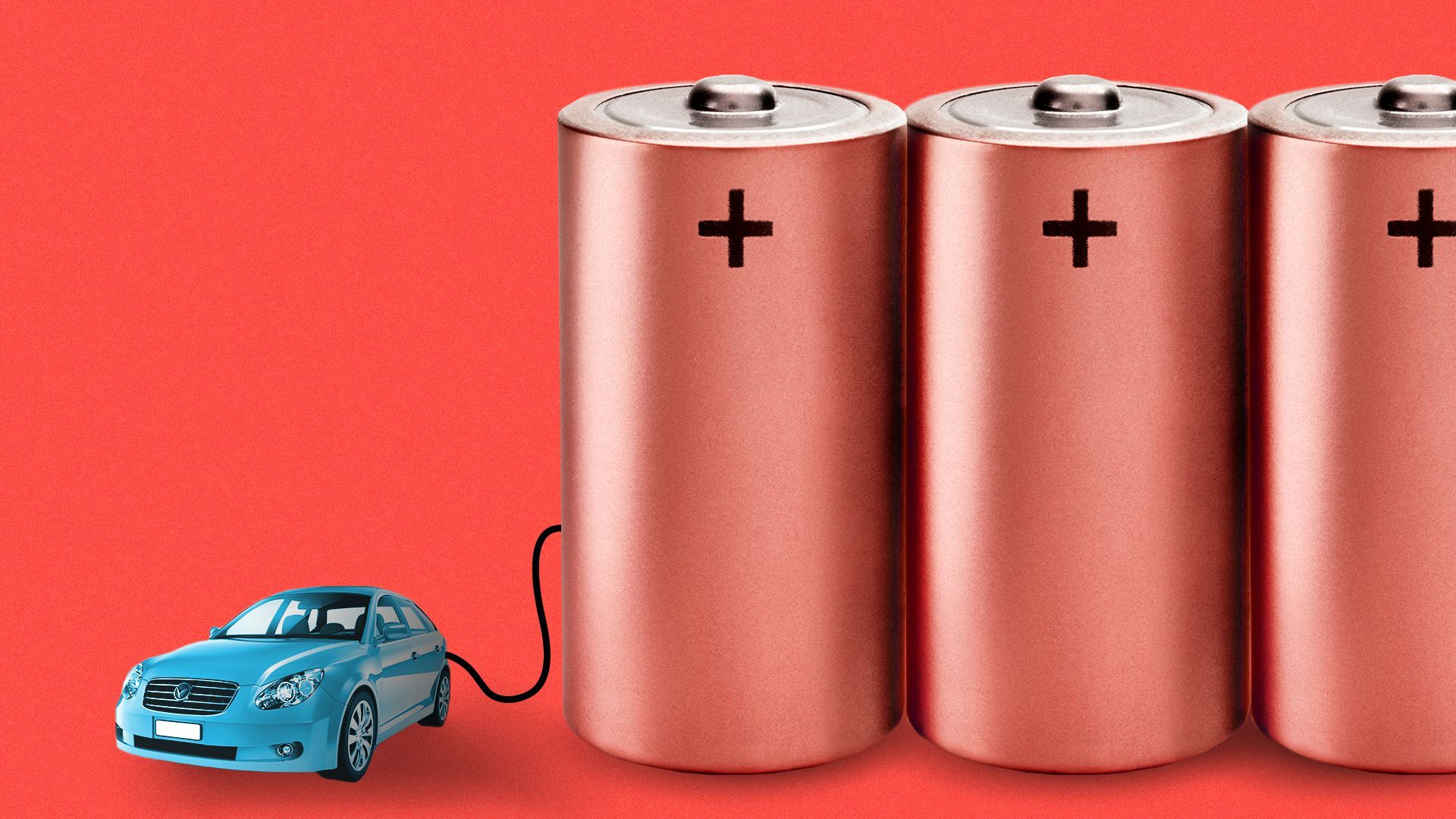 Almost every week, another major automaker announces a billion-dollar-plus investment in battery manufacturing, and with it, thousands of new American jobs, Axios' Joann Muller reports.
Why it matters: Eyeing President Biden's climate agenda, carmakers are racing to create a domestic battery supply chain to support their aggressive rollout of electric vehicles by the end of the decade.
They want to avoid another crisis like the current semiconductor shortage, which forced them to slash vehicle production because they can't get enough computer chips from Asia.
Driving the news: This week, Toyota and Stellantis (Chrysler and Jeep's parent) joined the chorus of automakers planning to build giant battery factories in North America.
They follow other U.S. battery manufacturing commitments, by Ford and General Motors, as well as Korean battery suppliers SK Innovation and LG Chem.
What's next: For now, these moves are ahead of demand. But forecasters predict the EV shift will occur quickly as more models are introduced and governments increase requirements for zero-emissions vehicles to fight climate change.
When those pieces fall into place, the world's carmakers are likely to be in an all-out war to secure battery metals and other materials needed to produce them.
4. Tesla is outrunning the supply chain crunch
Tesla, citing a "structural shift" in demand for electric vehicles, reported its highest-ever quarterly profit of $1.6 billion and $13.8 billion in revenues despite supply chain problems, Ben writes.
The big picture: The company's third-quarter report says the chip shortage, port congestion and other woes have affected its factories but argues that "flexibility" and "ingenuity" are a counterweight.
What they're saying: Wedbush Securities, in a note, said Tesla's earnings and deliveries signal "an EV demand trajectory that looks quite robust for Tesla heading into 4Q and 2022."
They estimate the chip shortage has meant 40,000 fewer sales this year than would otherwise occur, but still project around 900,000 for 2021 and 1.3-1.4 million next year.
What's next: Tesla hopes to begin production from new factories in Austin and Berlin by year's end.
But chief financial officer Zach Kirkhorn cautioned that "the hardest work lies ahead in the ramp" and that the factories will "partially weigh on our margins as we work toward volume production."
Go deeper: Tesla Posts Record Quarterly Earnings on Supply-Chain Resilience (WSJ)
5. Net-zero emissions fight breaks out before COP26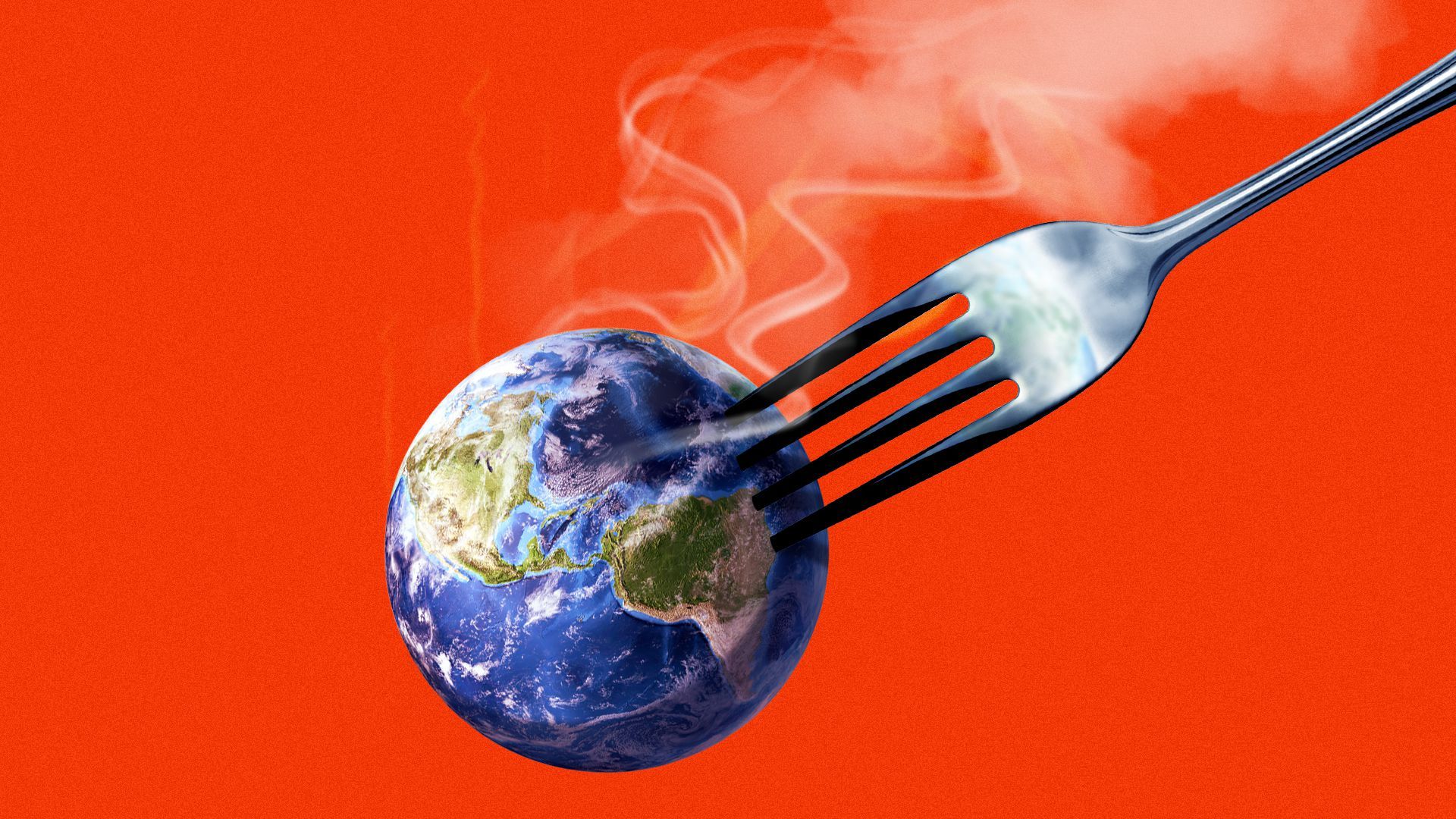 Here's a sign of how tough it'll be to win new emissions-cutting moves at COP26: Big developing nations are refusing to commit to net-zero emissions by 2050, Andrew writes.
That's spelled out in a new statement from countries including China, the biggest greenhouse gas emitter by far, as well as India and Indonesia.
Why it matters: Scientific reports have shown that such a target is necessary for reaching the 1.5°C or 2°C Paris targets. Agreeing to net-zero emissions by midcentury is a central goal of the U.S. and U.K., which is hosting the talks.
The big picture: Developing countries see calls for net-zero commitments by all nations by 2050 to be moving the goalposts for climate action.
Between the lines: The ministerial statement criticizes developed countries for repeatedly breaking their emissions reduction and financial aid commitments.
China, India and other signatories say industrialized countries need to rapidly decarbonize by 2030 while giving other nations the opportunity to pursue emissions cuts over the longer term.
"Developed countries have in fact increased their emissions between 1990 and 2020," the document states, taking note that $100 billion a year in financial assistance from wealthier countries promised as early as 2009 has not materialized.
"These failures to deliver on the commitments agreed to by developed countries undermines trust and confidence in the multilateral system," the countries state.
The bottom line: As climate expert, Li Shuo of Greenpeace, tweeted in response to the statement, "Glasgow will be one of the most difficult COPs in recent years."
6. Catch up fast: Big Oil, coal, pledges
Exxon: The company's "remade board of directors is debating whether to continue with several major oil and gas projects as the company reconsiders its investment strategy in a fast-changing energy landscape, according to people familiar with the matter." (Wall Street Journal)
Negotiations: "Group of 20 diplomats have all but given up on their lofty goal of consigning coal to history and are instead closing in on a more modest plan to stop governments funding foreign coal-fired power plants, according to people familiar with the situation." (Bloomberg)
Rio Tinto: "Anglo-Australian miner Rio Tinto announced on Wednesday a $7.5 billion plan to reduce carbon emissions by 50% by 2030, a reduction three times greater than its previous target, but shares fell as investors reacted to the higher spend." (Reuters)