Axios Generate
February 17, 2022
🥞 Good morning! Today's Smart Brevity count is 1,246 words, 5 minutes.
🗓️ Join Axios virtually at our 1st What's Next Summit on April 5. Register for sessions on trends that will revolutionize our future.  
🎶 We're a few days past 35 years since the pioneering Public Enemy released their debut album "Yo! Bum Rush the Show," which has today's intro tune...
1 big thing: An exclusive look at IBM's new climate initiative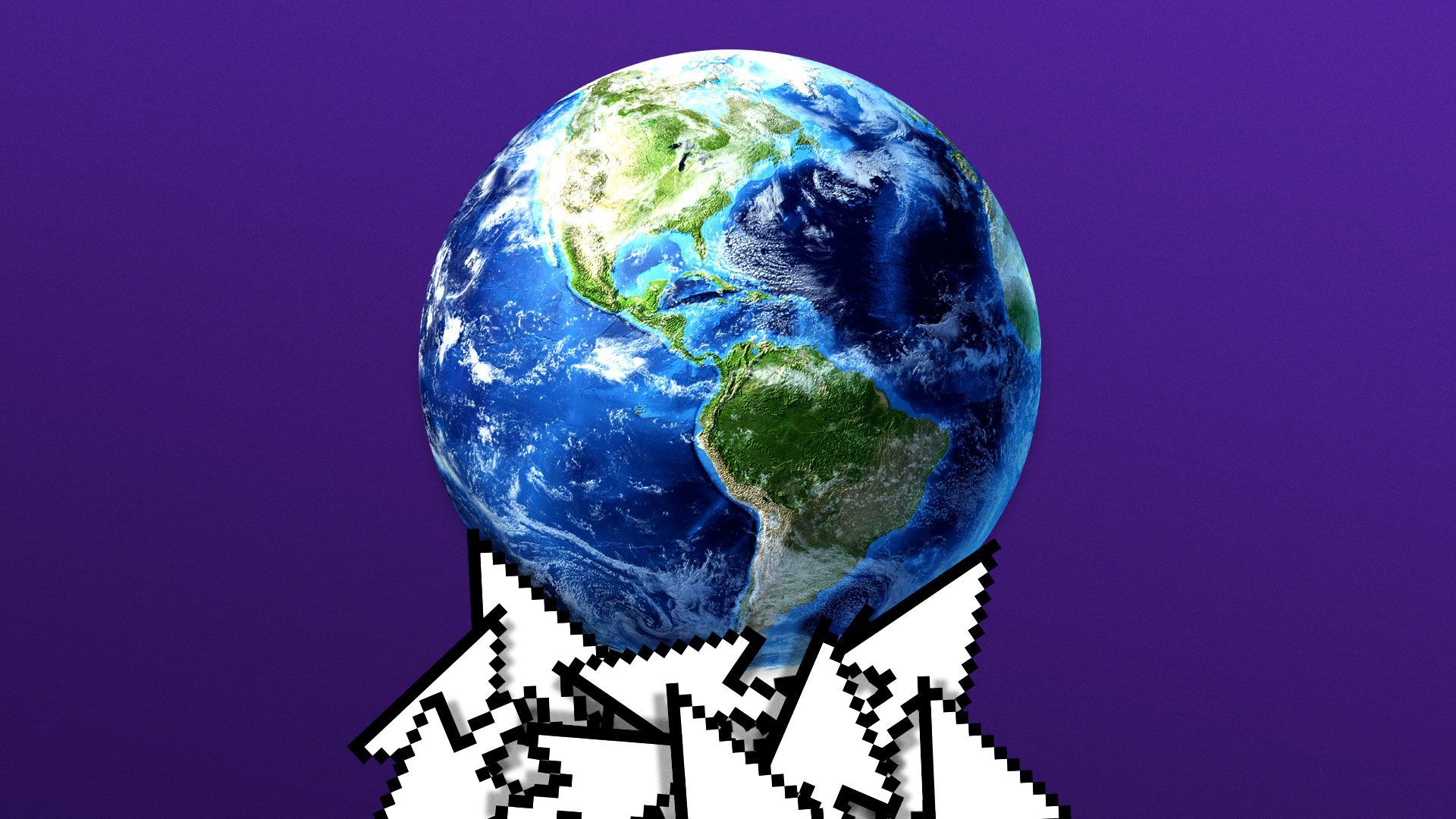 First look: IBM will provide pro bono tech services and expertise to organizations serving communities vulnerable to climate change and other environmental hazards, Ben writes.
Driving the news: The tech giant's new IBM Sustainability Accelerator is live today with a public request for proposals from nonprofit and government organizations. The 2022 awards will focus on clean energy.
The accelerator will offer aid like cloud and AI services and access to IBM's partner ecosystem. IBM will work with recipients on strategies for configuring the tech and services to meet their environmental goals.
It plans to select five organizations each year and expects to provide $30 million worth of services in the 2021-2023 period (IBM began quietly piloting the program last year).
Each recipient will receive technology, expertise and other services with an estimated market value of $2 million, IBM said.
The big picture: It's part of a growing constellation of Big Tech climate initiatives aimed at cutting their own emissions — IBM has a 2030 net-zero target — and aiding outside efforts.
Examples include Microsoft's AI for Earth grants, Amazon's climate fund and Google's work with climate-focused startups.
How it works: IBM said for the energy-focused cohort, the goal will be facilitating access to renewables, efficiency, and other clean energy tech and promoting investment.
Jonathan Adashek, a senior IBM exec, said in an interview that one example of assistance could include analysis of clean energy pricing.
"I think as you look at the most vulnerable populations, pricing is really key. It's not just about the accessibility, but it's also about the affordability," said Adashek, the senior VP for ESG, marketing and communications.
Catch up fast: IBM's quiet launch of the initiative on a pilot-scale last year selected three organizations working on sustainable agriculture.
It gives a sense of how IBM sees its services enhancing on-the-ground sustainability.
For instance, they're working with the anti-poverty group Heifer International to help farmer cooperatives in Malawi with weather and crop yield forecasts.
The other two initial recipients are the Nature Conservancy India and the Plan21 Foundation for Sustainable Human Development. IBM said two more organizations will join the sustainable agriculture recipients.
2. Google's focus on idle Cloud projects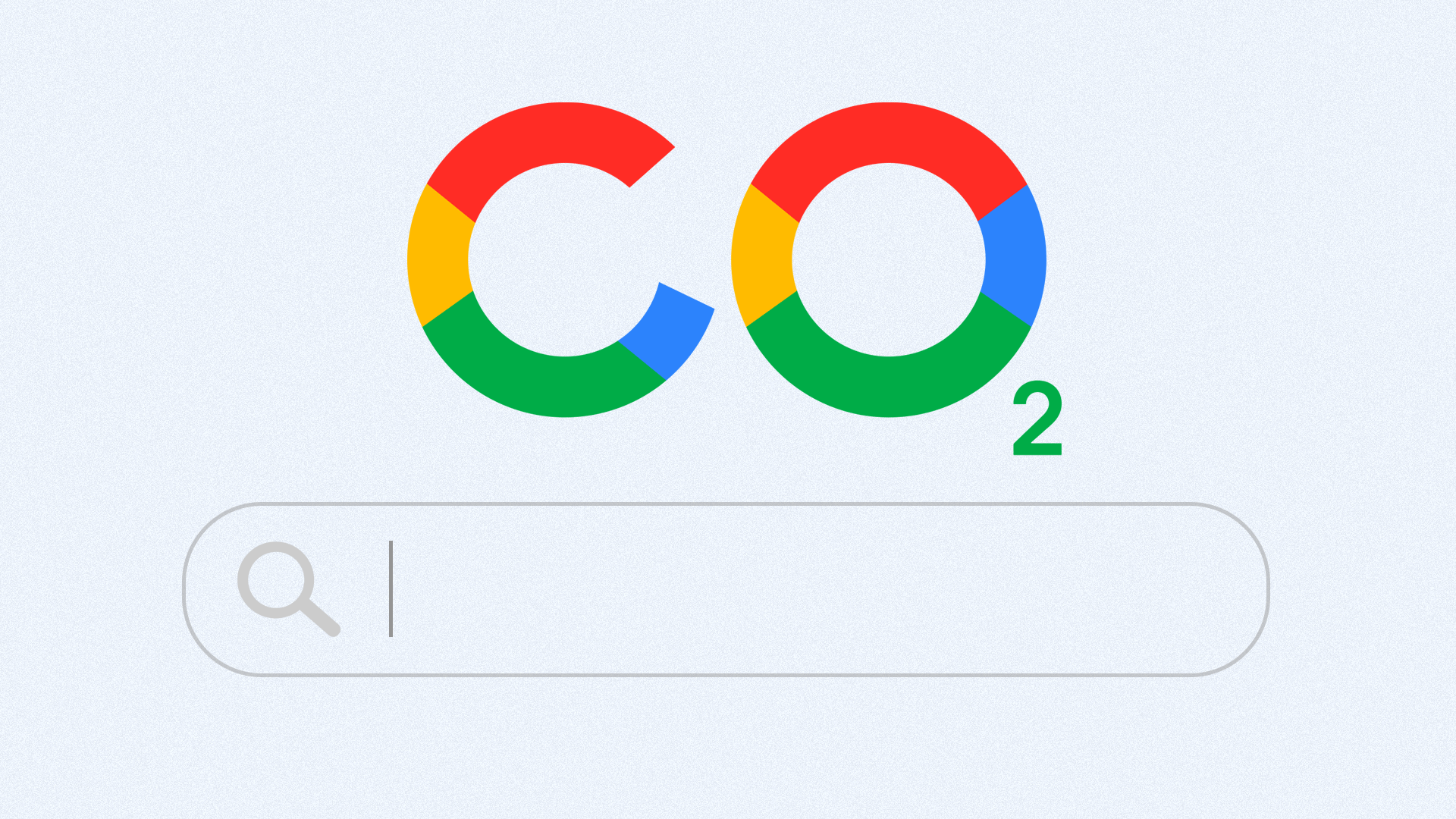 Google will help its Cloud users save energy and reduce emissions by providing new tools to let them manage energy use from their idle projects, Andrew writes.
Driving the news: Yesterday, Google introduced the Carbon Sense suite. It's a collection of features that aims to help companies quantify and report their emissions, as well as reduce them.
Zoom in: The company says its "Active Assist" feature will allow customers to spot their energy-intensive idle projects and help manage them better to reduce their carbon footprint.
The recommendations given by the feature estimate the impact of removing an idle project in kilograms of CO2 reduced per month.
For example, users can choose cleaner regions to run their data-hungry projects.
"It can be difficult for businesses to accurately understand, reduce, and report on carbon emissions," said Google Sustainability lead Chris Talbott, in a statement.
Flashback: Google is working to meet a 2030 goal for running its data center operations on carbon-free energy 24/7.
3. The West's more flammable nights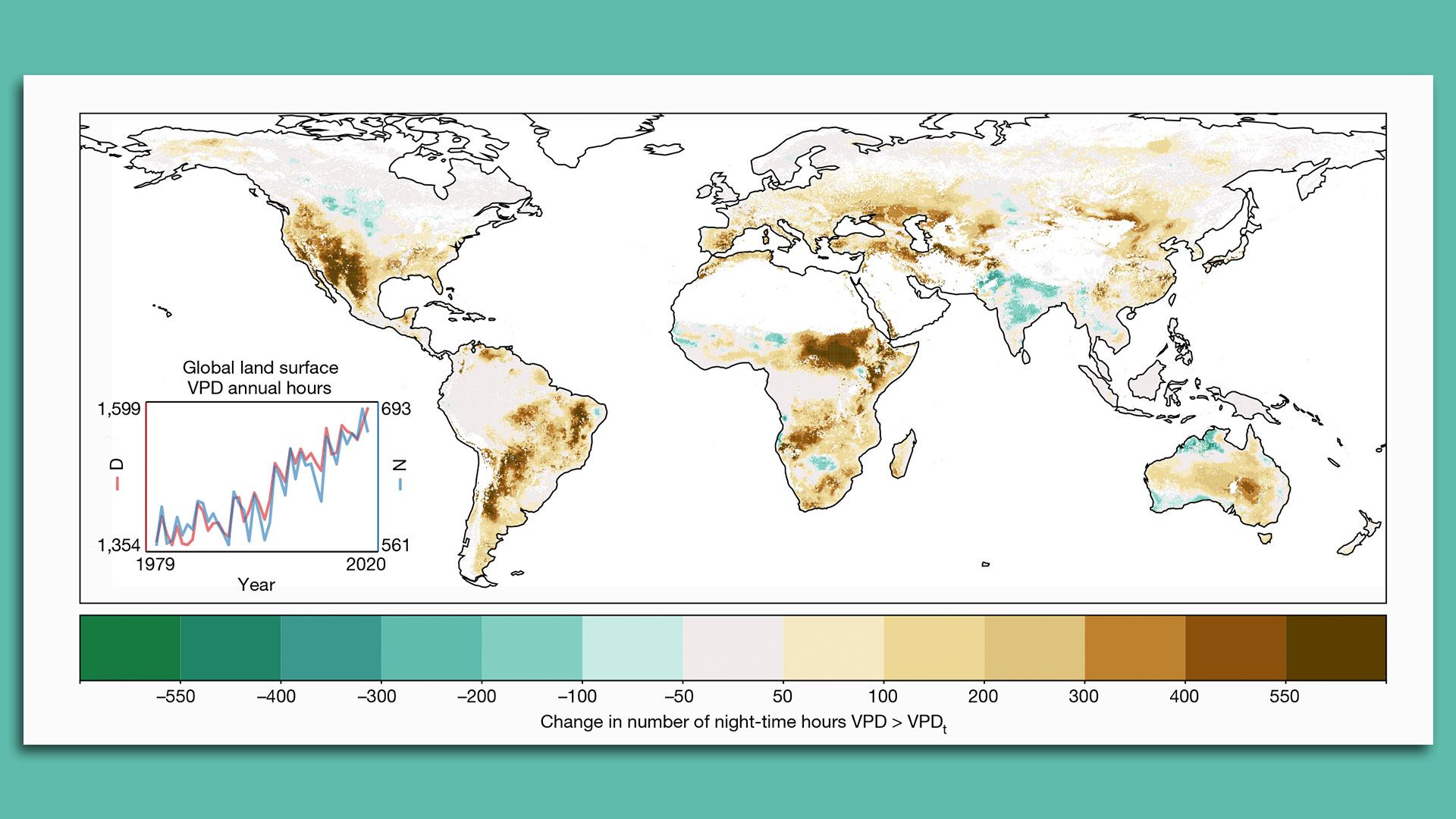 A new study found that the West is experiencing an increasing occurrence of hot, dry nights that are contributing to more intense wildfires, Andrew writes.
Why it matters: The trends identified in the study, published in the journal Nature, mean that wildfires are able to grow larger and destroy more structures than they used to. It also means less rest for firefighters.
Zoom in: The researchers found there are now about 11 more flammable nights every year in the West compared with 1979, a 45% increase in four decades.
Between the lines: The study examined changes in a metric called the vapor pressure deficit, which captures how primed the air and land are for burning.
They also analyzed satellite imagery for about 82,000 fires to find a threshold value, beyond which intense nighttime fires can be supported.
They found a 36% increase in annual average flammable nighttime hours between 1979 and 2020.
What they found: The study shows nighttime fires increased in intensity by 7.2% from 2003 to 2020 globally. But in the West, that figure is 28%.
What they're saying: "Night is the critical time for slowing a speeding fire—and wildfire's night brakes are failing," said study lead author and the University of Colorado climate scientist Jennifer Balch in a statement.
4. New cash for storage aimed at heavy industry
Antora Energy, a startup that uses thermal storage for industrial heat and energy needs, just raised $50 million in a funding round from the Bill Gates-led Breakthrough Energy Ventures and Chris Sacca's Lowercarbon Capital, Ben writes.
Why it matters: Decarbonizing heavy industries like cement, steel and chemicals is key for meeting the U.S. and global climate goals, but solutions that meet high industrial heat needs are often lacking at a commercial scale.
How it works: Antora's tech uses excess solar and wind electricity to "heat blocks of carbon so they glow like a toaster, and discharges both electricity and process heat up to 1500°C, on demand," the company said.
Other investors include the VC arms of Shell and mining giant BHP. CNBC has more.
5. Study: Oil giants' green rhetoric outweighs action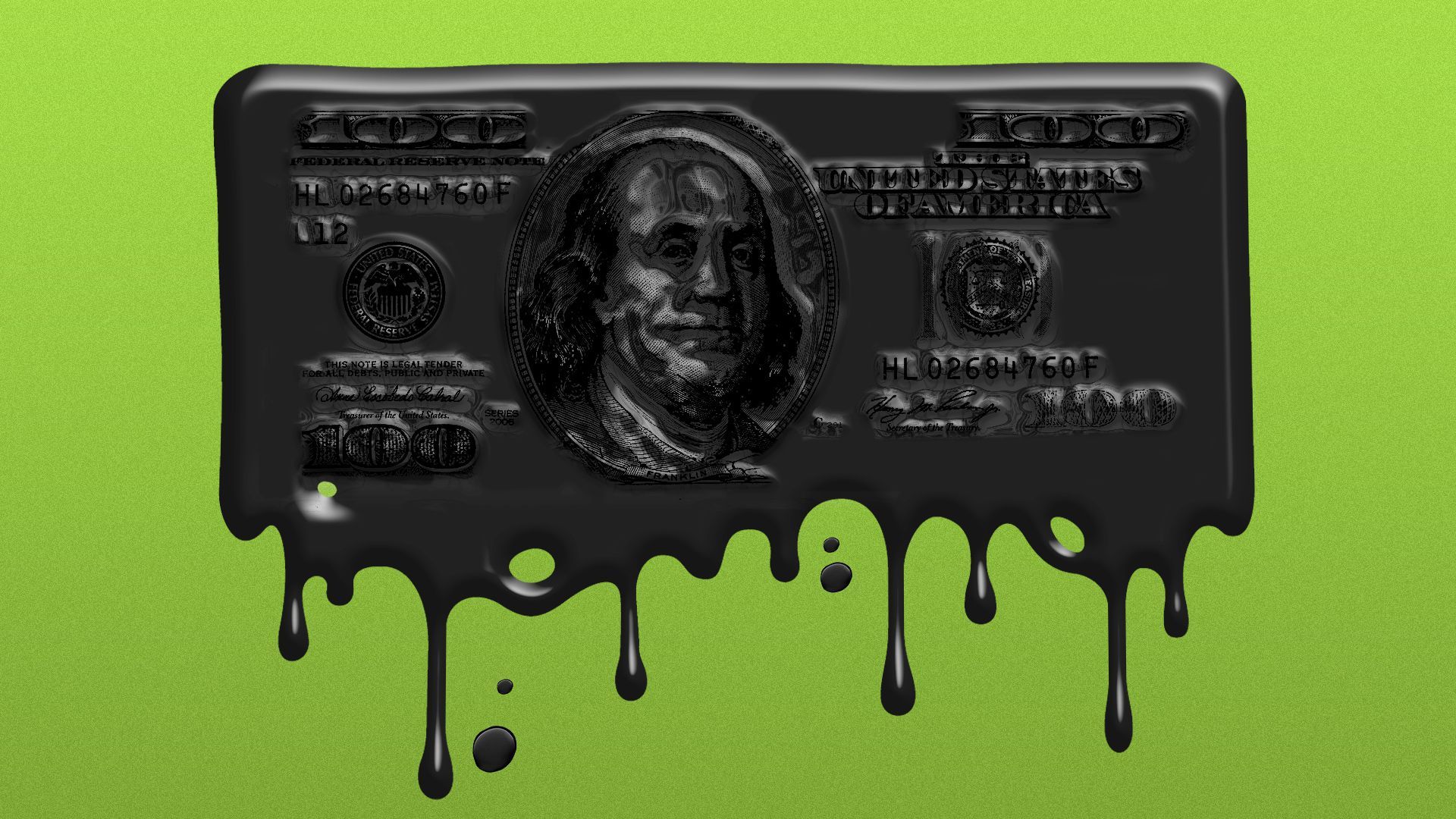 Oil majors are talking the talk on climate change far more than they're walking the walk, a peer-reviewed study concludes, Ben writes.
Driving the news: The paper in PLOS One examines Exxon, Shell, Chevron and BP in 2009-2020 on the basis of three broad categories.
They are the use of climate and clean energy-related language in annual reports; pledges and actions in their business strategies; and investments in clean energy versus oil and gas.
What they found: The majors' climate discussion has outpaced spending growth to develop and deploy low-carbon energy.
The companies have yet to meaningfully start moving business practices away from fossil development, and clean energy remains a very small percentage of capital spending, it concludes.
"[T]he transition to clean energy business models is not occurring...Until actions and investment behavior are brought into alignment with discourse, accusations of greenwashing appear well-founded," it states.
Why it matters: Oil majors are increasingly diversifying into clean energy even as fossil fuels remain by far their dominant business lines. But critics call the efforts too slow.
The other side: Companies highlighted plans unveiled at the tail end of the study period or after.
"Because this paper looks back historically over the period 2009-2020, we don't believe it will take these developments and our progress fully into account," BP said.
BP, which has increasingly moved into renewables, EV charging and other areas, said low-carbon investments were 12% of its capital spending in 2021 and will reach 40% by 2025. It also plans to reduce oil-and-gas production by 40% by 2030.
Exxon cited its 2021 pledge to invest $15 billion on low-carbon development through 2027 focused on carbon capture, hydrogen and biofuels.
6. Finance notes: Shale and private equity
Oil-and-gas: "Colgate Energy, a private equity-backed energy explorer in the Permian Basin that's been preparing to go public, is also considering a sale after getting takeover interest," Bloomberg reports. The sale could fetch $5 billion, it reports.
PE meets VC: "Energy-focused buyout specialist Riverstone Holdings is taking a stake in early-stage investor Blackhorn Ventures, a rare instance of a private equity firm buying into a venture capital firm, as it seeks to diversify its portfolio and gain access to early-stage investment opportunities." (PitchBook)