Good morning and welcome back!
Happy birthday to Peter Gabriel, who provides today's intro tune . . .
https://www.axios.com/newsletters/axios-generate-1a45fd37-990d-45c8-ae8e-76b360e0091b.html?chunk=0#story0
OPEC's half-empty glass
Breaking Tuesday: The International Energy Agency's latest oil market assessment notes that oil stockpiles have declined sharply, a key goal of the OPEC-Russia output-limiting agreement.
OECD stocks ended the year at 52 million barrels above the 5-year average, compared to 264 million above that average a year ago.
But, but, but: The closely watched monthly report warns that fresh evidence of the big U.S. shale surge will probably keep the champagne corks in the bottles.
"With the surplus having shrunk so dramatically, the success of the output agreement might be close to hand. This, however, is not necessarily the case: oil price rises have come to a halt and gone into reverse, and, according to our supply/demand balance, so might the decline in oil stocks, at least in the early part of this year," they note.
Extraordinary: U.S. producers' cost-cutting success is helping to fuel a wave of growth so "extraordinary" that their output increase could equal global demand growth, which IEA forecasts at 1.4 million barrels per day this year.
Bottom line: Underlying market conditions now look "less supportive" of higher oil prices, which have stalled and fallen lately. But plenty could change, they note, citing Venezuela's tailspin and the prospect that the "buoyancy" of the global economy could send demand growth estimates upward.
Go deeper: Reuters looks carefully at the report here.
https://www.axios.com/newsletters/axios-generate-1a45fd37-990d-45c8-ae8e-76b360e0091b.html?chunk=1#story1
More shale snapshots
New data: Energy Information Administration data shows that crude oil from shale formations — the stuff tapped by fracking — is forecast to grow by another 110,000 barrels per day in March to reach 6.76 million daily barrels.
The shale growth has pushed total U.S. production to record levels above 10 million barrels per day.
Permian surge: Once again the prolific Permian Basin in Texas and New Mexico leads the way with a projected rise of 75,000 barrels to almost crack the 3 million mark, EIA's latest Drilling Productivity Report released Monday states.
Why it matters: Shale is basically the reason why the U.S. has emerged as a crude oil powerhouse in recent years, changing the market enough to force OPEC to recalibrate its approach.
Big picture: A note yesterday from Bank of America Merrill Lynch analysts looks at where shale fits into the global supply picture. Their view is that global supplies from conventional sources will peak within five years.
But that's not a problem for OPEC, despite shale's challenge, because they note that "we expect non-OPEC supply to continue to lose market share to US shale and OPEC over the medium term."
Crystal ball: Overall, they expect shale to fill the gap left by declines in non-OPEC supplies — they forecast that U.S. shale supply grows by over 4 million barrels between now and 2023.
"With the shale cost curve still benefiting from ongoing improvements in the technology, we continue to see U.S. producers supplying the marginal barrel in the global oil market over the medium-term," they write.
Listen deeper: The new edition of Platts Capitol Crude podcast explores the Permian's explosive growth, and the water supply and infrastructure challenges looming in the future.
https://www.axios.com/newsletters/axios-generate-1a45fd37-990d-45c8-ae8e-76b360e0091b.html?chunk=2#story2
White House energy and environment spending goals revealed
Driving the news: Yesterday brought what's effectively the most detailed press release of every year — the White House budget request. It may not bind Congress, but does provide a clear signal of presidential priorities and can help set terms of debate.
A few takeaways...
Energy: Utility Dive has a good look at the DOE's budget proposal, which seeks, among other things, a $1.3 billion — or 65% — cut in its Office of Energy Efficiency and Renewable Energy.
"The new office would focus on early-stage technologies, 'including new approaches to energy storage beyond current battery technologies,'" they note.
The Office of Fossil Energy would see a nearly 20% boost and "focus on cutting-edge, early-stage R&D to improve the reliability and efficiency of advanced fossil-based power systems,'" they report.
EPA: Via my colleague Amy Harder, President Trump is proposing a 9% increase in the Environmental Protection Agency's budget from last year's request, but it's still a nearly 25% cut from enacted levels.
EPA's proposed budget for fiscal year 2019 is $6.146 billion, compared to its roughly current $8 billion budget and a high of $10 billion under former President Obama in 2010.
https://www.axios.com/newsletters/axios-generate-1a45fd37-990d-45c8-ae8e-76b360e0091b.html?chunk=3#story3
Why Trump (probably) can't kill ARPA-E
Good listen: The brand new episode of CleanCapital's Experts Only podcast is a wide-ranging chat about energy transition with Stanford's Arun Majumdar, who served as the first director of the DOE's Advanced Research Projects Agency-Energy.
That's the program that seeds research into so-called high-risk, high-reward breakthrough energy technologies.
One reason it's timely: The episode lands as the White House is renewing its push to end ARPA-E, a program that was first authorized by Congress under President George W. Bush but only received money and got rolling under President Obama.
The FY19 budget proposed Monday has no money for the program, which is currently funded at $305 million.
Majumdar discusses how the program got underway, how it has maintained bipartisan support on Capitol Hill by engaging with Congress as "stakeholders," and how it created the type of culture that makes it an atypical place in the government.
Quoted: "People only had three or four years to serve, and they wanted to make a dent in this universe, and if you want to do that, you have got to be fast," he said. "So we created a bureaucracy, an operation which was at the speed of the private sector...at times we have found ourselves to be faster than the private sector."
https://www.axios.com/newsletters/axios-generate-1a45fd37-990d-45c8-ae8e-76b360e0091b.html?chunk=4#story4
How the U.S. oil boom is changing policy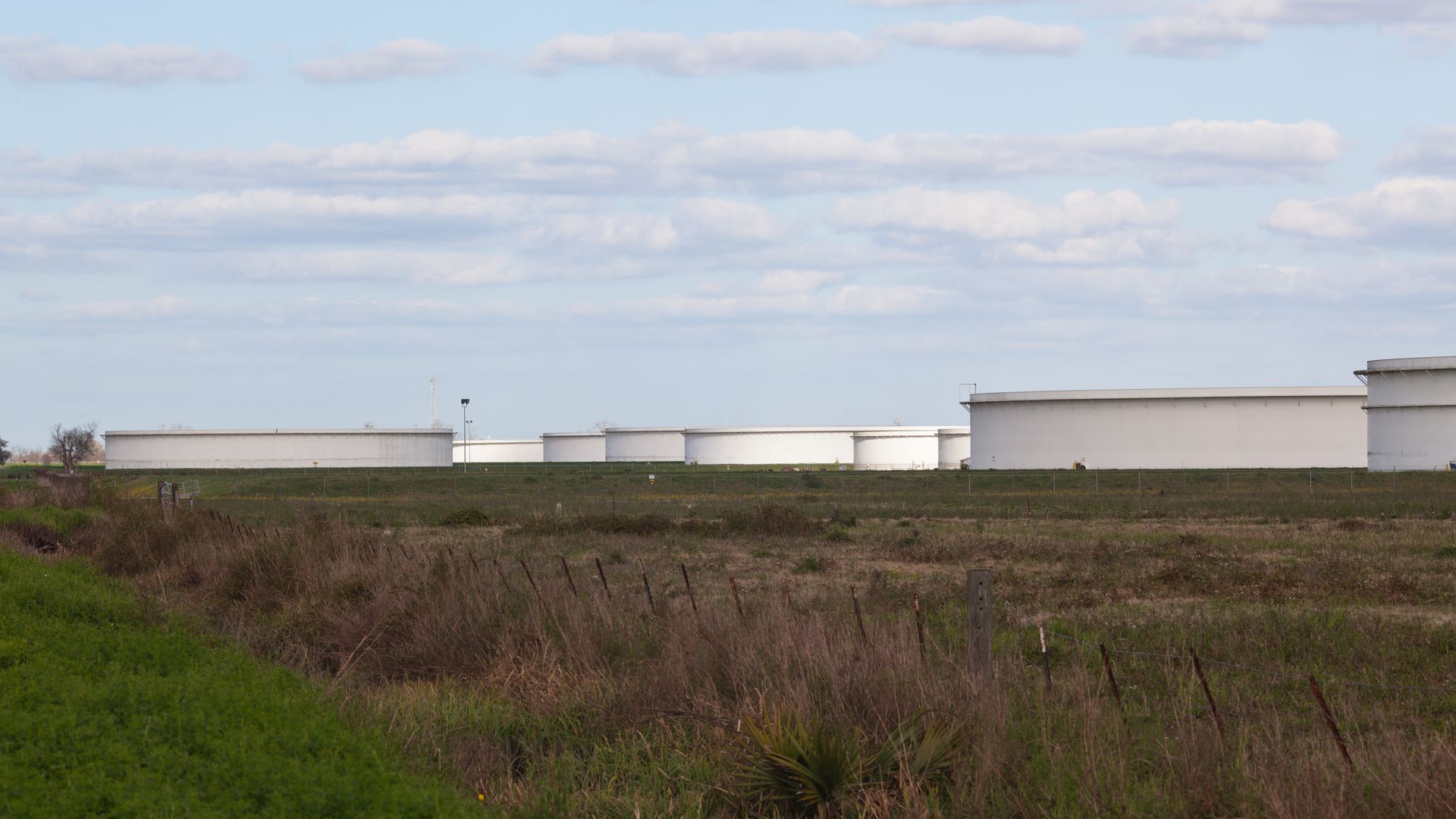 Oil tanks at the St. James Strategic Petroleum Reserve Terminal near Baton Rouge. Photo: Julie Dermansky / Corbis via Getty Images
Over in our Expert Voices section, ClearView Energy Partners' Kevin Book has this to say....
Driving the news: The Bipartisan Budget Act passed last week directs the Department of Energy to sell 100 million barrels of oil from the Strategic Petroleum Reserve, adding to 189 million barrels already scheduled for sale by four other major laws since 2015. (The reserve held 695 million barrels at the start of 2017.)
Why it matters: If Congress is the portfolio manager of America's public assets, lawmakers are rotating out of energy security to secure funds for drug development, infrastructure and other new priorities. The shift away from four decades of scarcity-driven energy policy is likely to reduce support for vehicle efficiency, renewable fuels mandates and alternative energy spending.
Yes, but: Selling government oil into a crowded market can dampen prices, thinning U.S. producer margins and making it harder for new technologies to compete. Meanwhile, electric cars are five to ten years away from gasoline parity and another fifteen years after that from dominating the U.S. fleet.
The bottom line: Oil prices are global and the U.S. accounts for only 10% of supply, which still leaves U.S. drivers vulnerable to disruptions half a world away.
Book is managing director at ClearView Energy Partners LLC and nonresident senior associate in the Energy and National Security Program at CSIS.
https://www.axios.com/newsletters/axios-generate-1a45fd37-990d-45c8-ae8e-76b360e0091b.html?chunk=5#story5
One cool technology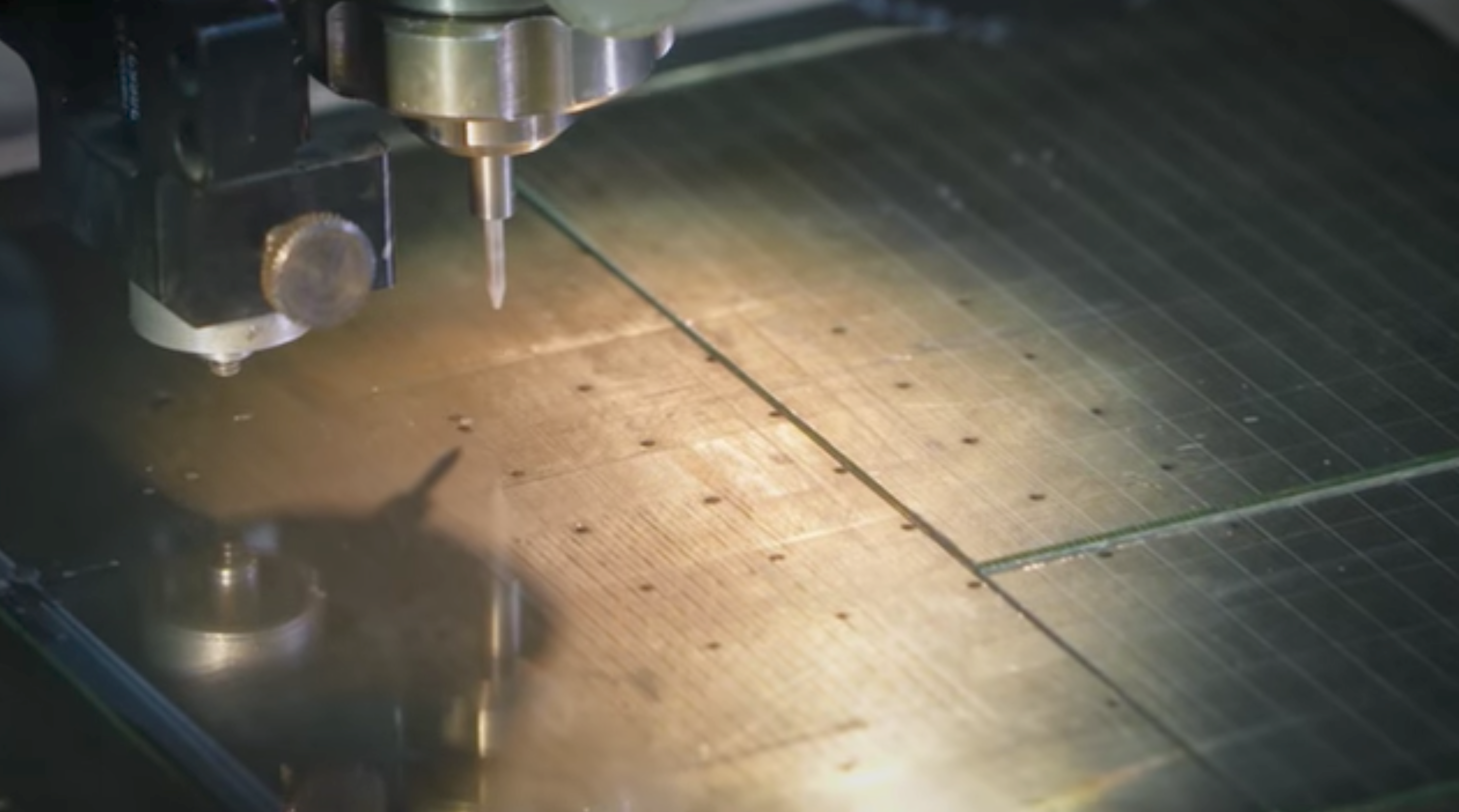 Perovskite solar tech. Screenshot: National Renewable Energy Laboratory's video explainer
Worth watching: The National Renewable Energy Laboratory has posted a cool video explainer about the potentially "transformational" effect of using solar cells made from the synthetic material perovskite, an alternative to the silicon-based products.
Why you'll hear about this again: "The potential for perovskite solar cells is to essentially reduce the costs associated with manufacture-ability and make them essentially ubiquitous technology, that is to say you can put them everywhere," Joe Berry, a senior NREL scientist, says in the clip.
"You can literally paint them on the side of a building, and everything then becomes something that can produce electricity and power," he said.