Axios Generate
July 25, 2022
☕ Good morning, readers! Today's newsletter, edited by Mickey Meece, has a Smart Brevity count of 1,240 words, 5 minutes. 
📬 Did a friend send you this newsletter? Welcome, please sign up.
🎶 At this moment in 1975 the Isley Brothers were atop Billboard's R&B charts with today's intro tune...
1 big thing: Greenland ice melt goes into overdrive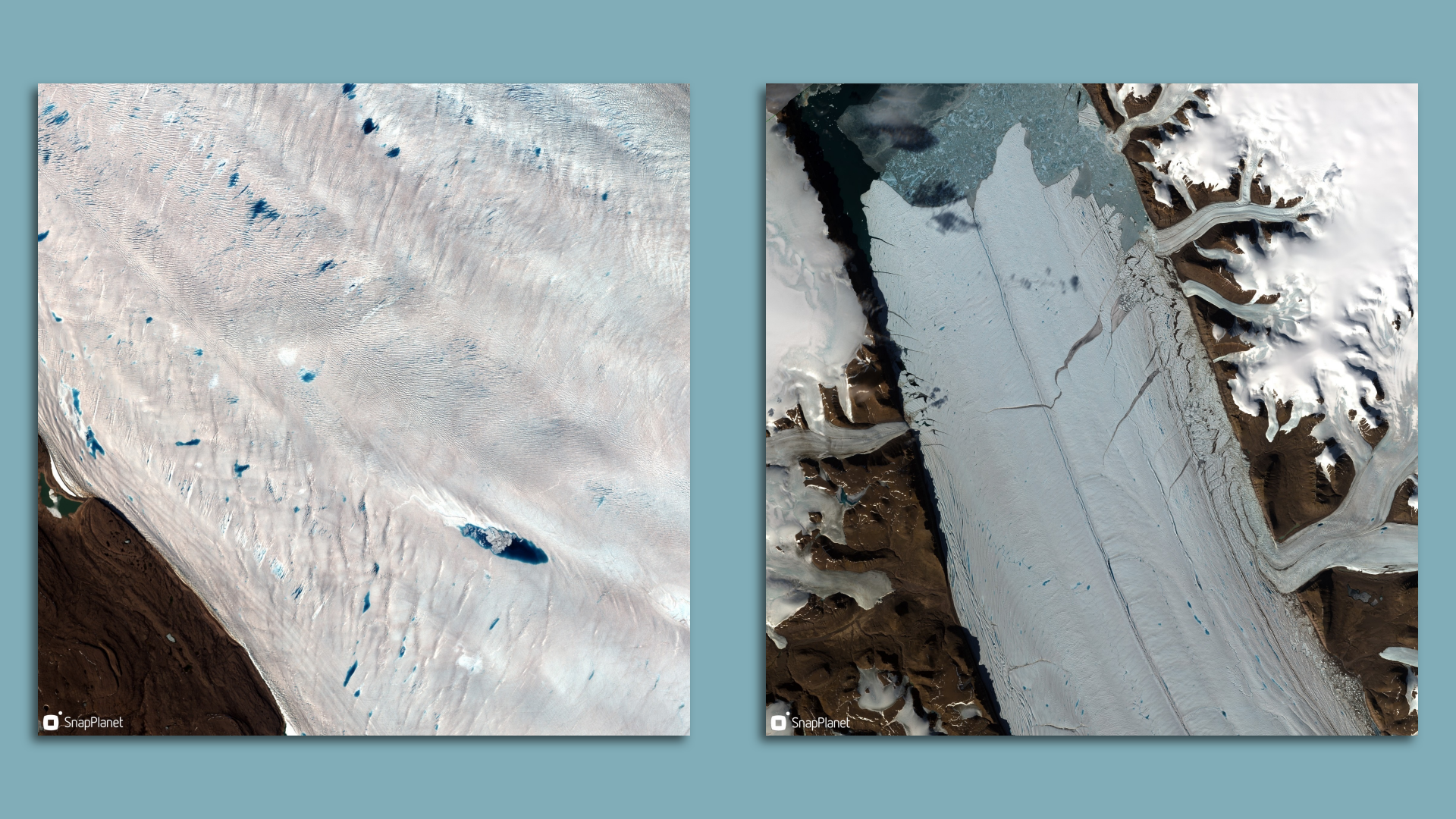 The Greenland Ice Sheet saw a sharp spike in the rate and extent of melting last week, with 18 billion tons of water running into the North Atlantic in just three days, Andrew writes.
Why it matters: Greenland's melting ice is the top annual contributor to global sea level rise. The rate and extent of ice loss there in the next few decades and beyond will determine the fate of coastal cities from Hong Kong to Miami.
Driving the news: An uptick in ice loss that occurred during the July 15-17 period sent enough water careening off the ice sheet to fill 2.4 million Olympic-sized swimming pools, said Ted Scambos, a climate scientist at the University of Colorado at Boulder, in an interview.
Put another way, it was the equivalent of covering all of West Virginia in four inches of water per day, for a total depth of 1 foot.
While this sounds extreme, it doesn't rank as the biggest melt surge that scientists have witnessed in recent years. Periods of exceptionally mild weather have become relatively common since about 201o.
Context: "Since 2010, especially 2012, there have been lots of very extensive melt events," Scambos said, noting that northern Greenland, which was included in the most recent event, has been seeing increasing intrusions of milder air and higher melt rates.
"This was a widespread event," he said. "Overall, it continues to indicate that Greenland is trending towards more melting than was the case in the 1980s and 1990s."
The intrigue: Other researchers told Axios that the extent of the recent melting has been particularly noteworthy.
William Colgan of the Geological Survey of Denmark and Greenland said in an email that temperatures got warm enough for snow to melt at East GRIP, a scientific research site, temporarily preventing re-supply flights from landing there due to the softness of the snow and ice.
What's next: Studies show that how much greenhouse gases are added to the air through the burning of fossil fuels will largely determine the amount of ice loss from Greenland, and the potentially even greater ice melt to come from Antarctica.
The greater the emissions, the more vulnerable the ice sheets will become.
The bottom line: "A consistent loss of ice year after year is unfortunately the new normal in Greenland and the question that we scientists now ask ourselves is: How much will Greenland lose this year, not will Greenland net lose or gain ice this year?" said Ruth Mottram, a climate scientist at the Danish Meteorological Institute, via email.
2. One EV barrier: slow fleet turnover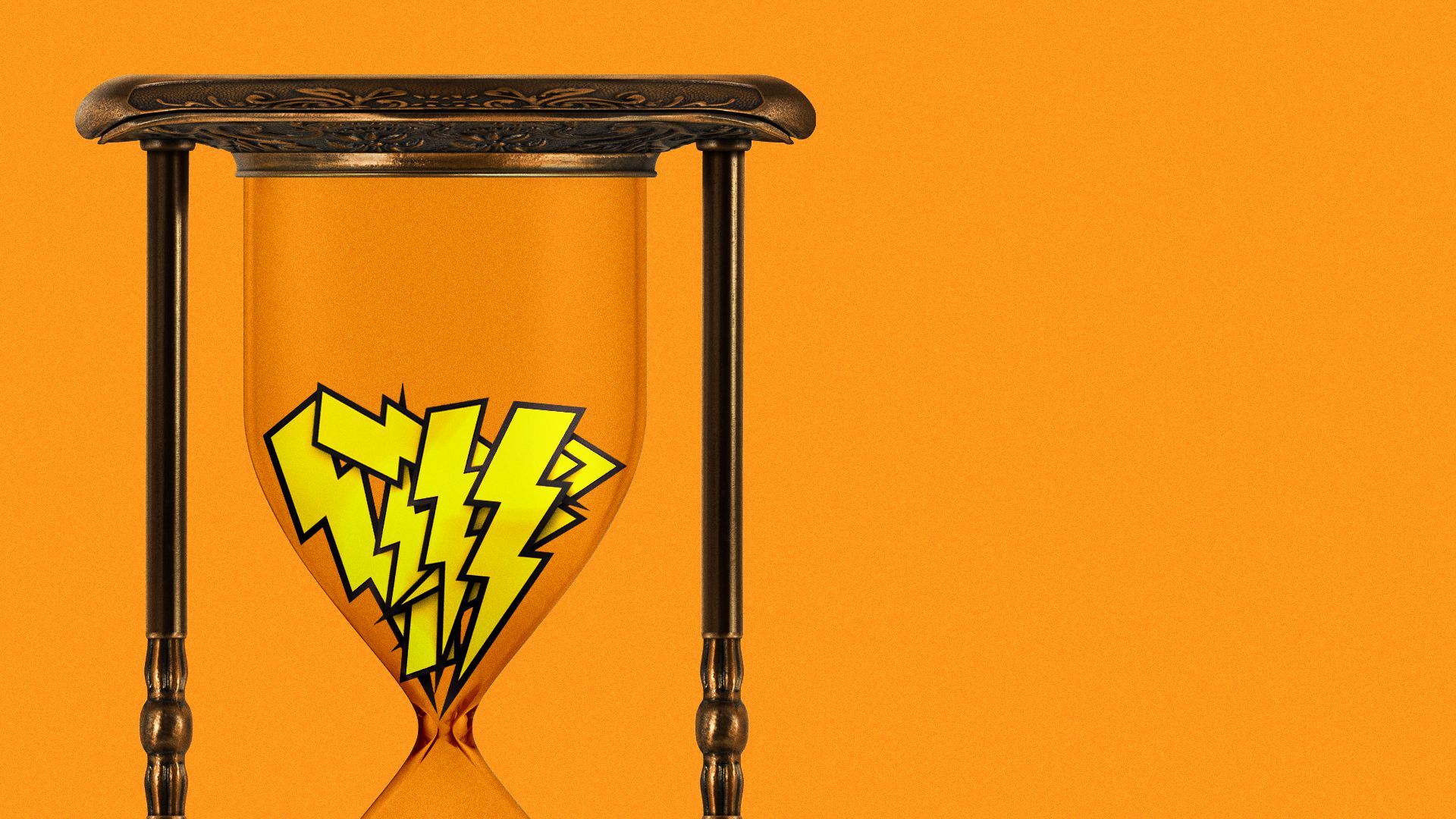 New research explores a hurdle sometimes missed in the excitement about the electric vehicle growth: People don't buy cars very often, Ben writes.
The big picture: The peer-reviewed work analyzes a vast array of studies on EV growth levels that would be consistent with Paris Agreement temperature targets.
One key finding: "The slow speed of fleet turnover presents a substantial barrier to deep decarbonization," states the analysis, a chapter in a new book on energy transition.
Zoom in: It models targets for boosting electric vehicle and other zero-emissions vehicle (ZEV) sales and phasing out sales of conventional gasoline- and diesel-powered cars, such as the U.K. target of 2030.
It sets this against the average lifetime of internal combustion cars, which in the U.S. is 16 years. Smush them together and there's a big "turnover lag."
"Achieving a ZEV share consistent with 1.5°C pathways would require a combination of a relatively early ban by around 2030 and an average non-ZEV lifetime shorter than 10 years."
More aggressive policies and incentives that encourage faster turnover are needed for pathways to limit warming to 1.5°C and 2°C.
What they're saying: "People generally tend to underestimate how difficult it is to change a stock variable, like all cars on the road. There is too much focus on the flow, or vehicle sales," Emil Dimanchev of the Norwegian University of Science and Technology, lead author of the chapter, said via email.
Yes, but: Cleaner cars don't decarbonize light-duty road transport alone. The research also notes the need for policies that help reduce travel demand growth and more.
Go deeper: Dimanchev breaks down the work in this Twitter thread.
3. Extreme heat and drought are stuck on repeat
Tens of millions of people across the U.S. endured a dangerously hot midsummer weekend, with temperatures in the triple digits from the Southwest to the Mid-Atlantic, Andrew writes.
Driving the news: The workweek is starting off simmering, with extreme heat affecting the Mid-Atlantic for another day. Portions of the Mississippi River Valley, the Central Plains and the Pacific Northwest are in for longer-lasting heat.
Drought conditions stretching from the Plains to California are worsening the heat and are fueling a major blaze near Yosemite National Park.
Zoom in: This week will feature a shift in the weather pattern across the U.S., with the core of the most intense heat moving into the Pacific Northwest for the first time this season, as a strong heat dome gets established.
This heat wave looks set to roast interior areas of Oregon and Washington, with highs up to 110°F in Spokane and 101°F in Portland. The heat may also affect northern California.
Seattle could see four straight days with highs in the 90s, with up to six such days in Portland.
Climate change is making heat waves hotter and more common, studies show.
What's next: The Biden administration plans to roll out initiatives this week aimed at lowering wildfire risks and boosting communities' ability to cope with extreme heat, a White House official told Axios.
4. 🏃🏽‍♀️Catch up fast on the European crisis
🗣️ "European governments are attempting to water down Brussels' plans to push the bloc into cutting gas demand to better weather a shortage of Russian supplies this winter," the FT reports.
The discussions follow last week's proposal for a 15% cut in the months ahead and the enforcement mechanisms, the FT and others report.
Bloomberg reports EU members are weighing potential carve-outs, "including taking into account the level of gas storage in a country as well as the possibility to exclude certain key industries."
🪣 "The German government agreed on Friday to take an approximately 30 percent stake in Uniper, which is one of the country's largest suppliers of natural gas and was on the brink of financial ruin, to keep energy supplies flowing and fend off potential chaos in Europe's energy market," the NYT reports.
5. Circle the date: Big Oil earnings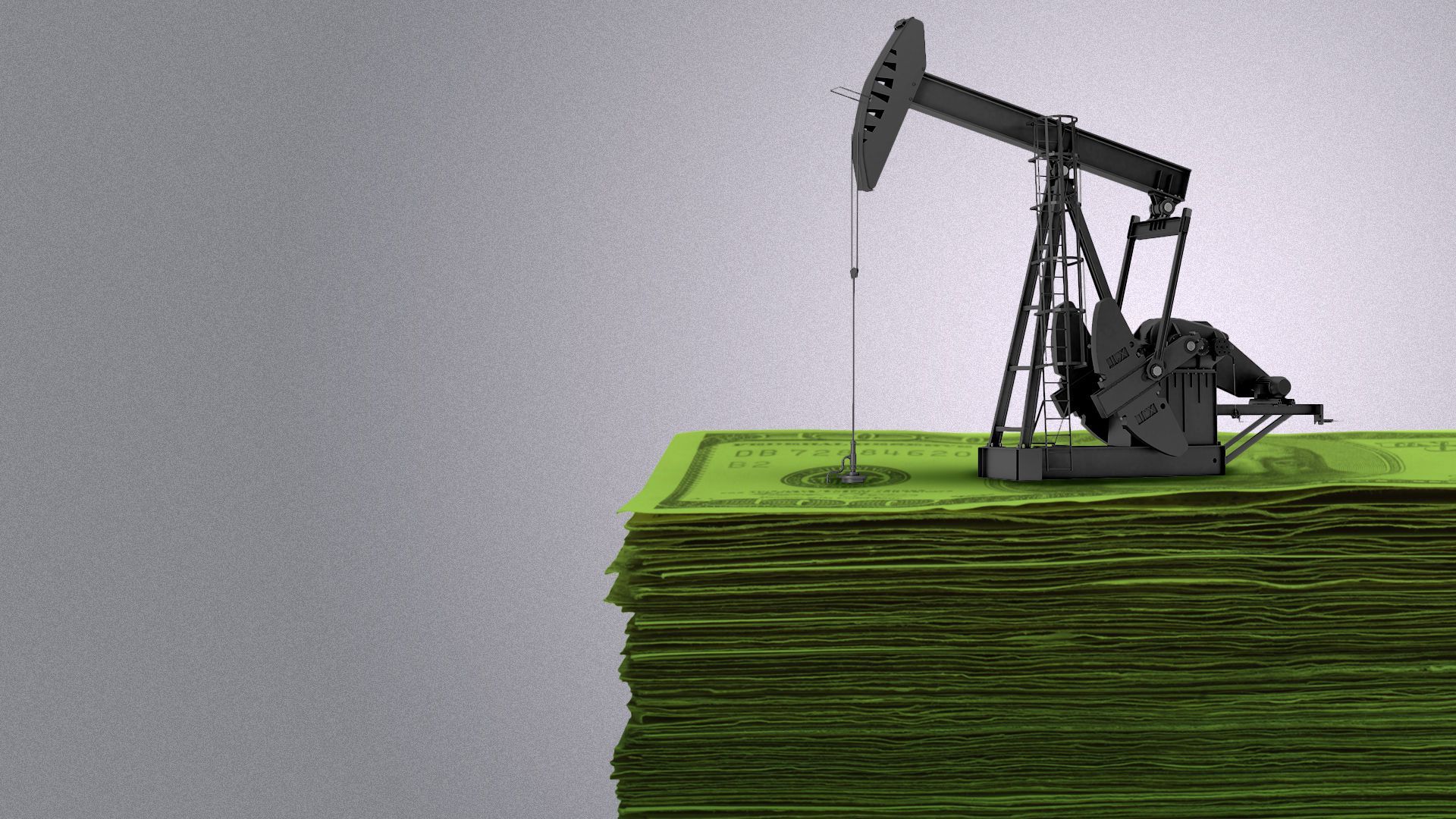 Several of the world's largest oil-and-gas giants are slated to report eye-popping quarterly earnings this week that will reflect the commodity and fuel price surge, Ben writes.
Driving the news: Shell and TotalEnergies report Thursday, followed by U.S.-based multinationals Exxon and Chevron on Friday.
Oil majors, which took steep losses during the 2020 depths of the pandemic, have already signaled they expect to report another earnings surge.
A recent securities filing by Exxon suggests that oil-and-gas production earnings could rise by over $3 billion and fuels' earnings growth could be even larger.
The big picture: Analysts expect the majors to translate the haul into higher investor payouts.
"Given how much balance sheet repair has already occurred in the last 18 months, we believe there is upside to shareholder distribution plans across the sector," RBC Capital Market analyst Biraj Borkhataria said in a note, per Reuters.
The intrigue: We'll be watching to see whether the earnings growth prompts upward adjustments in the companies' investments in their renewables, carbon capture and hydrogen units.
🙏Thanks for reading, and we'll be back with you tomorrow.