Axios Generate
May 19, 2023
🍸 The weekend is rounding into view! Today's newsletter has a Smart Brevity count of 1,280 words, 5 minutes.
🎶 This week in 1977, The Jam released their debut album "In The City," which provides today's intro tune...
1 big thing: The new fault lines on energy permitting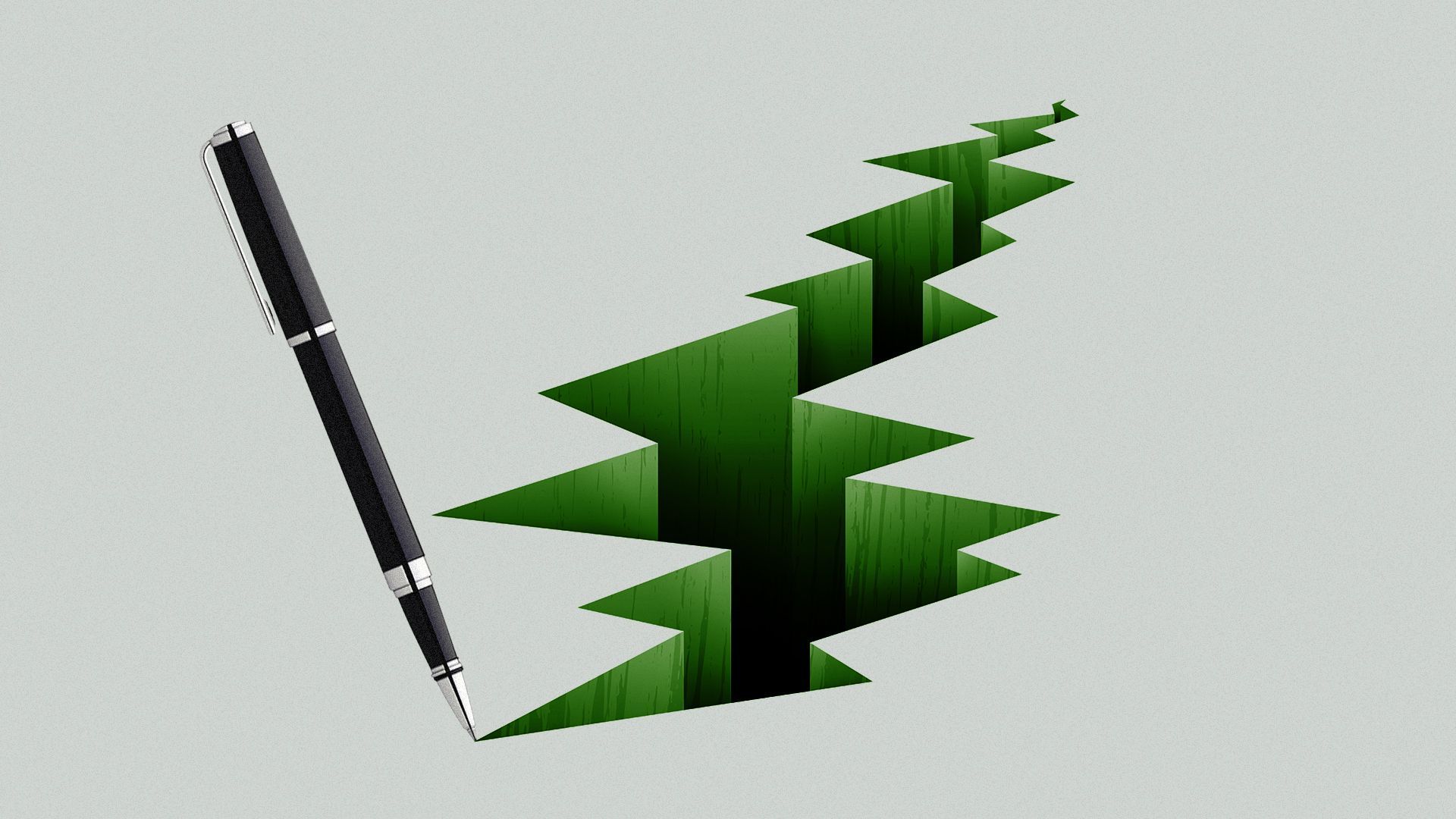 A letter obtained by Axios highlights how energy permitting talks on Capitol Hill are straining ties between green activists and the renewables industry, despite shared climate goals, Ben writes.
Driving the news: Dozens of groups want the American Clean Power Association (ACP) — a key industry group — to oppose policies they say would weaken protections from "dangerous" fossil fuel projects.
The letter to ACP says the poor and communities of color have "long been the sacrifice zones" adjacent to pollution from coal-fired power, oil refineries and more.
It's from an array of local and regional groups, and some nationally-oriented ones, like Greenpeace and the Climate Reality Project.
What they're saying: "Are the marginal gains you'll see from this assault on environmental laws worth the price of throwing frontline communities under the bus?," it states.
Why it matters: Zero-carbon power advocates say easier permitting of transmission and climate-friendly energy is crucial to meeting U.S. emissions goals.
The big picture: Any deal in this Congress would likely need to ease the path for fossil infrastructure like pipelines, drilling leases, and liquified natural gas projects.
Activists fear GOP-backed provisions, like new deadlines under the National Environmental Policy Act and limiting court challenges.
It's a live topic! Permitting is part of debt ceiling negotiations.
The intrigue: This dynamic has frontline and grassroots groups worried about ACP's posture.
The letter accuses clean energy companies and trade groups of "giving cover" to pro-fossil lawmakers whose plans give "crumbs" to renewables while greatly aiding oil, gas and coal interests.
Of note: The letter does not include many large groups aligned with mainstream Democrats, like the League of Conservation Voters and Center for American Progress.
Catch up fast: ACP had nice things to say about permitting provisions of the House GOP's energy bill.
The group was disappointed when Democratic Sen. Joe Manchin's bill — which many activists opposed — stalled last year.
It joined other renewables groups in a letter on permitting that also included oil, mining and chemical industry groups.
Yes, but: ACP yesterday praised a new plan from Senate environment committee chairman Tom Carper (D-Del.) that's focused on renewables, transmission and climate-related infrastructure.
What we're watching: The relationship between activists and the renewables industry as it grows increasingly mainstream and reaches across the aisle.
The other side: ACP spokesman Jason Ryan said permitting is "critical" to the transition to climate-friendly energy.
But he added: "[W]e agree that permitting reform cannot come at the expense of our nation's bedrock environmental laws" or "sacrifice critical environmental protections."
"We appreciate the opportunity to engage with the signatories and look forward to meeting with them in the near future," he said in response to the letter.
The bottom line: Coalition politics ain't easy.
2. Trillions on the line with El Niño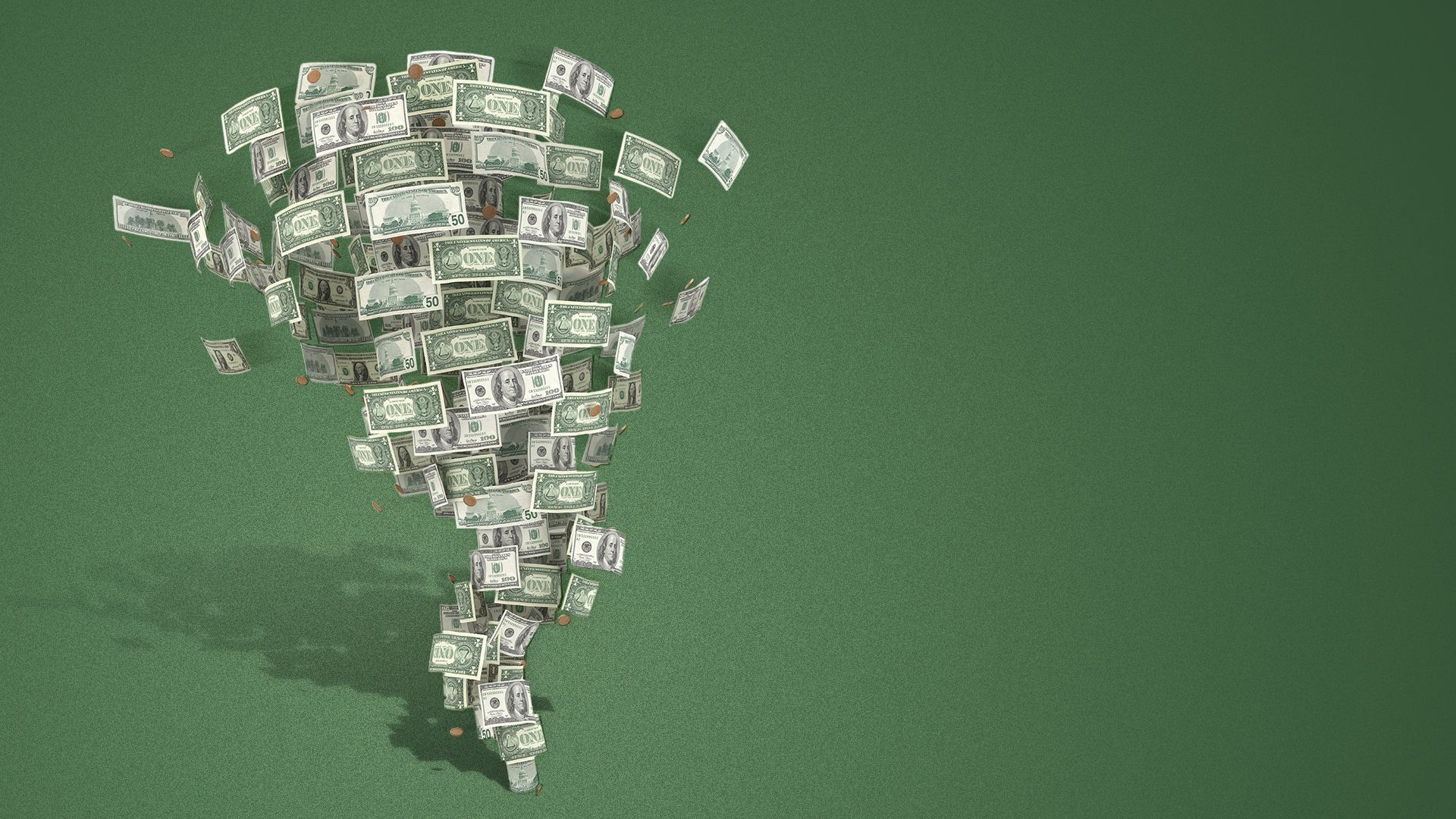 The global economy may lose trillions in a persistent downturn following an El Niño event, Axios' Ayurella Horn-Muller reports.
Why it matters: A rapidly developing El Niño could result in a worldwide economic loss of upwards of $3 trillion through the end of the decade — costing some nations more than others, a new study finds.
How it works: The study, published Thursday in Science, looked at total gross domestic product growth per capita in countries worldwide.
What they found: The El Niño predicted for 2023 alone could result in more than $3 trillion of lost income by 2029, Science reported.
Looking back, the 1982-83 and 1997-98 El Niño events caused the U.S. GDP to be roughly 3% lower in 1988 and 2003 than it would have been otherwise.
By contrast, the GDPs of coastal tropical nations — the paper cites Peru and Indonesia as examples — were lower by more than 10% over the same period.
3. 🚨G7 vows fresh steps to sap Russia's resource might
Group of Seven leaders meeting in Japan this morning pledged new measures to reduce reliance on Russian energy and commodities, Ben writes.
Driving the news: A joint statement cites major reductions to date and vows to "continue on this path so that Russia is no longer able to weaponize energy against us."
The measures will target nuclear-related goods, "including working to assist countries seeking to diversify their supplies."
It also promotes efforts to reduce Russia's revenue from metals. CNN has more on the announcements.
The intrigue: We've got more on the price cap on Russian oil below, but it's worth noting the new G7 statement pledges enhanced efforts to "counter evasion of these caps."
4. Biden officials: Cap on Russian oil prices is working
The unusual multinational effort to sap the Kremlin of revenues while keeping Russian oil flowing into global markets is working, Ben writes.
Driving the news: The Treasury Department released an analysis of the G7-led "price cap" on Russian crude and refined products to mark roughly a year since the plan emerged.
Why it matters: It's an unprecedented attempt to lessen Vladimir Putin's war-making resources without throwing global oil markets into costly chaos.
The big picture: Before the invasion, oil revenues were 30% to 35% of Russia's budget, per Treasury.
"In 2023, oil revenues have fallen to just 23 percent of the Russian budget," it states.
The decline occurred despite Russia's exporting around 5% to 10% more crude in April 2023 than in March 2022, they said.
Catch up fast: The policy denies services like shipping and insurance to Russian cargoes, unless they're sold below the cap of $60 per barrel of crude.
It has come alongside the European nations and others banning seaborne Russian oil imports, which increasingly flow to other buyers like China and India.
The intrigue: The cap is benefitting low- and middle-income countries, which now have more pricing leverage with Russia, Treasury said.
"The policy has thus lessened the negative global spillovers from Russia's war and has been financially helpful for a number of vulnerable countries."
Yes, but: The program won't bankrupt Russia or make it impossible for the Kremlin to prosecute the war, Axios' Matt Phillips reports.
5. The long, hot summer ahead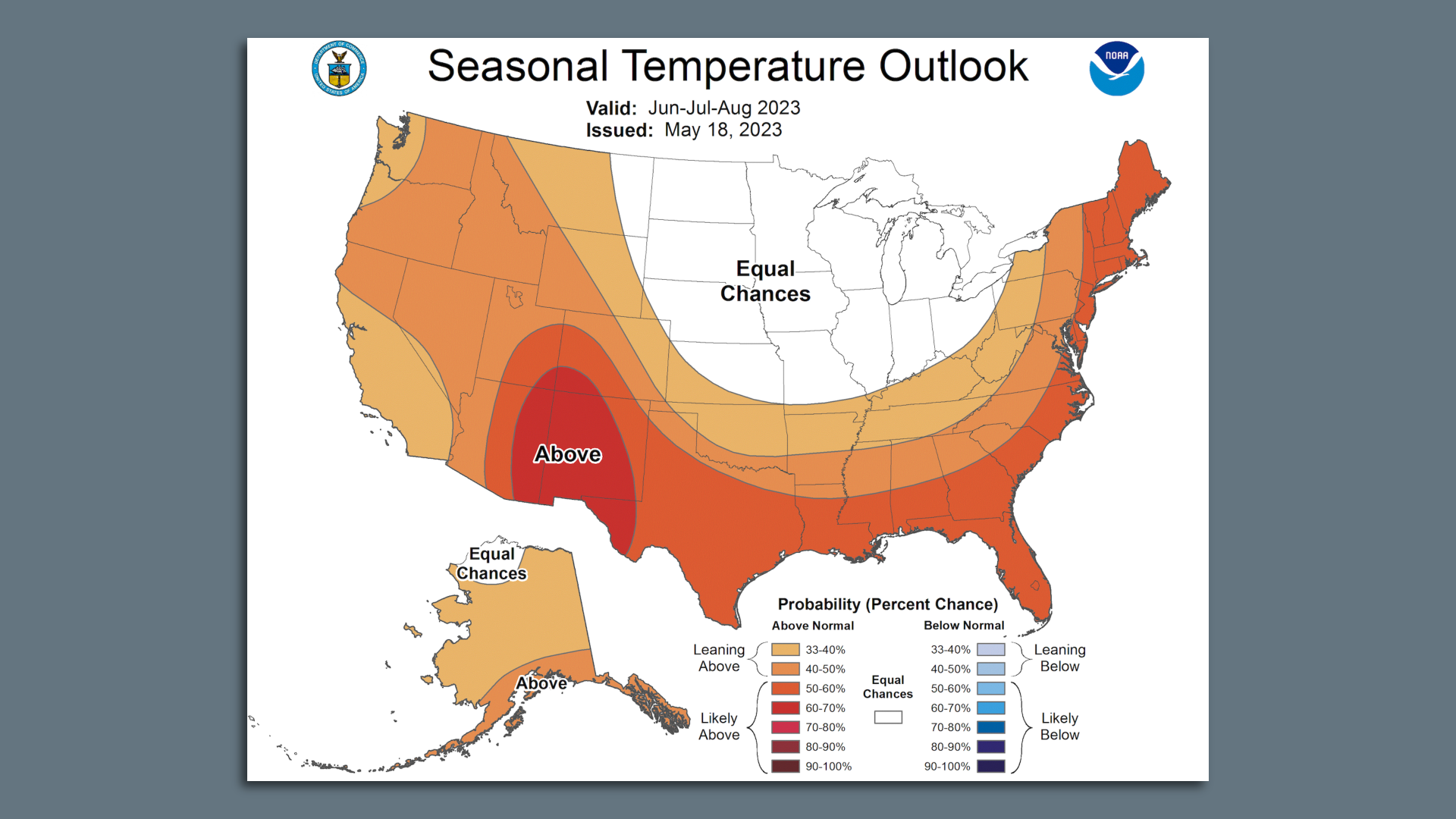 The climate outlook for June through August shows a broad swath of Lower 48 states are likely to see a hotter-than-average summer, Andrew writes.
Why it matters: Prevailing weather conditions during the summer can sow the seeds for drought or destructive wildfires.
Climate outlooks like this one can help power companies plan for higher electricity demand during heat waves.
Context: Because of human-caused climate change, average summer temperatures are on the rise across much of the U.S.
For example, this means a hotter-than-average summer in Phoenix is now far warmer than a hotter-than-average summer in a typical year during the 1970s.
Zoom in: The NOAA outlook, released Thursday, shows the highest probability of above-average temperatures is across the Southwestern U.S. It's centered over New Mexico and Arizona, where there is a 60% to 70% chance of a warmer-than-average summer.
The odds are slightly lower, at about 50% to 60%, for warmer-than-average temperatures from Texas to New England.
A tilt toward drier conditions is projected for the Pacific Northwest and the Southwest, with drought hanging on in eastern New Mexico and west Texas.
Wetter conditions are projected for the mid and lower Mississippi, Ohio Valley, and much of the East and Gulf Coasts.
Between the lines: The seasonal forecast is based in part on preexisting conditions, such as soil moisture, which can enhance above-average temperatures, as well as the predicted formation of an El Niño in the equatorial tropical Pacific Ocean.
📬 Did a friend send you this newsletter? Welcome, please sign up.
🙏 Thanks to Nick Aspinwall and Javier David for edits to today's edition, along with the talented Axios Visuals team.